MINOLTA AF 17-35mm f/3.5 G
A New High-Performance G-Series Lens
Minolta is pleased to introduce a new, high-quality 35mm format lens, the AF 17-35mm f/3.5 G LENS. It is a large-aperture, super-wide angle zoom lens with very high image quality. The AF 17-35mm f/3.5 G is constructed using aspherical elements and AD glass to ensure highly descriptive performance. These optics minimize distortion at the widest angle of view 17mm, and they produce beautiful images at the largest aperture.
The Minolta AF 17-35mm f/3.5 G was designed for people that understand image quality. The super-wide angle of view, ideal for capturing the extensiveness of a scene, is suited for landscape and architecture/interior photography.
The addition of the Minolta AF 17-35mm f/3.5 G to the AF 28-70mm f/2.8 G and AF 80-200mm f/2.8 G extends the range of the large-aperture G zoom lens series. It also exemplifies Minolta's continued commitment to offering high quality products to enthusiasts of 35mm photography.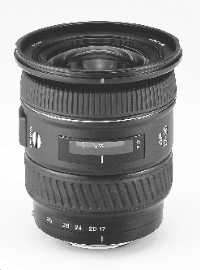 Minolta AF 17-35mm f/3.5 G Specifications
Focal Length 17 - 35mm
Aperture Largest: f/3.5
Smallest: f/22
Optics 15 elements, 12 groups (including 2 aspherical elements, 2 AD- glass elements)
Focusing Autofocus, Manual focus
Filter Diameter 77mm
Dimensions 82.5 x 90.5mm
Weight 600g
Lens Mount Minolta A mount

---
HTML Prepared by Craig Huxley 1997
Images & Information Copyright © Minolta Corporation

Return to MUG Main Page (frames)