Minolta 600si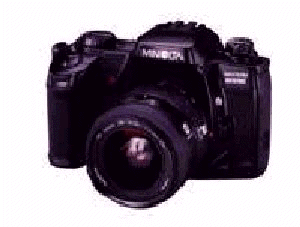 ---
Designed to incorporate the electronic functions for which Minolta are renown in a more user friendly package. Handling is superb with a return to the knobs and switches ideology rather than push buttons and the like.

The 600si is none the less a fully electronic camera, designed for the serious amateur photographer. It incorporates much of the features of the 700si, although the 700si still has the upper hand as would be expected in a more expensive model. The features are compared on another page (Click here to check it out).
---
Body Specifications
Type: 35mm SLR with builtin flash, autofocus (AF) and autoexposure (AE)
Lens mount: Minolta A type bayonet mount
AF-System: Minolta's through-the lens (TTL) phase-detection system with three CCD sensors; activated when the shutter-release button is pressed partway down; wide focus area (spot focus area selectable by AF-area selector); Multi-dimensional predictive focus control; Automatic selection of continuous AF or one-shot AF (Single-shot AF and continuous AF selectable by AF-mode selector), Focus locked in singie-shot AF and automatic AF selection modes by pressing the shutter-release button partway down; 2 frames-per second AF sequence
AF sensitivity range: EV -1 to 19 (at ISO 100)
Built-in AF illuminator: Automatically activated in low-light, low-contrast conditions
Metering: TTL-type 14 segment honeycomb-pattern silicon photocell (SPC); Second SPC for TTL flash metering of built-in flash or dedicated flash unit
Metering mode: Honeycomb-pattern, centre-weighted average, or spot metering
Metering range (ISO100 f1.4): Honeycomb-pattern: EV 0 to 20; Spot Metering: EV 3 to 20. AE (S mode), Manual (M mode); Manual Setting: Shutter speed: 0.5 stop increments; Aperture: 0.5 stop increments
Exposure mode: Programmed AE (P mode), Aperture-priorily AE(A mode), Shutter-priority AE (S mode), Manual (M mode); Manual Setting Shutter speed: 0.5 stop increments; Aperture: 0.5 stop increments
Exposure compensation: +/-3EV in 1/2 stop increments
Built-in flash: Guide number 12 (in meters at ISO 100); coverage to 28mm; raise and lower manually
Recycling time: approx 2 sec. (power supplied by camera): Pre-flash for red-eye reduction available; Remote off-camera flash control available
Dedicated flash: When used with Program Flash 5400HS, high-speed sync (HSS) flash available
*Flash sync possible through full shutter speed range HSS flash sync: 1/250 sec. or faster.
*Wireless/Remote flash control and ratio control is possible with 5400HS, 5400xi, 3500xi
* Flash sync with wireless/remote control 1/60sec, flash sync with ratio control: 1/45 sec
* Wireless/Remote control range: 5m


P mode flash: Fires automatically when needed (if built-in flash is up or dedicated flash on): Manual fill flash available with flash-control button; flash canceled when built-in flash is down or dedicated flash is off
A, S, M mode flash: Flash always fires when built-in flash is up or dedicated flash is on; flash canceled when built in flash is down or dedicated flash off
Shutter: Electronically controlled, vertical-traverse focalplane type; range: 1/4000 to 30 sec., bulb
Flash sync.: 1/2000sec or slower; with shutter speeds 1/200 sec or faster, camera will automatically switch to HSS when used with Prgoram Flash 5400HS
Flash compensation: +/-2 stops in 1/2-stop increments
Film speed setting: Automatic setting for DX-coded films ISO 25-5000; Manual setting range: ISO 6-6400 (1/3-stop increments); Recommended range with flash: ISO 25-1000
Film transport: Automatic with built-in motor drive; auto threading, auto advance to first frame; automatic rewind; manual start of rewind selectable
Drive modes: Single frame advance. Continuous advance up to 2 frames per sec., Self-timer, Exposure bracketing, Multiple exposure
Self-timer: Electronic with 10 sec delay; cancelable


Viewfinder
Type: Eye-level fixed pentaprism
Field of view: 92% of vertical and 94% of horizontal
Magnification: 0.75X(with 50mm lens at infinity)
Diopter: -1 diopter; built-in diopter adjustment from -2.5 to +0.5 diopters(stepless)
Eye-relief: Long eye-relief viewfinder with protective glass; distance from eye to eyepiece frame. 18.4mm
Depth-of-field preview: Aperture set while pressing the depth-of-field preview button; AF and AE locked; shutter release available
Power: One 6V 2CR5 lithium battery pack; automatic battery check when camera is turned on: battery condition indicated by four-stage indicator in body data panel
Others: Remote release terminal
Dimensions: 156 x 98 x 73.5mm
Weight: 565g without lens and battery

---
BODY DATA PANEL AND VIEWFINDER
The 600si has a small LCD panel on the top plate and a full information bright viewfinder without LCD overlay.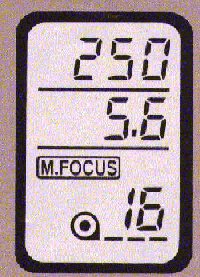 Data Panel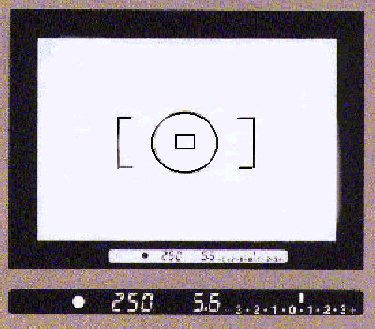 Viewfinder
---
What the Press Said
The 600si has received rave reviews around the world.

Practical Photography summed up the 600si in their June 1995 review:
HANDLING 85%
If you're used to older SLRs you'll soon be at home with the 600si. It feels good, even better with the optional vertical control grip, and the design is fuss-free. But it's not all plain sailing. Adjusting lens settings by the rear input dial is tricky, and it's easy to accidentally trip the AE lock with the grip attached. It's also a noisy camera, although the pitch is quite low. While we applaud the inclusion of an electronic depth-of-field preview, it could be quieter.
FEATURES 80%
The Dynax 600si Classic is well endowed. It offers considerable exposure control, wireless flash, syncs with the 5400HS at all shutter speeds and has all the exposure modes you really need.
The two fps motorwind is too slow, and it doesn't seem to make absolute sense to offer a vertical grip if it does nothing to increase the film advance speed.
PERFORMANCE 85%
In most respects the Minolta 600si is a winner - the AF is accurate and exposures are generally good. It's relatively adept at dealing with tricky lighting. The overall simplicity of the design is refreshing.
VALUE FOR MONEY 85%
The Dynax 600si body is quite a bit cheaper than the Nikon F70, and the autofocusing is faster. It's also more responsive. However, the Dynax fares less well against the quieter autofocus found in Canon EOS SLRs.
While it might look the part, and it's sturdy enough, no amount of tweaking can disguise the fact that it's not built to withstand the rigours of heavy use. For the price, however, it's solidly-constructed.
VERDICT 85%
With the 600si, Minolta has taken a brave step backwards while looking forward at the same time. Not all design features of older cameras are bad, and not all modern approaches good. This camera seems to embody the best of both worlds.
The 600si is a competent, well-specified machine that may well open up the autofocus world to manual focus fans. Whether it becomes a classic, as it nameplate suggests, only time will tell.

Copyright © Practical Photography, June 1995
---
Return to MUG Main Page (frames)