---
The

9xi
---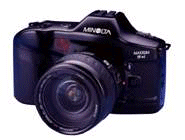 Minolta Maxxum 9xi (12/94)

(Copyright Popular Photography, December, 1994)
---
Date: Mon, 6 Feb 1995 20:55:35 -0500
Here's the latest scoop on the 9xi
Rob C. rdcdude@aol.com

Best Suited For Advanced Amateur, Professional

Capability 5 stars
Convenience 5 stars
Features 5 stars
Overall 5 stars

---
FOCUSING: AF or manual, one shot or continuous with automatic switching, choice of focus priority or shutter-release priority. Four charge- coupled device (CCD) sensors offer wide or manually selected individual AF areas. Focus-assist beam.

LENSES: Minolta AF lenses in A-type bayonet mount. Minolta AF xi zoom lenses provide full power or manually controlled power focus, image-size tracking via card.

EXPOSURE SYSTEM: "Expert intelligence" program autoexposure (AE) based on lens focal length, subject type, size, movement, and distance with user override to aperture- or shutter-priority AE; metered manual exposure. AE lock. Fourteen-segment honeycomb-pattern silicon photodiode provides multizone evaluative readings in concert with autofocus sensors over EV 0 to 20 range (at ISO 100 with f/1.4 lens); user-selectable centerweighted and spotmetering modes; exposure compensation +/-4 EV in 1/2 EV steps.

VIEWFINDER: Long eye relief finder has transparent LCD overlay showing control-dial functions, wide-view feature, manual focus on, panoramic-format field, wide-AF frames, local AF areas, and metering index. LCD panel below screen shows exposure mode, focus OK; flash on, ready and OK; shutter speed, film speed, aperture, exposure compensation, AE lock, and meter functions. Built-in diopter correction.

FLASH: Silicon photodiode (SPD) in bottom of mirror box for TTL, off-the-film autoflash in all auto modes with dedicated units. Auto fill flash in all AE modes. Slow-speed synch. Special dedicated hot shoe for Maxxum dedicated TTL flash units enables wireless remote firing. Threaded PC terminal.

OTHER FEATURES: Rear quick button allows immediate control of drive mode, spotmetering, AF selection, exposure and flash bracketing, multiple exposures. Depth- of-field preview. Focal length of xi lenses displayed in finder and on LCD. Eye-Start system automatically turns main systems on when camera is brought to eye. Provision for remote control. Accepts xi-series Creative Expansion Cards.

Significance: Minolta's first pro-level AF SLR was the Maxxum 9000, a rugged machine with a die-cast-chassis, semi-traditional controls, but a first-generation AF system. When the second-generation Maxxum 7000i arrived in 1988, many clamored for a professional 9000i with the 7000i's improved autofocusing. But the i-series topped out at the 8000i, basically a mildly upgraded 7000i. At last, shortly after the current 7xi came out, Minolta unleashed the 9xi, the most professionally oriented Maxxum to date on the basis of its features as well as who's using it.

Can a camera so closely based on the 7xi's autoexposure, auto-flash, and autofocus circuitry qualify as a real pro machine? When you consider its all-around competence, sensible provisions for manual control, upgraded hybrid-construction body, and highly sophisticated multizone exposure and autofocus systems, it's a strong contender. Minolta-using pros, who generally favor all-around ruggedness and don't require the 7xi's built-in flash have made it their mainstay.

Features: It's a lot easier to list the few things absent on the 9xi than to run through the plethora of features built into it! Compared to its sister camera, the 7xi, it's missing a built-in flash, and built-in image-size tracking with xi zooms (but available via the substantial range of Creative Expansion Cards it shares with the 7xi).

In addition to the 7xi's extensive feature list are the following, aim-ed at more advanced photographers: A 1/12,000 sec top shutter speed, flash synch to 1/300 sec, 4.5 fps motor drive with predictive AF, quick-setting button, Manual Shift in program modes, and AF that's settable for focus or release priority. Add what's common to both models--full TTL flash dedication, linked multizone AE and AF systems, and excellent LCD and finder readouts. What's missing? A mirror lock and cross-field AF sensors; the 9xi has four AF sensors, two are vertically arrayed, two horizontally.

Capability: It's hardly surprising, in view of its advanced multizone AF system and linked multipattern metering system, that the 9xi's field performance is outstanding. You're always in full control of the image when you want to be.

The autoexposure system operates well when in honeycomb AE mode, but there's always spotmetering when you're in doubt. The AF is swift and sure, and on the rare occasions that it misses, you can select your individual AF zone and lock focus before firing. Automation is there to fall back on in rapid-fire situations in changing light, but full control is easy to access. Both AF and AE systems also perform admirably in low light and low-contrast situations. However, as with all current multizone metering systems, spotmetering and/or autobracketing are recommended when shooting in tricky or very contrasty lighting conditions.

Convenience: For a relatively large, heavy machine, the 9xi handles extremely well--it's comfortable to hold, affords a secure grip, and all controls are logically placed. Excellent finder and LCD readouts keep you informed of your mode choices; read the book and shoot a roll or two of film and you'll have it all memorized.

We particularly liked how the Function button works in concert with the LCD panel, which indicates which dial sets what function. However, if you accidentally both hit the Function button and turn the rear dial, you could dial in an unwanted exposure compensation. Your only warning will be a tiny plus or minus in the viewfinder.
HIGHLIGHTS
Convenient, programmable rear Quick Button allows instant access to drive, metering, AF, and other settings, but only one at a time. For greater control, press angled Function button, then turn dials. LCD tells all; finder echoes key settings.
Want to set aperture or shutter speed without leaving P mode? Simply hold in AE lock button, turn main control dial until setting you want shows in finder. All settings change simultaneously to maintain proper exposure. Clever.
With xi Power Zoom lenses, clever wide-view mode lets you see 150 percent of on-film image, while framelines show actual picture area. Lens zooms out to proper focal length just before shutter fires. Useful? Yes, with moderate-speed subjects.
9xi lacks handy, built-in flash of 7xi because, Minolta claims, flashless body is stronger.
Yes, the 9xi is aimed at pros, but others will appreciate depth-of-field preview, threaded PC outlet, manual metering index in finder, built-in three-step exposure and flash bracketing (more via bracketing card), selectable AF zones, and comprehensive dedicated flash with auto fill and remote cordless operation.
Industrial-strength hybrid body has stainless steel and die-cast zinc mirror box, heavy cast-zinc bottom plate, rugged and flexible glass-fiber-reinforced polycarbonate film chambers. Controls are moisture, dust resistant, back seals upgraded.
---
Return to MUG Main Page (frames)