Minolta Dynax 9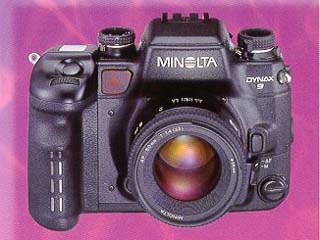 In commemoration of their 70th anniversary, the Minolta Dynax 9 is a new professional-spec body launched in the spring of 1999.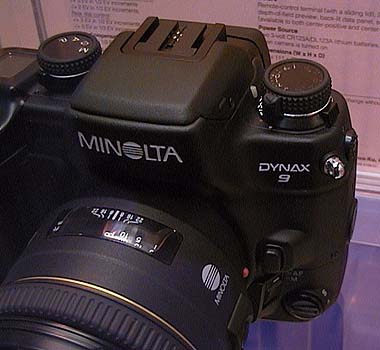 The feature list is extensive:
AF: 3 sensors, of which the central one is cross-type. The dominant sensor can be indicated in the viewfinder.
AF sensitivity: -1 to 18 EV
AF modes: Single, Continuous or Automatic selection
Meter sensitivity: 0 to 20 EV, 3 to 20 EV in spot mode
Metering modes: M, A, P, S, Pa, Ps
Bracketing: 3, 5 or 7 frames in 0.3, 0.5, 0.7 or full stops
Compenstation: + or - 3 EV in 0.3 or half stops
Flash Compensation: + or - 3 EV in half stops


Metering: 14-segment Silicon Photo Cell mode
plus Spot or centre weighted Average modes tied to selected focus area
Flash metering: 4-segment SPC, also sensitive to ambient light
Flash sync.: 1/300 + HSS possible with relevant flash; slow and rear-curtain sync.
Built-in flash: GN 12, coverage to 24mm, acts as IR remote flash controller
Shutter speeds: 30s to 1/12000 sec.


Motordrive: 4.5fps with continuous AF tracking, 5.5fps on single-shot AF or manual focus mode
Rewinds a 36 exposure roll in 4.5 seconds
Memory: 7 rolls up to 36 exp. each
Custom functions: 21 (see Minolta Europe page)
Viewfinder: 100 percent coverage; switcheable eye start; -3 to +1 diopter adjustment; high eyepoint; eyepiece blind; large eyecup supplied
Focus screens: 4 types available:

Type G - standard Spherical Acute Matte
Type M - Super Spherical Acute Matte, for use with fast teles
Type L - Matte field with grid
Type S - Matte field with scales

The camera senses which screen is fitted and adjusts metering accordingly
Multiple exposure: 2 or more frames
Self Timer: 10 seconds or 2 seconds with mirror pre-fire
Other: remote terminal; PC terminal - either polarity; 4 stage battery level indicator
Power: 2 off CR123A lithiums
Dimensions: 155 x 111 x 75mm
Weight: 910g body only
3 year manufacturer's warranty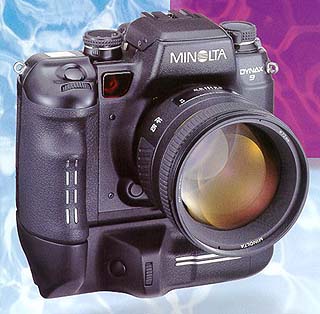 The new camera offers an impressive construction. Most of the body, including the flash housing, is made from stainless steel; the top and bottom plates are zinc die-castings; aluminium castings are used in the mirror box and lensmount. The metal framework of the body is covered with polycarbonate, coated with a UV-hardened polymer that resembles a fine crackle finish. The optional backs are stainless steel and the VC Grip is die-cast zinc; back catches are steel, not plastic. Controls use multiple seals to prevent moisture and dust ingress; rotary dials are marked with phosphorescent paint and the LCD can be illuminated.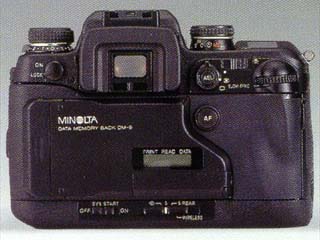 Minolta are to offer two optional backs.
The QD-9 Quartz Databack
offers simple date imprinting
The DM-9 Data Memory Back
offers storage of the exposure parameters of up to 600 rolls of 36-exp film, saving this to standard SmartCards in tab-delimited text format files, readable by PCs. It can also imprint data, but in between frames rather than in it. Its LCD duplicates that on the top plate, useful for situations where the top of the camera isn't visible.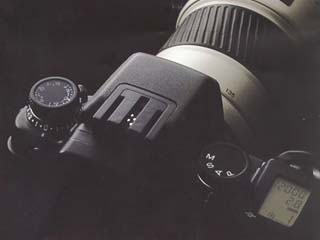 As you can see, controls are mostly of the rotary type. On the right side, a sprung door hides 4 small pushbuttons to control custom functions, mid-roll rewind, etc.

The optional VC-9 Vertical Control Grip provides an additional control wheel and shutter release. Mid-roll film rewind is possible; you dial in the number of frames used on a reloaded film and the camera automatically advances to the next unused frame.

The grip also provides up to 3 power options; it accepts AA, CR123A and 2CR5 batteries and you don't need to remove the camera's batteries to use it.

---
New Lenses
A number of new lenses are also to be launched:
A new version of the 50mm f1.4, with an extra group of elements, wide focus ring and a circular aperture
A new design 35mm f1.4 with focus hold button and circular aperture
A new design 28mm f2 with circular aperture
A new design 35mm f2 with circular aperture
A 200mm f4 APO-G macro with continuous focus down to 1:1 at 50cm, a focus hold button, detacheable tripod collar and a circular aperture, in an all-black finish
A "Smooth Trans Focus" STF 135mm f2.8 with an f4.5 effective aperture. This contains a 2 element circular graded filter placed near the circular aperture iris, operating from f4.5 to f6.7. It is manual focus.
For more information, refer to Minolta Europe's web page on the Dynax 9
Return to MUG Main Page (frames)
---
Page created 9/8/98 by CPV
Some images scanned by Santiago Gonzalez (santigh@sci.cpd.uniovi.es) - MML Subscriber. All others taken at Focus on Imaging © Chris Valentine 1998/99. Page last updated 7 May 2000.