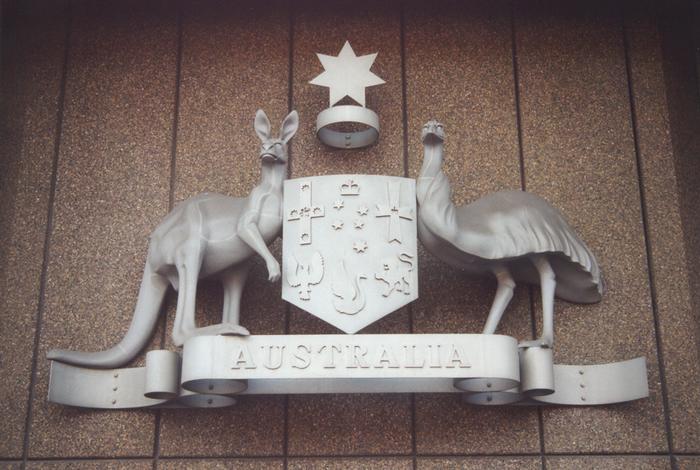 These pictures were taken during my first trip to Australia. I figured I wasn't going to go back there, so I made the most of it. The itinerary was:
Conference and a few days sightseeing in Melbourne
10 weeks of work and day trips in and around Brisbane
Rent a car and drive up the Bruce Highway all the way to Port Douglas
Fly to Alice Springs
Fly to Ayers Rock
Fly to Sydney
Fly home again
First stop was Melbourne, to participate in the ASWEC'96 conference. I arrived a few days before the conference began to do some sightseeing. Being a serious tennis player, the location of the Australian Open tennis championships (Flinders Park), including the Yarra River Jim Courier jumped in after winning there, was first on the list. This destination is easily combined with a visit to a nice high tower to look down upon the Formula 1 circuit.
Next stop was Brisbane, where I intended to work on a paper with my friend and PhD-supervisor. The Priestley Building on the St.Lucia campus of The University of Queensland was my home away from home for 10 weeks. I spent a lot of time in the heated (!) olympic-sized swimming pool. I only found out 4 years later that Kieren Perkins used to train in that pool. However, some work had to be done: "Have coke, a walkman and swimming trunks, will write a paper." The local wildlife at UQ was quite entertaining at times :-)
During my stay in Brisbane I went on numerous sightseeing trips. O'Reilly's was one of them. They have colourful birds which you can feed if you're so inclined. More entertaining is the Tree Top Walk. The tough-looking dude was my driver of the day (also a friend). South bank is a tribute to Australian pragmatism. "Oh, we can't swim in the river? We'll just build a beach then. And an ice rink. And a zoo. And a theatre. And ..." :-) Especially in the evenings, South Banks is a nice place to sit around and do some thinking. Across Victoria Bridge you'll find the Queen St. Mall. The picture shown here was taken before an extensive redesign.
If you want to see all the weird animals Australia has to offer, you can do so at the Lone Pine Koala Sanctuary. Well worth a trip if you're in the area. You'll see wallabies, kangaroos, emus, cookaburras, dingos, a Tasmanian devil, sugar gliders, koalas, cockatoos, wombats and bats. Some of them hop if they are in a hurry to go from A to B. Rather them than me :-)
After the paper was done, I went on a proper holiday. The first thing to do was pick up my rental car. A quite sporty Toyota Corolla Seca (as it is known locally) with a 1.6l engine. Not much to look at, bags of understeer, but rather fast off the mark :) The first destination was to Noosa Heads where my friend was participating in a half marathon. (Again, rather him than me.) He had been driving me around a lot during the preceding weeks, so now I could return the favour by getting up at 5.00 am to drive him to the starting line. The good part of getting up early is that you can see the world wake up around you, and you even get to make a halfway decent picture sometimes.
After saying our goodbyes we went our separate ways. A brisk drive brought me to Miriam Vale. Not a place of many sights, but it is a convenient gateway to the Town of 1770 and Agnes Water.
Via Captain Cook's Singing Ship I went to Great Keppel Island where I climbed some hills and did some walking. It might have been more sensible to just lie at the beach, but I can now revel in the feeling of being one of the very few people to have climbed Mt. Wyndham that day ;-)
Following the Bruce Highway further north I looked at some sugar cane, walked in some rainforest and visited Finch Hatton Gorge.
The next stop was Townsville. It has a large underwater zoo with some interesting fish. Other things on display include the lethal box jellyfish. Across from Townsville is Magnetic Island. Cool name, no substance. Skip it if you have half a chance.
Luckily, the next day was much more interesting. I stayed overnight at Cardwell, in a motel right next to the ocean. The next morning saw rising awfully early to take some pictures of the sunrise. The rest of the day was spent at Hinchinbrook Island. If you're ever there, say Hi to Bill from me. He probably doesn't remember me, but you never know. Definitely one of the highlights from the trip, Hinchinbrook Island.
Still continuing along the coast, I arrived at Cairns (unless you want to dive at the Great Barrier Reef: skip it) and moved straight on to the Atherton Tablelands and Port Douglas.
---