What better way to start a short vacation than with a visit to the Ring? A short report of a short trip to the 24 hours race at the Nürburgring.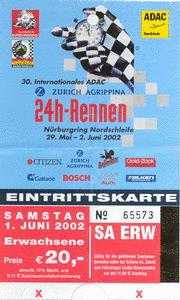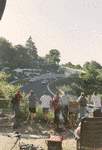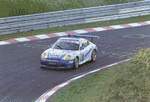 I got to the ring on saturday around 16.00 hours. The roads in the area were quite crowded, especially the B412 near Pflanzgarten and Brünchen. As a result, it wasn't until 17.00 before I was at the track somewhere between Breidscheid and Wehrseifen. Even though there are quite a few places where you can watch the cars go by without paying, having a ticket does have some advantages. One of them being that it is much easier to meet people that are in the campsites near the track. Adrian Elkin was kind enough to invite me over to his campsite, which was somewhere near Breidscheid.
I started out by relaxing, photographing and spectating (both the cars on the track and the public next to the track were highly entertaining). Amongst the participants was Ringer Ulf Karlsson, who was one of the drivers of the Swedish Podium Racing Porsche GT3:
Other famous drivers included Hans-Joachim Stuck, driving the Scheid BMW:
Horst von Saurma was there as well with the Sport Auto Mitsubishi: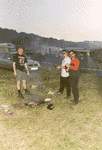 After a little while I got in touch with Adrian, who responded very promptly to my text messages. Finding him and the rest of the group (including Niek, Euan, Laurens and others) was a bit of a challenge. They were near a silver Passat estate and a blue and yellow tent. I managed to find two silver Passat estates and at least five blue and yellow tents before being spotted by Adrian, just in time for a very good BBQ.
Fortified with some chicken and a burger we went on an impressive hike. It was great to see the lights of the cars approaching in the dark, followed by the howl of the engines. The Viper sounded very impressive, but my favorite is still the screaming of a 996.
Looking down through the trees had charm all of its own. Except for the headlights of the cars flying past, it was pitch black. I'm surprised that we didn't loose anybody up there ;-)
I drove home a little after 00.30. Got home somewhat before 03.00 (131 km/h door-to-door average, not bad).
All in all it was a fantastic trip. I'll try to be there again next year, and make it a somewhat longer trip :)
As usual: all pictures of this trip are on my photography page.

---