Prep
Preparation consisted of a quick trip to Biesheuvel Autosport for a fresh set of Ferodo DS2500 front brake pads, and to get a replacement for the tyre pressure gauge that had been broken a long time ago during another Ring trip. As Rennsport is quite close to Biesheuvel I gave Lothar a quick call to see if he could bring himself to work on a Seat instead of his usual fare of Porsches. Luckily he had so much work that squeezing in a quicky brake pad change on my Ibiza didn't affect his schedule noticably: he was working double overtime to get all the work done on time anyway.
Friday
The plan for this trip covered three possible scenarios:
Head down straight after work on Thursday
Head down at oh-dark-early on Friday morning, in time for the 8am opening
Head down after sleeping in on Friday morning
Thanks to some interference from work and worse traffic than expected on Thursday afternoon (detouring from The Hague to Rotterdam didn't exactly help, but hey, photographers of the world should stick together in times of need) I decided to scrap the first scenario early on in the proceedings.

By not setting an alarm clock I let fate resolve the trade-off between sleep and tracktime. As it turned out, sleep got priority, and I had a reasonably relaxed start. Just in time to avoid the worst of the traffic jams, though the roads were getting quite busy.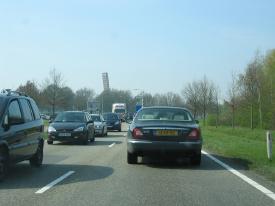 Niek happened to be a few cars ahead of me in the last queue, coming off the A1. This allowed me to get a "before" shot of at least a part of his car: the left rear. As it turned out, this would be the most import part from a "before" and "after" point of view. But let's nog get ahead of ourselves...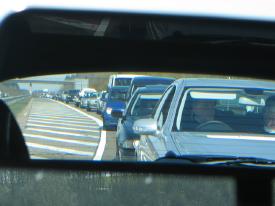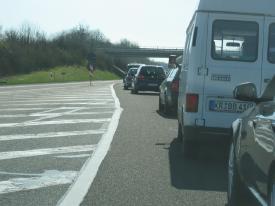 A really weird looking machine was behind me on the B-roads. It resembled a Ferrari a bit, though the front was too narrow to go with the wide rear. All in all it looked rather funny (or fishy; take your pick), so I snapped a picture of it at the traffic lights.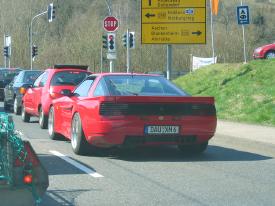 The roads leading to the Zufahrt were quite busy, and when I arrived at the roundabout the track was closed. An excellent opportunity to get my Jahreskarte, despite the hefty price increase.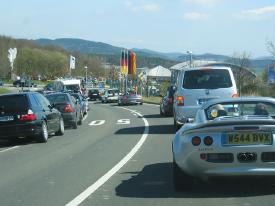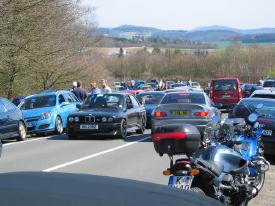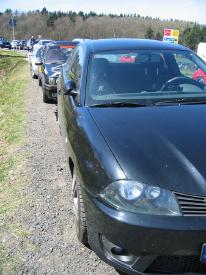 As soon as the track opened I wanted to do some laps. Which was easier said than done: there was a huge queue of cars trying to get near the entrance. Complicating factor was that the nose of the Ibiza was pointing in the wrong direction. Time for plan B: ignore the queue and head in the opposite direction. After a short scenic drive I arrived in Adenau, where there wasn't a queue to be seen. At least not in front of the barrier: lots of people around, quite a few waiting for something or other, but nobody seemed to want to enter the track. Fine by me :-)
As it had been a while since my latest trip, I took it nice and easy to start off with. The track was reasonably quiet. Despite that there were quite a few accidents, such as a BMW Compact that was made even more compact by the armco at Brünnchen, and a pretty big mess at Schwedenkreuz.
After 2.5 laps the track conveniently closed, and I met up with Matt. Thanks to me giving plan A a miss, he'd had to explain in his best German in whose name the reservation for the room was. Apparently this had caused a bit of confusion on the part of the locals. A bit surprising, as this wasn't the first time.
It wasn't the first time I noticed how much crap I lug around to aid my recollection: several different chargers for a variety of hardware, the hardware itself, ..., ... It adds up to quite a pile.
The next stop was the track to do some more laps. Having substituted my excess luggage for passenger Matt didn't seem to make much of a difference to the Ibiza. Again I entered the track at Breidscheid, this time for 3.5 more laps of squeeling fun.
Time for a carpark wander. Across the road we spotted a Ferrari with a not so tastefully done rear spoiler modification. The lesson: always carry duct tape that matches the colour of your car.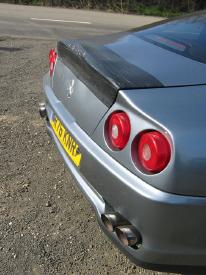 In the small carpark near the office we met up with Ben (without the TÜV-less Stryker but with a BMW and a borrowed helmet). I also spotted a navigation system Mk 1 on a Triumph boik.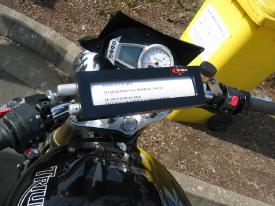 Meanwhile not only the sun was smiling at us: a sidecar was sporting an oversized grin.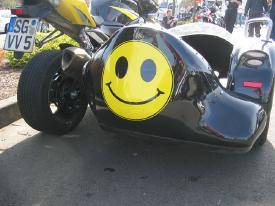 Of course I had a chance to take one of my traditional "superior parking" shots. This time an Alfa decided to park almost inside of the ticket office. He could of course just have parallel-parked. Even with the turning radius of the average Alfa Romeo that works better than trying to stick your nose in where it doesn't really fit.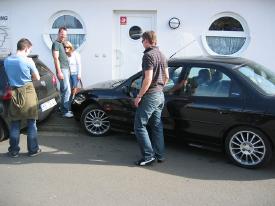 Esther and the cookie monster were there too. Cookie must have been thirsty, given the relative size of the waterbottle it was holding.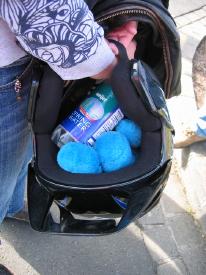 Time was getting on, so an elaborate plan with contingency plans and fallback options was hatched for dinner: The Pig at 8pm. With that taken care of I went to take some pics. On the way to my car I noticed that not everyone managed to make it off the track under their own power.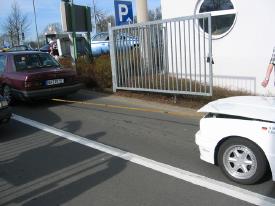 Now, the fastest way to a photographically suitable spot isn't usually the Nordschleife. Still, I somehow I wound up at the barrier, this time with a skinny racedriver running towards me: Christer wanted to keep an eye on the Viking syndicate 318is that was two cars ahead of us, being driven by Lasse in his newly eBayed Stand21 helmet.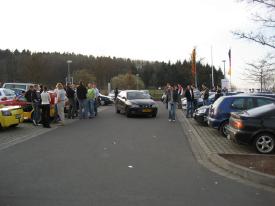 Thanks to a bit of Cupra Diesel Torque I passed Lasse on Döttinger Höhe, but he was catching up quickly through the turns. Christer must have been a bit distracted throughout the lap, as he didn't once mention that I braked too much :)
With time flying at an alarming rate I went to an easily accessible spot to take some pics: Brünnchen. This late in the day the light has a nice quality to it. Even nicer when that light hits a 997 GT3RS :-)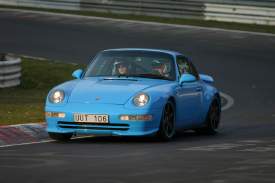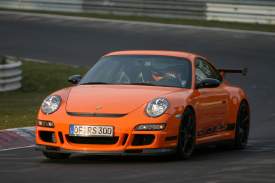 Jocke and Caz were there too.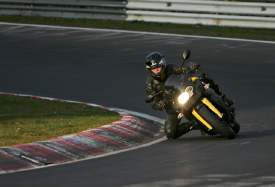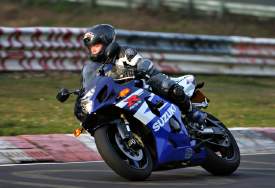 Jochen gave me an impressive Schwarzenegger-stare impression from the passenger seat of Christer L.'s GT3.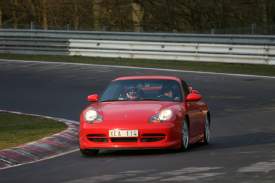 A guy named Mike was having fun with his sidecar. I heard that "Red Baron" Bren had a go in the sidecar and found it hard work.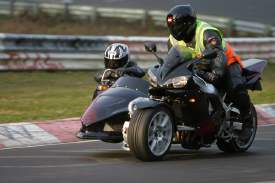 Soren was there too, in the passenger seat of his now ex-Boxster-S.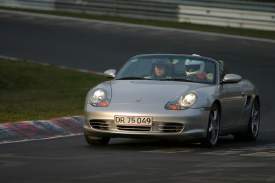 A funny sight was a VW Transporter that was tailgating an Evo.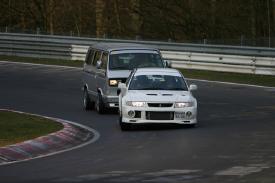 There were quite a few TVRs around this weekend.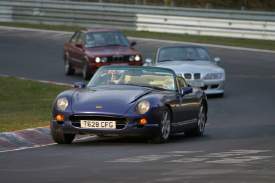 Matt was struggling with a permanently etched grin after experiencing Bob's 250HP Elise.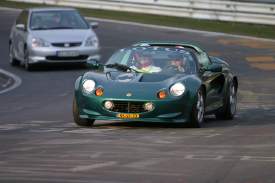 Afterwards I squeezed in a few more laps, until the track closed 15 minutes early due to several accidents. The queue on Döttinger Höhe was big, but not as big as I'd expected on an Easter weekend.
The earlier plan to have dinner at The Pig was amended: instead we went to the Lindenhof with Matt, Tony, Claire, Jocke, Caz, Johannes. By now most of us were pretty hungry. However, thanks to being the last table in the restaurant to get our order in, there was a slight delay before we got our food. Actually, the delay was more than slight. It was big enough that we received some free salads to keep us busy (or to keep us from stealing other people's food). In the meantime a merry time was had by all, though Tony and Claire were busy ducking out of the line of photographic fire, with varying degrees of success. Still, free-salad-on-a-laptop against a steak-am-stein is a non-starter. As I'd forgotten to bring my little camera, the night's pictures are courtesy of Matt and Jocke :)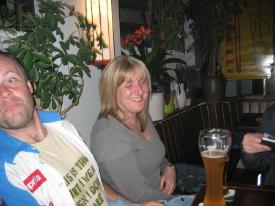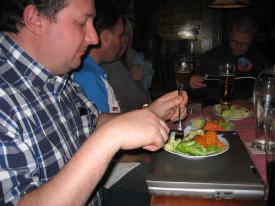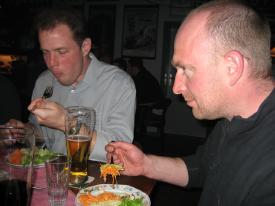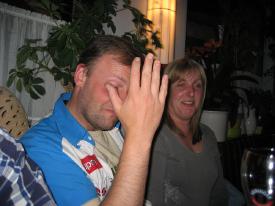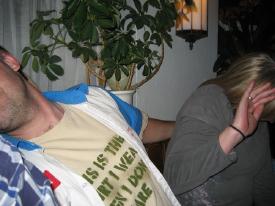 Somewhere in between the salad and the food Phil (Givin' it some) treated us to some reruns of Dirty Chris jokes. One example: 15 sailors are arrested for being in the wrong place. 14 are men, 1 is a woman. Guess who was reading the map...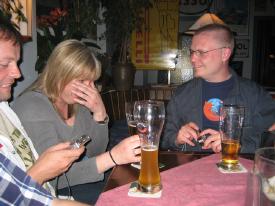 Meet Phil, adopting a philosophical air about the delayed dinner:
Matt was "givin' it some" too. However, the tables were turned quickly. Good thing I was sitting next to Tony :-)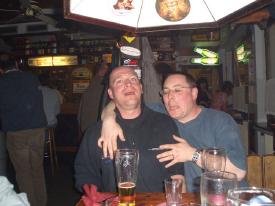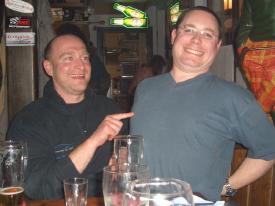 Before long Matt was looking cross-eyed for lack of food. At least, that's what we were supposed to think.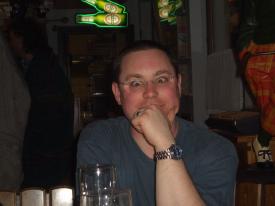 Caz got hold of Tony's ancient camera to see if she could capture the pair.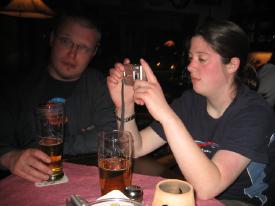 Jocke was practicing his Tough Guy Stare...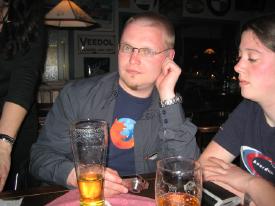 ...while Claire stayed camera-shy...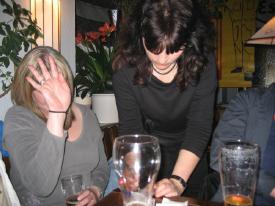 ...and Jocke turned up the power on his stare.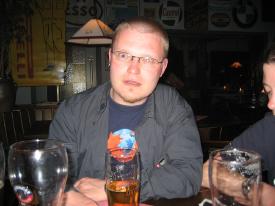 Tony was pretty good at ducking out of sight whenever a camera appeared.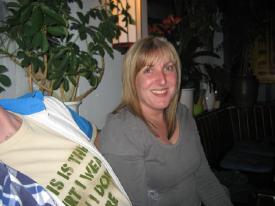 Jocke couldn't hold his stare very long...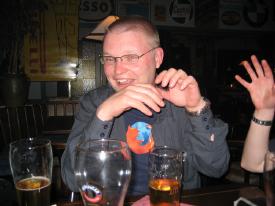 ...while Tony and Claire ducked synchronously behind their hands.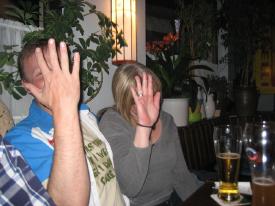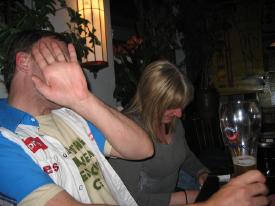 Tony went on to prove that a single finger is enough to hide behind...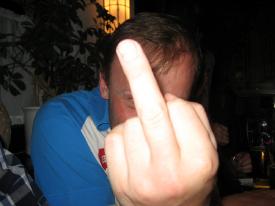 Claire showed more class by hiding behind a big beer.
Then for some reason people started manipulating other people's beers, leading to protective measures. My simple but effective solution was to drink Sprite.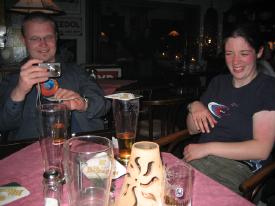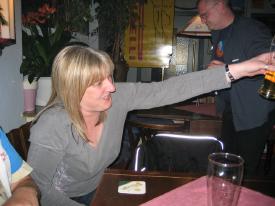 Phil's solution was to take a nap on top of his beer.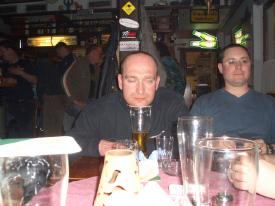 ---