The excuse for one more trip was that I forgot to pick up my fire extinguisher and some more things at Ring Racing. For those who want to limit themselves to the management summary: I managed to forget to pick it up once again.

The other road users on the drive down clearly showed that it was Sunday. Some highlights: a dumb-ass A3 who pulls into the slow lane while doing 170km/h, expecting me to zoom past in 2 seconds before he runs into the back of the slow traffic that's only a short distance ahead. I start the overtake, and when I get the nose of the SquealMobile next to his rear bumper he sticks his indicator out and cuts me off. Naturally, he then starts to point at his head, trying to convey that I'm nuts. Which is probably true, but not because I overtake him when he misjudges a situation.

Oh, and then there was the Opel Omega 3000 who did his best to kill himself on the way from the A-1 to the B-258 by overtaking two cars right before a crest. Naturally, he then falls asleep waiting for the traffic light to go green...

Also interesting was the Saab 9.3 in the Netherlands. German plates, doing about 145, and firmly in the left lane while the right lane was empty all the way to the horizon. Which is a long way in flat old Holland. Naturally, she was very busy with something other than her rearview mirror. For a moment I contemplated just buzzing past on the right side, but decided to give her a few friendly flashes with my headlights. After a second or 3 she noticed something was approaching from behind, and she nearly went into a skid jerking the wheel to switch lanes. Hellllooooooo.

On the way I also managed to take a wrong turn near Venlo (hadn't driven this particular route before) and did some sightseeing in the Venlo suburbs (yuck) and back roads (yuck) before ending up where I wanted to be: Kaldenkirchen. Which was kind of useless, as that meant that I had to retrace my steps to the Dutch side of the border to fill up the tank of the SquealMobile. Ah well, I'll try a different turn next year.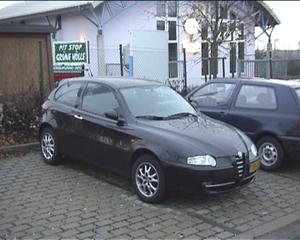 The parking lot at the Ring looked reasonably empty, allowing me to park my freshly washed SquealMobile in its favourite spot. Two cars with Dutch plates stood out from the crowd: a red Ferrari 355 and a black Lamborghini. At the end of the day none of the Ringers present had seen either car out on the track. Naturally.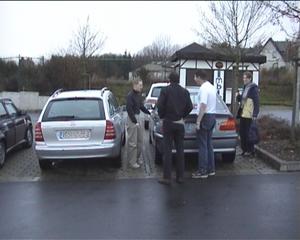 In a brief timespan I managed to meet Keith, Lasse, Juliette, Ross and Sir B. Lasse and Ross had arrived in temporary cars. I also managed to meet Stephen (finally; for some reason I always kept missing him). Ed was there too in his electric blue Clio.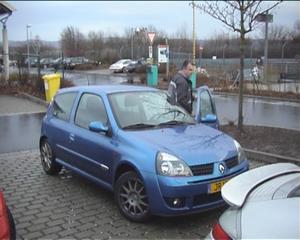 We compared receding hair lines and advancing age, and relived the Schwedenkreuz and Aremberg moments from a previous trip. Ed had been there from when the track opened, which allowed him to have three laps of play without encountering other traffic. As the sky started to look more and more clouded by the minute, I went out to sample the conditions myself. Juliette came along for the ride.
The track was reasonably dry, but we got stuck in some clusters of traffic on the first lap. On the second lap traffic was pleasantly light, and I upped the pace a bit. A biker with pillion left the gate right behind me. He must have been taking it real easy (wise) as we didn't see him again during the rest of the lap. The Alfa 75 convoy was out in force too. Fortunately the guy leading the pack was checking his mirrors regularly: he was the first to start indicating right when I started passing them. In Kesselchen a quick silver 996Turbo passed us, but as it had a regular-sized front license plate, it wasn't Stephen. In Pflanzgarten I saw another quick silver 996Turbo approaching: this time the front plate was almost too small to spot, so yes, that would be Stephen then :)
By that time more and more rain drops started hitting the windshield. Figured a third lap before the rain would really start was a good idea. Lap number three demonstrated how fast the Ring can change. Sections that were nearly perfect 10 minutes ago were now scarily slippery. The entry to the chicane before T-13 for example. I took it nice and easy, but still the front end slid at least a meter wider than it should have. The braking zone before the Hatzenbach complex was quite slippery too. Metzgesfeld was relatively slippery, but Wehrseifen was quite normal. Ex-Muhle had a nasty feel to it, but Maddock bend was OK. Wippermann was Wippermann (slippery), but Eschbach wasn't too bad. Turning in a little later for Brünnchen-II (about 2 meters after the dot) worked perfectly.
The light rain kept falling down steadily. Not enough to go indoors, but enough to keep me off the track. Earlier that morning an Evo had crashed hard: the driver was taken to hospital. Some bastards stated that yesterday's weather had been much better than today's. A pity really, because that meant that the C-Car wouldn't get out on the track on the final day of the year. In the current conditions I much preferred a familiar car with soft suspension and ABS to the C-Car, in which I haven't done many laps in total, and none on the new suspension.
The wet track was a bit of an inconvenience for Keith, who'd started the day on regular road tyres, had fun doing some dry laps, then decided to switch to R-compounds only to find that the track was getting wet. Dark clouds hinted that things wouldn't get much better anytime soon, so he went back to Ring Racing to swap the R-compounds for the regular tyres.
After lots of good stories about what everybody had experienced on the track that day, the rain got lighter and lighter. Otherwise it was getting darker and darker, prompting me to invite Stephen for a slowish lap in the SquealMobile. The track was still very slippery. Breaking before the Hatzenbach complex was interesting: despite low speed and early braking the ABS kicked in and the back wanted to come out a little. Easing off on the brakes got things back on the right track again. At the bottom of Quiddelbacher Höhe a nice puddle had collected on the left side of the track. Fuchsröhre was quite wet, but didn't have standing water.
Having gotten a better feel for the conditions, we went straight out for a second lap. Entering Hatzenbach went as planned this time. The puddle at Quiddelbach had grown, but the braking zone before Aremberg was still in decent shape. Instead of going all the way to the left I did the braking about 1.5 carwidths away from the left kerb, but that was probably not really necessary under the conditions at the time. Sometime during the first half of the lap we caught up to a black Golf-IV. Judging from his driving he did know the track, but his lines were a bit weird sometimes. He also had a much better power to weight ration than we had, allowing him to pull away quite easily out of the slower turns and up the hills. At Ex-Muhle and Kesselchen he pulled out a decent lead, but by Hohe Acht I was back at my chosen distance from his rear bumper again, staying there all the way to the end of the lap, and having to back off quite a bit through Pflanzgarten-III. Ed came past at Galgenkopf, with him waving to us, and we waving to him.
Moments like these add a lot to the whole Ringing experience for me. It's fun to recognise other Ringers on the track and wave as you pass or get passed.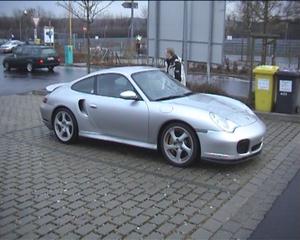 Stephen and I had an interesting discussion about fast cars, slow cars, what driving a slow car teaches you for when you drive a fast car, driving, technique, cars in general, the single cupholder in the SquealMobile and no doubt some other things. When the windows had fogged up enough, we switched cars. I'd never been in a moving 996Turbo yet, and I must say it was quite an experience. The accelleration was awesome, despite the water on the road and lots of short-shifting by Stephen. From the passenger seat the car felt beautifully balanced. Maybe I should start buying lottery tickets.
Another long chat followed: this time about strengths and weaknesses of our respective Porsches, driver training, heel-and-toeing, left-foot-braking, and how I'd happened upon the Ringers list and the Nordschleife by accident while doing research for buying my 964.
Then it was Ross's turn to come for a lap in the SquealMobile: his first. For a change he wasn't suffering from overheating because of biker leathers. Keith was following us in his 968, and he managed to take an artistic picture of the SquealMobile in action.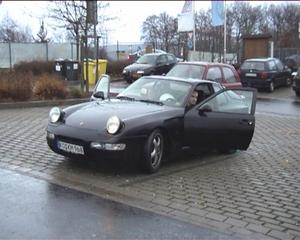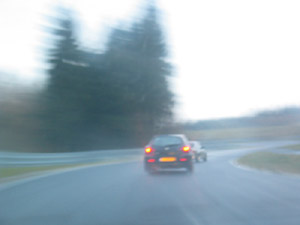 The track was getting kind of treacherous, which must have been amusing to Keith who apparantly had quite a bit more grip than I did in the SquealMobile on shagged tyres. In several corners I received confirmation from the chassis that I had found the limit.
At Kallenhard I took it real easy, which turned out to be a good thing. I braked a little for Spiegelkurve and turned in. Apparantly this part of the track was a bit slippier than most as the SquealMobile understeered a lot, but didn't do much in the way of turning in. Naturally I did what you usually do in a FWD car: gently lift a bit. Even a moderate amount of lift produced the desired result: the front end started going where I was pointing the wheel. Slightly less desirable was that the back end decided that the original straight-ahead course wasn't so bad after all, and decided to step out. Which was quite surprising, as I was already starting to go back to a neutral throttle by that time. Actually, it felt just like what the 964 sometimes does when you're pushing it.
Luckily the SquealMobile has a very direct steering ratio, which made the recovery a bit easier, enabling me to catch it the first time. Incidentally, this is the first time ever that the SquealMobile oversteered. After this we tip-toed round Spiegelkurve itself and Miss-Hit-Miss, with Keith staying behind us all the way to Breidscheid. At Breidscheid we were greeted with a photographer who used a flash. Interesting experience to be on the receiving end for a change.
Up Ex-Mühle Keith had had enough of following a car with lots of weight, no power and less torque. I wound down my window to see if we could have a chat while struggling up the hill towards Bergwerk, but he kept his foot firmly planted :) It didn't take us long to catch up to him though: just round Bergwerk two Renaults 5 were parked on the track, and Keith was stopping to warn oncoming traffic. We wondered what was wrong, as there wasn't any damage in plain sight, which led us to the conclusion that the problem was probably that it was a Renault 5 and that it was raining, and that that was a bad combination.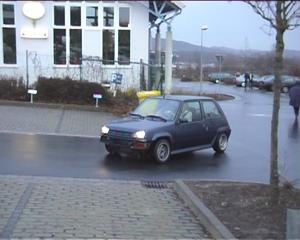 Back in the parking lot the group of done-for-the-day, done-for-the-season Ringers was starting to grow. Christian R. was there, Robin T. made another appearance, Stephen and Ross got into a highly entertaining bit of wordplay about passenger laps, while Ross showed off his iron constitution by refusing to wear a jacket over his T-shirt.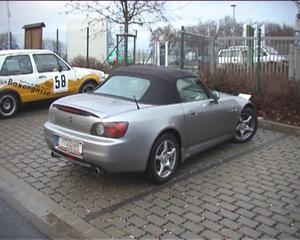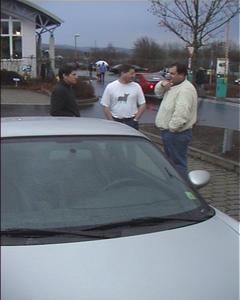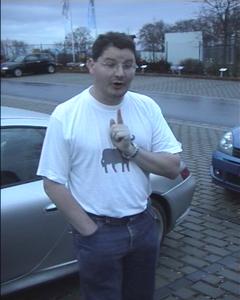 Other entertaining topics were
how you instantaneously sobered up if you were in a passenger seat of a 911 that swapped ends at 2 in the morning in the rain while doing 240km/h;
how Euan demanded to go on a pillion ride with Ross on the R1;
how Euan vehemently denied ever making such a demand;
how Stephen had been a bad boy again;
how Ed had had a "3-pumper" Mini;
how Robin had done his best to be the last car on the track (but failed);
how you lose your front bumper if you spin a Renault 5 Turbo and bounce over the kerb at Bergwerk;
how to get rid of a ceramic brake system;
how efficient Mercedes Benz is at finding you when you're stranded in the middle of nowhere
and on and on and on :-)
Somewhere in the middle of the carpark somebody had invented a Ring-variation on the "dump the contents of your ashtray": he'd dumped a load of gravel on the ground.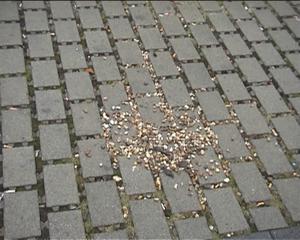 By now I was getting cold, the track was closed, I'd taken a picture of a marshall putting a box over the ticket machine at the gate, and figured it was time to move venues and go to the Pistenklause.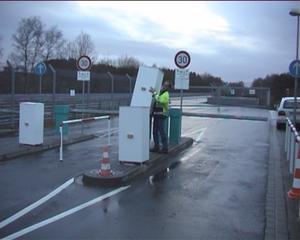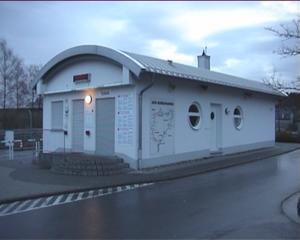 Naturally, the table we initially received wasn't big enough for all the Ringers that showed up. We were more or less the only customers in the place, so that was easily solved. After lots of stories about all kinds of things, and after showing Keith that his phone really could send a contact's information via SMS to a number that you look up in the phone's phonebook (doh), it was time to head home. It was a great day, and a fitting end to a great though expensive season.

---