Friday
The 2005 season premiere was delayed a bit by snow and cold weather. The weather forecast for this particular weekend wasn't too promising either: a bit of dry here and there, and lots of wet. Reason advised me to take the SquealMobile, but I couldn't resist bringing the 964.

After some minor delays I started off, and hit the first traffic jam within 5 minutes. To cut a long story short: the trip down took about 90 minutes longer than usual. At least I managed to arrive in time to secure a seat in the Pistenklause. Most of the usual suspects were there, including Karl, Ross, Soren, Kim, Jochen, Christer, Ben, Birgit, Euan, Joerg, Jocke, Caz, Matt, ..., ... Ross explained his way of dealing with customs officials that needed convincing that removing all metal from his person would be a rather painful experience: just show them the X-rays of your legs. The pictures are stored on your phone, along with a Playboy model (sorry, no picture of that).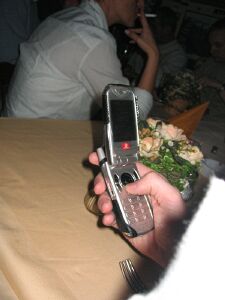 Ringers being Ringers, there were gadgets galore. Birgit managed to steal the show with a digital camcorder that recorded onto a 4GB microdrive. Kurt immediately fell in love with the gadget, and had to get his hands on it.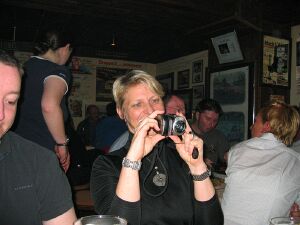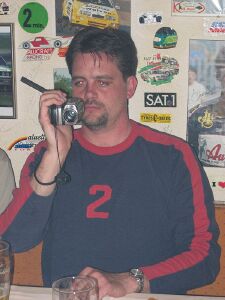 One of the topics of conversation was of course Matt's crash at Metzgesfeld (known hereafter as Mattzgesfeld). Matt had been driving the C-Car (for 4 laps...), and had been taking Ben for a lap in the passenger seat. Approaching Mattzgesfeld, it started raining suddenly, and despite braking harder than normal the resulting skid was beyond recovery, and bumped into the armco. In the process Ben bumped his head into the rollcage. Despite wearing a helmet, a checkup in the hospital was deemed prudent. One of the downsides of staying in hospital is that the food isn't up to the standards of the Pistenklause...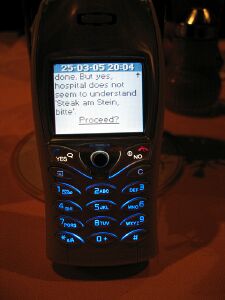 Matt's first impression was that the crash hadn't been all that bad, but later inspections suggested that the C-Car might well be dead. At least it made it to the Ring again, albeit for a handful of laps: Niek's new car didn't get that far: apparantly he saw a need for a longer shifter, and proceeded to wrap his 205 around a tree...
Aiming to be at the track before opening time to renew my Jahreskarte, I left at a reasonable hour. Of course not everybody included early starts in their schedule, but things were thinning out a little.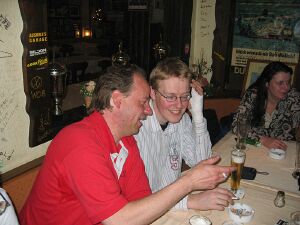 Saturday
I managed the early start without deviating from the schedule too much. Soren was already digging into breakfast, and Kim wasn't too far behind. There was still a bit of fog in the air, which looked nice, but delayed the opening of the track a little. This gave me a chance to renew my Jahreskarte without having to wait in line: the parking lot was still mostly empty. Naturally a number of die-hards was already up at the early hour, including Jocke, Caz, and Tijs.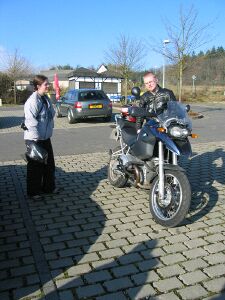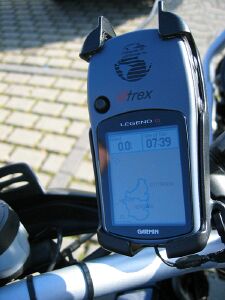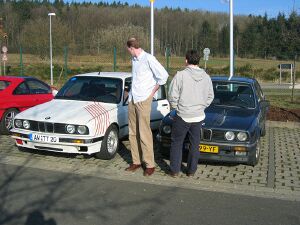 Soren was busy adjusting the seat and harness of the 318is (which has new plates this year). In short order his audience was making brooomm, broooooooommmm noises :-)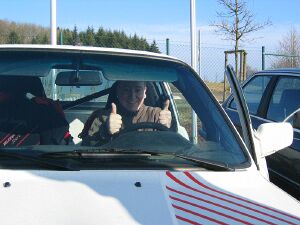 Shortly after this the track opened and everybody made a beeline for the barrier. ThoRSten came onto the track right behind me. Late last year I'd done a handful of laps on the GP-Strecke. This turned out to be quite useful, as I knew at least where the bends were going. Driving the GP-Strecke in the 964 was a lot more fun than in the SquealMobile. Basically it's sharp but long (and mostly tightening) turns connected by short straights. The fun of trying to carry speed through endless tightening corners in a car with terminal understeer wears off quickly. In a car with decent acceleration and good brakes it's much more fun. If only because it's a good reminder that you can't make slow corners any quicker by getting on the gas earlier in a 911.
As it turned out this was ThoRSten's first time on the GP-Strecke. He's much faster than I am, but he seemed content to follow me round the F1-track. As soon as we entered the Nordschleife I made room for him and watched him disappear from sight.
Having gotten an initial impression of the changes to the surface of the track, and of the conditions in general, I did another lap, enjoying the car and the dry track. The picture below is courtesy of Jochen.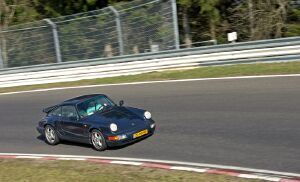 Being low on fuel made me do a cooling run down to Adenau to fill up with fuel.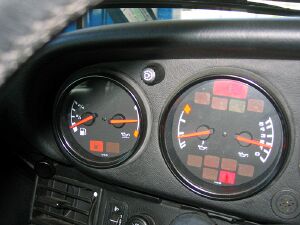 Another two laps followed on which Ed and I had some fun: I'd spotted a rather big BMW 5-series in my mirrors that was a bit quicker than it had any right to be if it was a 525. Slowing down on the final straight I noticed my mistake: both driver and car were a bit above average; it was Ed in the 540i. Definitely a good start of the day. On the next lap I let Ed go first and followed him round. Another very enjoyable lap. Lots of fun. The picture below originates from Schaki.de.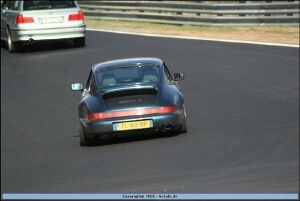 During one of the laps (I think Jochen was in the passenger seat?) Euan accelerated out of the cones ahead of us. Normally that means that we'd never see him again on that lap, but at the beginning of the GP-Strecke we'd caught up to him. Thinking that it would be fun to try to follow him for a bit I started to move in position behind him, but he indicated right. OK, he wants to follow us for a change. Maybe he's low on fuel? So I pull out and draw level, take a look at the driver and realise that though it's Euan's car alright (unless somebody nicked his license plate and the ClubSport decals), there's an unrecognisable face looking back at us. Huh? Did he start a new kind of car rental service? Deciding not to spend too much mental energy on it at that point we went in front and proceeded to pull away. We later learned that Euan's mate Nick was driving at that point. Obviously he didn't want to bend someone else's car so he was taking it easy.
When things got a bit busier I parked across the road, making sure to park on a downhill slope with a grippy surface in front of the car. Even though the incline isn't worth mentioning, getting up it required a bit of a run. Even then the rear was sliding quite a bit.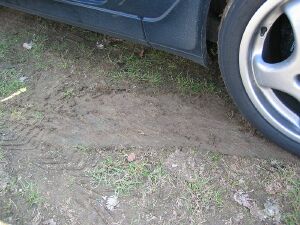 While I was walking to the Zufahrt, another parked car showed just how difficult it could be to get going again. His mate had to push the rear of the car around to avoid hitting another parked car.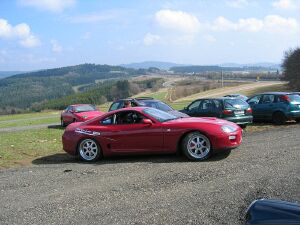 In the meantime Ben had discharged himself from hospital. Of course this had nothing to do with the quality of hospital food, nor with him noticing lots of sunshine outside his window. At the track nodoby seemed overenthusiastic to take him along as a passenger, leaving him with no other option than to go out in the 944.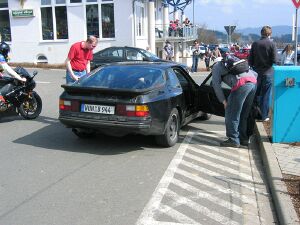 A yellow GT3 showed a good sense of humour with his bumper sticker.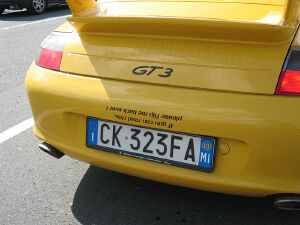 Then it was time for lunch: some crackers and a bottle of AA-drink. By now some cars with decidedly interesting paint jobs had appeared.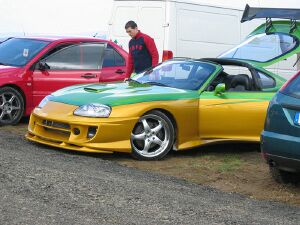 Digestion of my lunch was helped by some more on-track action. Jochen invited me into the passenger seat of his Alfa 155. I'd never been in a 155 before, and despite it getting on a bit in age, it was still a nice car to be in. The engine was the very sweet running 2.0 TwinSpark. Soren was going out at the same time.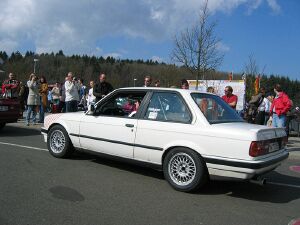 Stelvio too was busy enjoying the sunshine out on the track. For some reason sunshine while out on the Nordschleife is even more enjoyable than sunshine in the parking lot.
The 2-liter engine was no match for the Porsches and other heavy machinery out there, but made short work of the 318is.
It was obvious that Jochen had developed something elusive: a line through the Mercedes Arena. It was a nice experience to view the surroundings. Of course I'd done some passenger laps on the GP-Strecke before, but I was too busy paying attention to the workings and behaviour of the car, an M3 CSL, to really look at the scenery. In addition to that, the weather now was superb, where the weather late last year was iffy at best.
The larger run-off areas at the GP-Strecke invited both drivers and riders to go a little closer to their limits than you usually see on the Nordschleife itself. Consequently some cars were parked in the gravel trap at the end of the straight, and some boiks could be seen on the run-off areas waiting for a lift.
Turning back onto the Nordschleife it was obvious that the track was getting busier. Not spectacularly so, but enough that in a lower-powered car it was necessary to move over quite often.
Some people were having an expensive afternoon, going shopping for armco on the track. This included the driver of the yellow-and-green two-tone Opel Speedster at the entry to Flugplatz.
The Noise was out there too, driven by Jules. The Noise is a Manthey-prepared 964RS. It's black, and it goes like stink. Jules had promised me a passenger lap, something I was definitely looking forward to. On the approach to Schwedenkreuz Jochen moved over to give Jules a clear run at Schwedenkreuz. Seeing the rear suspension working over the bumps in the Schwedenkreuz surface is one of those details that contribute to enjoying a day at the Ring.
The level of traffic remained high, which started to slow some people down a little. Some of those people did all they could to avoid slowing down and started pushing a bit harder than prudent for Touristenfahrten. Combining this kind of behaviour with a huge "Official" sticker on your car tends to provoke a chuckle or two in the onlookers.
Around the corner from Mattzgesfeld the Viper made an appearance, proving that you (or more accurately, he) could easily turn in a long way before the dot painted on the track and still carry reasonable speed through Kallenhard.
On previous laps I'd spotted Tijs & company spectating at the exit of Wehrseifen. The view there must be really good, as they were still standing there. Without taking pictures, unfortunately, but with a friendly wave.
Now, it's fairly well known that I know next to nothing about boiks (other than that they fall over if you come to a stop), but Jochen is different. He has the magical capability to glance in his rearview mirror in the middle of Wippermann and say "That's Franek". A little later, it's indeed Franek who overtakes us.
Back in the parking area Jocke pointed out an interesting badge on the back of an E30 BMW. According to some the car didn't sound exactly as it had left the factory.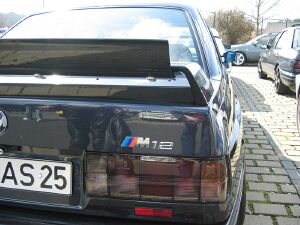 Next stop was the outside of the Karussell, to take some pictures. I'd never been there before, but a kind Ringer had posted some directions on the Ringers list. Armed with those, and after having a look at a local map, it wasn't too difficult to find.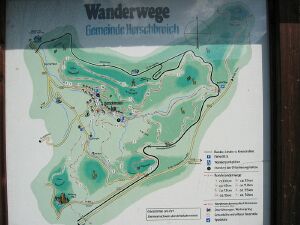 Most of the roads/tracks were in reasonable shape, but there comes a point where it makes sense to just park your lowered two-wheel drive 911, change to hiking boots and start walking.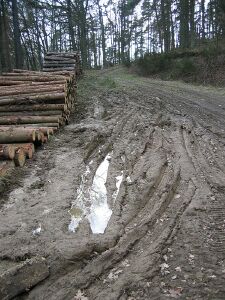 Lucky for me an S2000 arrived when I was in the middle of tying my shoelaces. The driver (Richie) had been up earlier that day, and knew how far he could continue driving. He kindly invited me to hop in and took me as far as he could go, dropped me off, and turned back to pick up his dad. A short walk and a steep climb later I was at the outside of the Karussell.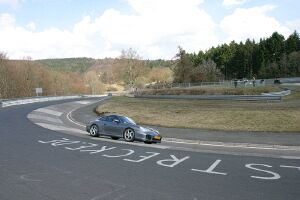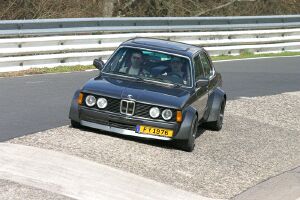 Within minutes of arriving a car pulled up to the side of the road, banging its underside on the kerb: the driver had other priorities as the car was on fire. While taking pictures with one hand, I fished my mobile phone out of my jacket pocket with the other and called the office to let them know that a car was on fire at the entry to the Karussell, but that nobody was hurt.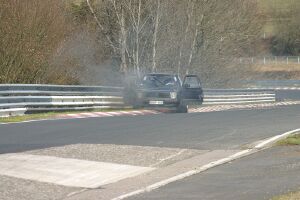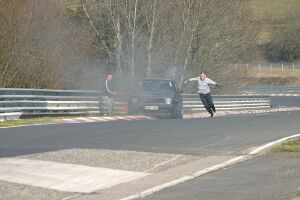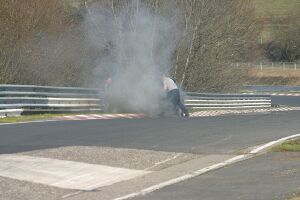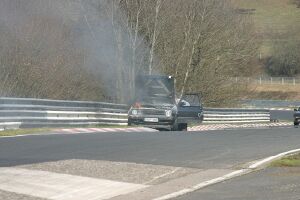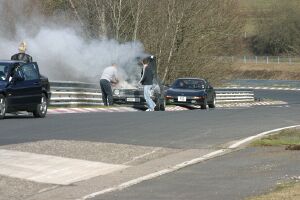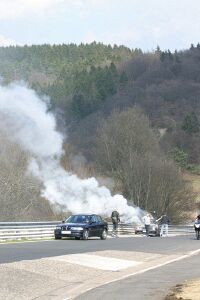 The driver had a fire extinguisher in the car, but it wasn't enough to put out the fire. Several others donated their fire extinguisher to the cause, but until Gary came along with a big-ass fire extinguisher that Jochen used to put out the fire once and for all, the car kept burning.
By now the track had turned into a parking lot. At least most people passed the scene of the incident before parking, leaving the road free for the emergency vehicles. And there were quite a few of them: the marshalls, ambulance, two fire trucks, three recovery trucks, and the police.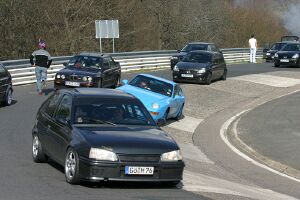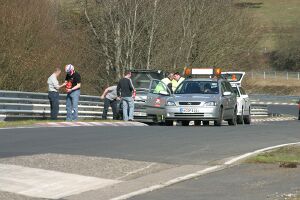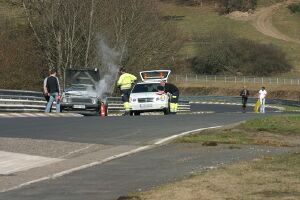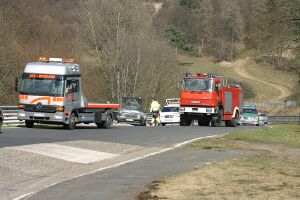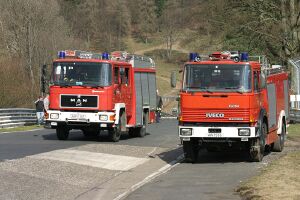 The driver of the fire truck made the most of his free lap of the Ring by tipping the big truck into the bowl of the Karussell and taking the racing line. The Polizei in due course followed his example.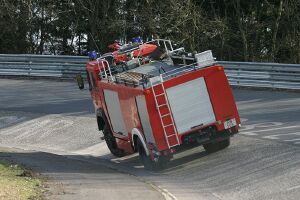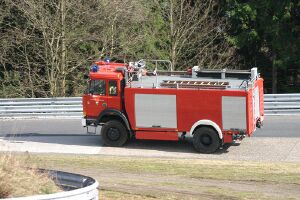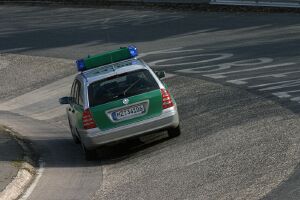 The fire damage to the Golf was impressive, with lots of heat blisters in the paintwork.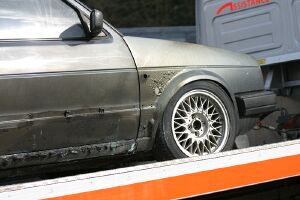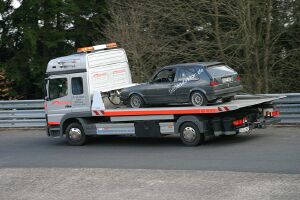 With the excitement over, the parking lot emptied and the track opened again: business as usual.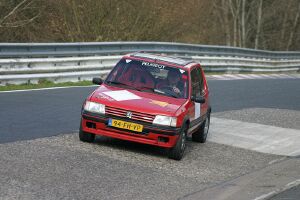 Something I noticed was that quite a few people took a line half in and half out of the Karussell. It didn't make sense to me, but there must have been a reason. I guess.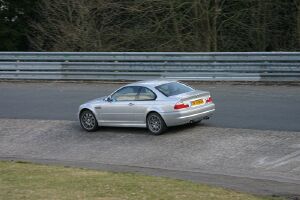 The Edo Porsches had received a new livery during the winter. There were probably too many very all-yellow and all-black Porsches around for them to stand out. The new colour scheme is again a mixture of yellow and black, but distributed evenly over both cars instead of one car getting all the yellow, and the other all the black paint.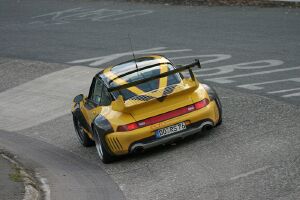 ThoRSten had gone shopping for beer in Adenau, and took his heavily loaded 964RS carefully round the outside of the Karussell to avoid upsetting the precious liquids in the boot.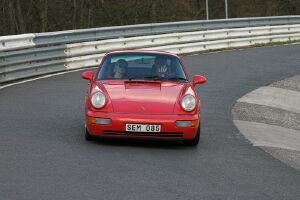 Among the people coming through were quite a few familiar faces, including Ross and Suze in a Galaxy, Shaun, Phil (yes, some photographers do notice...), Falco, Andy and his mate, Fabian, Ben (who needs some of those wonderful M030 swaybars), and Richie (who gave me a lift to the Karussell earlier that day).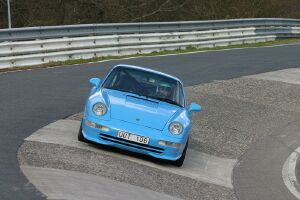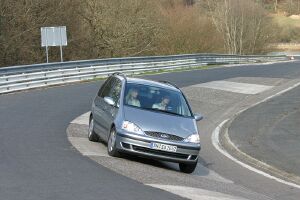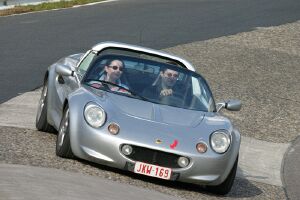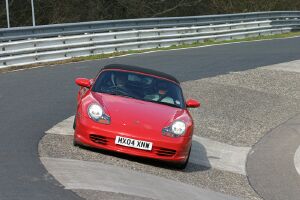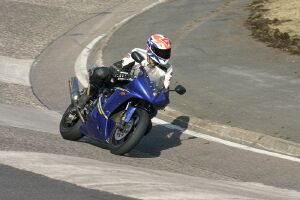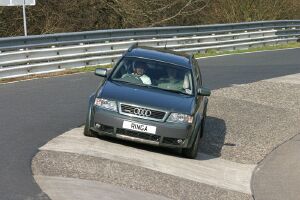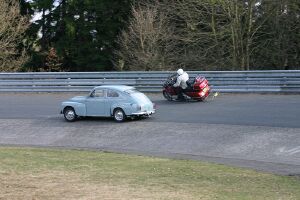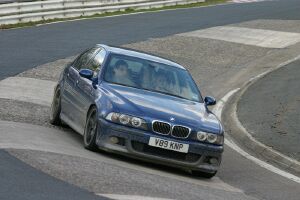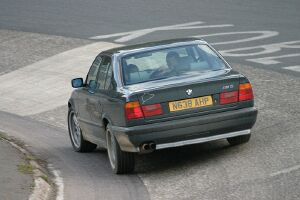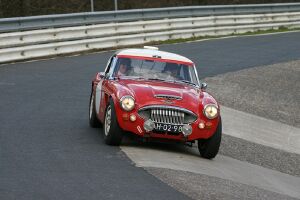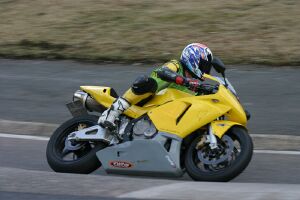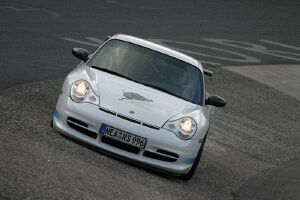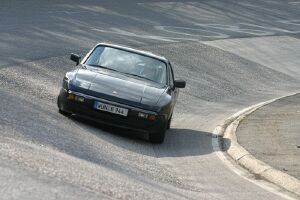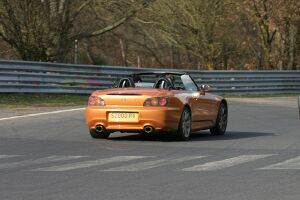 A little later ThoRSten came through again, obviously after dropping off the load of beer as he was back to doing his usual speeds. I really liked the sight of that RS flying through the Karussell.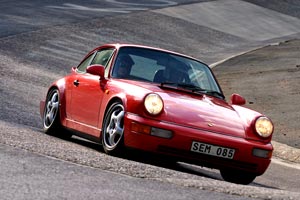 Euan made another appearance too: it looked like he was chasing ThoRSten.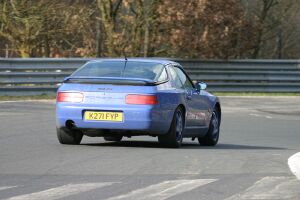 After a text message from Helen that she'd arrived I made my way down again. This time there was no friendly S2000 to take me along, but though the skies started to get darker, it was still dry and sunny. While I switched back to shoes more suited to driving cars, the Ringbunny came out to enjoy some of the fresh country air.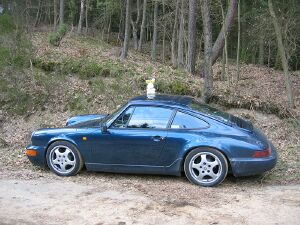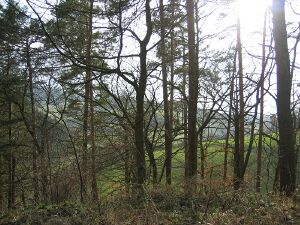 Back in the parking lot near the office the temperatures were dropping rapidly: it was about to rain. Instead of trying to cram into the Grüne Hölle with another couple of thousand shelter-seekers, we went across the road to the 964. We made it inside just before the real rain started.
Our neighbours had a nice little barbecue going, which involved the driver getting out into the rain once in a while to hunt down some new food (it's a man's job, when it's raining).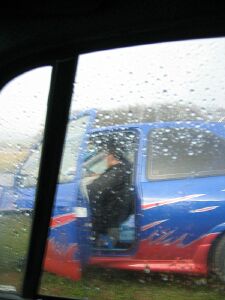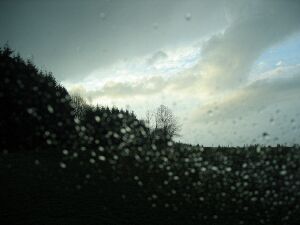 The rain gave me a chance to download the pictures taken at the Karussell to my laptop, ready to be displayed during dinner that night. In reality my switching to digital isn't all that long ago, but I already find it difficult to recall the hassle of developing, negatives, long waits, and crappy scans.
A flurry of text messages went from phone to phone, with the result that everybody showed up at the same place at more or less the same time: dinner was at the Lindenhof tonight. My little slideshow (of 400 or so piccies) kept people entertained. Not that there's much need for additional entertainment when you put a bunch of Ringers in the same room after a perfect day at the track and add some beer into the equation, but hey, a man's got to do what a man's got to do :)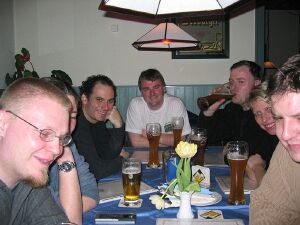 The slideshow finished just in time for dinner. To be more precise, the plates for my end of the table arrived last, allowing the slideshow to complete while the first eaters got started on their Grillhaxes and Schnitzels.
Naturally, the usual weird things take place, such as Euan indicating how tall something or other was, people trying to lean back through the walls to fit everybody in a single picture, and people scratching their head about what to do about their fogged up lens.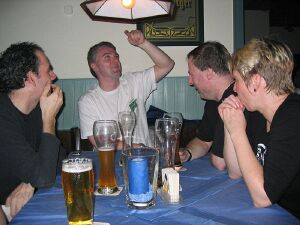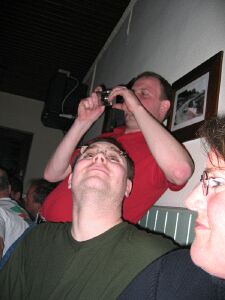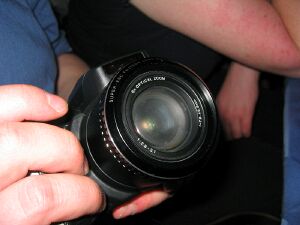 Since I had my laptop with me anyway, and since Matt (certified gadgeteer and technologist) was in the vicinity, it seemed like a good idea to have a preliminary look at some datalogs captured during some of my laps from that morning. As sometimes happens during occasions like these, somebody borrowed my camera and took some pictures of me, circumventing my elaborate ploy not to be in pictures by staying behind a camera myself.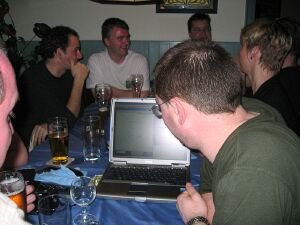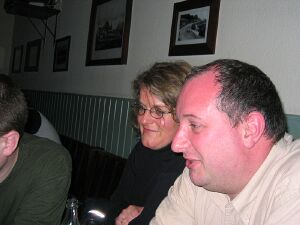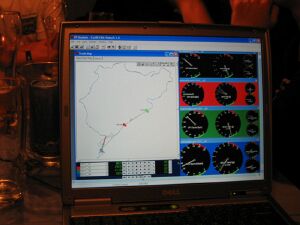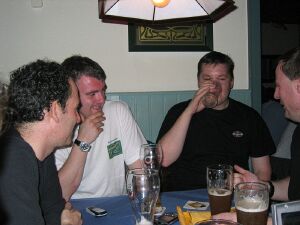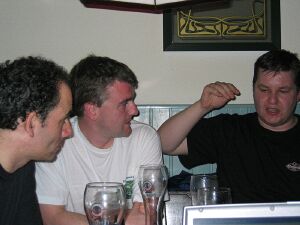 Of course a laptop with lots of moving dials and a map of the Nürburgring attracts a bit of attention.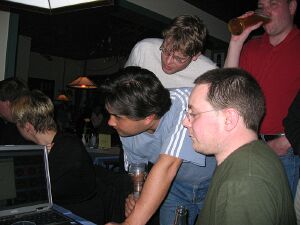 Because of this, Jocke had to wait a little longer before I could convert a picture of him on his new boik to a format suitable for use on his Nokia Communicator. As gadget-oriented people hate to wait, it was the natural thing to have my laptop talk to his Communicator via infra-red, and beam the new picture across.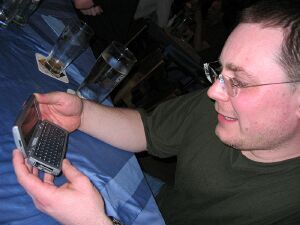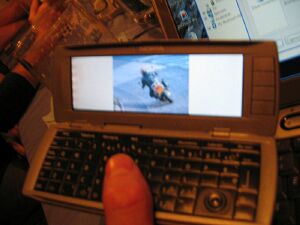 A long conversation about "the gist" and "colloquialisms" somehow fit neatly into all this. Don't ask me how, but it did. After some more MP3-encoding-related conversation it was time to pay the bill and head back to the B&B to get some sleep before yet another early start.
---