One of the less obvious downsides of getting up early due on a regular basis to work commitments is that when you can sleep in, you don't. At least, I don't. However, despite waking at an early hour I got slightly distracted, and with some work interrupts thrown in I started off a bit later than intended. No problem: I still had about an hour margin before opening time. Naturally today was the day where the number of traffic jams and queues was significantly greater than normal, including a fully closed-off A61 to Koblenz. To make a long and boring story short and hopefully less boring: it took more than 45 minutes longer than usual to get to the Ring. (I know, I know, there are lots of people who would love a 45-minute delay to be their worst case...)

Anyway, I still made it to the entrance in time to claim my favourite parking spot.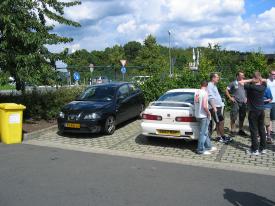 The carpark was still reasonably quiet.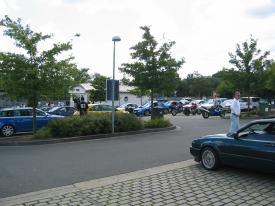 That soon changed with the arrival of a couple of Ferraris who took up their traditional duties of carpark entertainers fortwith. Some creative use of narrow parking spaces with wide cars had Ferrari 1 bumping his door into Ferrari 2 while getting out. In the meantime naked torsos were shown off to all and sundry while changing into racing overalls. (Not colour co-ordinated with the F-cars this time.)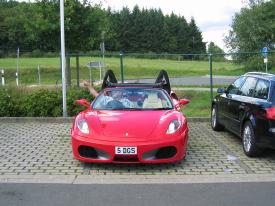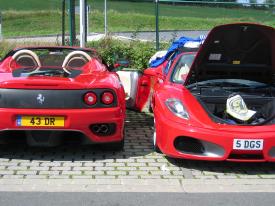 Also part of the show was an Ultima GTR: his role in the play consisted of blinking his emergency indicators and sounding his car alarm every few minutes. I guess it's not a Jeremy Clarkson approved car...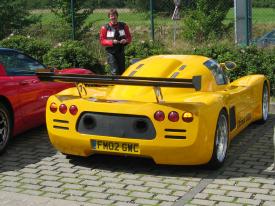 Wandering round the carpark I met up with Matt, Nic, Jocke, Caz (who'd misplaced her Jahreskarte transponder, which sets you back 60 EUR), John and Paula B., and Barry. John & Paula and Barry were what was left of the group of Rennlisters who were going to the Nordschleife that weekend. The list of dinner reservations kept getting shorter and shorter in the days before the trip.
Shortly after the track opened it was time to go out. Matt was following me in the Golf. On Döttinger Höhe I overtook John who was still getting used to using the GT3 in anger. The track was reasonably quiet and conditions were perfect. Time to do another lap straight away, then. I enjoyed squeeling the Pirelli tyres: contrary to the previous set of Dunlops these don't make such a squealy fuss everytime you turn in at speeds beyond walking pace.
When I pulled into the carpark I spotted John on his way out. Naturally I turned right around to make it a 3-in-a-row. I wound down the window a little bit to catch more of the GT3 soundtrack. Very sweet indeed. But I knew that already, of course.
The car could do with a little break now, especially the tyres and brakes like to cool a bit every few laps. Matt was letting the C-car cool down too, and Matt, Nic and I had some belated lunch in the Grüne Hölle. The Schnitzel and fries isn't half bad, even though it's ridiculously overpriced. While we were catching up in several important areas (gadgets, hifi, cars, and for some people: kids) John, Paula and Barry joined us.
Things were getting busier by now, and I took Barry round for a lap to give him some pointers. There was quite a collection of yellow flags round the circuit by now, and I dropped Barry off to go to the nearest ATM to get some money. Ed's 944Turbo was parked next to the Dorint, but I didn't see him. Back at the track the red light was on and I found myself a parking spot across the road.
The little carpark closest to the roundabout held a collection of classic cars, including several Porsche 356. More than 44 years old and still great to look at.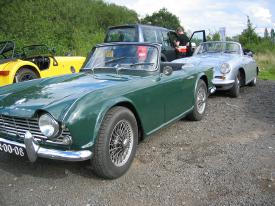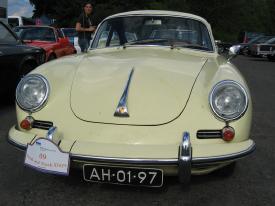 Some people don't want to be without satellite TV, even when they're at the Nordschleife :-)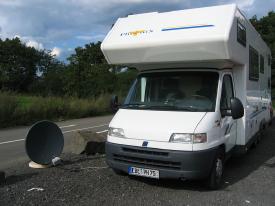 Walking back to the main carpark I couldn't help but notice a white GT3 parked in a strange location.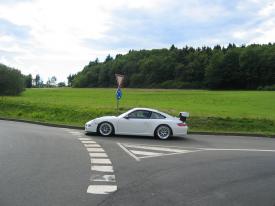 Apparently the closure was due to a car rolling. The long closure provided ample time to catch up with Phil who'd been givin' it some. Actually, he'd been givin' it so much that het couldn't get out of his leathers anymore.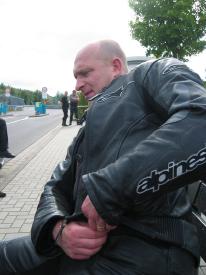 The Viper crew was having a bit of a break too.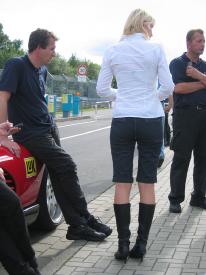 Jocke showed what happens if you go for quality German engineering (as opposed to, say, quality Italian engineering): a loose rearview mirror.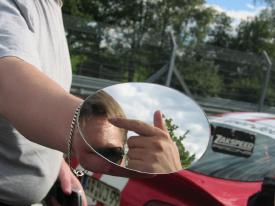 Luckily for him I had matching black duct tape in my car. Unluckily I got distracted when I went to get it, and I did bring back the car from across the road to the main carpark, but forgot to give the tape to Jocke. Which saved him from crashing at Hohe Acht, but we'll get to that later.
By now Matt had taken control of my camera, so if you want to complain about the following pictures, please do so directly to him and don't bother me.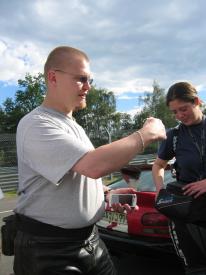 Three scary looking people on a bench: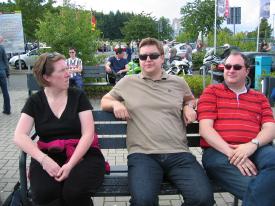 Caz tried to hide from Matt, but wasn't very succesful.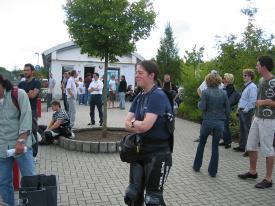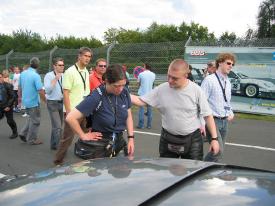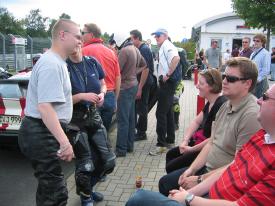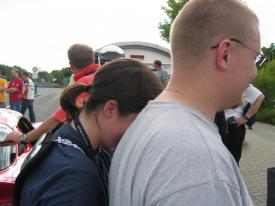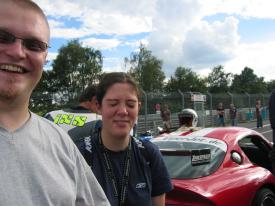 A car you don't see every day, even at the Nordschleife: a Lancia Stratos.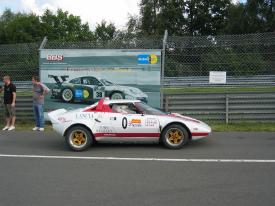 After a good long while the car that had rolled came by on the recovery truck.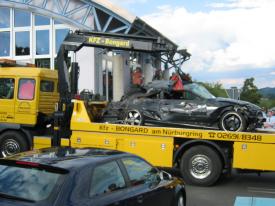 Shortly after the track opened again, and when the initial rush had subsided I did two laps in Barry's passenger seat to give him some pointers. The first thing I noticed (apart from the missing steering wheel in front of me) was a distinct lack of headroom courtesy of a sunroof. Traffic was pretty bad, with lots of cars stopped, broken down, or crashed. When it started raining we pulled off. By the time we got out of the car it was dry again.
Time was getting on a bit, and John and I went out together. Matt was doing another lap too, and we had a bit of an improvised convoy lap with me leading the parade. Barry came along for the ride. I'd given Jochen the details of John's car earlier that day, hoping that he might be able to take some decent pics of John in action.
The track had dried out completely after the short shower, and Matt (having sneakily inserted himself between John and me) and I were squealing through Hatzenbach at good speed. Schwedenkreuz was nice too: I seem to be able to do a halfway decent speed there again. Fuchsröhre was the usual keep-your-foot-down experience. All in all a lovely drive through the Eifel countryside in gorgeous weather. You'd almost forget it was the Eifel, really. Except that after overtaking one car into Hohe Acht and having started to figure out where I was going to overtake the next car, the track was suddenly quite wet. A bit annoying when you arrive at the braking zone (yes, I brake for Hohe Acht) of a corner at dry speed only to find it wet. I scrubbed off some speed, unwound the steering a bit to get more grip, and made it round the very outside of the bend. My slipping and sliding provided Matt with a bit more warning, and he had all the time in the world to wonder how close to the wet green stuff I was.
After this bit of excitement the conditions were very variable to Pflanzgarten. Matt dropped out the back and John overtook Matt at Brünnchen-2. Brave man, in the changing conditions. Meanwhile, back at the carpark, Jocke had decided not to go out without ducttaping his rearview mirror. So, in effect, I saved him from crashing :)
To finish the day I took Matt out for a final lap of the day in the still very variable conditions. In a weird way I kind of like these conditions. Maybe because I keep reminding myself that "these tyres have no grip at all in the wet" :-)
There was still time to do another lap, but we decided to call it a day and to move the festivities to the Pistenklause.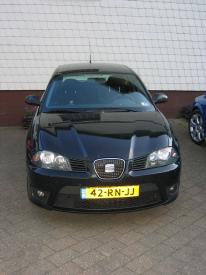 Jochen reviewed some of the day's take and showed it to a captivated audience.
Matt went through some pre-dinner antics. I'm not sure what the first pose was about, but the second was a replay of the "Ahhhhh!!!! Veggies!! I'm under attack!!" scene earlier this year.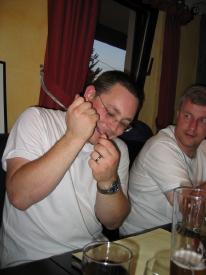 Ordering dinner included a hilarious bit of two-man sit-down comedianism. Matt wanted to reduce the risk of another veggie attack, and wanted his steak without veggies.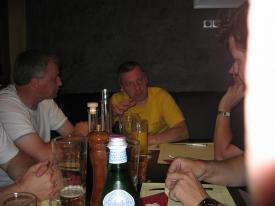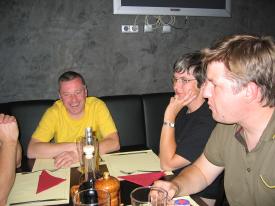 Jochen was quite keen on an extra portion of rabbitfood, and tried to convince the waitress that Matt actually did want the (standard) salad to go with the steak. Matt then "corrected" this by saying he didn't want the salad. They managed to keep this up for quite a while: long enough that when the food came, everybody received the standard salad.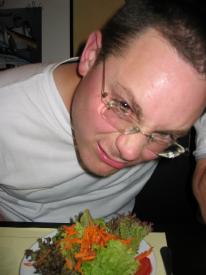 Jochen then started juggling two phones. Maybe it's time for a dual SIM phone?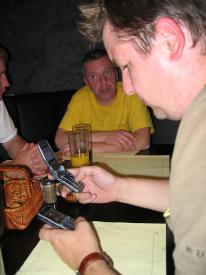 Desert was a custom-designer affair for some of us, along the lines of "no salad": I seem to recall that Jochen wanted two scoops, but the mountain of icecream on his plate was definitely more than two scoops.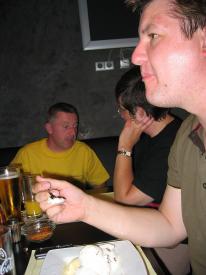 With a bit of prompting we found that there are fates worse than eating veggies.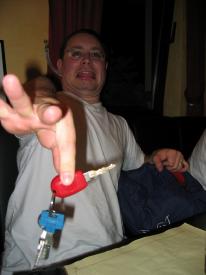 The next day we started the trip to the Netherlands early. After squeezing through the queue of GLP participants I brought the Ibiza tyres back up to normal pressures. I let a rather harried Astra-driver go ahead of me as he was only minutes away from missing entry to the GLP.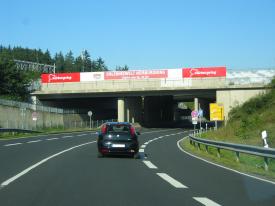 For those who made it this far: the rest of the weekend is covered in Helen's blog.

---