Saturday
The prospect of watching and hearing a real F1 car in action (first time in 31 years, according to the press office of BMW) on the Nordschleife (for free, even) prompted yet another Ring trip. It would also give me a good opportunity to catch up with Jon, who had scheduled his business neatly around a long weekend at the Ring.

The drive over went quickly and smoothly, but the traffic situation in Adenau hinted on a larger than average number of spectators at the VLN race that was still in progress. I'd settled on Metzgesfeld and the exit of Kallenhard as decent places to take pics. The hike up the hill was hard work, carrying a photo bag and lots of water.

I enjoyed watching the last half hour or so of the VLN from a shady spot under the trees. Then I made my move into the sun and to the one properly positioned small hole in the fence. My neighbour had brought a garden chair to stand on: this allowed him to get good panning shots with his camcorder. After a wait of about 45 minutes we could hear the BMW scream through Fuchsröhre on the way to Adenauer Forst. It sounded very very loud when compared to the VLN cars of 45 minutes earlier. It was also a lot faster.

The pics didn't turn out very well; here's one to give you an idea.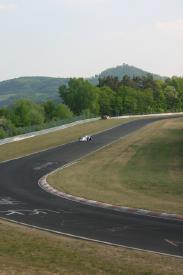 To satisfy my curiosity I started my stopwatch and ran (well, walked quickly) back down to take a second set of pics at the exit of Kallenhard. The laptime was about 7.15. The pictures in this location turned out much better. The 70-200/2.8IS remains a stellar bit of photographic kit.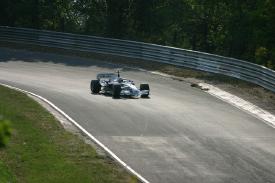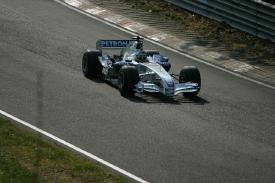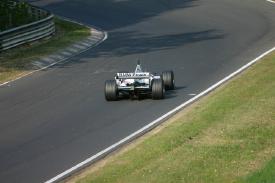 According to those in the know (i.e., the local spectators) mr Heidfeld would be doing either 2 or 3 laps. Confident that I had some decent shots, and certain that I wouldn't make it to Wehrseifen in 7 minutes (at least not alive) I leisurely walk back down and texted Jon to arrange to meet at the carpark.
The first thing I heard when I exited my car at 1 minute past 18.00, the official opening time, was a repeat of the announcement that "due to circumstances on the track the track would not open tonight". A bummer, especially as my main reason for coming over wasn't the F1 car (nice bonus though it was), but testing out my datalogger that I spent most of the previous Saturday mounting to the Ibiza, and doing some laps with Jon who was over from the States.
Instead Jon and I went to Jochen's place to have a look at his new monitor, calibrate it, and check out some of his pictures (excellent as usual, including some really good ones of the F1 car). All in all I went home again with no laps driven. Which means that the "trip" really doesn't qualify as a trip. It did provide me with an excellent reason to do another trip on Monday.
Monday
Again in beautiful weather I made my way to the Nordschleife. The track was closed when I got there, so I spent a while hanging around, talking to Euan and Ross and Stelvio. One of the first topics of conversation was Soren having a bit of an "oops" moment at Galgenkopf. Luckily he's OK, though the car is a bit bent. I'm sure Niek is grateful to him, as it will shift some of the piss-taking from himself for spinning at beginners corner to Soren.

After the closure Euan and I did a convoy lap, with him pushing me round. The amount of grip that 968CS has on R-compounds is amazing: it was funny to see him exiting a carwidth off the outside kerb in my mirrors in several corners.

At Hocheichen there was a curtain of dust across the track: obviously somebody had done a bit of dirt-tracking there very recently. When we came to Adenauer Forst we caught up to a Swiss Exige. Which is nice. Not so impressive was the fact that he really didn't want to let me by. At every corner I had to slow down to avoid rear-ending him, after which he'd use his power advantage to pull away. Even getting a good run at him through the corner didn't help. Neither did indicating left, as you can see in the following picture (dunno who took it. Let me know if it's you and I'll add a credit).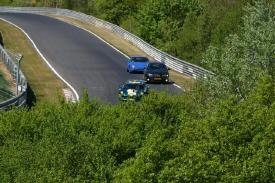 We managed to keep this up all the way to Wippermann, where I got some help in the form of a properly driven Exige (a black one). He came flying past when the Swiss Exige closed the door on him and almost ran him off the track. I'd tagged along behind the black Exige, and with the left indicator on, flashing the high beams and honking the horn I finally made it past him going into Eschbach. It would have been even better if he'd let me by going into Brünnchen, but at the time I was glad to be able to continue at normal speeds.
The lap after that Euan went ahead, with me hoping he'd slow down to give me a chance to keep him in sight. This excellent plan went out the window the moment a 997 GT3RS accelerated past us: Euan put his foot down and started chasing it down. He was staying on its tail to Hatzenbach, where a yellow flag gave me a chance to catch up. At that point a white 968 wanted past, and I lost touch with Euan and the RS. Not that I would have been able to keep up, but the white 968 did slow me down a little. The rest of the lap was quite messy, with a little too much traffic around for my liking.
I did a third lap in the hope that things would improve, but they most certainly didn't: going into T13 a red BMW E36 decided to dive to my inside for a classic undertaking manoever. Quite neat when you're racing; not so smart during Touristenfahrten. Ah well, that's why you check your mirrors...
A helpful spectator was warning us of a crash that had occurred at Hocheichen. I enjoyed the sight of a blue 964RS overtaking me, then let a 944 by going into Aremberg. This time there was no traffic in Fuchsröhre, allowing me to keep it flat through there for a change. The outside of Kallenhard was a big dirty mess, but by now the normal line was clean again. Up Ex-Mühle the silver 997Turbo that Jochen had a lap in came screaming past as if I was standing still, gulping air like an oversized vacuum cleaner. From there to Eschbach wasn't much to write home about: several boiks and lots of cars, and most of the cars were either slow or didn't watch their mirrors, or both, and most of them didn't indicate to show that they had seen me. When I hit yet another bunch of traffic in Pflanzgarten I decided to drive the remaining few corners like a proper tourist on a sightseeing drive.
Time for me to get something to drink and for the car to cool down a little. And to get a passenger lap with Euan. Before we went out, Euan wanted to check the oil level. And I saw him going to the back of a car. I guess he dreams about GT3s and RSs a bit too much :-)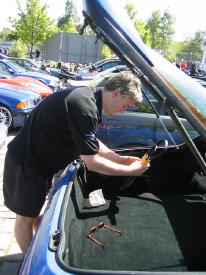 I noticed some new red bits on his car.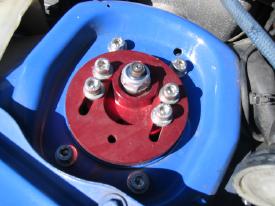 The first lap we were held up a lot by other traffic. Most notably by a bunch of Italian boikers who didn't bother to look in their mirrors.
In stark contrast we came upon a small group of German boikers, who showed that they were paying close attention to what was happening behind them.
Lap two was much better: only a bit of traffic, and most of that didn't slow us down much. Which resulted in a bloody quick lap. Highly impressive.
I then met up with Jochen, who got to drive a 997Turbo on the track. Of course he couldn't wipe the grin off his face, or stop talking about it. He claims to have the highest average speed of all Ringers, having done only the single lap.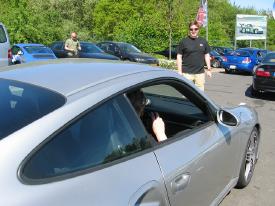 We did a quick run to his house to pick up some stuff I'd forgotten on Saturday. Jochen pointed out that the traffic sign in Nürburg Centre was upside down. With the amount of cars coming through there on an average day it's probably not much of a problem.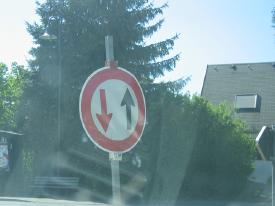 I noticed the familiar Rennsport 944 in the carpark, but didn't see the owner (again).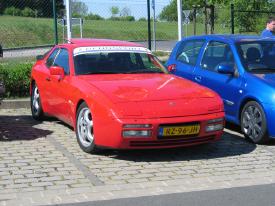 This time it was a BMW 6-series who provided me with my customary sloppy-parking picture: some people park close to the kerb; others need a bit more space.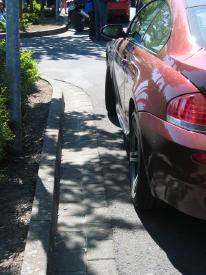 Round the corner I saw some serious carpark maintenance going on. Two Swedes had run into a spot of trouble because they'd been forced to go off the track to avoid hitting a biker, due to another vehicle doing something silly. As a result the 993 had suffered some minor scratches and a bent steering arm. Luckily one of them was a very competent mechanic, and they'd collected a replacement arm from Trier and were fitting it in the carpark. The challenge would be to get the tracking right...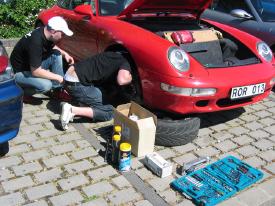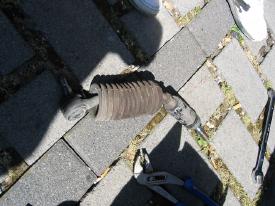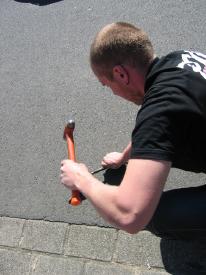 Jon told me he had several very enjoyable laps with Tom in his M3, and he was going to introduce me to him. Before we got round to that I spotted Jochen, who was talking to, yes, Tom, and we introduced ourselves. As I wanted to go home at a decent hour we spent our time wisely, with me taking Tom out for two laps in the Ibiza.
Traffic was pleasantly light. Apart from the occasional boiker and a single BMW we didn't encounter much in the way of traffic, allowing us to chat about this, that, Pirelli P6000 vs P7000 tyres, and the braking point before Bergwerk.
The second lap started by chasing down a stripped Alfa 75. He managed to pull away from Hocheichen to Schwedenkreuz, but we caught up at Adenauer Forst. A BMW E46 spent quite some time in our proximity. He had quite a bit more engine power, but we had a bit more track knowledge. This translated to him overtaking us up Kesselchen, and us catching up again at the Karussell, and re-overtaking him Schwalbenschwanz. At the end of the lap he pulled level to give us a big thumbs up and a matching smile.
Tom then returned the favour, and provided me with a most enjoyable lap. Despite the handicaps of a lot of traffic in the way and a glovebox that fell open, we went round at impressive speed.
When we got back Tom went to fill his car, and I took Jon out for a lap. He noted that I drove this car quite differently than the 964 :-) Traffic was pleasantly light: apart from slowing down because of a yellow warning light in Fuchsröhre (the reason of which we didn't find out) and making room for 2 fast boikers on the approach to Miss-Hit-Miss there weren't too many others about.
At Breidscheid a biker had gone down in an unusual spot. Most tend to go straight into the wall, but this one was down just before the beginning of Ex-Mühle.
The rest of the lap was nice and quiet, but when we came back the red light was on, of course. This made my decision to go home at a reasonable hour a bit easier.

---