Yet another trip where the best laid plans went out the window. This time I had intended to swing by Bob's place to drive to the Ring in convoy from there. Naturally higher powers intervened, so Bob (and as it turned out, Dave) went to the Ring a bit ahead of me.

Enjoying the sunshine I decided to take the B-257 instead of the 258 for a change. At the bottom of one of the hills a boik was lying in the middle of the road: a boiker had crashed. An ambulance was just arriving.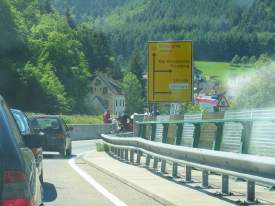 Most of Nürburg had been invaded by the 24H-crowd already, making the streets rather narrow.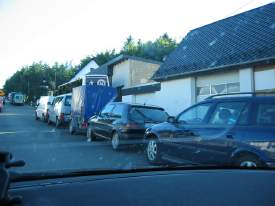 Bob texted me to warn me that the track wouldn't open until 15.00 at the earliest. I parked across the road in the dusty carpark (which is much better than a muddy carpark), where I noticed a familiar car. It's been prepared by Lothar of Rennsport, who also maintains my 964.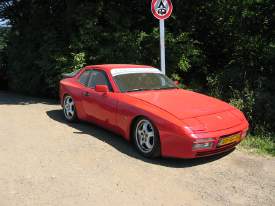 In the less dusty (but at least as hot) carpark I found the Bad Dragon and his matt black support vehicle, the tailgate of which provided a bit of very welcome shade. The Dragon himself was to be found near Dave's Elise. Bob was there too, providing tools. Dave provided some well-chosen but mild swearwords.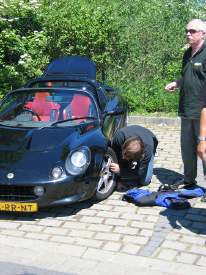 A friendly enquiry told me that there were two things wrong with the car. First of all, it had managed to lose some of the brakepad retaining clips. Dave was busy fitting some spares that Bob happened to have on hand. The clips were a bit reluctant to go into their assigned spaces. Small miracle: they're in a tight, dark and dusty place. I wouldn't want to be there myself. Still, Dave managed to convince the clips it was in their best interest to snick into place.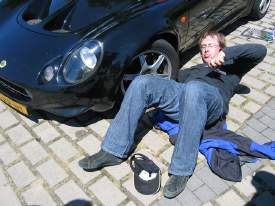 However, that was only the first problem. During his last visit the Elise had suffered from consistent misfiring. The same problem had occurred today. This time it was my fault though: because I was delayed, Dave had been tempted into washing the Elise. And as it turns out, the car is afraid of water. A bit like the BastardWagen, really.
Even spraying everything and anything remotely electrical with liberal doses of WD-40, the Elise didn't want to run properly. While spraying, Dave explained some of the finer points of Lotus design to me. I've forgotten most of it by now, but I do recall that the engine management was put it the wettest spot they could find, and that it was right next to the high-voltage stuff for maximum interference. Somebody really thought that one through. No doubt it's good for weight distribution. Or something :)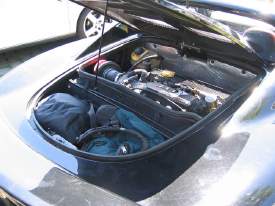 Dave's car also had a supporter on board: a real Wuppie. The bright orange Wuppie was a nice contrast to the freshly washed black of the Elise.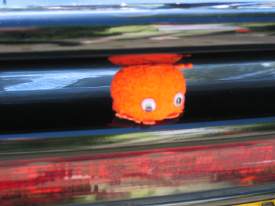 As we were admiring Dave's handiwork, an announcement told us that the track wouldn't open before 15.30. Time to get something to drink, then. Bob found us some good places and enough chairs on the balcony of the Grüne Hölle. Of course I couldn't help but ask after the big "Burt & Bob's Cloggie Bash" sticker on his Elise. As it turns out it refers to a tour of Holland of lots of Elises. This not only involves driving Elises, but also racing shopping carts in the middle of the night :-)
The next announcement from the office was that the track wouldn't open before 16.00. I had some things to take care of at a B&B in the area, and decided to pop by to see if anybody was home. Luckily there was, and I ended up having a long chat with the owner about the Ring, the local economy, how the two were entwined, how prices had risen stupidly over the last year or so, and how annoying it was that the neighbour's kids always wanted to borrow her stuff, and how those things then disappeared into thin air. But I digress. Even though the track was still closed, I made my way over to Quiddelbacher Höhe to take some pics when the track opened.
Despite nice weather and lots of boiks around, only a few of them obliged with a wheelie. The synchronised wheelie of this duo was highly appreciated by the spectators.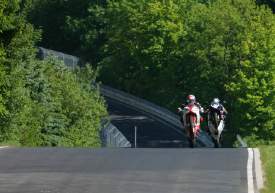 It was interesting to note that most people turn in quite early for Flugplatz. Notable exceptions were the Viper, Ed (in one of the Ron Simons Alfa's 75), and Swiss Fabian.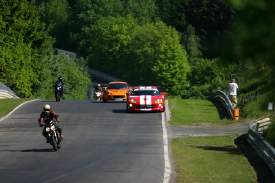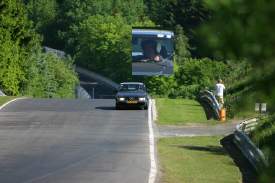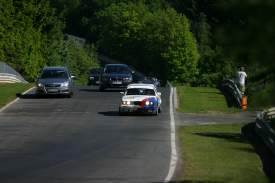 Not everybody was patient that afternoon.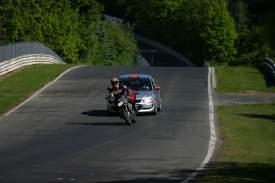 Sometimes the track was nice and quiet, though. Bob and Dave were making the most of it.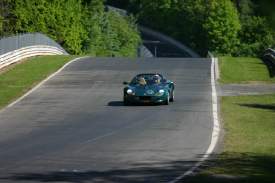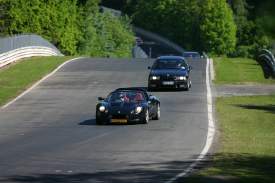 Some people know the track so well that they don't need to look where they are going.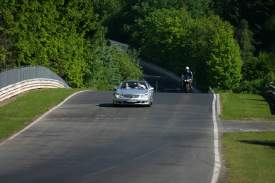 Some random shots: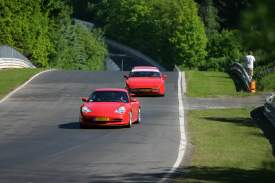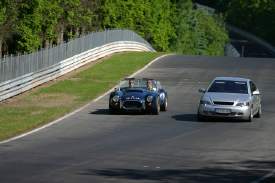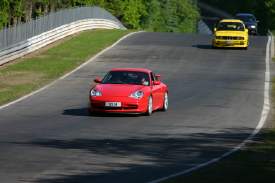 An MX5 was trying to convey his sentiments to an Aston Martin. From what I could see the concepts "mirror" and "looking" featured prominently in the display.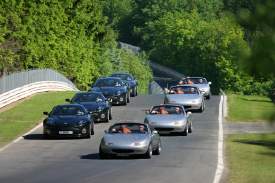 Some more random shots: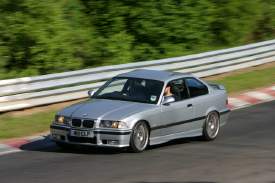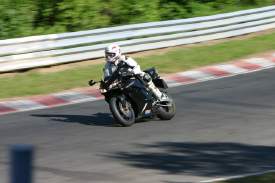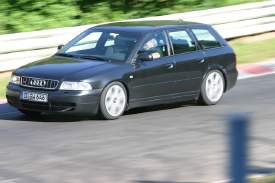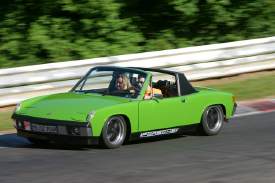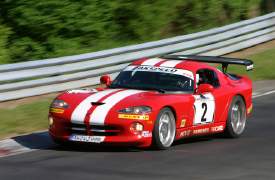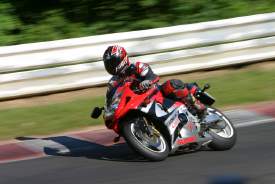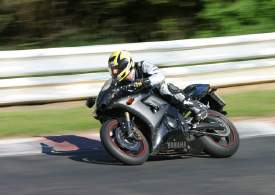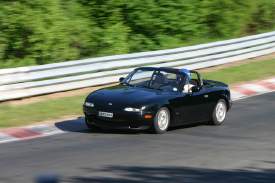 Did I ever mention that I'm partial to GT3s? I did? Oh... :-)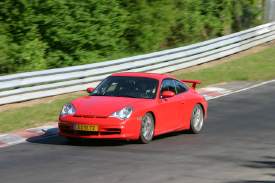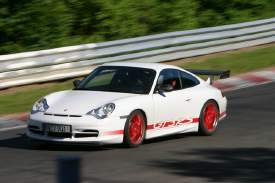 Kermit had come out to play too.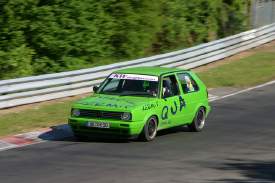 As had this rather quick thing.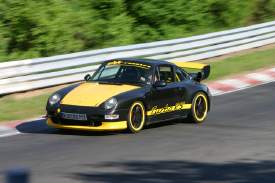 This Jag was going round at a more stately pace.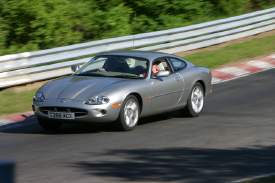 The driving school was there too. Maybe a student took a wrong turn?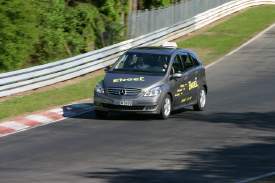 The passenger of the Sylva Striker (there's that Burt Reynolds movie again) seemed to be enjoying himself immensely.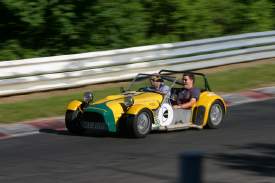 Taking this much kerb isn't the recommended way to enter Flugplatz.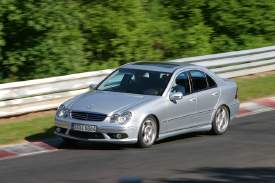 More random shots: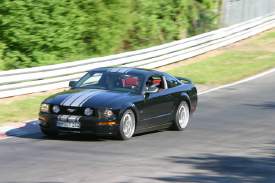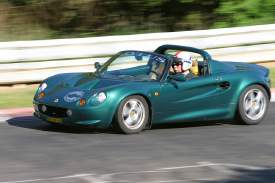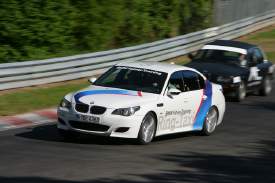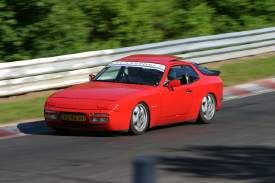 This 997 had put his codriver to work, reading a Nordschleife map.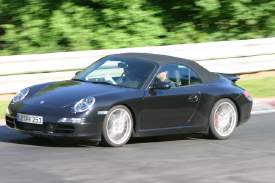 A rare sight indeed: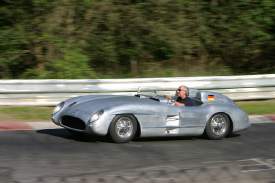 It's supposed to be a replica, with a hand-built SLR body on a 1957 SL frame. It's close to half a million euros worth...
After a little while I decided to pack it in and do some laps myself, using the Breidscheid entrance for a change. There were lots of yellow flags and fresh accidents. Apart from that I was glad to be able to do at least a few laps.
On the first full lap I happened upon a Golf VR32 that was going just a tad slower than I was, so I overtook him. Based on his driving, I assumed that he didn't quite know the track yet, but he wasn't about to let that slow him down. I pulled away slowly but surely nevertheless, but thanks to the yellow flags he caught right up again several times. The second lap was more of the same. Which can be good fun, until Eiskurve. The yellow in Brünnchen had allowed him to catch up again, and on the approach to Eiskurve he stuck the car up my inside. Would have been a nasty accident if I hadn't noticed him. The funny thing was that despite almost coming to a full stop, he still managed to hold me up before we got to Pflanzgarten. Wonderful.
With that many hold-ups during each lap, and given the rather aggressive driving (not only of the Golf), I decided to park the car and walk around for a bit. The Dragon support van was still providing support to all and sundry, and from its shade I spotted Ed. Ed was working for Ron Simons as an instructor. He'd been at the scene of the accident earlier that day, and told me what had happened.
Time was getting on a bit, and hoping for a quieter track I went out again. Things had settled down a bit, but the number of accidents per kilometer hadn't really decreased. After a lap of that I called it a day. Not that I had much choice in the matter, as the red light was on again when I rounded Galgenkopf.
On my way home I noticed a damaged white 997. A stark reminder of the big crash earlier that day.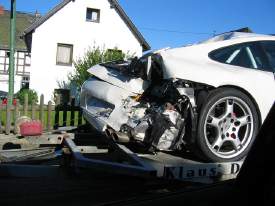 ---