Thanks to some meetings being cancelled at the last minute, I found myself with some time to kill. One way to spend that time would be to catch up on some administrative chores (paying bills, building a website for the Ringbunny, or clean the house), but I went to the Ring.

Touristdriving was scheduled to begin at 17.15, so I took a few pictures of cars flying by that participated in a trackday. Among the participants were a highly modified Donkervoort, some VLN cars, and the usual assorted Porsches. Jules and some of his mates were participating too, as were Johan and James with Team Schwedenkreuz.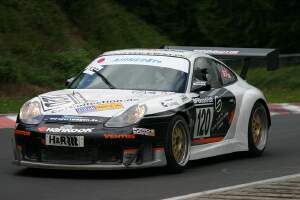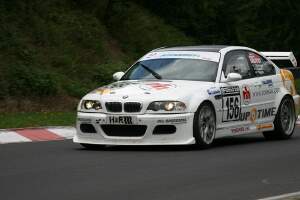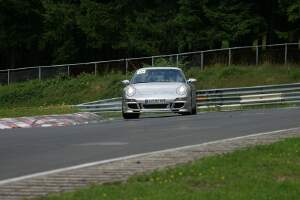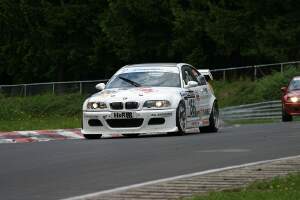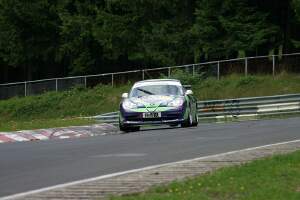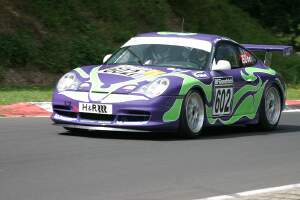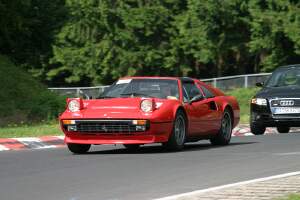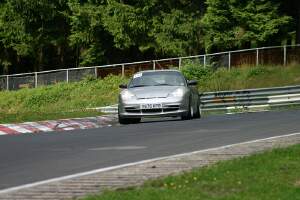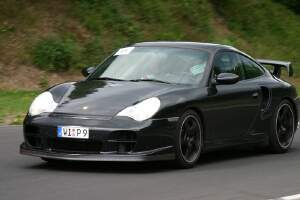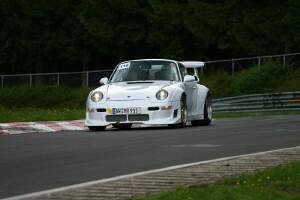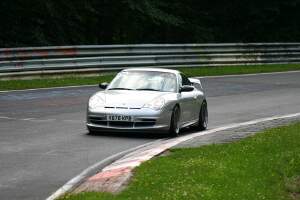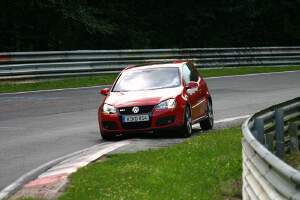 The Donkervoort had a bit of hairy moment when it tried to go round the outside of a Porsche at the exit of Wippermann.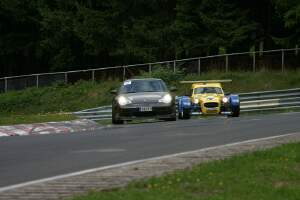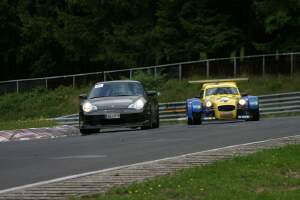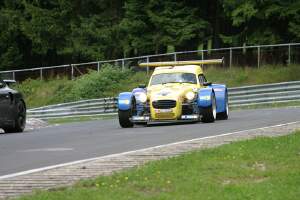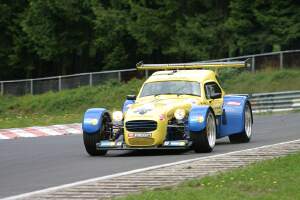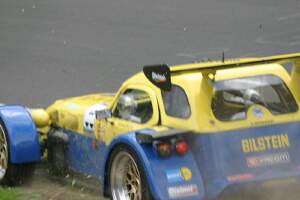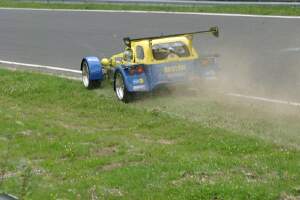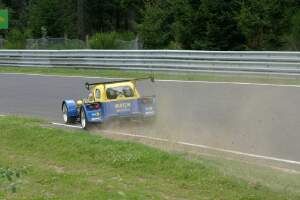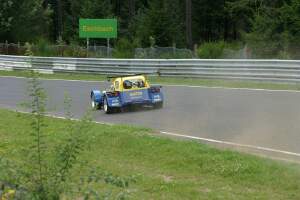 Near the end I gathered up my things and moved to the carpark. With all the trackday participants it was pretty busy there. I found an excellent spot (next to Gary's Manthey-prepped GT3; I'm still trying to rub off some speed off faster cars) and had a quick look around.
Team Schwedenkreuz was there to test their M3, and it wasn't long before I bumped into Johan (who'd lost his glasses), Ed (who drove Johan to the scene of the glasses-losing), James (who learned that the power-steering in the M3 needs to be switched on by the driver), Jules (who had to dash off to complete his racing license examination), and some anonymous Dutchman & Dutchwoman who wanted to know what the best place to spectate was.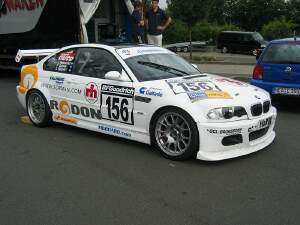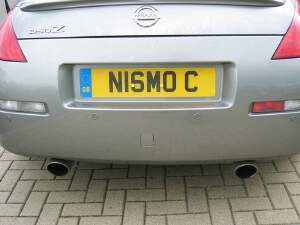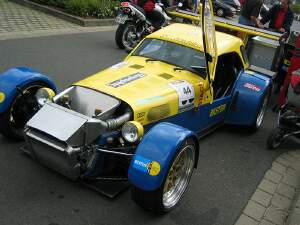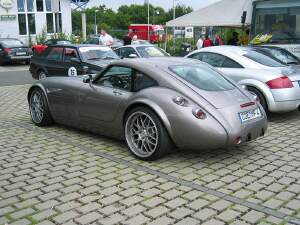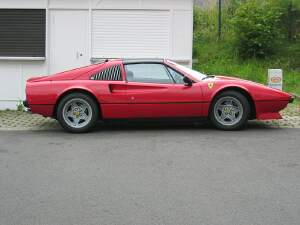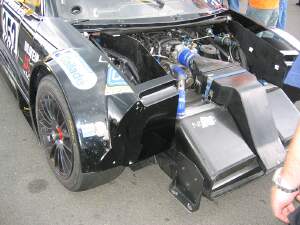 When the track opened I let the first bunch go out first, waited a few minutes, then went out myself. Tracking the Ibiza is still new to me, but the suspension in particular is confidence-inspiring. The sighting lap was done smoothly and quickly, apart from some gawking at an Opel cabrio with yellow Opel flags sticking out of it. The Opel was driving in convoy with a car festooned with balloons?!? Both were driving very slowly. When I passed them it became clear that there was a couple of newly-weds in the back seat.
Lap two was a bit quicker. Once in a while you meet a suicidal boiker, and this was one of those times. He blasted off out of the gates, touched the brakes for Antoniusbuche, and I was on his exhaustpipe by T13. What followed was a good example of powerful slow boik versus not-so-powerful reasonably quick car: mr. boiker spending so much time looking in his mirror that he forgets all about The Line, and compensates by opening the throttle all the way once the bend is over. Cue another glance in the mirror and the thought "Hmmm, that little car isn't all that fast". Naturally, I have to brake early for the next turn to avoid running him over.
All this isn't too bad (just annoying when it happens for more than 3 or 4 corners). However, when mr. boiker finally didn't blat away on the straight and I started to overtake him, and he changes his mind, cuts right across me while opening the throttle, that's when things start to get dangerous. I found that in this case some additional mid-corner tyre squeal did the trick. Apart from this lonely boiker there wasn't much in the way of traffic to be seen. A white BMW E36 (with Luxembourg plates) was slightly faster than I, a red E30 (also on Luxembourg plates) was a bit slower than I, and an Astra with decent horsepower lacked the track knowledge to stay with me.
Lap 3 was a nice one: even less traffic than on the previous two laps, and I was getting more and more at home with the Torquemobile. I'm fully aware of the controversy that surrounds timing your laps, but I do it frequently to verify that my estimate of "fast" or "slow" makes sense. It usually does, but it's nice to be able to quantify it. In this case my feeling said "quick", and my stopwatch said "9.14" BTG. Not bad for an unmodified diesel.
Back in the carpark the newly-wedded bride was waiting for her husband to come back from the track. Might this be indicative of her future?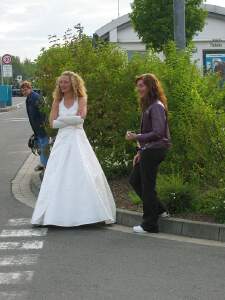 Across from the bride I met Robin, who was having fun with his newly acquired DRT: a Golf. As mentioned elsewhere: a highly original choice. This one didn't have a Disco-fahrwerk, but was still on standard springs and dampers (and anti-roll bars, Gary). According to Robin it was an 8v-Golf, and you could tell that from the cylinder head. Or something. Anyway, here's a picture of the engine bay for those better versed in the intricacies of Golf engines.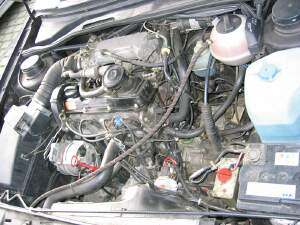 Robin kindly invited me out for a lap in his new car, but before I hopped in I was momentarily distracted by an old 911 passing by. Way back when I was young I didn't much care for the older-shaped 911s, but I must admit that they're starting to grow on me.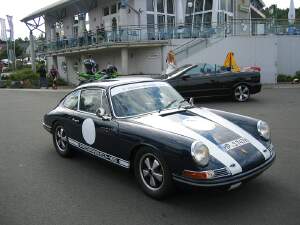 Out on the track Robin and I enjoyed lots of sunshine, a dry surface, good grip, and not much traffic. The old suspension was doing an impressive job. Of course there was quite a bit of tyre squeal and more than a little understeer, but overall the grip was pretty good. There even was a sunroof to provide a view of the blue sky, although that comes a the price of not being able to fit in the car without twisting my head sideways. High time for some lower racing seats. Robin didn't seem to have an issue with the sunroof though.
Up Kesselchen we overtook a gaggle of cars, but other than that the lap was nice and clear. I'm sure that yet another Golf will be turned into a proper DRT soon.
With the big DSK-truck gone, The carpark was now mostly deserted. We did spot Karl's Bastardwagen, but Karl himself was nowhere to be seen.
After this I took Robin round in the Torquemobile. It squeals just as loud as the Squealmobile, but goes round corners a bit quicker. It's also more fun going uphill. It's less fun when there's somebody ahead of you who's slower, and who insists that you pass him on the wrong side. In this case a red German-plated car pulled over to the left while indicating, but I stuck on his tail with my indicator on. Luckily there wasn't much traffic, as I wouldn't be surprised if our slow two-car convoy would be too much of a temptation for faster traffic coming down the Pflanzgarten hills.
Keith had just pulled into the carpark, and while his Z4 was cooling down I took him for two laps in the Torquemobile. Both laps were thoroughly enjoyable. Some sections were a bit damp, but for some reason I already had quite a few laps in the Torquemobile under my belt on a damp/drying/wet/something-in-between track. We made the most of the dry bits, and played around with the grip on the wet and damp bits.
The next bit of entertainment was a passengerlap with Keith. Leaving the gates we saw Gary a few cars ahead of us, in the Carrera GT.
Laps with Keith are always fast and smooth with a bit of tyresqueal thrown in, as long as you remind him that the tyres don't have any grip. I made doubly sure to remind him of the crappy grip of the tyres as he was driving the Torquemobile. He seemed to be enjoying himself, even though it's a diesel.
This was only Keith's second Ring-diesel (the other one being a crappy Pug), but he got used to the limited usable rev-range and the lack of shifting gears quickly.
Keith then returned the favour by letting me drive his Z4. It looks quite big from outside, but on the inside it felt about as cramped as an Elise. It's the first car where I had to drive with my shoulder wedged against the door, with not much room for my elbow. I'd definitely need to play around with the seat and steering adjustments a lot longer to find a decent position.
Apart from the steering position it was a really nice car to drive. You can't really hear the engine, but it pulled smoothly. The steering was nice too, with good feedback. I don't care for the plasticky bits on the spokes of the wheel, as they are hard and slippery. Ah well, should have worn my driving gloves.
It wasn't long before I was squealing the tyres, even though I was taking it easy. It wouldn't do to bend someone else's car. The car turned in very well: much better than my Torquemobile with that heavy diesel engine slung out over the front axle. The gearchange was a bit on the jerky side: the lever just didn't want to go smoothly from gear to gear, and the clutch (while not bad) didn't really help either. It'd be something you'd get used to quickly though, and because of the sweet handling it's easy to forgive these minor shortcomings. With a decently powerful engine in it, the Z4 is definitely a winner.
I'll repeat myself here for a bit: I really could start to like this open-top motoring stuff. Soren's Boxster was a real treat, having the roof off in an Elise is nice, and this was good fun too. Especially in nice weather on an almost-empty Nordschleife.
To round off the day Keith and I quickly swapped seats at the end of the lap, and we set out for the last lap of the day. After my leisurely lap the car was ready for some more committed driving. The brakes got a good workout, and the tyres let us know that they were working hard too. Hard enough that we overtook an Alfa 166 with a rollcage up Kesselchen. I won't get into details, but according to Keith that car had no business there. Strictly verboten.
Curious person that I am I'd started my stopwatch at the beginning of the lap. With not too much traffic on that last lap, Keith turned in an 8.56BTG. Nice going :-)
And on that note I took a picture of the Strictly Verboten Alfa 166, said my goodbyes and buggered off home again. Not too difficult to do with the next trip planned 2 days later :-)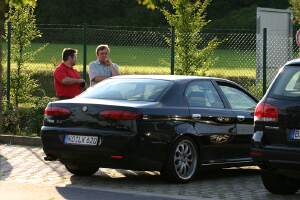 ---