Saturday
With new pads and discs on the SquealMobile I started out to the Ring in crappy weather. Typical Dutch October weather, in fact: cold, wet and gray. The further I went, the more the weather improved. At the Ring the sun was shining, and the outside temperature a short-sleeved 20 degrees. Centigrade, of course.

The VLN race had just started when I arrived. First stop was the exit of Wehrseifen. A Belgian Mini was making appearance, and from what I heard from Jochen they did well. The Alzen Alien was making its usual vacuum-cleaning noises. Wehrseifen is a good place to watch a race: there's usually lots of overtaking going on.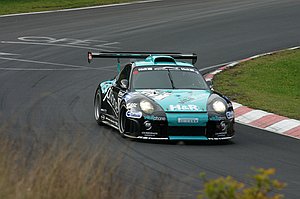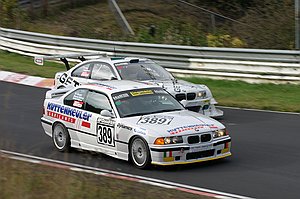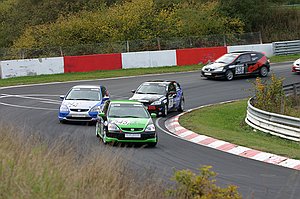 The Bio-Beetle from the same Alternative Fuels class as the Ecurie Europe drives in was looking sharp, as was polka-dotted black E30.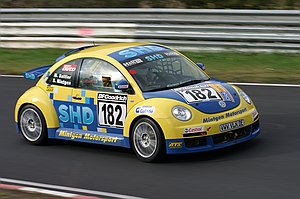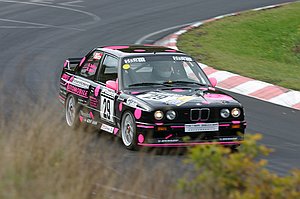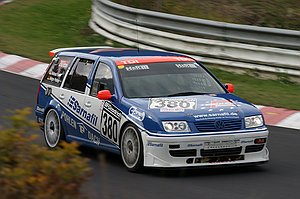 The view onto Ex-Mühle was nice, as usual. It was nice to watch two Ringers-teams participating: Ecurie Europe and Team Schwedenkreuz.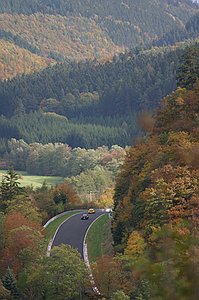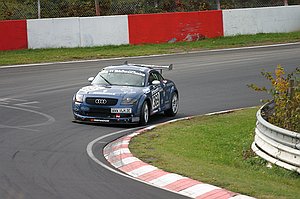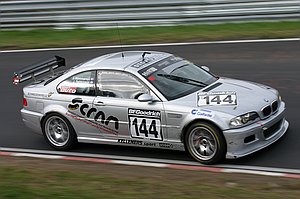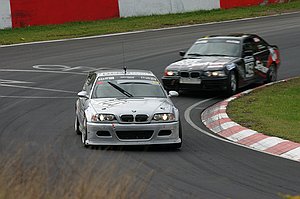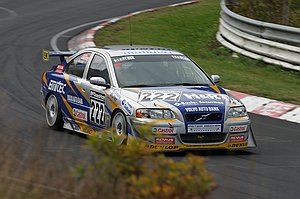 Quite a few cars had problems putting the power down while exiting the first kink.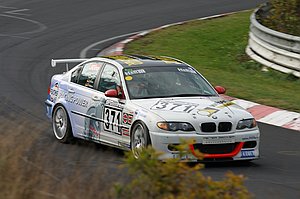 After a little while I moved to the entry of Wehrseifen. The throaty rumble of the 964RS was very different from the other cars: less metallic and lower revving, but fast nevertheless.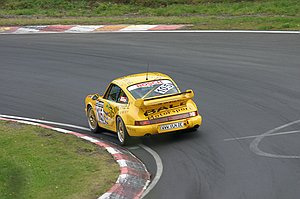 Ecurie Europe kept going strong, as was the Alzen Turbo. Team Schwedenkreuz was encountering a bit of traffic.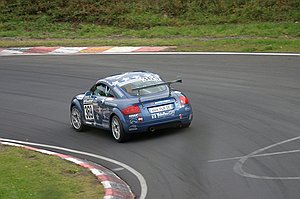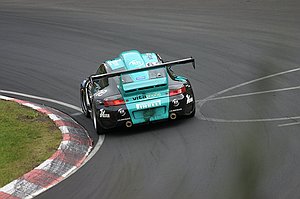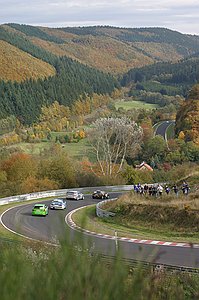 A short hike up the hill brought me to Spiegelkurve, right before Miss-Hit-Miss (or Dreifach Rechts). It made for an interesting perspective on the track.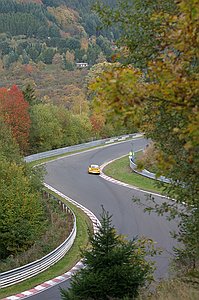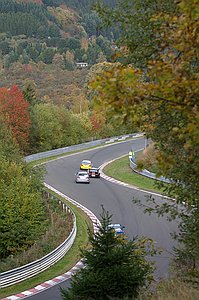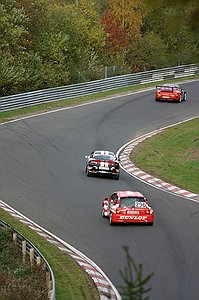 A bit further along provided a nice view on the exit of Kallenhard. Team Schwedenkreuz and Ecurie Europe were in close proximity on the track now. I guess there was only 10 seconds between them.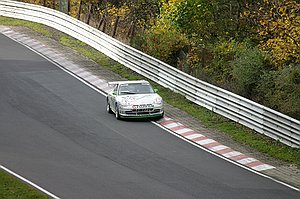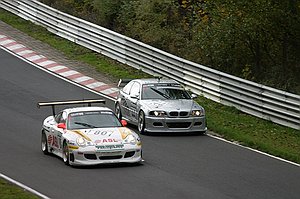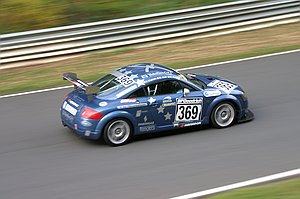 Some of the cars were a bit battle-scarred by now.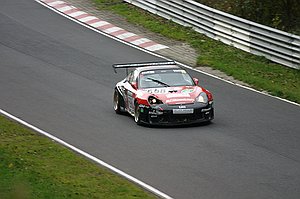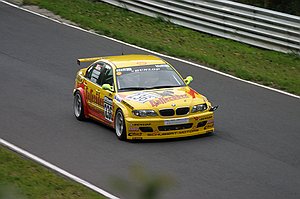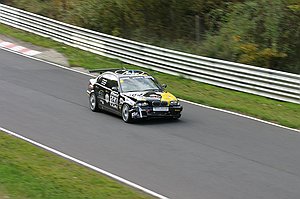 Team Schwedenkreuz had a mechanical problem, but Ecurie Europe kept going.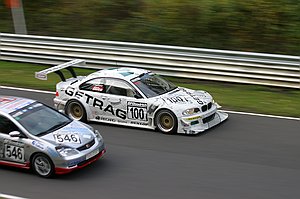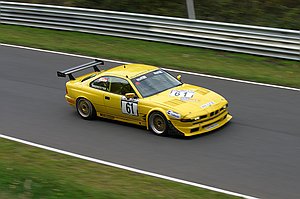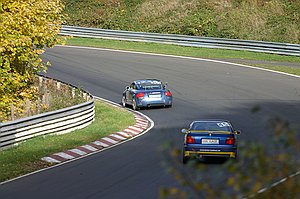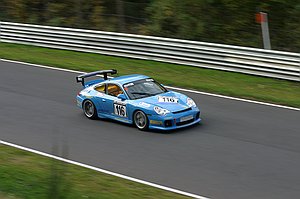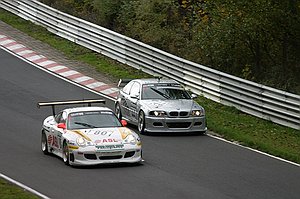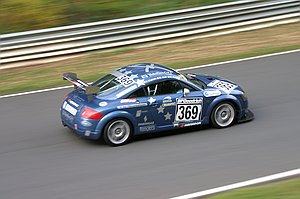 The entry to Kallenhard made for some good photo opportunities, especially when a Mercedes 190 locks the front wheel.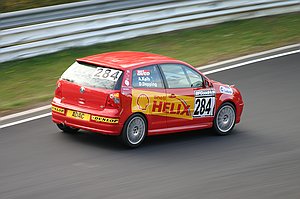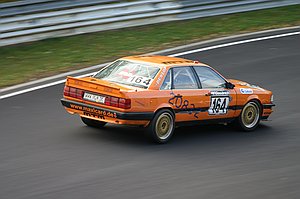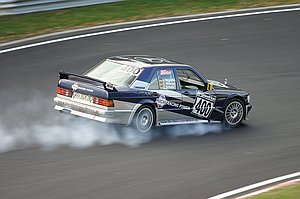 With the race drawing to and end I made Metzgesfeld my final stop.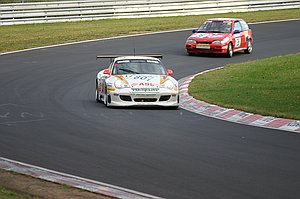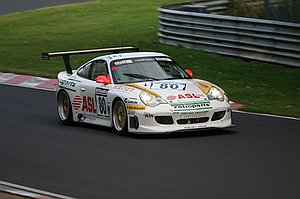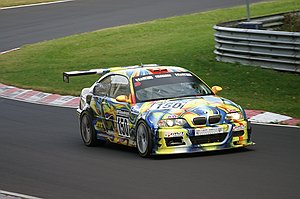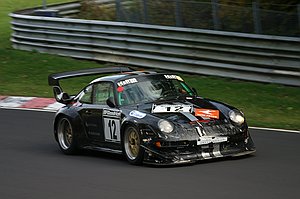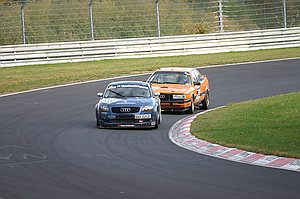 By climbing on a log and standing on my toes I could just peek over the fence. Some people had chosen a more convenient mode of transportation than walking. Despite their mechanical problem, Team Schwedenkreuz made it to the finish.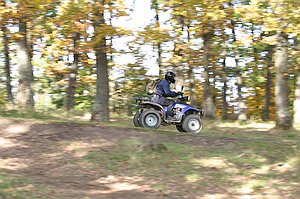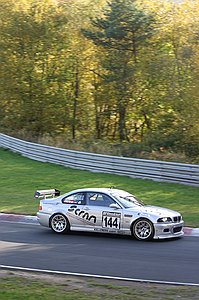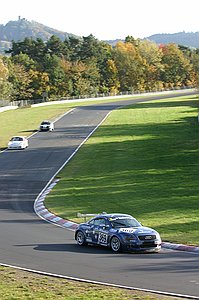 On the way back I enjoyed the beautiful weather and the peace and quiet of a deserted racetrack. Well, nearly deserted. A small group of people was gathered near a Golf that was in the process of losing a front spoiler lip.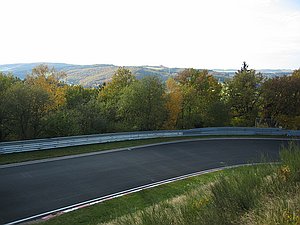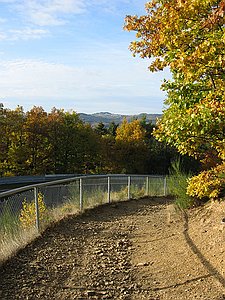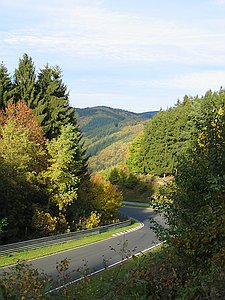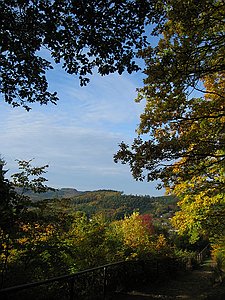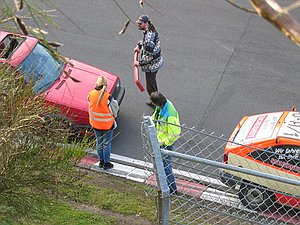 Not everything was perfect: some sections of the path were decidedly muddy, and some of the traffic was decidedly dog-gone slow despite using more than the usual half of the road.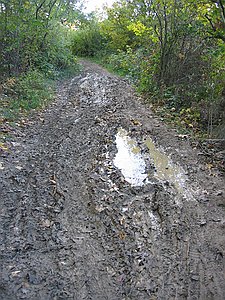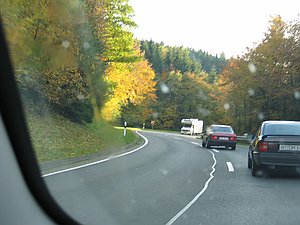 As I hadn't planned on staying overnight I went into Nürburg to find me a room. Not much of a challenge during this part of the year. Jochen was staying at the same B&B, and we made our way over to the Fahrerlager in a 2-Alfa convoy. One of the first cars we saw was a Carrera GT. As you'd expect it attracted quite a bit of attention.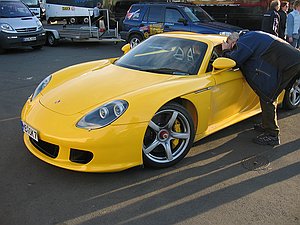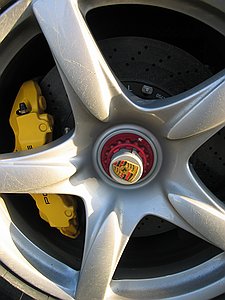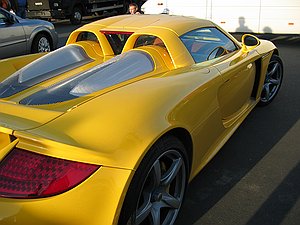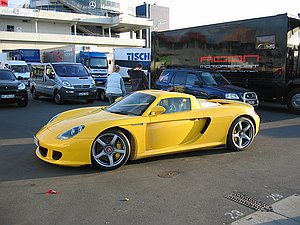 Team Schwedenkreuz was nowhere to be found, but the big Ecurie Europe trailer was hard to overlook. Euan's presence there was a pleasant surprise.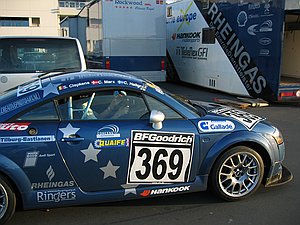 Some other machinery included an AMG SLK-55 and a Mercedes something or other. The AMG looked impressive from behind, but butt-ugly from head-on. The Merc on the other hand looked positively disgusting from all angles. Just my personal opinion of course, if I worked for Mercedes I might have written something else. (Yeah right...)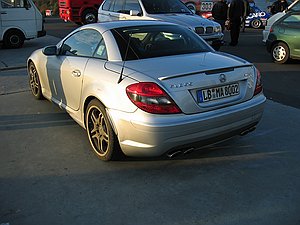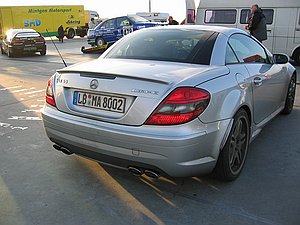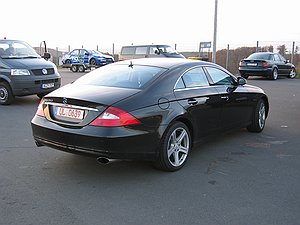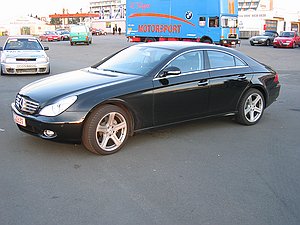 In the category bumper stickers the Belgian Mini scored high with "If you bump I'll fart". Team Schwedenkreuz were fetching their M3 from the parc fermé.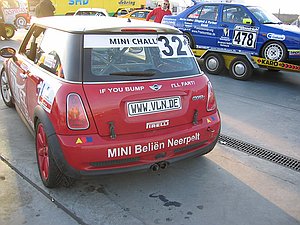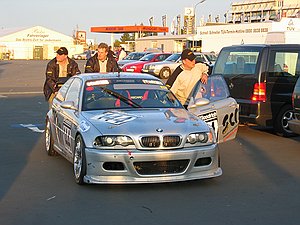 At the Ecurie Europe trailer Christer was describing what it was like to have oil splattered all over your windscreen while racing.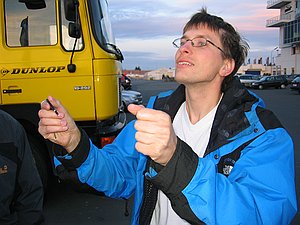 On the way to where the cars were parked, Job managed to get a lift in the Ring Racing Megane.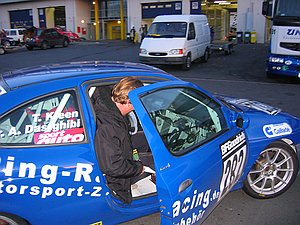 Dinner was scheduled for 20.30 hours, but when Euan, Jochen and I turned up at 20.10 hours, the place was packed. Fortunately Christer and some of the others were kind enough to move over a little to give us some room. Instead of the usual pizza or Steak am Stein I went for tortellini. Very nice.
The staff at the Pistenklause hadn't forgotten about Euan yet: he got a personalised beermat to keep track of his beer consumption.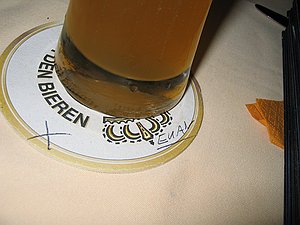 In the meantime Job showed off some trophies. Some people went for a more traditional meal, improving upon the Steak am Stein concept by putting the potatoes on the stone too. Suggestions of adding some pepper on the stone were declined, however.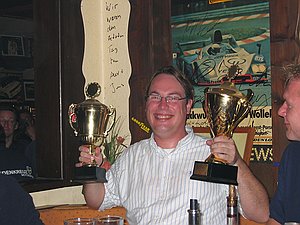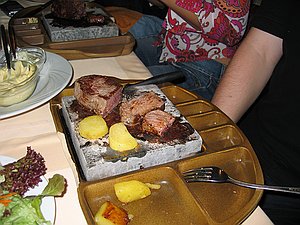 Temperatures in the Pistenklause were very high, as was the volume and intensity of the conversation. This may have had something to do with the topic: lines (in all shapes and forms).
Christer and Angie wanted their picture taken, and of course I was happy to oblige. Christer being Christer, a single picture wasn't enough.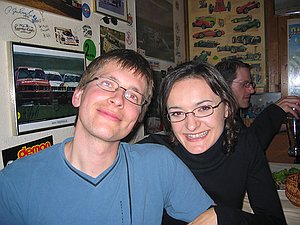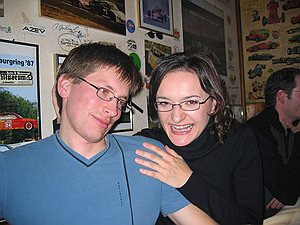 Jochen and Euan were discussing something or other, which may have had something to do with the interrupted flow of fresh beer. The solution was to make sure the waitress would wait on her way back.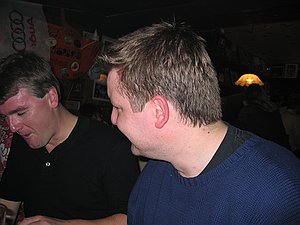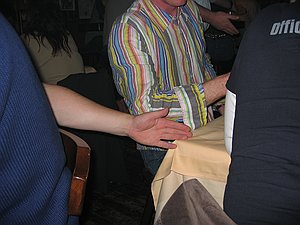 Like a real manager Job was circulating, and Christer and Angie went for a second modelling session. Whether this triggered Job's reaction (pictured below) or not is a bit hazy, but I do think he reacted to something. I guess it had something to do with our table being table two, where his table was (of course) table one. The implication was that table one had more beer and more fun.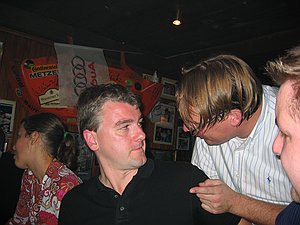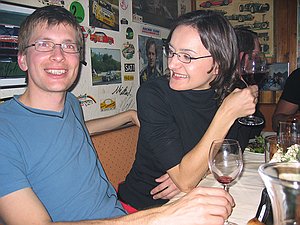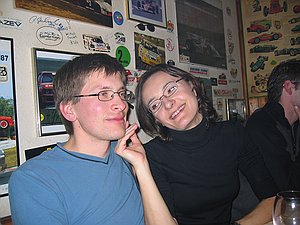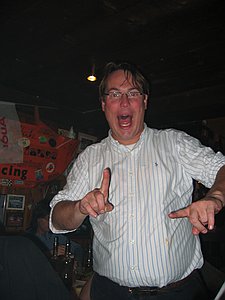 The next visitor was Ruud, which started another discussion on lines. In this case the focus was on whether or not to jump kerbs, and if you didn't, where. Or something like that. With an experienced racedriver in our midst, this discussion was a short one. Not! :-)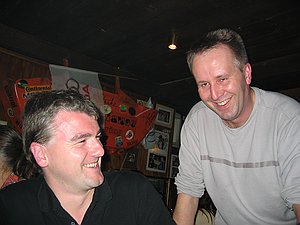 The customary group picture was duly taken.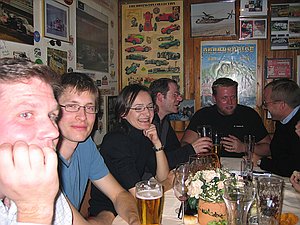 In an effort to help settle the bill, Jochen involuntarily donated his wallet.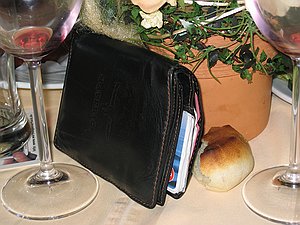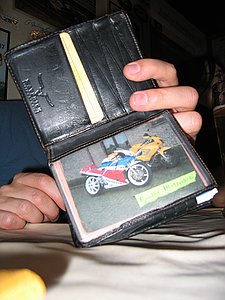 Christer posed once again, resulting in a good likeness.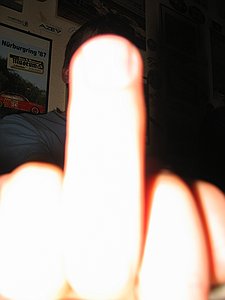 The discussion about table one versus table two continued between Christer and Job. Christer's brother provided the rough material for another portrait.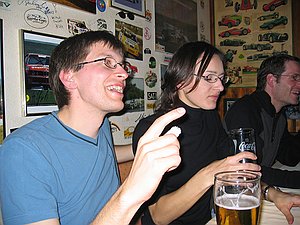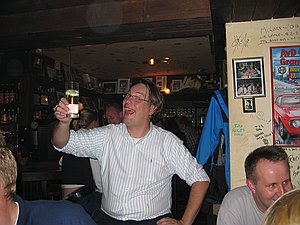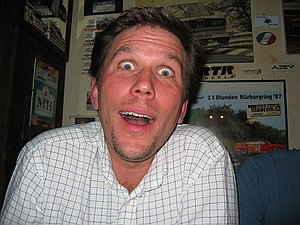 At least he had his eyes open, which couldn't be said for several other people present.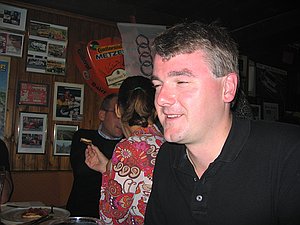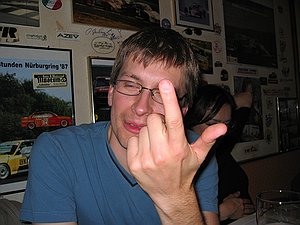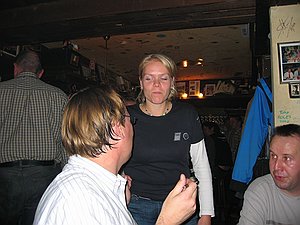 A bit or Irish coffee fixed all that, after burning some fingers.
Team Schwedenkreuz's Anders stopped by for a quick toast and a slightly longer chat involving the ambitions of Team Schwedenkreuz. The sky might not be the limit, but the plans look very impressive. I offered Anders some pax laps on Sunday morning, explaining that I had to leave by 11.30, so being at the track at 8.30 would be a good idea.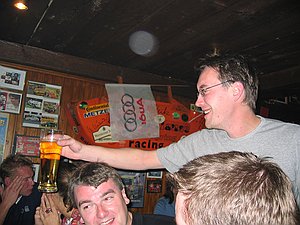 Euan then nicked my camera while I was sending friendly text messages to Anders, Ben, Matt and Soren, sharing the high spirits and wonderful weather with them. Somehow the word "bastard" was a common denominator in the various answers. Next morning I found out that Ben had a reasonable excuse: a message with a 5.03 timestamp told me that he'd just arrived at Heathrow after a 13-hour flight, and that he wondered if I had had the sense to switch my phone off before going to bed. Suffice it to say that I received his message at 7.30 :)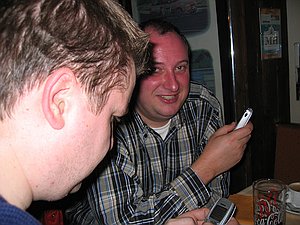 At table one, Arun had been busy constructing a, well, something :) Christer started a little dialogue with Anders in Swedish, teaching me one or two useful Swedish words in the process. Anders' reply was a bit difficult to comprehend for our intrepid racedriver.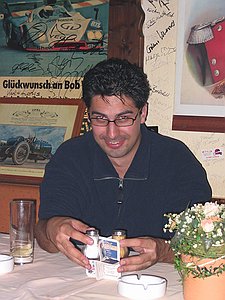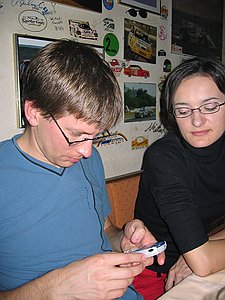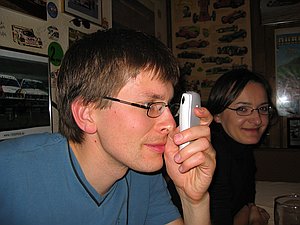 After more discussions about kerbs, cars and being doused in beer, I paid my part of the bill and went to bed, mindful of the scheduled 11.30 departure the next morning.
---