Living reasonably close to the Ring does have some advantages. One of them is that you can wake up at a reasonable hour, read the Ringers-list to find out that the weather's nice, decide to go, and arrive in Nürburg around 1400 hours. The drive over was done under blue skies with some clouds but more sunshine.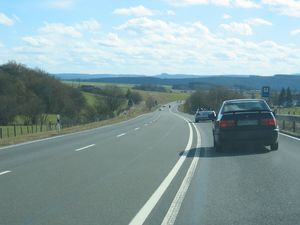 Apparantly this also brought out a host of drivers that were trying to go as slow as their cars could possibly go. The slowest of them all was a silver Merc, who managed to do an amazing 51.8km/h on my GPS on the B-258.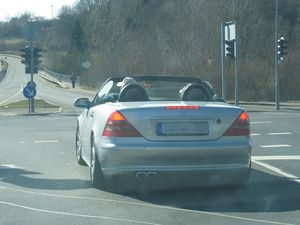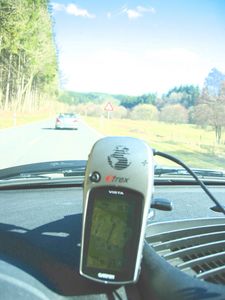 While statistically insignificant, it was interesting to see that all the other slow-movers could be blamed on the entrepreneurial drive of Adam Opel.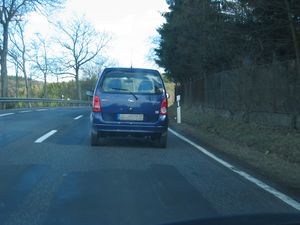 As you can see, the weather was very nice indeed. Quite a contrast to the conditions only a week earlier. The picture (taken by Ed) below says it all: snow, snow, and more snow.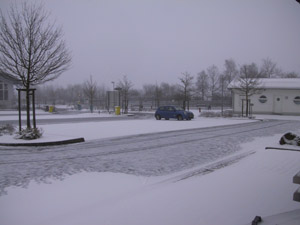 The downside of this nice weather was of course that there were lots of people present. Approaching the roundabout at the Zufahrt I could spot quite a few cars parked in the muddy overflow parking lot across the road. To avoid spending the next 15 minutes inching my way around an overcrowded parking lot I decided to do a Euan and head straight out.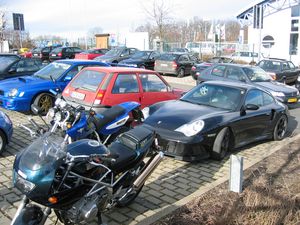 Thanks to the higher temperatures the tyres provided a lot more grip than last time out. There was still some snow next to the track, which melted to cause a damp or wet track in several places.
Highlight (or more accurately, lowlight) of this series of laps was a silver 996 trying to overtake me into Eiskurve while I had my emergency indicators on because of a marshall waving a yellow flag warning traffic of the recovery truck that was blocking half the road. Fortunately the 996 came to his senses and decided to stay behind me. Must have added at least 5 seconds to his laptime... The picture below was taken by Alexander Neurohr.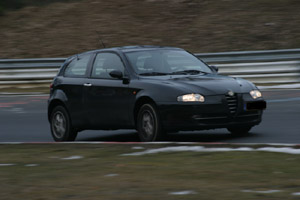 Having done 5 laps I went for a short cool-down drive and parked in the overflow lot. By this time it was a sunny 10.5 degrees Celsius. Perfect, really, even though the surface was quite muddy.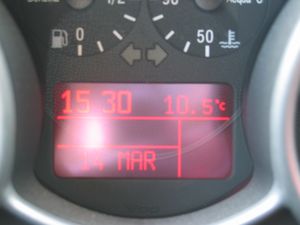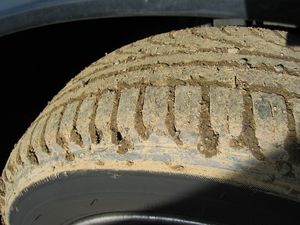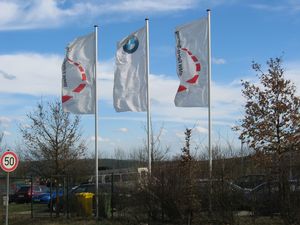 A short wander round the carpark turned up some interesting vehicles, such as a Land Rover which would have felt right at home in the muddy carpark across the street and two gorgeous RS's (Falco's 964RS3.8 and an equally yellow 993RS).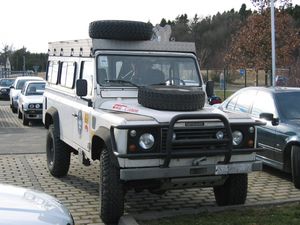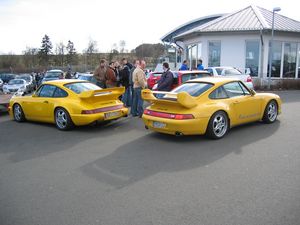 My personal favourite was a very sharp looking 993 Turbo.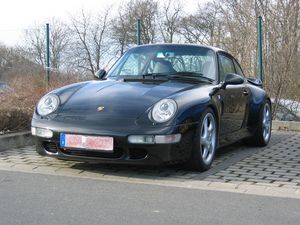 Apparantly Robin was there too.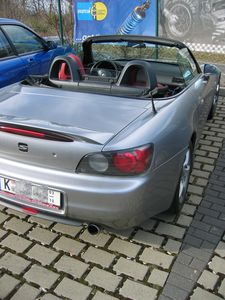 Another familiar car was the Scooby owned by Ruud. I noticed he'd added some gauges, which were very neatly stuck to the A-pillar.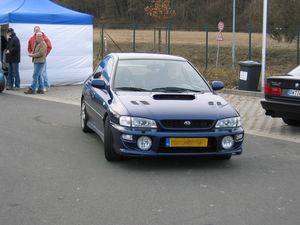 The small car park near the office was quite effectively filled by a rather large tent and some rather small cars. Let's hope that it's not a trend for the rest of the season.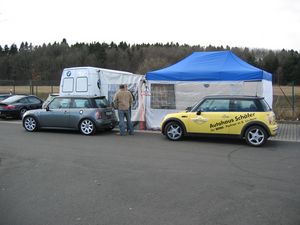 The Viper was there too, sporting a new colour scheme. This one was slightly less loud than the yellow theme of last year.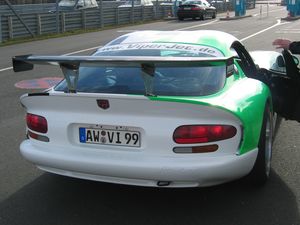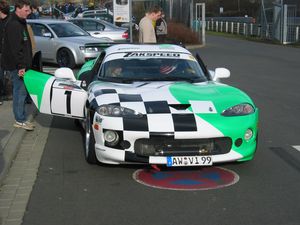 To my surprise Ed (famous for his early arrivals and ditto departures) was still there, raising the kids the way Sabine was raised. Some others looked like they were preparing for CHC or VLN, including a quick driver change between track exit and the barrier.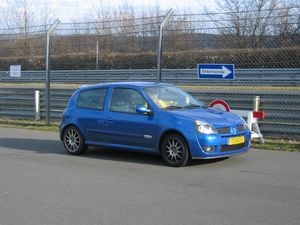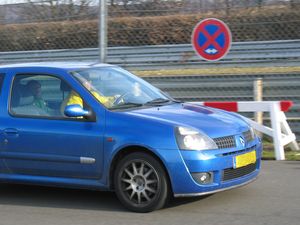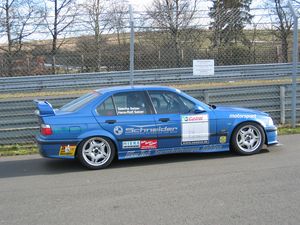 While hanging around a little different cars provided lots of entertainment. For one there was a beautiful E-type, followed after a little while by the world-famous C-Car.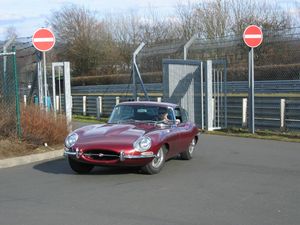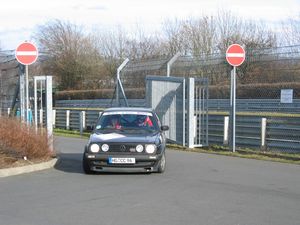 At long last I spotted Robin, but he was too busy enjoying a ride in a souped-up Corvette in a paint-scheme that eclipsed the Viper-Jet by miles.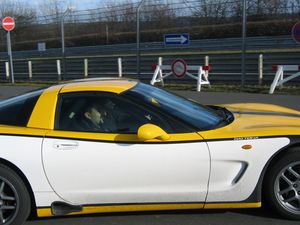 The oil-barfing French Merc made it through the winter. On track it was laying down the usual blue smokescreen.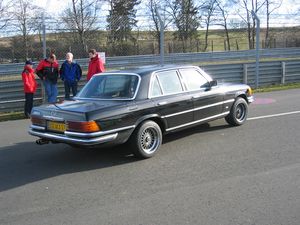 The entertainment was continued by another Opel (statistics, anyone?). This one didn't go slow, it tried reversing into a GT3. Thanks to some quick reactions and a dab on the loud pedal by the GT3-driver, nothing serious happened. Apart from a storm of laughter by the crowd watching the show, that is. Yes, the two pictures below are shown in the same order as I took them.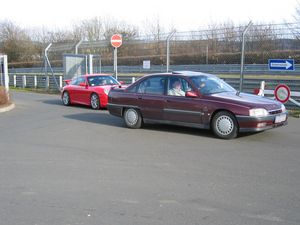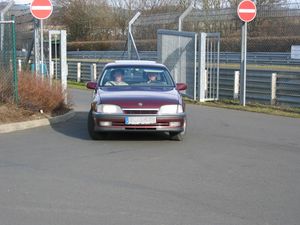 After a short chat with Jochen and Ruud I went out for a goodbye-lap. The intention was to do a full lap at a modest pace followed by a slowish half lap leaving the track at Sir B.'s private exit. Like all good plans this one didn't go quite as planned. I was having too much fun during the first lap and decided to do another. Halfway through the lap, while struggling up Kesselchen (I need to downshift into third gear before Mutkurve to keep the SquealMobile going...) a familiar electric-blue blob appeared in my rearview mirror, which was indeed Ed in his Clio Ragnotti.
Even this late in the day, there was still a good bit of snow lying about.
Most of the dirt at Kallenhard was disappearing, leaving a very smooth new surface.
The armco on the approach to Breidscheid looked more than a little dented. Apparantly this was due to a crashed GT2 earlier in the day.
Hohe Acht was getting wetter and wetter while it melted, though.
During the next lap I was having so much fun that I managed to forget to turn off at Breidscheid. The result of that was that I was overtaken on the approach to Hohe Acht by a red Golf. I was taking it very easy until then, but decided to step up the pace a bit to see if I could stay with the Golf. The rest of the lap was good fun with me gaining a bit in certain corners, and him pulling away a bit in other sections. By Döttinger Höhe I was still right behind him.
Roll on Easter! The only little snag is that I need to find some accomodation. For various reasons I was a little late finalising my schedule for 2004, so I still need to find a room... Ah well, these things tend to sort themselves out given a bit of time and energy. Useful tips are of course welcome at this address. See you there :)

---