Trips








































































The RingBunny






Ecurie Europe



Sabine Schmitz






Odd bits








Jĝrund Seim




Links marked with a * require a password.
Got up at 5.10 (yeah, I know, silly). Cruised to the Ring on empty roads (surprise, surprise), got there at 7.50. Most noticeable traffic was a pair of German GT3's on the Autobahn near Euskirchen.

When I got there, I wasn't even the first! A silver 993RS from Sweden had beaten me to it. A little after eight (sounds very English, that) the track opened and I went out for a very slow lap: some of the roads near the Ring were decidedly slippery and I still have to get used to an all-new suspension (more about that on my Porsche 964 website). The approach to Hohenrain didn't feel quite as comfortable as normal. Breidscheid felt quite slippery, and the back was very lively going through Pflanzgarten III. Lap 2 was more of the same, but a bit quicker. One of the German GT3's I saw on the Autobahn was sitting on the grass at Hocheichen. I couldn't see if it had crashed. Just as I was pulling off the track Anders was going on.

Despite the gorgeous weather and the empty track I couldn't find neither Robin (T.) nor Christer. I sent Christer an SMS message to ask why he wasn't at the Ring, where the weather was fine, the sun shining, and the track dry and quiet. See the image below for his reply.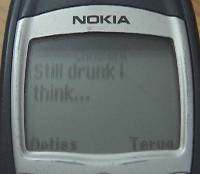 At least he was thinking ;)
I did meet Paskal (Dutch red Peugeot) though. He too has started a Ring website, but the URL keeps changing...
Then it was time for a break, a chat to Anders, one more lap, and a lap in Anders' passenger seat. Another very entertaining lap, particularly because
It was only (?) my third GT3-lap ever
Anders was on street tyres
I had some trouble getting my right leg in
I had even more trouble getting my right leg out again after the lap.
Anders then went for a lap with me, and by this time the back was all over the place. I hadn't dropped the tyre pressures yet, and we checked them in the car park. Like a regular pit crew I took the front and Anders did the honours with his personal pressure gauge on the by now highly suspect rears. The fronts were up to 3.0 bar, the rears were 3.7... My OPC is starting to fall into the habit of putting 16"-wheel pressure into my 17" wheels. Which is .5 bar too much for the rears. I dropped the rears to 2.7, the fronts to 2.6 and did another lap: the car now felt like it did last year, but with the added benefit of new dampers and stiffer springs. The back felt much more settled, but I still had an interesting moment coming into Breidscheid. The more observant spectactors must have been grinning when the back stepped out. Not as bad as when you do a Karl, but some delicate work with throttle and steering was definitely required to keep things on an even keel. With this in mind I took Pflanzgarten 3 a little slower than the last time round, but all was normal.
By this time it was about 10.45. So far the track had been very very quiet. I think I encountered about 10 cars during my 5 laps, and one of them was parked on the grass (red GT3) and another (silver Maserati 3200GT) had crashed at Eschbach. More and more people were going out on the track, so I decided to head home without a Breidscheid paintjob on my car. Shortly before I got home I got a call from Christer, who had some trouble believing I had already been at the Ring (to tell the truth, I was a bit surprised that I made it that early myself) and that I had left before 11.00 :-)
Lessons learned today (not earthshattering, but still):
I really should try to avoid creeping away from the edge of the track before turning in
It would be nice if I got a little closer to some apexes
Don't wait too long before dropping the tyre pressures
Getting up early can have some nice benefits.
---