Disclaimer: like the previous trip, this trip is entirely fictional :-P

Driving the Mini GP on a day-to-day basis was good fun. The suspension is comfy enough, and as long as you don't need to carry a passenger there's a convenient place to carry a laptop bag (in the passenger footwell). Mind you, my definition of what a comfortable suspension is may deviate from the norm. In my book a suspension that tells me exactly what's going on underneath the wheels and that provides me with lots of predictable grip is more comfortable than one that isolates the driver from his/her surroundings...

However, all good things tend to come to an end, and my two weeks of Mini GP driving were almost up. What better way to end them than to do another trip to the Eifel mountains? (Without starting a discussion about semantics: from a Dutch point of view they really are mountains ;-P)

Adri was coming along, and he didn't need to think twice when I offered him the keys for the drive to the Nordschleife. I think he was sufficiently impressed by the little car that he might end up buying a second-hand Mini himself one day.

The weather looked a bit iffy, so after a quick pitstop I dropped Adri off near Galgenkopf for some spectating, and I went for some laps. With a bit more Mini experience under my belt I was going round a bit quicker than last time. I also wasn't as annoyed with the brakes this time round. The car still behaved very nervously when putting the off-side wheels on a rumblestrip (as I tend to do when entering Mutkurve), so I didn't do that again :-)

Meanwhile Adri was playing with his new camera. Unfortunately he managed to take a nice picture of the Mini I was chasing down instead of the Mini I was driving, despite my honking on the approach to the Kleine Karussell... The other pic was a bit blurry, but as this is a fictional trip report I wouldn't have it any other way ;-)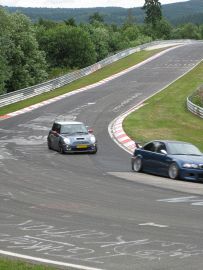 Two laps passed in quick succession, and I gave the car a break by joining Adri at the Mini Karussell (where else would you go if you drove a Mini?) for some photography. A Dutch GT3 (always a rare sight) was doing a good pace. The dark green colour suits the car well IMHO, and makes a nice change from speed yellow, arctic silver, or red.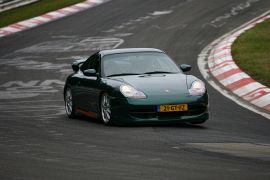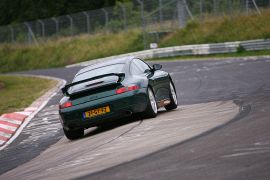 A Mercedes S-class was being thrown around enthusiastically. The driver paid us a visit a little later for a quick chat, and to enquire if I'd taken any pictures. I think I might need some cards with NurburgringPhotos printed on them :-P From what they told me the driver was comparing the Merc to his 7-series. He wasn't all that impressed by the nannying electronics in the Merc, though.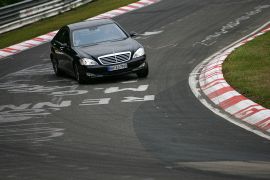 Sabine was driving the RingTaxi, and seemed to be enjoying herself.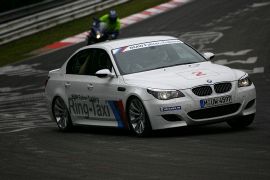 Some other assorted pics: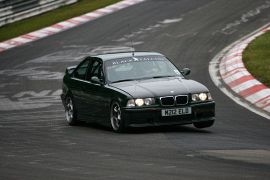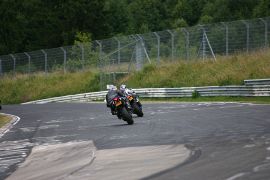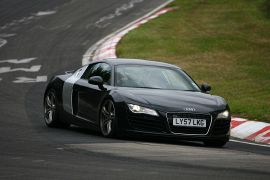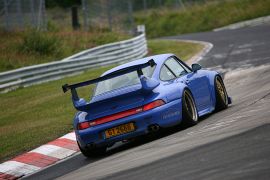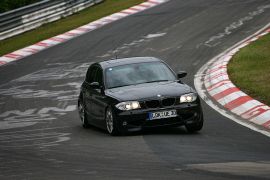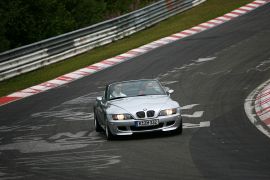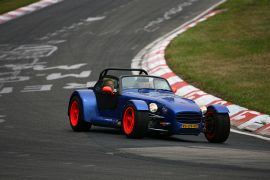 The skies were getting darker and darker, which prompted a move back to the Mini for some more laps. This time Adri came along to help with the recollection. Even with his help it's hard to reproduce the entire lap, but I'll try to give you some highlights. Should you be in a hurry, you can skip the rest after reading the management summary.
Management summary: We were chased by a BMW 130i who had trouble keeping up.
Slightly longer version: A black 1-series started a short way behind us, and gained ground easily on Döttinger Höhe. Through Hatzenbach and Flugplatz I gained ground, but on the way to Schwedenkreuz he closed right up again. The poor little Mini didn't want to go faster than about 205km/h (on GPS). I invited him to pass, but he politely declined, making "give it some" gestures. Cool :)
Down Fuchsröhre I kept my foot down all the way through the compression, which resulted in a decent top speed of a little over 210km/h. The 1-series had dropped back a little, probably because we hadn't driven in convoy before, and he sensibly wasn't going to go through the compression on my bumper while not sure where I'd hit the brakes. The entry to Adenauer Forst didn't win any prizes: I ran slightly wide, but I blame that on the added weight of the passenger ;-) Looking back in the rearview mirror, I saw the 1-series exiting Adenauer Forst quite sideways. He obviously had the DSC switched off :-P
The Mini made all kinds of oversized vacuum-cleaner sounds on the way to Metzgesfeld, where the near total absence of body roll inspired enough confidence to pull away again from the 1-series behind me. In Breidscheid and Ex-Mühle we were held up for a bit by a boiker doing the usual not-so-fast boik thing: rocket away on the straight, and come to a standstill on the approach of anything that resembles a corner. On the exit he looked in his mirror (earning a brownie point), indicated right (another brownie point), moved over to the right (yet another brownie point), and then gave it the full beans again (losing all brownie points mentioned above, and then some). The Mini is quite quick, but up Ex-Mühle it's not going to overtake a boik at full throttle...
Anyway, after he'd spoiled Bergwerk we had to slow down for a yellow flag, and he let us by at the end of that. We vacuum-cleaned our way up Kesselchen, searched for grip in Steilstrecken Kurve (in vain), and saw the 1-series close up again due to being able to put more power down on the exit of that tight bend.
The Karussell was a bit bumpy, but even with a passenger on board the suspension didn't bottom out. We did pull about 1.5G during the final third of the bend :-P The track ahead was agreeably empty, until we came to Wippermann, where we overtook a boik and a Lotus Elise in quick succession. The 1-series followed suit, and caught up again when we encountered a slow car that didn't indicate right on the approach to Eiskurve. From then on we had a clear run to Galgenkopf, after which I slowed down to exchange a thumbs-up with the driver of the 1-series.
In the carpark we had a friendly chat to evaluate the lap. He'd enjoyed it as much as we had, but he was a bit surprised that his 260bhp and M-Sport suspension hadn't enabled him to stay with me through the turns.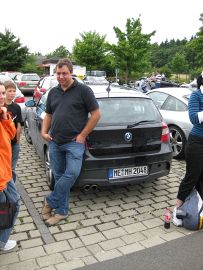 On this high note Adri and I decided to call it a day. Adri did the driving on the return leg too, and got a special treat: the B258 was blocked due to an accident, and we took a detour. A friendly boiker guided us through some of the villages. He was doing a swift pace, and Adri had fun following him on the sweeping roads.

---