Trips








































































The RingBunny






Ecurie Europe



Sabine Schmitz






Odd bits








Jørund Seim




Links marked with a * require a password.
I had a fantastic weekend. However, all the fun was overshadowed on Monday morning when hearing of the death of a fellow Ringer, Jørund Seim, who crashed on the ring on an oil spill Sunday afternoon. I didn't know Jørund personally. Saturday evening, Niek told me at the ringers dinner Jørund was staying in the same guesthouse I was in (Sliders Guesthouse near Blankenheim), but on Sunday morning he had already gone to the Ring, found it closed until 10.00 hours, driven back to Sliders to inform the later risers that there was no need to hurry, and gone out again before I made it to the breakfast table at 8.30. He will be sorely missed by many people.

If you want to say goodbye, there's a thread on Smartgroups, or add an entry to Jørund's own guestbook. Ben has put up a memorial site of assorted pictures and messages.
---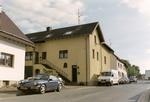 Having been fooled by the weather forecast last time, I decided to book a room for an overnight stay regardless of predicted showers and rain. Most places around Nürburg were already full, so I was glad that the Sliders Guesthouse near Blankenheim still had room for me. Even though I didn't spend much time there, I was impressed by my friendly hosts, Brendan and Suze, their friendly growling huuuuuuuuge dog Lenny, and the comfortable room. If your stomach is geared to beans, sausages and eggs for breakfast, you can get them as well. Saturday started by driving to the guesthouse, dropping off my overnight bag, and heading to the Ring at 10.30.
I started with a slow sighting lap, which helps to get into the proper frame of mind, and to see if there are warning signs on the track or repairs being carried out. This time it was doubly useful, as I had a longer steering column (6cm longer) fitted the day before by Jos de Bock, giving me some much needed leg room and a decent elbow angle for easier steering. Though it's a vast improvement upon the original setup, I still had to get used to it, and the lap didn't feel very good. It might also be because I'm new to wearing a helmet, and have to get used to different tyre sounds as well.
The gap before lunchtime was filled by chatting to different people, including Niek's parents who had stopped by on their way home from a short holiday. Niek's dad really knows his way around cars, which he showed by doing a quick analysis of Ben's 968 and my 964. I also met Francis, who managed to get his BMW fixed in time. He was having trouble with the cooling fan though. Which was fixed (sort of) by carefully removing (i.e., ripping out) the fan cowling. This operation was performed by an ex-BMW mechanic, incidentally :-)
During lunch, Niek asked me to take is dad out on an easy lap, as he is trying to convince him that he needs to buy a 964. From my point of view, buying a 964 is a thoroughly sensible thing to do, which I can recommend to anybody, so I was happy to aid an abet Niek in his cause by taking his dad round the ring. Despite a lack of rhythm on the first lap, it still did a lot to refresh my memory of the track layout and to increase my feel for the car. Traffic was pretty light (just some bikers who didn't know the track yet to beware of between T13 and Flugplatz), so the lap was very smooth from my perspective. I did notice Niek's dad talking a bit less between Kesselchen and Galgenkopf, but I didn't squeal the tyres much, and hey, this was an easy lap, right? Looking back I might have been a bit faster than I thought, but as I didn't tape the passenger laps (the camera is in the wrong position for that), I have no way of knowing the lap time.
After a pause, some more chatting and admiring Martin's new Caterham (must be the ultimate in driving sensation), I did two beautiful passenger laps with Euan in his 328i. Despite the traffic he managed a 8.53 BTG, and kept a seriously tuned M3 behind him for a long time. Even more entertaining was "encouraging" one of the black M5s that were used for test driving to drive a bit faster, and see it bounce around. Maybe they were testing how old shock absorbers cope with the bumpy Ring surface?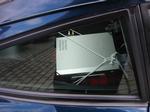 Encouraged by my lap with Niek's dad in the passenger seat I did two laps without passengers. Both were pretty good, but for some reason the VCR didn't record anything. Which is a shame, because I overtook a new M3 during the first lap (OK, he didn't know the track too well, but it's still nice), and I was following a 911 Turbo (1980's vintage) that was doing a similar speed for most of the second lap.
Sometime during the day I did my second "let the car sell itself" job, this time on Euan. I just dangled the keys in front of him. My compliments on his reaction time: he was behind the wheel in no time and seemed to be enjoying himself despite heavier than usual traffic on the roads around the Ring. Indeed, you can get used to a 964 very quickly :)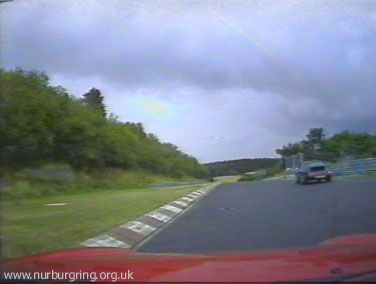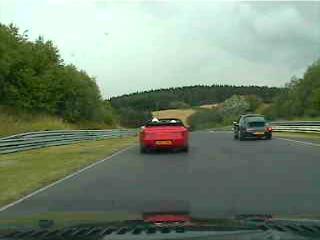 Near the end of the day I went out for what was supposed to be my last lap of the day. Dark clouds were gathering, and it looked like it might start raining anytime soon. Ben and Euan were going out behind each other as well, and they came out of the gate right behind me. On the previous occasion where I had Ben in my mirrors, I moved over on the approach to Hatzenbach to avoid holding him up all the way to Flugplatz. This time I felt I wasn't holding him up too much, so I stayed ahead. Knowing how fast both he and Euan are through Schwedenkreuz and Aremberg, I moved over and lifted just before the left-hander into Schwedenkreuz to let them past, hoping to keep them in view and get some nice video footage of them going through Schwedenkreuz and Aremberg. I swear this is a coincidence: within 10 second of my lifting to let them by, it started raining. Ben was on the dry line at dry speed when the gates of heaven opened all the way, giving him an instant wet track and some moments to tell future grandchildren about. I had already lifted, so I didn't have a problem getting though Schwedenkreuz. Euan was kind enough to warn me with his emergency blinkers, but given the lack of tread on my front tyres, the light front end of a 964 and a wet track in combination with the cost of Porsche bodywork, I was already reducing my speed significantly. I followed Ben and Euan down Fuchsröhre at a sensible speed, slowed down even more for Adenauer Forst, but had some massive understeer twice anyway, at which point I decided to drive the rest of the lap at tourist speeds. It was kind of fun, actually, being able to watch the scenery, especially with nobody in view ahead of me or in my mirrors: it felt like I had the entire Ring to myself :-)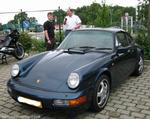 As the rain seemed to blow over quickly, a truly last lap was in order, this time with Ben in the passenger seat. We went out on a dry track, but it started raining before we got to Tiergarten! Most of the track was either very damp or wet, which made me do some more thinking of buying stock in some bodyshops, especially after seeing a red BMW parked in a spot before Aremberg that's usually reserved for rented TT convertibles. I slowed right down to give Ben ample opportunity to take a picture. I'm still trying to get to grips with the dry line, so I really appreciated Ben's tips on a suitable wet line. The extremely late turn-in at Adenauer Forst felt very good, for example.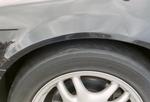 In the car park I admired Euan's left front tyre, which was a wee bit worn. He somehow managed to get a new tyre sometime between the early hours on Sunday and the track opening at 10.30. I'll make a mental note to ask him how he did that next time.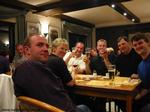 As warming up for the Ringers dinner at the Pistenklause, I met Niek and Francis at the Fuchsröhre. When 20.00 was approaching we moved to the Pistenklause, leaving Sabine behind :( The Ringers dinner was thoroughly enjoyable. A summary:
Martin advises Niek he's only sitting half a meter away, so there's no need to shout
Niek educates everybody in range about what women like
Birgit is called in as an expert on that subject
According to Birgit, Niek got the important points right
Ben didn't learn anything new in that area
There was a discussion on the uses of sour cream, which prompted me to point out the different meanings of "lapping"
Francis got an M5 for free, but it doesn't run
Euan managed to get the waitresses name by means of a little subterfuge
Niek got a second chance with said waitress, who had turned him down enquivocably a year ago...
... however, he didn't succeed second time round...
... but the girl's parting words were: "see you next year"
Euan told me I was doing a good pace, which surprised me a bit. Ben confirmed it though, so it must be true :-)
Caramel is better than sour cream
Some individuals I won't name here decided the night was still young and had some more fun in various establishments. I, being somewhat older (though not necessarily wiser), decided to go to bed as the week preceding this weekend had been tough enough already.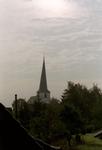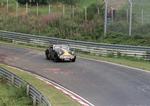 Sunday started with breakfast at Sliders. I decided to pass on the eggs, sausages and beans, not only because my stomach would probably explode, but also to avoid making Lenny jealous. Brendan told us that Jørund had been to the Ring already and found it closed until approximately 10.00. I therefore started the day off with a slow drive to the Ring, warming up all that oil in the 964, and did some photographing at at Brünnchen. Lots of old english cars were coming through, some of them really pushing it. Not surprisingly, it's at times like that that the Ring bites back: at one point we heard a lot of tyre squeal, then an engine revving, lots more tyre squeal followed by a screeching sound. All of this happenend beyond my view, but I would guess Eiskurve took another victim.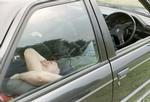 By the time the track was opening I found the car park near the entrance turned into a zoo for cars and bikes, so I parked on the grass parking lot across the street, next to the black BMW 3-series of Francis, who was at that time using it as a bed. I slammed my door shut twice (forgot something the first time) before I noticed him, but slamming a door shut right next to his open window was not enough to wake him :)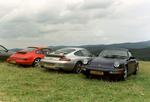 I spent some time chatting to Karen, who was fortunate enough to get to drive a GT3 over from the UK to the Ring. I found said GT3 parked next to my 964 later on in the day. And to add to the coincidences: I talked to Hugh for a few moments, and found his 964RS next to my 964 and the UK GT3 :) Laurens turned up as well, just in time to be the first at the gate after a closure, but with an old style ticket that didn't open the gate.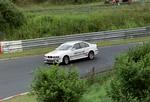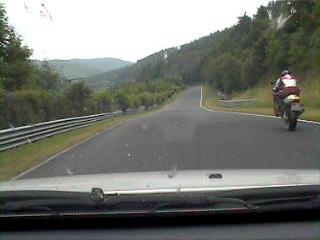 High point of the day (and of this year) was Euan approaching me with an offer I couldn't refuse: a ride in the Ring Taxi with Sabine driving. Francis was the other lucky guy, though he didn't look very healthy when the lap was over ;-) After filling out some forms saying that we couldn't sue anybody if we wound up injured, dead or unhappy, it was time to go. Euan got the front seat (allegedly because he had to operate his camcorder that he mounted to the windshield with a suction mount). I had the right rear seat, which allowed me a decent view of the track, more appreciation of the G-forces, and a view of Sabine operating the pedals. We made sure she understood the aim of the lap: the faster the better, the more sideways the better. She said she was hungry, which might have helped with the "fast" bit. I guess kicking the tail out just comes naturally to her :-) All of this with the ABS broken, but that didn't seem to make much of a difference to Sabine. Some highlights of the lap, which I'll try to get online sometime, Euan and my provider willing:
Coming up to an accident in Fuchsröhre, a guy was waving vigorously to warn her. From the back seat it looked like she was already on the brakes before the guy even spotted us, resulting in a very difficult to describe "Jaaaaaaaa!" from Sabine. Audio capture to follow later, I hope. It's priceless :-)
Jørund passing us while he was doing an enormous wheelie while going up Ex-Muhle. You can download this fragment.
I asked Sabine if she had ever driven the track backwards. Answer: "No, that is too dangerous". Ehh?
The suction mount from Euan's camera let go at Eiskurve. According to Euan, that shouldn't be possible. Then again, what Sabine does with that car isn't supposed to be possible either :-)
Once Euan had finished making some nice closeups of the dashboard, he pointed it towards Sabine with the comment "Sabine at work". She immediately slouched in the seat, put her elbow on the window sill, ran one hand through her hair, gripped the wheel with two fingers of the other hand and flirted with the camera while doing a 4-wheel slide at 200km/h. Yeeeeeeeha!
After we got back, Euan summarised things excellently by saying "Sabine, ich liebe dich". Something tells me he's not the only one...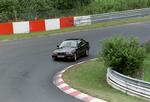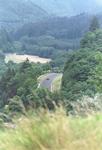 A number of closures meant that the track was too busy to my liking each time it opened up (particularly considering my inexperience), so I went to Wehrseifen to do some spectating. Within minutes of finishing the climb up there from Breidscheid, the track was closed again. This gave me the opportunity to read a book and enjoy some peace and quiet in the Eifel mountains. Both peace and quiet were disturbed after an hour by lots of tyre squeal in the distance, announcing the end of the closure. The first car along by a long way: Euan.
When the track closed again, I packed my things and drove back to the entrance to the track again. The plan was to do an easy last lap and call it a day. That plan was changed within minutes, though. First I did a passenger lap in Ben's 968: lots of traffic, enough of them being clueless enough to cause the switching on of the headlights and using the horn. Despite that it was one of the more enjoyable laps I've done so far, as Ben was sliding around as if tyres are for free, kicking the tail out numerous times. It felt like he had some private lessons by Sabine :) Adenauer Forst and Hohe Acht were particularly entertaining.
Inspired by this, my last lap was rather fast, and involved lost of tyre squeal. It's the first lap I've been pushing the car, and it felt very good. I finally managed to feel as confident regarding car handling as at Zandvoort. Ben was two cars ahead of me when coming out of the gate. Thanks to a lot of traffic out on the track, I managed to keep him in sight for most of the lap, which was a new experience for me.
When I got back it was close to 16.30, Euan was driving past saying goodbye, Niek had left, Francis was going home too, so I decided to declare the weekend a raving succes and went home as well. I played back the video when I got home, and found that my last lap was 9.36 BTG, despite having to queue before being able to go round the Karusell. Much quicker than I thought I was capable of. The previous weekend I did BTGs of 10.50 and 10.36, so I would have been happy to do a 10.00 BTG on a clear track. Just to be clear about this: I'm not interested in going round as fast as I can. My first priority is not to crash. Second priority is to leave margins and find I don't need them. I don't mind excitement, but things get plenty exciting enough if you do have a margin for errors. The overall goal for me is being smooth and being consistent, things I look forward to practicing next time out.
Usually, a Ring weekend ends on Sunday evening. However, this time it ended on Monday morning with Brendan's announcement on the Ringers list that Jørund had crashed on an oil spill, had been airlifted to the hospital but wasn't going to live. He'll always live on in my memory doing that wheelie past the Ring Taxi, so in that respect last weekend will never end.

---