As always I started with a sighting lap at a relaxed pace. Even going relatively slowly the tyres squealed. Maybe Jeppe is right and I should get me some R-compounds... Despite the wonderful weather the track was reasonably quiet.

For lap two I increased the speeds a bit, but the feedback through the steering is completely different with the Dunlop tyres. With the Pirellis, the car did what you asked, and if you asked for too much they'd let you know. If you asked for even more, they'd squeal at you. The Dunlops don't tell me much at all, but they squeal at embarassingly low cornering speeds. Anyways, you're probably fed up with my whining about those crappy tyres now. I'll try not to mention them too much :)

The third and fourth laps were interesting: a familiar red Seat Leon left the gates close to me. After Flugplatz I indicated right to let him by, but he chose to stay behind me. I invited another pass up Kesselchen, but again he didn't want to overtake me. As he was following me at a sensible distance it wasn't annoying at all; in fact it was fun to see in which sections I could gain a little ground, and in which sections he would be faster. In short: he was quite a bit faster through the tighter corners, but the difference through the faster sections like Fuchsröhre or the first bit of Metzgesfeld was negligable.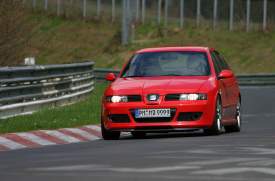 After two laps of this I parked the car, and as luck would have it the space next to me was free too, giving the red Seat driver a convenient spot to park his car and have a chat. As it turned out he used to drive an Ibiza Cupra Diesel too, and loved it for the out-of-the-box performance for a very reasonable price. The reason he didn't have it anymore was that he'd rolled it several times at Pflanzgarten-III while avoiding another car. Apart from a little scar on the face there was no permanent injury, but it did convince him of the wisdom to always wear a helmet.
According to him, the Leon was a bit easier to drive fast, among other reasons because the rear end didn't get so lively under heavy braking. From what I could see, his Leon wasn't completely standard though. It was running R-compounds, and behind the front wheels you could see some Porsche calipers. Sweet. Slightly less sweet was that the owner had to drive almost exactly twice as far as I to get to the Ring: he was from the Berlin area.
The friendly conversation was cut short by Karl, who was going out for a lap and kindly offered me a chance to cool down during a lap or two in his backup car, which took us round in full-leather automatic-aircon'ed comfort. For additional entertainment that day's variation of the local line (adjusted for ambient temperature, surface temperature, humidity, and passender shoe size) was used. It's one of the things the people who really know the track impress me with: the ability to go fast even when they're off-line because of overtaking other traffic.
It didn't take long for me to realise that Karl still doesn't possess a complete set of skills to drive a car. For example, he doesn't seem to understand the concept of lifting. Niek would be proud. Well, maybe not entirely, as Karl keeps it on the black stuff and didn't roll the car onto its roof.
Apart from a slowish mirrorless suicidal boiker in Pflanzgarten we had a smooth and quick lap. In contrast, Karl's 944 seemed to be recovering only very slowly after a cog had lost a tooth which caused a bit of havoc with the engine internals. Throughout it all Karl was relaxed behind the wheel, using the straight-armed Fangio style.
Schwalbenschwanz required a bit more commitment, judging by the look on his face.
The tyres were having a hard time, especially in the heat, so Karl kindly pulled off the track to give them a chance to cool down. Until he spotted Thorleif going the other way. Within moments we were at the other barrier, just in time to attach ourselves to Thorleif's rear bumper.
Like Karl, Thorleif was driving his backup car. In Karl's case there was something wrong with the engine, involving cogs, broken teeth, and ugly things like that. In Thorleif's case it was something involving bushes. At least he had AP Racing brakes fitted to the CSL in the meantime, which should hopefully eliminate the brake issues.
Anyway, apart from a yellow flag situation and a duo that was either clueless, didn't watch their mirrors, or plain didn't want to let a Ford station wagon overtake them, we had a highly entertaining lap.
Karl and Thorleif seemed pretty evenly matched, which made for lots of enjoyable tyresqueal. On the way from Steilstrecken to the Karussell we even squealed past a local Evo.
Lots grins all around, and enough material to chat about in the carpark afterwards. While we were there we were approached by a middle-aged German who wanted to know what the deal was with the Nordschleife, Südschleife and GP-Strecke. To confirm that he'd understood Karl's explanation he described the GP-Strecke as the little sausage hanging beneath the Nordschleife. Yup, that's correct.
Unfortunately Karl didn't have time to sample my shopping trolley from the passenger seat, but after a quick pitstop the entertainment resumed with a passenger lap with Thorleif in the M3 GT. The tyres indeed didn't seem to be all that impressive. The car squealed almost as much as the Ibiza. However, with a better balanced chassis and with the front wheels dedicated to steering, speeds were a bit higher.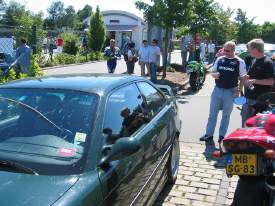 While the M3's tyres were allowed to cool down a bit we went for a lap in the shopping trolley. I still need to get used to the craploads of mid-corner understeer. Also, the added weight of a passenger seems to upset the car more than with the Pirellis.
And while we're on the subject of upsetting, a car with a "Fahrschule" sticker on it was acting dangerously enough for Thorleif to hop out at the end of the lap to enlighten the guy as to what the possible consequences are if you drive the way he did.
Meanwhile I continued on my own, and did two more laps. Things were starting to come together and braking points and lines were in better harmony. Lap 7 of the day went about as quickly as what I used to do on the Pirelli P-Zero Nero tyres. Partly this improvement is courtesy of some tips by Jeppe, which he presented by way of a rather colourful analogy with boiking, and the various ways different people go round corners on boiks. Even in the shopping trolley I tend to drive it a bit like a 911, which may be a bit sub-optimal if the car has engine and drive in front...
After a Currywurst mit Pommes it was time to take some pictures, this time at Hocheichen, where I met Gary (who looked as if he had (mosty) recovered from last night's festivities at the Pistenklause). It didn't take long before Thorleif came past.
Some assorted pics (the full set can be found at my fotopic site for a limited time):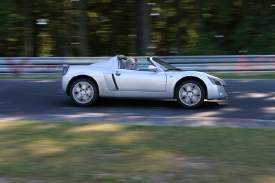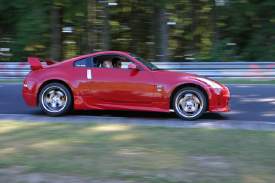 The first girl seemed to be enjoying herself, while the second one looked bored to death. The second girl made a comeback a little later...
Always nice, a white 911: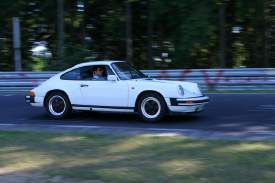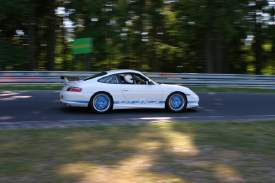 Some people couldn't wait and just had to overtake people mid-corner.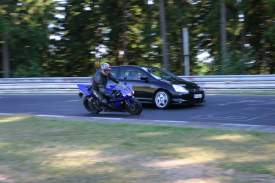 An Audi I've seen before: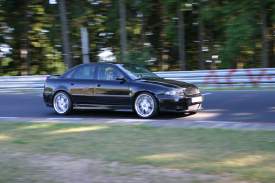 Some boiks were enjoying the dry track, sometimes with sparks flying off their kneesliders: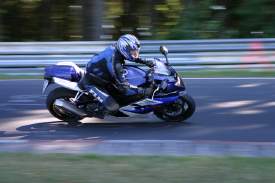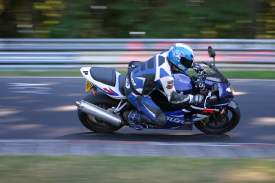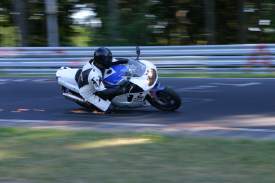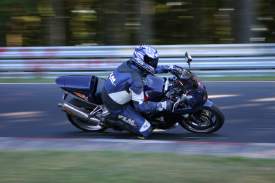 Black 911s are nice too. Just like yellow ones. Or silver ones.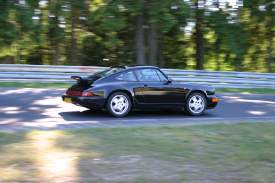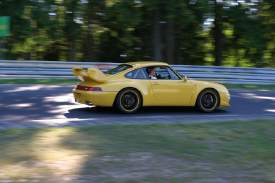 Some more random shots: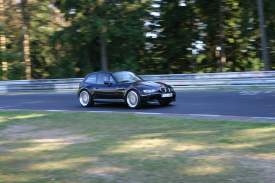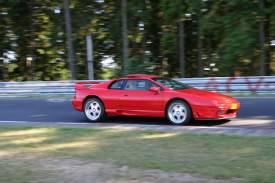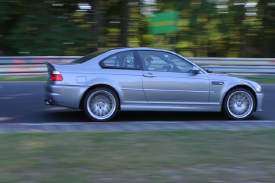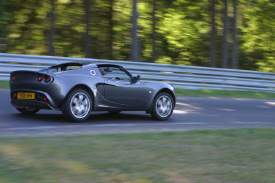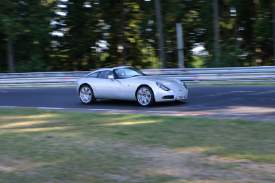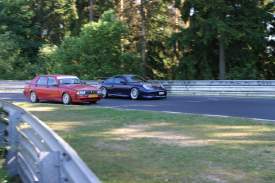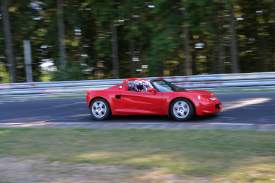 And then it was time for the second appearance of the bored passenger. This time round she looked just as bored as during the previous pass. However, I think she woke up quickly when her driver took Hocheichen a little too enthusiastically and went dirt-tracking...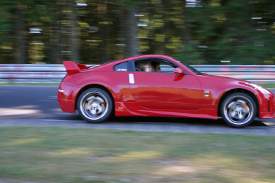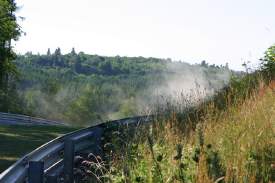 One of the rent-a-race-car cars didn't make it off the track under its own power.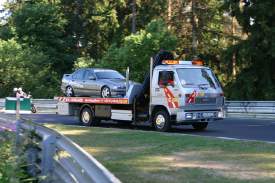 The light shining through the trees made for some interesting photo opportunities.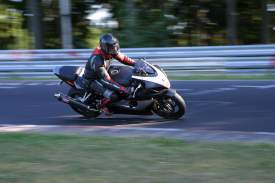 After a while I moved up the hill a bit, to the exit of the Hatzenbach complex.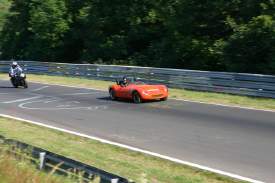 Three black Porsches in convoy: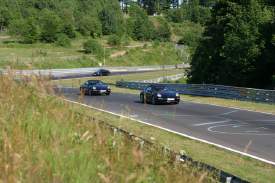 And a yellow submarine, ah, Lamborghini: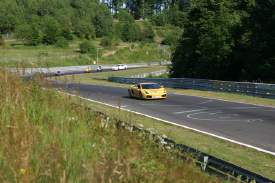 More assorted shots, including a GT3RS and a real London cab: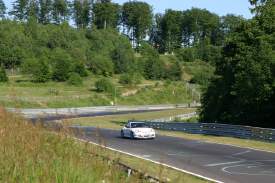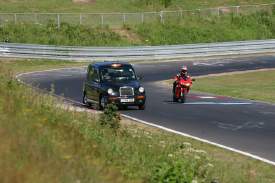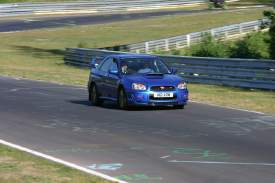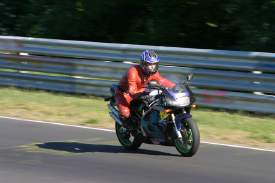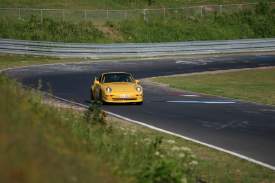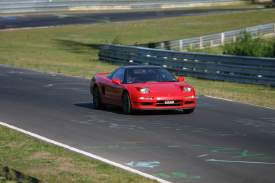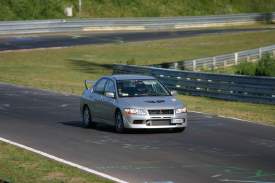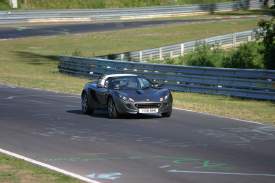 Some people were still coming to grips with the track layout. This one had a coach on board.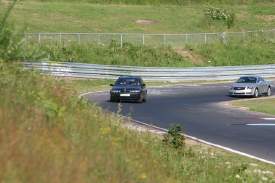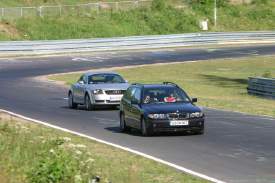 Mr. Impatient was at it again, flashing his headlights and honking at a hapless boik in front of him.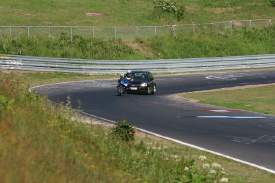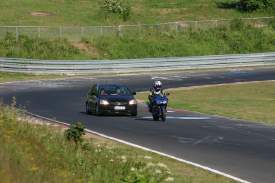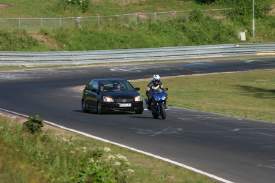 A plane buzzed lazily overhead, reminding me of Stephen.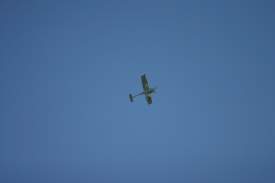 For a second I thought Karl's 944 had magically been fixed after all, but it was someone else.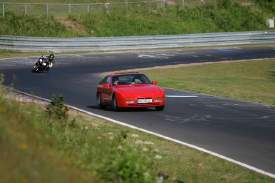 I'm guessing this is Alex. There can't be too many smurf-blue MX5s around...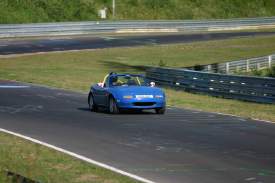 Not much later traffic dried up, the track closed, and an ambulance came by. The co-driver was busy with a camera.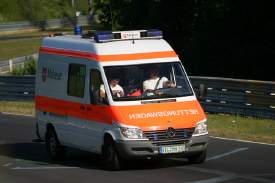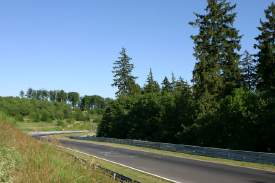 As it was past 18.30 I decided to start making my way home. The route took a scenic detour through the outskirts of Kelberg to have a quick look at the B&B that I'd booked for the August trip.

---