The excuse for this trip was that I'd ordered a copy of the highly entertaining DVD "Walter Röhrl im Porsche 911" (available from Gelee-Deluxe) for a fellow Ringer to save on the (ridiculously high) shipping costs to the USA. Said Ringer would be at the Ring, so a plan for yet another Ring trip was quickly hatched.

I decided to let my new gadget, a Garmin Quest, do the navigating for me. It did a nice job, and instead of routing me down the A1/B258, it favoured the A61/A565/B257 combination. Which resulted in a nice scenic drive through the Eifel countryside, admiring a local in a VW Transporter van do quite impressive speeds through the twisty bits.

The weather had been looking dodgy all day, and didn't improve much when I got closer to the Ring. As the B257 goes through Adenau, the sensible thing to do was enter the track at Breidscheid. I'd already noticed that the Nürburgring Nordschleife was on the maps in the GPS unit. Even better, when I entered Döttinger Höhe it told me to turn right in a few hundred meters.

Having only seen half of the track, the decent thing to do was to go straight out and examine the other half. Once that was done, it was time to up the pace a little. At this point, the track was still reasonably dry, with the braking zone for Bergwerk a bit greasy, but fine almost anywhere else.

Thanks to the low ambient temperature and to my taking it easy, the SquealMobile's brakes weren't complaining all that much yet. Better do another lap, then. Until then I'd hardly seen any other traffic. No boiks at all, and only a handful of other cars. On this lap I had a red BMW 3-series ahead of me, who showed signs of not knowing the track yet. I managed to gain some ground through Hatzenbach, then lost sight of him until Aremberg. He was already quite a long way down into Fuchsröhre, but when I saw him braking a long way before the compression, and once more while entering the compression, I figured I'd be on his tail be Adenauer Forst. Exiting Fuchsröhre I spotted him again: he had kind of missed the turn-in, and was on the newly paved run-off area, with his passenger/coach gesturing with his hands where he should turn in next time. Back on the track he started to outdrag me into Mattzgesfeld (not that that is such an achievement against a no-power, no-torque car like the SquealMobile), but then held back to let me by.

Sabine provided more entertainment: I moved over on the approach to Wehrseifen, and she wiggled her behind turning onto Lovejoy Lane. Another car that overtook me was one of those big boxlike thingies in a horrible greenish greyish light-blueish colour. This turned out to be a hybrid car, but a rather quick one for a change.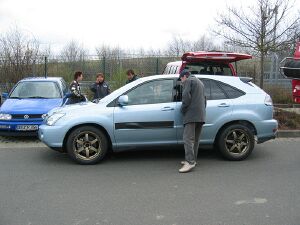 Now and again a light to medium drizzle came down, but the track stayed mostly dry. By the time I finished lap 2.5 it had stopped drizzling altogether. Better do another one, then: delivery of the DVD could wait another 10 minutes. For some reason I encountered more traffic in that single lap than in all my other laps (including passenger laps) of the day. I overtook at least 5 other cars and a coach. A little bird whispered that despite that, I'd gone round in 9.55 BTG. Not bad for the aging SquealMobile.
Having a keen eye for gadgets I couldn't help but spot the car-battery powered device behind the barrier but before the cones. Maybe it's a lap beacon for the Japanese crew of the hybrid thingie?
Robin Iddon (and company) had made a trek to the Ring in their Elises. While chatting to them Keith showed up.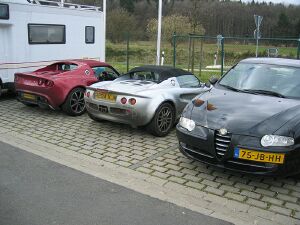 Keith had managed to persuade the rental agency to give him a decent car: an Alfa GT 2.0JTS. Much better than the hairdresser's car he got last week, or the one they intended to give him this time. As the weather wasn't much to write home about, we went out to do a lap in short order.
Somebody had gone off at Aremberg, but according to Keith that happened before the start of the weekend. The tracks suggested that somebody had gone into the armco quite heavily.
Keith was certainly enjoying driving a decent car round and round. His Jahreskarte was well on its way to being a sensible purchase.
Traffic was reasonably light, apart from some very slow-moving Japanese cars.
At Hedwigshöhe a Dutch Alfa 75 had done some armco remodelling earlier in the weekend. By now there was just a bit of dirt left on the track (off-line).
The passenger seat of the GT was a bit disappointing: it was much too high, leaving not much room for a helmet, and despite the high-profile feeling of the seats, lateral support wasn't all that impressive. Not as bad as in Christer's Corvette of course, but nothing to write home about. Apart from that the car felt really nice: no squeaks, not too much bodyroll, and decent brakes with decent ABS. Also, the heritage of the GT was very obvious: it squealed almost as much as the SquealMobile.
Back in the parking lot it was very easy to find a free spot. A nice change from the busier weekends. A Renault 5 was making lots of impressive noises. And to stay on the subject of noise, The Noise was sporting a nice decal on the rear side window.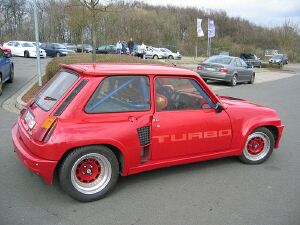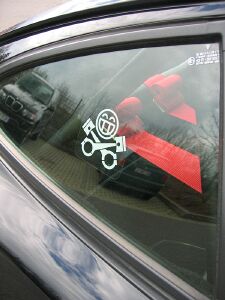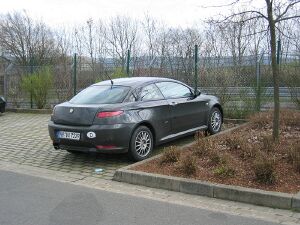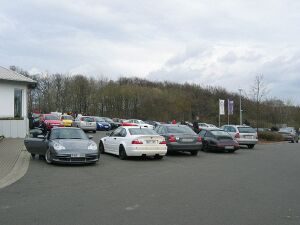 A picture of the Nordschleife on the hood seems to be en vogue with the GT3 crowd nowadays.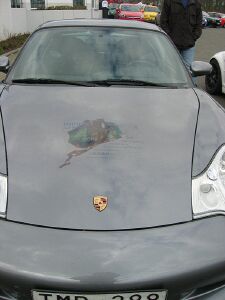 On the other side of the Grüne Hölle the carpark was even emptier.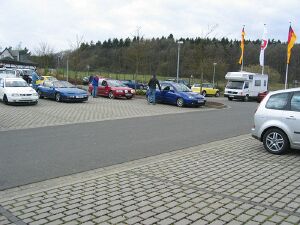 One of the very few boikers had had a minor mishap: one indicator was hanging by a thread, and the headlight was loose too. After a bit of tweaking the headlight was working again.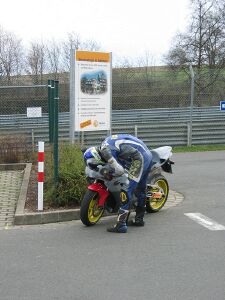 Shortly after the boiker had fixed his headlight, Sabine exited the track in the RingTaxi. The right front passenger looked as if she might Sabine's grandmother.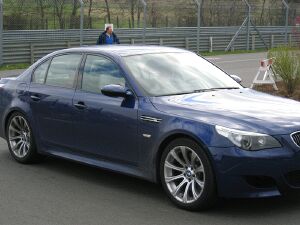 Next on the agenda was a passenger lap with Robin in his new Elise. Fortunately I've been into and out of Elises before, because I definitely needed the practice. The roof was still on, you see, and getting into an Elise without taking the roof out is a bit of a challenge. Not to mention the effort you need to get out again...
Robin was still getting used to the car and its power, but he was moving along swiftly nevertheless. It was also nice to see some left-foot braking and to feel and hear well-executed rev-matched downshifts.
A slight downside of passengering in a speedy Elise is that you have to hang on for dear life to the passenger door, or you'll be very much into the way of the driver. Quite hard work, really :-)
On the approach to the Karussell Robin let one of his mates by. His Elise had a little over 200bhp under the tiny hood, and wasn't carrying a heavy passenger along. Another car that overtook us was Falco in his orange-striped GT3. Naturally by the time we came back to the carpark, neither Falco or his GT3 could be found.
Robin was kind enough to park close to a lamppost, which gave me something to grab onto while levering myself out of the cramped confines of the Elise. Then it was time for some more squealing, this time with Robin in the passenger seat. By now I'd gotten the 964-routines out of my mind again, and was firmly back into how-to-drive-a-squealmobile routines. Trying to chase a 997 through Hatzenbach was definitely good fun.
The track was reasonably dry for the most part, but starting to get more than a little damp in the Hohe Acht area. Brünnchen was another bit where the tyres didn't so much squeal as grumble. On the second lap conditions were markedly better. For instance, down Fuchsröhre the SquealMobile started squealing even before we came to the compression.
As I was starting to run out of time I went to say goodbye to those in sight, but got sidetracked by Jochen wearing a huge grin. While sitting in a black Carrera GT. That had just done a lap of the Nordschleife. Naturally the battery of my camera had run out by then, but I'm sure some other photographer managed to capture that grin: it looked like it wasn't going to leave him anytime soon.
Back home I had a look at the trip odometer, which told me that I'd done 842.5km that day, including 5.5 laps of the Ring.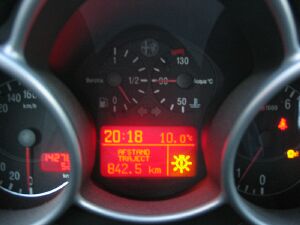 ---