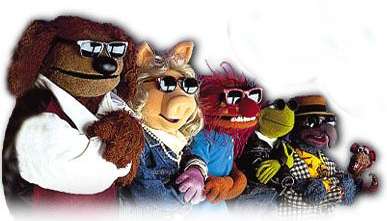 Although I didn't have any more trips planned for this year, Christer convinced me to do yet another Ring trip. The carrot he used (besides the Ring itself) was a track session on the GP track (organised by the Pistenclub).
As a result I found myself at the Ring at around 15.00 hours, in the SquealMobile. Things seemed quiet and the weather was gorgeous. In the car park I met Robin (mate of Ed), and I saw Johan's M3 (no Johan around; I did spot him on the track a little later). Also in the carpark was a very nice black Boxter-S, driven by two newcomers (Mark & partner). They were a bit intimidated by the prospect of actually driving their baby on the track, so I took Mark out for two laps in the 147 to give an impression of lines and some hints on where to really be conservative with speed. There was a lot of roadwork going on, repairing the damage from the weekend, I guess.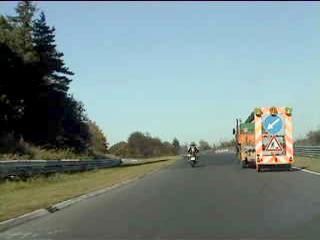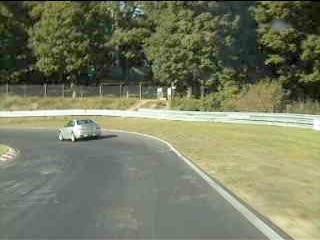 During the first lap, some armco was being repaired just beyond the compression at Fuchsröhre, which made for an interesting variation. The presence of a rather large truck convinced people to stay on the right side of the track quite a bit longer than usual. Mark had checked out Ben's site, and found it to be really useful. (Thought I'd pass that on.)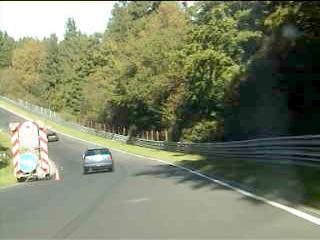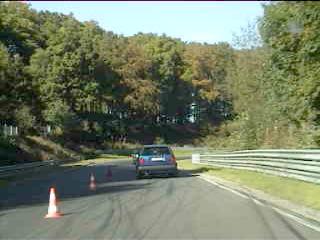 To me the track felt rather slippery. Maybe it's the inherent squealyness of the 147, maybe it's the contrast to the 964, but I didn't much like the feel. The sliding was very predictable, but it seemed to slide even more over the front wheels than usual.
Quite a few of the other people at the Ring seemed to either have a death wish, or appeared totally clueless. Some probably both. On the two laps with Mark I had two really close encounters with bikes that overtook me. One almost scraped his license plate on my left front wing, so early did he go back to the right.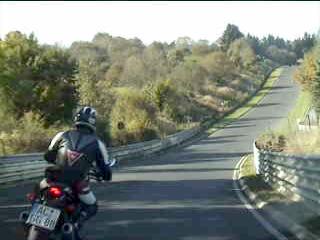 The other one occasioned some evasive maneuvering: he obviously didn't know the track, so we followed the classic pattern of him overtaking me before Hohenrain, and I sitting behind him from T13 onwards. He did keep an eye on his mirrors and let me by after Hatzenbach. By the time we came to the Karussell he was starting to push a bit harder, so I decided to go round the outside of the Karussell. I figured that should give him plenty of time to pass me. He probably thought the same but didn't look before exciting the Karussell a bit prematurely, landing almost on my left front wing. If I hadn't moved onto the outside kerb and braked at the same time, that would have been an accident.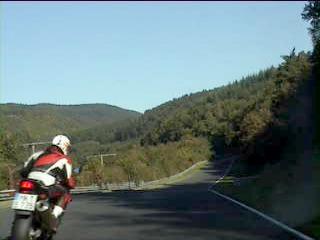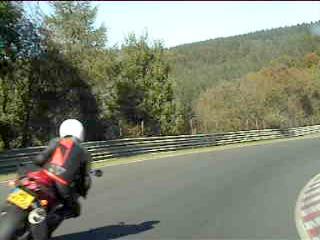 After a short pause I headed out again, with Mark following me in the Boxter. I took things nice and easy, being careful to brake lightly. As a result we stayed together the entire lap. Again there were some very close overtaking stunts being played.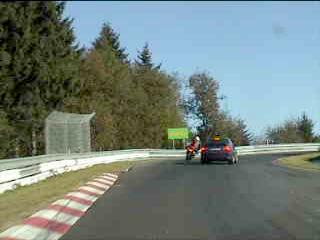 Sabine was doing her even-more-sideways routine: her line through Steilstreckenkurve looked interesting: I think I saw more of the drivers side of the car in my mirror than front or right hand side :-)))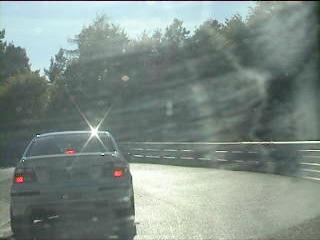 Not surprisingly, there were quite a few accidents: bikes going down at Galgenkopf II and quite a few other places. One of Robin's mates binned his Audi at Hocheichen (in the dry, so that deserves an honorable mention). Anyway, the track was closed for quite a while later in the afternoon.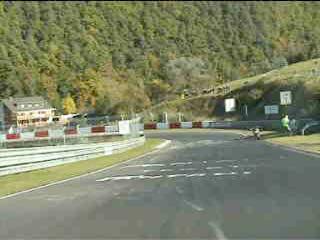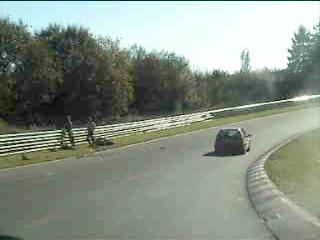 The net result was that I decided to do just one more lap, starting out behind Mark. The lap started with a marshal in the office directing me to switch off my camcorder: no filming allowed. As I'm a law-abiding citizen, I naturally switched it off. At the end of the lap I noticed that somehow it had switched on again. Weird :)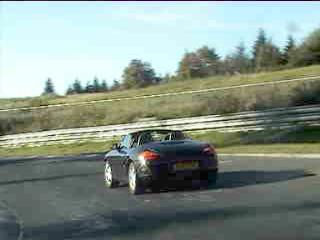 On this lap a bike had crashed (hard by the look of it) at Ex-Mühle, and despite emergency blinkers on and braking early, the BMW 3-series with the Sport Auto decals on it almost ran into me. The rest of the lap was relatively uneventful, but I had had enough muppets nearly on my engine lid, my rear seat and everywhere else on the car, so I called it a day.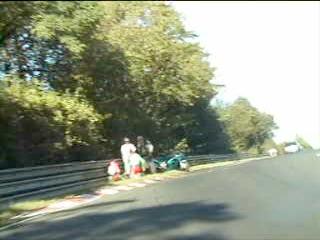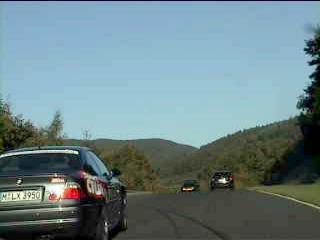 Part two: the GP-track
The 147 (being a lease car) doesn't come with track insurance. Worse: if I were to take it onto the track, I wouldn't even have third party coverage. And the 964 was too loud for this event, so I settled for some passenger laps. Or so I thought.

Job was there (with girlfriend), and so was Christer (after a short delay). Christer was kind enough to take me for a spin. Having seen my example he tried to outdo me, but it took him two spins to accumulate 360 degrees. I must say, he judges these 180 degree spins to perfection. The first time we stopped about half a meter from a tyre wall; the second one ended almost a meter from another tyre wall. After this, Christer judged the tyres to be nice and warm, and started driving even faster :-)) With me hanging on for dear life. The Vette may be a nice car to drive, but the seats offer no sideways support whatsoever :( Still, I had a really good time (thanks Christer). The G-forces were quite impressive.

During the little break after that first stint, Job insisted that I take his rebuilt Golf out for a few laps. I was a bit hesitant, not knowing the track AND driving an unfamiliar car, but Job was very persuasive. And I liked the idea of driving a few laps myself :-) As a result I was having a ball a few minutes later. The biggest challenge was to keep track of traffic behind me: the mirrors don't show much of what's going on around you. Time for Murphy: during one of the early laps I apparently but unintentionally closed the door on Christer at the entry to the Veedol chicane. Oooops. Sorry :(

Of course Mr Murphy made sure Christer had his camcorder running (AVI, 2MB). His comments: "Thought you HAVE to put it into your tripreport, kinda along the lines "don't do this at home kids"...". This being my website, I prefer my version: "You can see that the red Golf (me) isn't indicating to the right, so I probably haven't seen Christer. As Christer goes for the overtake he finds out that that's correct. So don't try this at home, unless you can be certain that the car you're overtaking has seen you, even if you know the driver." :-)))

The last couple of laps went pretty well: I got used to the brakes (good bite, but lots of pedal travel) and the rest of the car. Nice car to drive. During the last few laps I even managed to reel in and overtake an MX-5 :-)

An S2000 from Essen came into the pits with a scratching/squealing/metal-to-metal sound: brake pads gone. Christer, being an expert on this, judged it a case of not being able to get back home again.

During the second session Christer took the Golf out too. After that it was time again for some serious fun in the Corvette. This time I managed to find a setting for the passenger seat that made bracing myself a bit easier. Which was very useful, as Christer was starting to push a 996 Carrera 4S :-)) He braked later, carried more speed into the corner, and accelerated harder out of the corner. Neat stuff. After two laps of this, the 4S decided to fold and indicated us past :)

About two laps later Christer announced that the brakes were on the way out. Followed with a quiet comment upon braking for the Veedol chicane that the brake pedal went all the way to the floor. Not good, so we turned into the pit lane (which is right past the Veedol chicane anyway). To cool down a bit we rolled the windows down, and heard a scratching/squealing/metal-to-metal sound: brake pads gone. As in not being able to get back home again... Which ticked Christer off, as the pads should have been able to cope with a few laps on that itty-bitty short track. Apparently not :-(

Unfortunately the Ford garage in Adenau didn't answer the phone. However, Job had left a well-filled toolbox at Bren's place, so Christer dropped in there, to see if he could change the pads there (he did have a spare set in the back). As it turned out, it was too dark, too cold and too late to change the pads :)

For a change I let my better judgment prevail, and decided not to go to the Fuchsröhre ("just one drink". Yeah right, been there, done that, and didn't leave before one in the morning...). But I had an appointment Tuesday morning (rather early), and it's still a 3 hour drive home, so I took off for home.

---