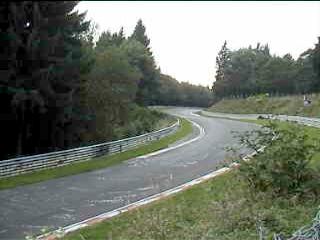 Another flash visit. The approach was similar to that of the previous trip: sleep in, take the 147 to the Ring, arrive at 14.30 hours, hang around, do some laps, drive home when the track closes. Like most plans, this one didn't survive its first confrontation with reality though :-)
I still don't have a decent mounting system, but at least now I'm working on it ;-) Alas, no in-car movies this time.
The start of the day (ahem, nearly 15.00 hours now...) was quiet: I spotted Paul's Corrado but didn't see the BMW of Francis. No other familiar faces were in sight, so I set out for a nice slow sighting lap. Which turned out to be quite useful with remainders of a crash and a waved yellow flag at Schwedenkreuz. Not having used the brakes much (there's not much need for them even in a fast lap if you're in a 120bhp car that weighs in at more than 1200kg...) I went out for lap number two, concentrating more on lines and reference points and taking note of entry speeds than trying to drive fast. This may sound weird, but so far I haven't been using many reference points, so some work in this area was long overdue. The most notable sight on the second lap was a yellow GT3 that had followed the example of at least one Ringer that I know by feeding in a bit too much power a bit too soon on the exit of Brünnchen II. And found it wanting in grip. And found that the armco was quite sturdy (maybe that's why it's so expensive). And found that the bodywork of a GT3 is pretty good at dissipating the energy of an impact, but that it doesn't rebound all the way after doing so :( Thanks to all the yellow flags I'd barely warmed up the tyres and brakes, so I went straight out for lap number three. Again a reasonably quiet lap. The GT3 was undriveable and was being recovered.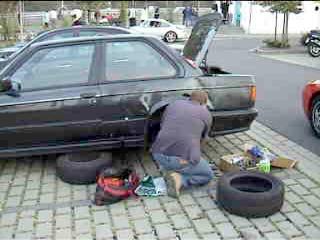 Having done three laps it was time for a break and another scan for familiar faces in the car park. With better luck this time: I spotted Ben (going out on another lap; surprise, surprise ;-) ), Francis (doing his usual "I'm the mechanic" routine on his car) and Christer. Francis had lost a his left rear tyre somewhere on the track, in the middle of a turn. This caused some interesting moments, driving on three wheels and an empty rim...
Laps four and five were with Christer in the passenger seat: he seemed to enjoy the change of pace, being driven round in 10.00 minutes pace while accompanied by a sound track of an overworked engine and overworked rather narrow tyres. The 147 now has an official nickname: the "SquealMobile" (thanks Francis). Christer gave me some useful pointers on where to turn in. Not all the painted dots on the track are suitable points to aim for, particularly some turn-in points. If I'd had the camcorder running I'd list them all for you. Eschbach and Miss-Hit-Miss stuck in my mind, and the alternative line (tested in lap five) worked really well.
Lap five was further brightened by some entertainment: overtaking a 993 Turbo (408bhp vs 120bhp, no contest really ;-))) ). Furthermore, we were slowly but surely catching up a 964RS I'd let by earlier through Hohe Acht, Wippermann and Brünnchen. By the time we got to Eiskurve we were some 20 meters behind him, so we had a good view of what happens if you hit the loud pedal a bit too soon: the tail steps out. The driver then demonstrated what happens if you hit the brakes when the tail steps out: things get worse :) You also lose a lot of speed quickly, which got the car back in line after some serious fishtailing. (I know what you're thinking Ben, and I'll do my best to have a camera running on any lap I do in the future. This would have been a classic :( ).
After all this fun, Christer was kind enough to sacrifice some more of his brake discs by taking me round in his Corvette at speeds that I'm not going to compare to the 147. This was seriously fast. And seriously entertaining, with all that power on the back wheels. Quite addictive, I must say. Particulary when going up Quiddelbacher Höhe: that car just keeps on accelerating. Ditto up Kesselchen. Uphill? This? More like a slight incline :-)) Awesome. Great experience. Many thanks, Christer.
Laps six and seven I took Jocke around. Traffic was still reasonably light, despite the fantastic weather. When we left the gate a Ferrari F40 was leaving at the same time. I jokingly said "Let's see if we can keep up." Of course he disappears from view before we even got to the bridge at Döttinger Höhe. But lo and behold, in Hatzenbach he was in view again. Only to disappear up Quiddelbacher Höhe. Our next sighting was in the braking zone for Aremberg: I had to brake quite early to avoid buying an F40... Off he goes down Fuchsröhre where I can't put the power (the little bit I have) down because of traffic, so he disappears accelerating out of Adenauer Forst. To make a long story short: after Galgenkopf he's less than 50 meters ahead. Maybe someone at the Fiat factory made a mistake and put his engine in my 147, and my 120bhp 1.6 liter in his F40? ;-)))
In the car park Jocke showed me his bike (big brute, if you ask me, but then again I don't know bikes. But this one looked really impressive. Specs were entertaining too: such a machine has more horsepower than the 147, and is quite a bit lighter. Almost ten times lighter... Ouch...) He also showed me evidence that he got his knee down. Rather him than me, I'd be scared just sitting on such a bike :-)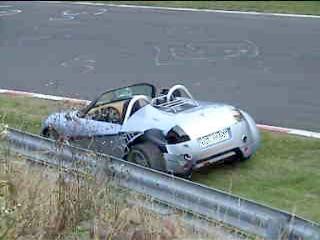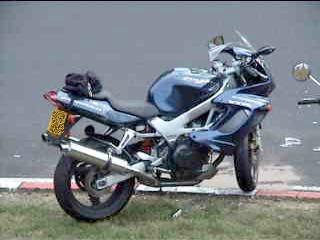 After all this lapping, I decided for a longer break by going to Brünnchen to do some spectating. A car had crashed on the approach to Eschbach, damaging the left rear. Apparently a bike had crashed into the crashed car. The rider was OK (as far as I could see he only hurt his hand a little), but the bike sustained some serious damage.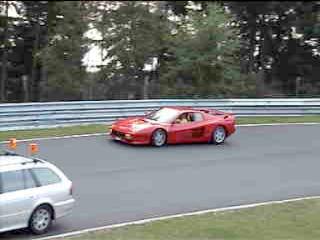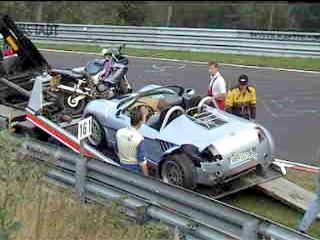 The track had been closed, but there were still some backmarkers coming through (mostly Ferraris, great looks, great sound, but expensive to repair bodywork). Funny moment: the police had arrived, parking their station wagon in front of the Volvo estate of the Streckensicherung. One of the marshalls then jumps behind the wheel of the police vehicle, only to find himself in a Mercedes he doesn't have an ignition key for :-)) The bike and one car were recovered. There was a second car that looked OK but couldn't be towed because it was leaking oil. While this was going on, another recovery truck came by with a Renault Alpine on it.
I had a quick chat with the marshall standing in no-man's land (end of Wippermann) with his yellow flag. He was looking forward to Feierabend (end of work). He also told me that the track would open in a little while and would close at 19.20 hours, which left me with enough time to get back to the entrance and do one more goodbye-lap.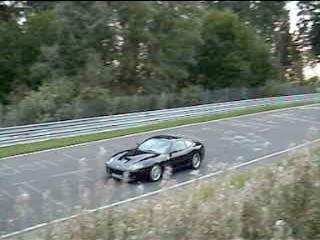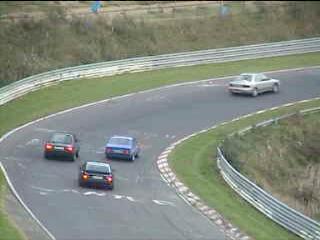 By the time I'd walked down the first bikes and cars were coming through, including a number of Ferraris that were driven quickly. The BMW M1 was still there, too. Typical for the first lap after a longer closure, things got kind of busy.
In the car park (nearly deserted by now) I invited Ben to a lap in the SquealMobile. He accepted on the condition that we had to be back in less than 12 minutes, allowing him to do a last lap of the day himself :-) A little over 10 minutes of squealing and a minute of 'parking' later (sorry 'bout that, I usually don't park diagonally in two spaces, but like I said, the lot was deserted and we were in a hurry), we swapped to Ben's 968, with me in the passenger seat. Doing the last passenger lap of the day with Ben is becoming a tradition. A really good tradition from my point of view :-) Again Ben showed he could go sideways with the best of them (including Sabine in the Ring Taxi), despite being warmed up by the heater that was helping to cool the engine. I look forward to Ben's trip report where he explains how his Jahreskarte blew away during a lap sometime earlier that day ;-) Those metal contraptions called 'roofs' do serve a purpose sometimes :-)
All's well that ends well: Ben reckoned there would be a spare seat for me at the dinner (I hadn't reserved a place, planning to head back to home direct from the Ring). Who am I to refuse such a kind invitation to visit Sabine's place? Anyway, dinner was nice, service was astonishingly quick by Fuchsröhre standards (for the food; drinks were another story...), and I met some more Ringers I didn't know before (such as Ruud (Scooby) and Jeroen). Ruud was telling me he didn't brake on the uphill stretch of Fuchsröhre. Sounded interesting, given that he was going down Fuchsröhre at a good speed. The modified suspension on the Scoob might have something to do with it :)
Of course the evening ended in a gadget show: who has the smallest, which gadget does the neatest tricks, how many functions can be combined into a single gadget, and so on. Jocke was showing off a telephone cum diary cum computer cum much else by playing back one of Jørund's videos on it. The drive home lasted 2 hours and 5 minutes, 6 minutes more than the record due to some roadworks and a short detour.

---