A bit of a late start this year, but when a colleague (Mark) suggested a trip to the Nordschleife the only proper response was of course "when?". The drive over was mostly relaxing: great weather, not too much traffic, and even the roadworks didn't incur much of a delay. The biggest delay was a pair of incredibly slow boikers. They were doing 65km/h in a 70km/h area, about 85 in the 100 areas, and were running a serious risk of plain toppling their boiks in the corners. Made me wonder if you could get trainer wheels for boiks.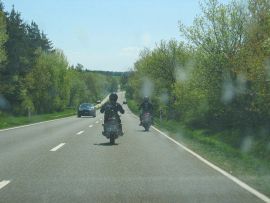 I was mentally prepared for a stupidly busy Ring, given the combination of perfect weather and bank holiday weekends all over Europe, and I wasn't disappointed. It took about 15 minutes to roll down the hill from the Altes Forsthaus to the roundabout at the entrance.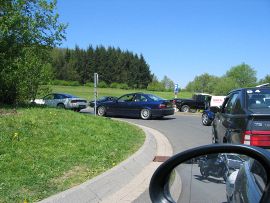 The overflow carpark across the road had plenty of space left. Thanks to the usual < insert favourite characterisation> who insist on parking their van in the stupidest place, getting to/from the overflow carpark was a bit of a challenge. But hey, my van is in a prime location! Who cares abour the rest of the world?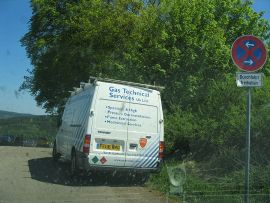 My first stop was the office to get a Jahreskarte. Despite the steep price increase it still makes sense (but only just). This year they're tightfisted enough that you don't get the 10 euro refund if you hand in your old transponder. "Rules" was the polite answer to my polite question as to the reasoning behind this change in policy. Ah well.
The "I'm an idiot and proud of it" theme that was started in the overflow carpark continued in the main carpark. I'd met up with Mark, and we were looking at the machinery parked near the Grüne Hölle, when a Brit in a 350Z was making an impression by making it nearly impossible for someone to back out of a parking spot. Mr 350Z was under the impression that he owned the entire carpark, and had designated said spot for his own private use. It provided several minutes of excellent entertainment (under the eyes of a marshall), topped off by mr 350Z starting the threaten the guy who couldn't get out of his parking spot because the 350Z was in the way. Monty Python wouldn't have beaten it.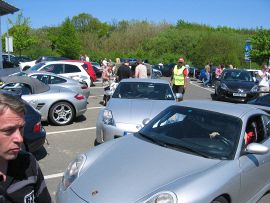 After all this excitement we felt it was time to relax a bit, so I took Mark for a lap in the Ibiza. As it was the first lap for me this year it was a moderately paced lap. Mark found it quite nippy though, which is a good illustration of how perceptions can differ.
We did a bit more of the "hanging around in the carpark" routine while I texted various people as to their whereabouts. This resulted in a coordinated effort to be in Adenau for lunch at 14.30. The idea was to go there via the most convenient way (i.e. the track), but as it was closed that wasn't to be. In Adenau it took a bit of phoning to figure out in which of the several Imbisses we were supposed to be, but as they're all within shouting distance a bit of shouting did the trick.
In the carpark I'd already told Mark of Niek's claim to fame: rolling a Peugeot 309 into Brünnchen. The first person we spot (after Jeppe, who did the coordination and shouting bit) is Niek. In his working clothes (leathers). Though he claims he still refuses to become properly sensible, he now lives in the Netherlands (the western bit, even), has a job, and actually works for a living. If you can call being paid to play with boiks working, that is.
Ordering the food was interesting: my Coke and Zigeunerschnitzel went pretty well, but Mark's gyros and extra tzartztztzakki (or whatever it's called) caused a bit of confusion. We were good-naturedly told that it's not geeros, it's guuuuros. And that it's tzartztztztzikki (or whatever it's called), and not whatever we thought it was called.
Lunch was spent discussing the various merits of Porsches and BMWs, how difficult it was to raise the seat in a BMW (but only if you're Jeppe), that some people need a manual to get it up, and of course a healthy dose of Niek-bashing. Well, he did arrive on somebody else's vehicle, gets paid for playing with boiks, goes out until 3am, so it's only proper to put the man in his deserved place once in a blue moon :-)
Of course we all had to admire Jeppe's new 996. Amazingly good value for money. A bird had done a pooey on it, though Niek claimed it was him who'd performed a very masculine act to achieve the same result.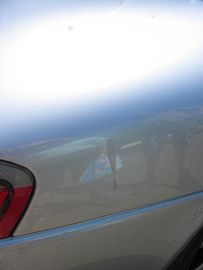 By the time we were done admiring the car Tijs hadn't managed to figure out how to insert a SIM-card into the ancient carphone. The manual might have helped, but as it was in Italian and we didn't have Stelvio at hand to help translate...
The plan was to go back to main carpark via the track, where I'd drop off Mark and continue on my merry way to do some more laps. Naturally the track closed while Jeppe and I were almost at the barrier.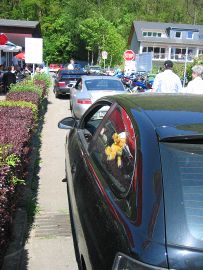 The upside of that was that we met up with Joerg, whose Elise was parked on the other side of the barrier. Jeppe and Tijs were so fond of the 996 that they stayed inside.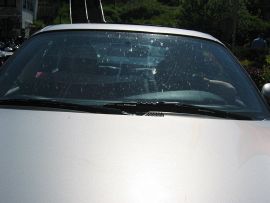 The recovery truck did its thing, and we went on waiting for the track to open.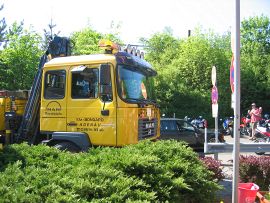 When the track opened, we were still in the middle of drinks, so I went through the barrier, found the little carpark full, and went straight out again. Quite useful, a Jahreskarte. We finished our drinks leisurely and were joined by Jocke, Caz and Phil (who'd been givin' it some).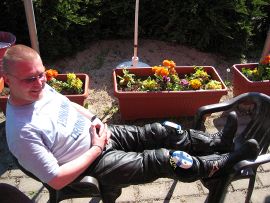 Jocke had some real Finnish kneesliders on. They even had wear indicators built in.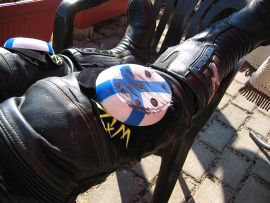 Meanwhile a girl boiker provided entertainment in the boik-parking lane next to our table. She was trying to get the attention of one of the guys in her group, but he wasn't all that responsive. It took he a while to communicate the urgency of her request: she was slowly but surely falling over whilst sitting on the boik. By the time he realised he'd better lend a hand, she'd dropped the boik. Pity about the boik, and I might be totally unfair in saying this, but it does worry me if she'd go out on the track.
With the drinks finished it was time to make the most of the open track. Lucky for me Jochen was taking pics. Despite the kilometers of new fencing he still manages to find scenic spots that convey a good sense of "Ring-ness".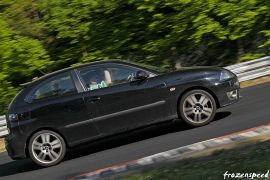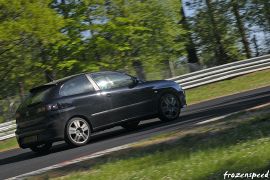 After half a lap I dropped Mark off, and did 5 more laps on the trot, gradually upping the pace. On one of the laps I followed Joerg around, but he chose a faster line through the barriers at the end of the lap, and I didn't see him again after that.
There were a few crashes and break-downs. A boiker had gone down hard in Brünnchen, a Scooby had dropped a crapload of oil from Ex-Mühle to Kesselchen, but mostly the track was clear. For some reason I only had one clear run down Fuchsröhre, but that made it all the more satisfying to take it flat out all the way :)
A great safety feature is the large display at the barrier that shows you where there's a problem on the track. I think the Ibiza 2 cars ahead of me might be Tim?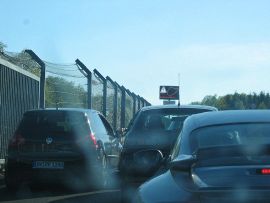 I intended to exit at Breidscheid, but the track was closed when I was approaching the barrier on Döttinger Höhe, just in time to switch to the exit lane. Another carpark wander turned up Dave (who can drive), who tried to scare me away with his bug-eyed sunglasses.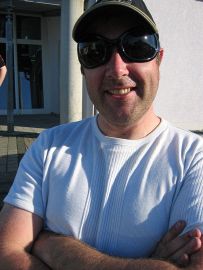 When that didn't work he pointed to his tyres: he'd finally switched to some proper grippy ones. As if he's not quick enough on regular tyres.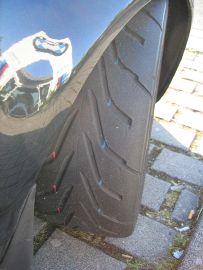 When that didn't work either he went for a drink, but despite the extortionist prices at the Grüne Hölle I went along and got me a nice cool Sprite. Around the corner I spotted Christer L. at a table and joined him for a quick chat. Apparently the GT3 was still running strong, and Easter had been a bit too busy this year. Good thing I skipped that, then.
After a bit the expected happened: an announcement that the track wouldn't open anymore today. Beer time for some, going home time for me. And for various others, ranging from old Beetles to oldish Lambos.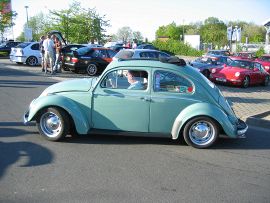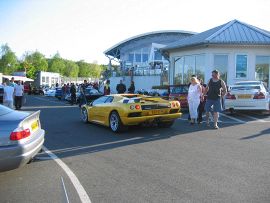 Also pretty extreme: a Lotus 2-Eleven.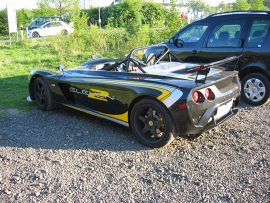 The drive back was even more relaxing than the drive up. There was hardly any traffic about. I even took a slightly longer way home, taking the B412 to the A61 instead of the more direct B257 or B258. Despite that the entire return journey (excluding putt putting about in the Nürburg area) only took 5 hours and 11 minutes (excluding stops for fuel and a burger).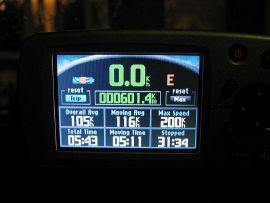 ---