Saturday
Preparation for this trip was a bit more thorough than for some of my other recent trips. For one, the Ringbunny was getting a little bored, and I figured it might be a good idea to take her on a little trip. Of course the Bunny doesn't go anywhere without her gadgets, which made the packing for this trip a lengthy affair. Apart from that, I spent part of a sunny afternoon swapping the regular road brakepads for the Pagid Oranges.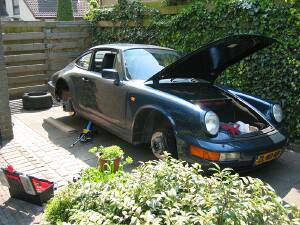 Also, regular readers may recall that I hit a bird on the way back from the Ring a while back. A small plastic cover had shattered in the process.
This was promptly fixed at my regular independent Porsche mechanic, Rennsport. I must say that this is probably the cheapest service/repair I've ever had with the 964 :)
However, as usual, my well laid plan had to be adapted to reality. I'm in the process of selling my house, and showing potential buyers the house takes precedence over Ring preparations. As a result I didn't get round to packing my things on Friday evening. No problem, we'll do that on Saturday morning then. This turned out to be rater costly time-wise. I'm poodling along a rather boring stretch of Dutch motorway, when I spot a traffic jam up ahead. Slow down, emergency indicators on, I had a feeling as if I was on the Ring already. Come to a full stop, inch forward a bit once or twice, and then everything comes to a proper halt. As in, stop engine, get out, peer ahead and start talking to complete strangers to complain about the situation, and how nice it would have been to have known of this 2km earlier, where there was a turn-off. At least it gave me a chance to start writing my trip report on my Palm.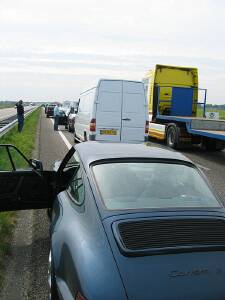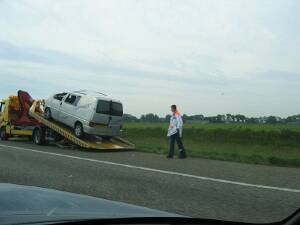 The weather was still pretty decent then, but turned nastier the closer I came to the Eifel region.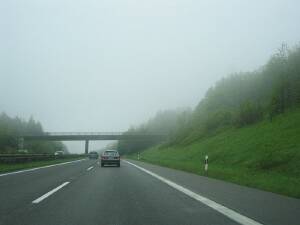 Ben had already texted me to say that I needn't hurry, as it was raining heavily in Nürburg. Which I duly confirmed when I got there.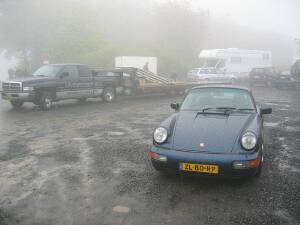 This meant hanging around a bit, going indoors to the Grüne Hölle restaurant to warm up/drink/eat/talk some more, then wander around outside until cold/wet, then get back indoors again. Outside, people kept their lids on just to stay dry, resulting in a nice line-up of wet helmets inside.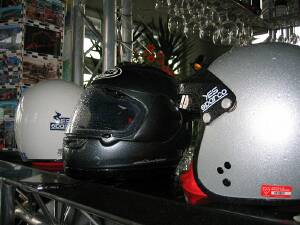 Both RCCS-Golfs were running this weekend. The Red G-Car looked like it had only just left the showroom: the raindrops slid off it as if the car had just been waxed.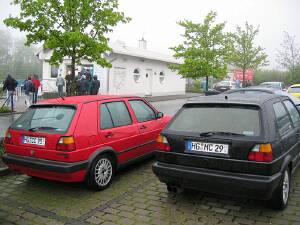 As always there were interesting feats of engineering present in the carpark, ranging from a Ferarri 360 Challenge Stradale to a crash course in waterproofing on a Porsche 944.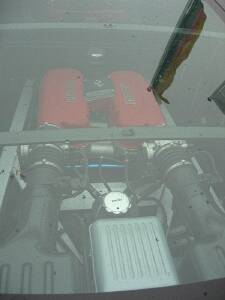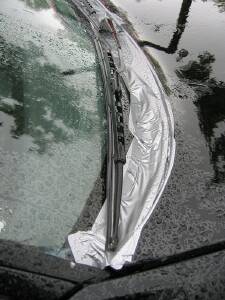 Some of the braver Ringers present ventured out onto the wet track. With my more than slightly worn rear tyres I figured it might be wiser not to go out in the prevailing conditions. According to Matt there was standing water in a few places. Not very nice.
The rain did make for some interesting (though sometimes a touch inane) conversations. Kurt (with a bit of help from some others) prompted Kiki to explain to Ben why she found the name "Lovejoy" so entertaining. I think the exact reasoning never became entirely clear, but the word "Joystick" had something to do with it.
Another topic was that of computers, how to move them legally, that it makes sense to throw a server out of a third story window if you want to make money, that laptop batteries are scarce, and that burocratic procedures can be a good thing.
Fun this all may be, but I still hadn't done a single lap all day. I was tempted to do just a single slow lap, but pictures of 968s and M3s ("look ma, no apostroph!") suddenly spinning out of control in similarly wet conditions kept my car in the parking lot.
Instead I went on a picture-taking trek to Wippermann. Jeppe came along, and he had one of those wonderful PMR-thingies. Naturally I had left mine in the car, figuring that nobody would be using one anyway, over. It turned out to be a very useful tool though. Even if you couldn't understand a word the other side was saying, the mere fact that somebody was within range meant that it was time to get ready to take some shots of the approaching car. Debris from the 24H-race were still very much in evidence.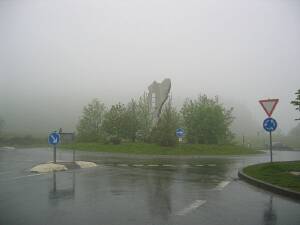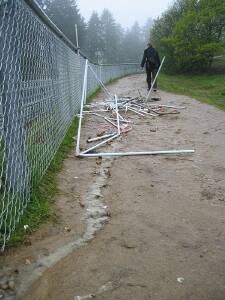 Traffic on the track was light (no surprise there, given the conditions), and the rain intermittent but not too bad initially. The gloomy conditions were not only challenging for the drivers, the photographers had their work cut out for them too: a low but variable amount of light, cars with headlights blazing to confuse the light metering, and a steady drizzle. Jeppe managed some great shots at ridiculously slow shutter speeds. He really needs to take up a hobby like skeet shooting, or apply for a position in the Olympic rifle team, if you ask me.
Some die-hards kept going round, despite the wet track. Among them were Christer L., Sailing Ben, Jochen, and Matt in the G-Car.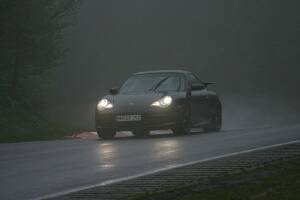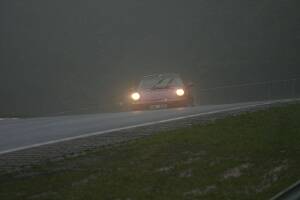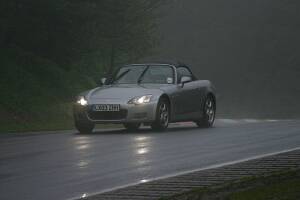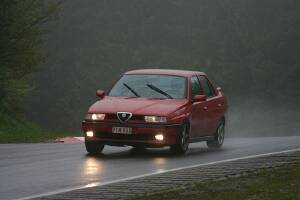 After a little while we moved a bit further up the track. It was getting wetter and wetter, and a lot foggier too. Tobias was practicing throttle control, and Soren was sliding the 318is around.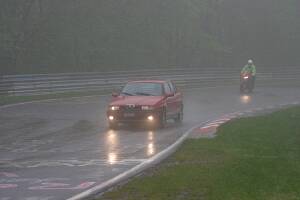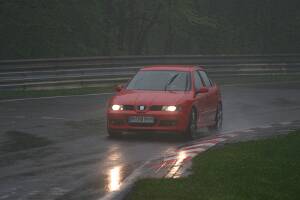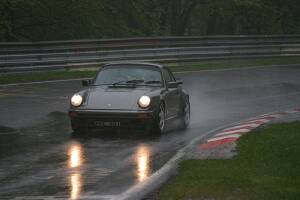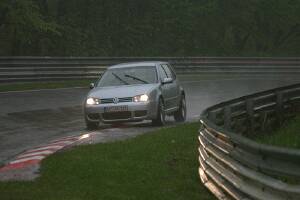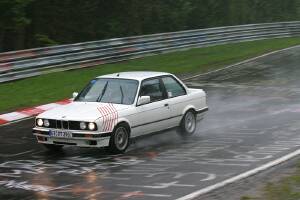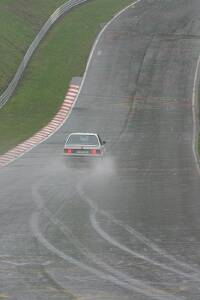 Sometime around 18.30 Jeppe and I had had enough. The Brünnchen carpark was deserted by this time, and so was the track.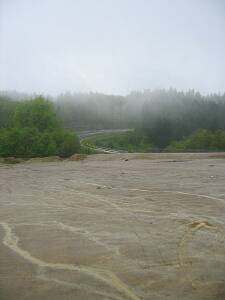 The next stop was the Pistenklause, to see if they had room for us. Apparently not, so I moved on to the Lindenhof after doing a 9-point turn to get out again because one of the nice-looking classic Porsches had found it necessary to park within 15cm of my front bumper.
Most of the gang was at the Wilde Schwein (affectionately known as "The Pig"), but since I could grab the round corner table in the Lindenhof we figured that Grillhaxe (or in my case, Putensteak Indisch or somesuch) was perfectly OK. In fact, not much later, Matt texted me to enquire if the Lindenhof happened to have room for them. It did, so in a little while the number of Ringers more than doubled. My theory is that sound volume isn't linear with the number of Ringers in the room, but sort of exponential. Anyway, two tables of Ringers can make a lot of noise.
Alex had some good stories about his 928, but given the high percentage of boik-experienced people at the table, the topic quickly turned to boiks, their handling, and the pros and cons of fuel injection, the way it was programmed, and which boik was an even bigger dog than some other boik.
To continue the dog theme: Matt's rental turned out to be a Renault Megane. My (luckily temporary) replacement of the Squealmobile is a Megane too. We reached agreement quickly that it's an unbelievably crappy car from a driver's point of view. The steering is heavy near the center position, overservoed everywhere else, the brake is overservoed and doesn't do anything for the first few inches of pedal depression, the clutch has no feedback and engages when you have your left knee somewhere near your left ear, the engine management sucked, and that was just for starters.
Niek was trying to explain how he'd managed to write off his Pug 205 within city limits, but for some reason various people kept interjecting remarks. I won't repeat them here, but they did involve slightly incredulous repetitions of speeds that were mentioned, and the amount of negative camber on the front wheels and the associated twitchyness of the car. This somehow pissed Niek off a bit, enough that he started throwing food around (must be an age thing).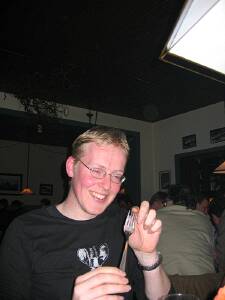 After dinner I drove to Ed's place, and went to bed after a bit of chatting. The accomodation might look a bit spartan, but the opening times and the service can't be beaten.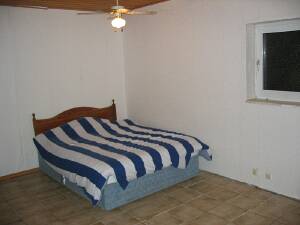 ---