The idea behind this trip was to meet Joel, do lots of laps on a relatively empty track, deliver some tyres to an anonymous Adenau-based Ringer, take Euan for some passenger laps, and test my newest suspension.

Having had a busy week at work, I decided that getting up early was a bad idea. As a result I left at 9 in the morning for the 300km drive to Nürburg. This time I didn't have the RingBunny with me to keep me company: instead I had 4 tyres in the back seat.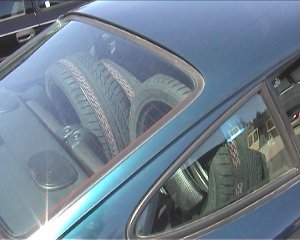 On the way to the Ring I detoured to Ring Racing to pick up the locking wheel nut that I'd accidentally left there two weeks ago. Seems to be some kind of Porsche theme lately, locking wheel nuts :) As I found out later in the day, Euan had a bit of a problem with his nuts too. At Ring Racing I also inquired about the price of a brake upgrade, just in case I win the lottery.
In the parking lot across the road from the entrance to the Nordschleife I ran into Joel with his car of the weekend: a Boxter-S.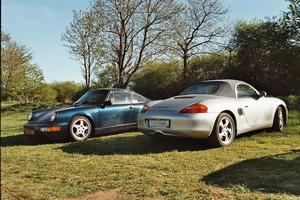 After a quick chat and a walk around the parking lot I ran into Laurens and Esther while on my way to go deliver the tyres. Naturally, the fastest way to Adenau is using the Ring. My load attracted a semi-interested look from the marshall at the gate, but no comment. There wasn't too much traffic on the track, so instead of getting off at Breidscheid I couldn't resist going round for a second go. This time there were a number of accidents, including two bikes at Adenauer Forst (one on the outside, one on the grass/dirt on the inside) and a crashed biker at Miss-Hit-Miss. As the track would probably be closed anyway I took the Breidscheid exit and delivered the tyres.
Back in the carpark I said a quick "Hi" & "See you later" to Euan who was going to get some more petrol as the track was closed. A quick chat with Bren told me that one of his guests had gone off at Adenauer Forst. I met up with Sir B. to admire the cage in his BastardWagon. He told me some entertaining stories, one of which was that they'd spent the previous night discussing lines at Adenauer Forst at great lengths with the guy who had now gone off on his third lap of the day...
Lots more closures followed, some of them quite long (an hour to 90 minutes each). The longest was due to a beautiful Guards Red 911 Turbo (the original one) that had some engine problems. The problems had started at Bergwerk. Joel had seen the car at Steilstrecken kurve with flames coming out of the rear end. Despite the very sick engine he had managed to complete the lap, dropping oil all the way from Bergwerk to the exit of the track at Dottinger Hohe. Where a marshall promptly stuck a fire extinguisher up the Turbo's arse and put out the flames.
After a long wait and lots of talking with various people I did another lap. Again lots of incidents, and this time the red light was on at Breidscheid so I went off after half a lap for the second time. At least I could park in a convenient spot at the supermarket to drop the tyre pressures to suitable values. Alexander Neurohr took a nice picture of me at Hocheichen: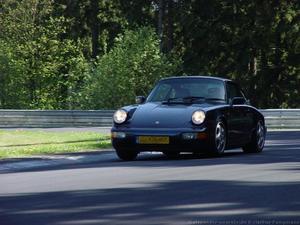 Squeezed in between two closures I did a passenger lap with Euan. His tyres were quite worn by then. Even from the passenger seat there was a definite sense of less grip than two weeks earlier. Both laps were highly enjoyable, as is the norm with Euan. When we got back the track was closed (for the sixth time that afternoon).
During one of the closures I was talking to Matthias, and he told me that he had been spectating at Metzgesfeld. First there was the sound of birds. Then there was tyre squeal. Lots of it. The next thing he sees is a Mercedes going backwards, off the track, coming to a stop very close to the armco. That Mercedes had big letters on it: "STRECKENSICHERUNG" :-))))))
Would be kind of tough to explain crashing the safety car to your boss...
Some more waiting ensued, but then it was time for a new experience: a passenger lap in a Boxter, Joel's rental. I'd never been in a Boxter before, but it feels like a very nice car. Very smooth power delivery, and a very forgiving suspension. All in all a very enjoyable lap, of course with the top down because of the terrific weather.
During the closure Euan told me that he'd be at Hatzenbach to take some pictures. After the lap with Joel I took Joel round in my 964, hoping to get another picture taken. However, by the time we got to Hatzenbach proper, a BMW had crashed at Hocheichen, and Euan had gone over there to see what was going on. Therefore, no picture of my 964. When we came to the end of the lap, the track was closed. Again.
As soon as the track reopened I managed to squeeze in another single lap before the next closure, this time with Andrew in the passenger seat. The closure turned out to be another long one, and it was announced that the track wouldn't reopen again that day.
It wasn't until I got to the Fuchsröhre to meet up with Euan that we found out what the reason for that last closure was from Mick Doohan: A newby biker had closed the door on Bren at Tiergarten, with the result that Bren had no place to go and ran into the back of the slower bike. Bren was taken to hospital to get checked out, and it turned out that he'd broken his wrist. With a bit of help from various Ringers Euan tracked down the number of Sliders so that Mick could tell Suze about what had happened. Bren got home later that night.
To round off the day we had a mini improvised Ringers dinner at the Fuchsröhre, where Jürgen Müller made an appearance. He's a many-times German biking champion who'd taken Sabine for a terrifying pillion lap, which she already told me about a few weeks back when we were in the Stretch Limo. He'd be driving in Sabine's 24H team. After putting Porsche drivers down (all in good spirits) he found out that I'd done a 360 at Schwedenkreuz, which caused him to shake my hand and forgive me for being a Porsche driver :-) I got the distinct impression that he was a bit disappointed that he couldn't do a proper 360 on a bike :)
All in all a day filled with closures and incidents. Despite that I did some decent laps. The new Red springs are better than the Green ones that were accidentally put under my car. The terrific weather made up for the lost tracktime, but I felt bad for Bren and Suze because of Bren's accident. Let's hope for a speedy recovery.

---