With the Ring-season getting nearer and nearer to its end (yes, a countdown to Easter will be added to my website soon!), another short trip was in order. The weather forecast was (as usual) a bit ambivalent, but the actual weather on the way to the Nordschleife was pretty good.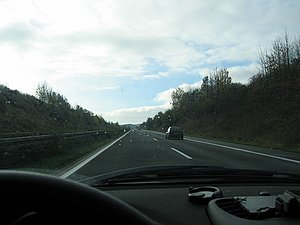 To test the newly-fixed cooling system I used a slightly higher cruising speed than what I usually do. The average speed from home to the end of the A1 was therefore a bit higher too.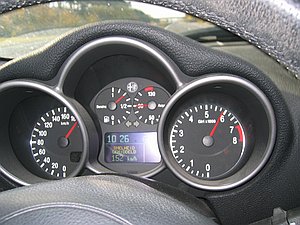 A bit of fog in the Eifel mountains looked picturesque, but didn't bode well for the grip at the track.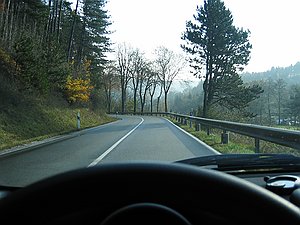 The further I got, the better the weather seemed to be, though.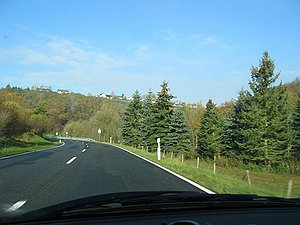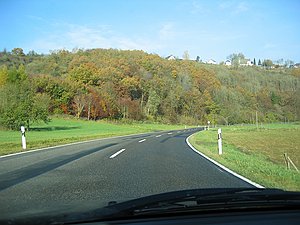 When I arrived, the parking lot was nearly empty. After parking the SquealMobile in its favourite spot I started looking for familar faces.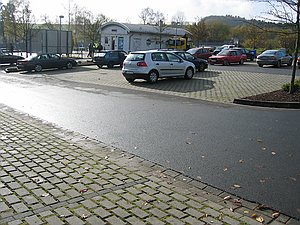 As is usually the case, that didn't take long. Matt was there, and so were Ross, Bren and Jochen. According to those who had been out on Saturday, the track had been (and still was) very slippery. Figuring that it might be a good idea to get a guided tour to identify the really really very extremely slippery spots as opposed to the just-very-slippery spots. Matt was kind enough to point them out while we did some laps in his car of the day: a shiny Golf mk V. Decent car, except for one thing: somebody had nicked the engine! The term "loud pedal" would definitely be a misnomer in this case. In fact, pushing down on the right-most pedal didn't do much: no noise, no acceleration, no nothing really.
By the time we came to Schwedenkreuz, the sun had disappeared behind some clouds, and rain drops started to appear on the windscreen.
A little while later (very quickly in fact, if you factor in the slippery track and the lack of a proper engine) we came to Kesselchen. As far as I could see Matt wasn't wearing any Scooby clothes this time, but he seemed to be enjoying himself nevertheless.
The on-again, off-again little bits of drizzle made the conditions very variable, and Matt kept pointing out the slippery bits. I don't recall them exactly because there were so many of them. Near the end of the lap we encountered some traffic: a stripped white E34 overtook us at a fair clip going into Schwalbenschwanz. It wasn't exactly fair, as by the sound of it the BMW did have an engine.
The fuel tank wasn't empty yet, so we did another lap. The drizzle was intensifying into some real rain now.
In Hatzenbach the sun was shining again, but the track was still very slippery. Unfortunately a Maserati found that out the hard way. Its nose was pointing in the wrong direction, and the recovery truck was present to take it off the track. We later saw that the right front and right rear had been damaged.
Again Matt made the most of gravity (the only thing that reliably accelerated the Golf), and overtook a Mk.2 GTI coming out of Hocheichen (which was very slippery). Ed's words came back to me: "it's exit speed that counts, not entry speed".
The track was still very much deserted. Despite the blue skies rain kept drizzling, preventing a dry line from appearing.
An Audi 80 was outdragged by the mighty Golf going up Kesselchen. Matt must have figured out how to invert gravity or something.
The approach to Karussell looked pretty enough for a picture postcard. Pity that on-track photography isn't allowed anymore.
Boosted by gravity on the way down from Hohe Acht into Hedwigshöhe a rather small Nissan was the next car to be overtaken.
Matt told me that he'd had to clear a path through the fallen leaves in Pflanzgarten when the track opened. By late morning there were still lots of leaves off the line.
To emphasize the varying conditions, the sun was shining again on Döttinger Höhe. This provided a nice view of the Nürburg castle.
The fuel gauge told us it was time to get some more gas. On the way over we (read: Matt) spotted a "new" Focus.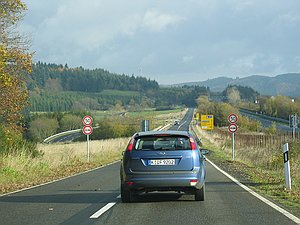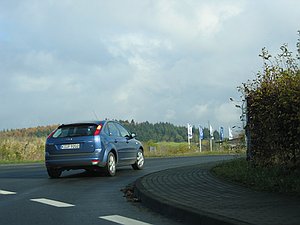 At the petrol station Matt found a real Pflanzgarten leave on the hood of the Golf. Having driven a Golf V myself just a few weeks earlier, I happened to know where the filling cap door release was located. Pushing that little button made filling the tank a lot easier for Matt.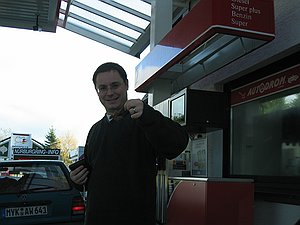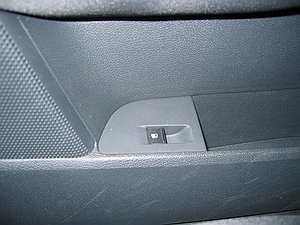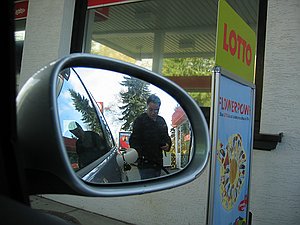 Back at the parking lot the weather was still rather chilly. So chilly in fact that even Ross went to get a sweater/jumper/whatever from his car.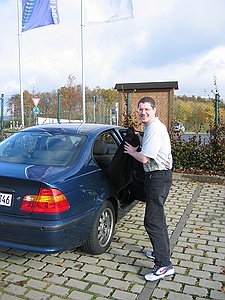 The explanation for the shivers became clear: Bren had been driving Ross's car on the track. Not an everyday sight, Bren driving a car on the Nordschleife.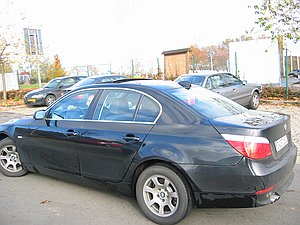 As things go, one thing led to another, and Gerrit and I went out for a pax lap with Ross. Out of the gates we spotted an easy mark: an Opel Meriva minivan. The tyres are narrower than those of most mountainbikes, and the engine is even smaller than the one in Matt's Golf. Imagine the frustration of this thing pulling away from us when accerating up Döttinger Höhe :)
On the way to Hatzenbach we came upon a very sensible boiker: he had his boik in the back of a Transporter van, and was using the Vito to do laps.
At Adenauer Forst some spectators had a barbecue going. I wasn't entirely sure if the purpose of the fire was to grill food or to warm their hands.
Jochen was taking pictures at Wehrseifen.
The BMW was slipping and sliding, but Ross showed that he'd learned the same gravity-inversion trick as Matt: on the way down from Hohe Acht we managed to overtake a Honda.
On certain parts of the track a dryish line was starting to show, but other parts were just plain wet. From the look on his face Ross was certainly enjoying himself.
The mystery of the uncatchable Meriva solved itself in the parking lot. It drove up to me, and the driver turned out to be Christer Lantz from the Porsche Club of Sweden, who's usually seen in a Sternrubin 964RS or a very sweet 1970's vintage 911.
To avoid standing around in the cold parking lot, we immediately went out for a second lap. With the track to ourselves we had all the time in the world to admire the autumn (that's "fall" for the 'mericuns) trackside scenery. The Adenauer Forst barbecue was still going strong.
It wasn't until Steilstrecken that we encountered other traffic: a Passat stationwagon.
In Pflanzgarten we saw a very brave boiker going very slowly on the slippery surface. Aparantly it was a Honda. Ross became quite agitated describing its virtues (or the lack thereof) to me.
To round off two comfortable and swift laps in style we overtook a GT3 by getting a better run through Galgenkopf.
The parking lot was still more empty than full when we came back. It was also still very chilly. Chilly enough that some people had dressed their cars. Chilly enough that Matt and I went out in the SquealMobile almost immediately.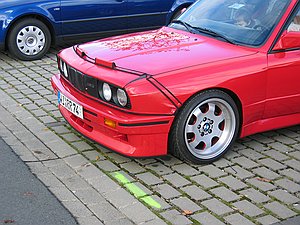 A GT3RS rewarded us for making room for him with a very nice rev-matched downshift. Sweet :) A Toyota Corolla had outdragged us easily at the start (the SquealMobile is a bit engine-challenged with no power and less torque). In Hatzenbach we'd caught up to him when he had a moment when the back stepped out. At Hocheichen he didn't use his power advantage to scoot ahead, but chose to let us by instead. The weather was getting worse every minute now. Enough so that we went out for a second lap immediately after finishing the first: not much more rain was necessary to make the track too slippery for decent laps.
It's amazing how quickly even underpowered cars accelerate out of Bastard Bend down to Hatzenbach. Quickly enough to overtake a GT3, anyway. And to pull away from him by the time you get to Flugplatz.
On the way to Schwedenkreuz we overtook the boik-in-a-van.
A silver Audi TT with Dutch plates had been ahead of us at a more or less constant distance. According to Matt it was Rob Schillings (from nurburgring.nl). The distance stayed more or less the same all the way to Breidscheid, where a red E30 was creeping down the track with a torn left front tyre.
On the approach to Lauda Links we spotted a familiar car: Jochen's 155. The power advantage of the 2-liter Twin Spark over my puny 1.6 was very obvious going up Kesselchen.
Jochen kindly waited a bit for us to catch up near Mutkurve.
Going through Wippermann in convoy yielded a nice pic, taken by David.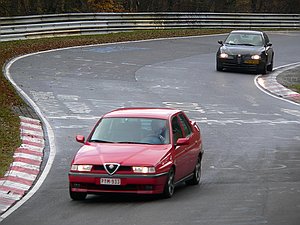 Pflanzgarten was nice, the uphill righthander was rather slippery, and the twisty bits after Sprunghügel didn't have much grip either. We had two high-speed slidy moments there, but nothing that the well-mannered SquealMobile couldn't deal with.
A bit of chatting in the carpark resulted in a convoy to Breidscheid to get some lunch. Bren was chauffeuring Ross and Suze, Jochen was driving himself, and the engineless Golf (Matt) and the engine-challenged SquealMobile brought up the rear.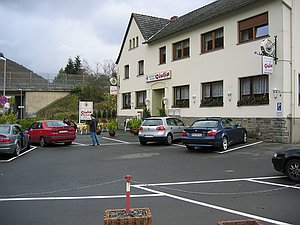 Bren and Ross appeared to have lost their way between the Breidscheid exit and the Ristorante Pizzeria Giulia. As it turned out they had made a little detour to get some more cash.
Inside we quickly ordered food and drinks, and Jochen proceeded to set up his computer and associated gadgets to show us the pictures he'd taken. His external storage device had a production fault, which might cause electrocution of anyone who touched it. Undeterred by this Matt still needed to feel the device.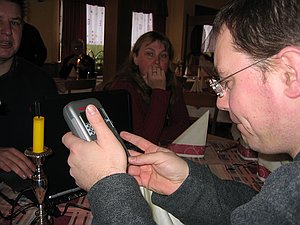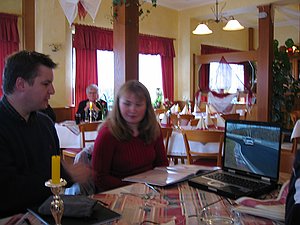 The food was good, but somehow the order got mixed up a little, resulting in an extra (free) pizza. I was more than a little tempted to add the subcript "Ross didn't finish his pizza" to the following picture. That wouldn't be fair though: he managed to eat at least another third of it after polishing off his own pizza.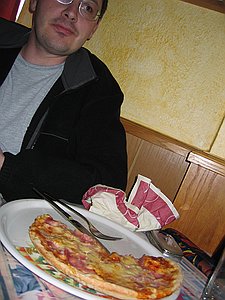 It was inevitable that in the company of Bren and Ross I would get a crash course in boiking. Most of it went over my head, but I do remember that Honda's aren't proper boiks, even though Honda sells quite a few boiks worldwide. No doubt Ross will be happy to explain the intricacies behind this reasoning, should you have any questions on this issue.
During lunch the weather had improved, and we finished our lap in the same style as we'd started. Thorleif had a bit of a power advantage in his M3 CSL, and Matt and I brought up the rear again. The track was finally starting to dry out a bit, and instead of joining everybody in the parking lot I went straight out for another lap.
This was the most enjoyable lap of the day, with no boiks around, and lots of cars that were in exactly the right places for overtaking without losing momentum. Grip was approaching normal levels in most of the corners, and the SquealMobile was squealing happily along. The entry to Hocheichen was interesting in that the grip about a third into the corner was severely lacking. No matter how dry the rest of the track got, on this little section the squealmobile didn't squeal, but slid wide with rumbling front tyres. Once you figured out how much extra room that required, the corner could still be taken at more than decent speeds.
Another classic was (of course) the exit of Brünnchen-2. The SquealMobile would hold a line with a later than usual turn-in, but that was about it. Any attempt to feed in power or tighten the line resulted in lots of sliding, but not much else.
Up Kesselchen I slowed down to let a Jägermeister Golf past before Mutkurve. Much easier to let him by at that spot than to have to go offline onto the damp bits of track between Mutkurve and Steilstreckenkurve.
The grip round the outside of Eiskurve was a lot better than the dry line, but by now the track was drying enough that the usual line was becoming quicker again. After compensating for the traffic, this was probably one of the fastest SquealMobile laps ever.
By the end of the lap the brakes had started to rumble a bit, but that didn't stop me from doing another lap. It was much the same as the previous one, but with a bit more traffic. The view down Döttinger Höhe was great: no traffic, sun, blue sky, some white clouds, bushes down the sides of the track, and the track disappearing towards the horizon.
With a little more than half an hour of tracktime ahead I figured it would be a good idea to take some pictures close by. The SquealMobile needed a bit of cooling down, my after-lunch 2.5 laps had been great, so I was content to leave the driving bit of the weekend at that. As is often the case, reality refuses to stick to the plan. Reality was that Thorleif was taking Matt out for a lap, and that if I wanted I could be next. Well, a passenger lap in a well-driven M3 CSL... Let me think about that a bit... Yeah right, twist my arm, OK, I'll go. Picture-taking can wait until the next trip :-)
While Thorleif had a quick break I admired his brakes and his newly painted helmet, which was very nicely done indeed.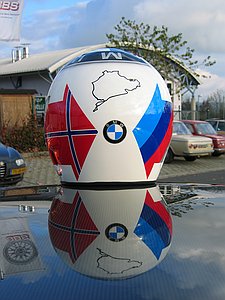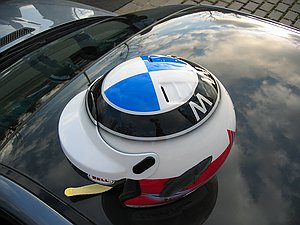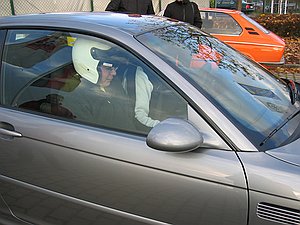 A bunch of old BMW's turned up and parked in a row. Some of them were sufferering from severe rust, but it was still a nice sight.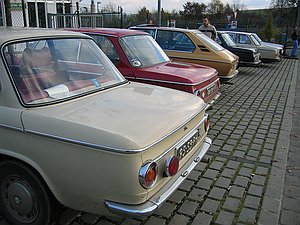 A few minutes later Thorleif and Matt were back again, and it was my turn to get in. It was my first ride in a CSL, and it was very impressive.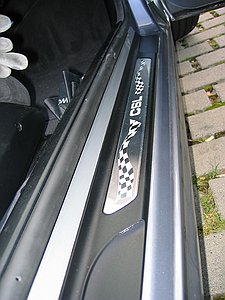 The CSL feels a lot like a GT3 or an RS: turn-in in particular is very impressive, but the overall feel is one of directness and urgency to devour the corners. It was hard to believe that we were driving on the same track: the CSL was finding loads of grip where the SquealMobile was struggling. What it boiled down to was overtaking lots of people with impressive speed differences.
All the while Thorleif was working the wheel concentratedly (but in a relaxed fashion), muttering from time to time that the track was still slippery.
In Schwalbenschwanz we were nearing a red Opel Zafira. Given that we were only slowly reeling him in he must have had quite an impressive engine in there. All in all a very quick lap, and a wonderful introduction to the CSL. Definitely one of the more memorable passenger laps for me.
With slightly steamed-up windows we came back to the parking lot, where I had to cut my stream of thank-you's to Thorleif short to jump in Matt's engineless Golf for his last lap of the season. Out of the cones we caught sight of an Audi estate. We hoped that he would let us past. At first it looked like he did, but thanks to the lack of engine overtaking him was a bit of a challenge. As a result he sped off into the distance, only to be overtaken again by T-13.
Exiting Adenauer Forst we were overtaken by a Golf that did have an engine, and an an E30. Spiegelkurve was still a bit tricky, making overtaking an Astra there a bit more difficult than normal.
Up Kesselchen we had ample time to chat about this and that, and to briefly admire the GT3RS flying past.
Wippermann wasn't entire dry yet (as Thorleif had remarked just minutes earlier), but Matt went through it at a good pace. Good enough to run into the rev limiter shortly afterwards, anyway.
A dry line had appeared through Pflanzgarten, making speeds possible that would have been ridiculous only half an hour earlier.
On the Döttinger Höhe straight the mighty Golf pulled out all the stops to achieve a top speed of nearly 160km/h (indicated).
The track was supposed to close at 16.00 today, but even though it was 16.03, the red light was still off.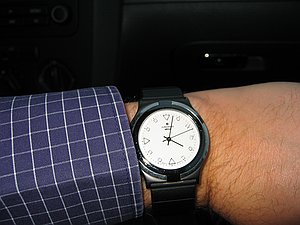 One more than? Yes, one more. Again we were overtaken by a Golf that had the optional engine fitted. Into Hatzenbach Thorleif overtook us in his CSL. Great sight. He pulled away from us as if we were standing still.
A GT3 that was doing a leisurely last lap of the day went past us on the way to Schwedenkreuz.
Even though the GT3 wasn't pushing, he'd disappeared from sight by the time we went down Fuchsröhre.
A lone boiker out-accelerated us out of Adenauer Forst. This was a bit of a bummer, even in an engineless Golf, as it could well mean that he would be holding us up all the way down to Breidscheid. The boiker was working the gearbox like mad, upshifting, downshifting, and revving the tits off the poor little boik, all the while keeping the chassis unsettled. It's common knowledge that I don't know much about boiks, but if it's moving from side to side a lot while going slowly, that's not good, right?
Anyway, we proceeded in this fashion through Metzgesfeld, Kallenhard, Spiegelkurve, Miss-Hit-Miss and Wehrseifen before he could open up a little gap. I say "little gap" because by Ex-Mühle we had caught up to him again. Fortunately his boik was fast enough to allow him to get away from us up Kesselchen.
Some die-hard spectators were still present in Brünnchen. According to some of the early-risers, one of the spectators had been there the entire day from 09.00 hours onwards. Tough job in the chilly weather.
When we got back the track was closed: another good trip was coming to an end. The engineless Golf had a little break, I said my goodbyes, and started heading home while the sun was setting.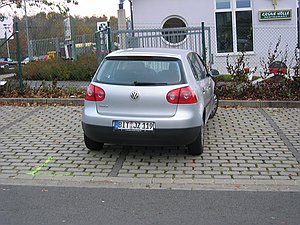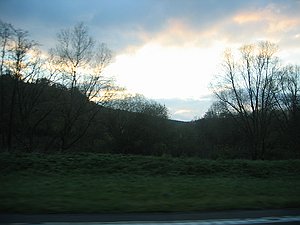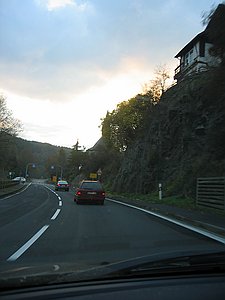 ---