My 2003 Ring budget was severely depleted by having run the 964 a bit more than planned. This opened the door for the more cost-effective SquealMobile. This being a half-day trip, preparations were swiftly dispensed with:
top up the oil of the SquealMobile (it uses more oil than the 964...)
put Jahreskarte, helmet and gloves in car
bring some lunch
mount GPS on the dash (as if I don't know the way yet...)
The drive to the Ring was the smoothest of the year so far: hardly any traffic. I arrived at the parking next to the entry at about 14.00 hours, to find Job, Stephane, Lasse and some assorted others already there, enjoying the dry but cold weather. Christer's Corvette was there, and so was Euan's 968 (being driven by Stephane). Job had brought a datalogger-equiped TT convertible for some additional fun. Timing was perfect: I'd arranged to meet Keith to pick up some C-Car related paperwork. Within minutes of my arrival, immediately after someone asked where Keith was, the KO-KM 968 rolled up to us.
Christer brought some interesting videos on CD (should give everybody something new to watch during the long dark winter months). Job wanted to copy them to his laptop, but his laptop battery was dead. No problem: we plugged his laptop into the SquealMobile. And, naturally, we went out onto the track with Job holding the laptop in his lap (hey, it's a laptop) and starting the copying process. By the time we got to Hatzenbach, it was clear that the copying wasn't going to happen: the laptop couldn't read the UDF-filesystem on Christer's CD :(
There was quite a bit of dirt on the track (most notable in the middle of Schwedenkreuz and at Brünnchen-II), and Bergwerk and Hedwigshöhe were quite slippery. Hocheichen didn't feel very comfortable either.
After some chatting Job carted me and two other Dutch ringers off to Brünnchen to do some spectating. Traffic was very light, with many people taking it very easy. Most notable exception was a certain red Golf-II GTi with AW-SB-??? plates :-) This Golf could be clearly heard going through Eschbach (long before it was in view), after which it would screech though Brünnchen. Thanks Karl, good show! And all the more impressive if you consider the program of the evening before ;-) We also saw Stephen go past in the silver 996Turbo, but didn't spot him in the carpark later on.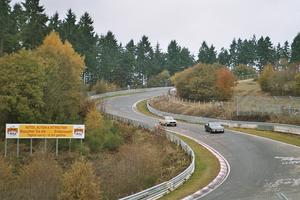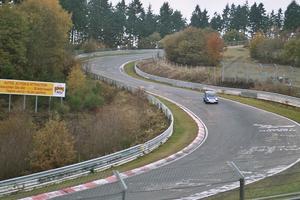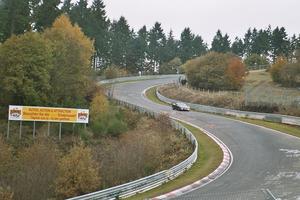 A portion of Pommes mit Wurst for Job later, I got to drive the TT back to the entry. Nice car, nice engine. AWD would certainly be nice: the traction control was working hard to keep the front wheels from spinning. The brakes were telling me that they'd had a rough day so far :)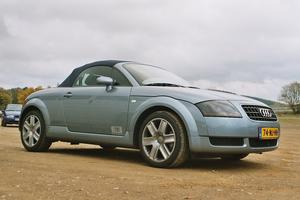 I invited Sir B. for a lap in the SquealMobile, but the good Sir had a better idea: we would go out together, he in his BastardWagen, and I in the SquealMobile. Uhuh, the BW has more power, better suspension, less weight, and a more experienced (certainly older) driver. Naturally the BW was glued to my rear bumper during the first half of the lap. At least I managed to pull away a little after the compression in Fuchsröhre :) However, I messed up Ex-Mühle a bit, and Karl decided he'd had enough before we came to Maddock bend. The rest of the lap I had some fun with a red 'mericun thing (fast on the straights, but not so quick in the twisty bits) and a Citroen XM. The XM came in view at Steilstrecken, and bit by bit I reeled him in until I went through Pflanzgarten III quite a bit faster, allowing me to follow him closely through Schwalbenschwanz and Galgenkopf.
I decided to head out immediately for a second lap (#3 of the day). This time I had Christer behind me, in the 180bhp TT. I must admit that I didn't really wait for him, as a 50% power advantage over the SquealMobile should enable him to catch up easily. Which he did around Aremberg. Two cars next to each other in a damp Fuchsröhre can be quite tight, but it helps a lot if you know the other driver. Not to mention that it beats the alternative of having someone on your bumper with his emergency indicators on ;-)
Strengthened by my previous experience through the Fuchsröhre compression I kept it nailed all the way through, blipped the throttle to go back into 4th for the fast left-hander, and managed to regain a little ground on the TT. Said TT promptly made the most of its grip and power by disappearing between Adenauer Forst and Metzgesfeld. A little later in the lap the gap had grown: Christer was just going through Bergwerk when I got my first view of the corner. This was also the last I saw of the TT during that lap. At least I was getting a feel for what the SquealMobile would do under the circumstances.
Having done relatively few laps in the SquealMobile this year it took some time getting myself dialed in. By this time I was back to taking Fuchsröhre and Mutkurve flat, for example. Up Kesselchen I was slowly gaining on an E-30. Until we came to Mutkurve, where he dabbed the brakes and I kept giving the SquealMobile the spurs. He courteously made some room for me, allowing me to go through without losing momentum. Thanks, whoever you are!
By this time it was 16.00 hours. When I arrived the sign at the entrance said that the track would close at 16.00 (but it didn't say if they meant 16.00 DST or standard time...) The track was still open, so I went straight out again for a third lap. During this lap there was hardly any traffic. I experimented a bit with gear choices: the SquealMobile can't pull 4th up the hill from Karussell to Hohe Acht, forcing me to downshift into 3th halfway. This time I kept it in 3rd all the way. The SquealMobile has a very soft and progressive rev limiter, so it wouldn't upset the car much if I ran into it. As it turns out I stayed a touch below the rev limiter, but the section from Karussell to Hohe Acht was definitely faster this way. Before, grip wasn't an issue. Now, the front tyres were squealing like they're supposed to when cornering.
I tried the opposite in Pflanzgarten: normally I brake a bit before the jump, land, brake and downshift into 3rd before climbing the hill. On this lap I decided to keep it in 4th. Thanks to carrying a touch more speed than on previous visits I made it up the hill in 4th without lugging the engine at lowish revs too much. A definite improvement.
Galgenkopf was interesting in that on both right-handers the traction control started flashing. That doesn't happen when the track is fully dry... All in all it was a very decent lap, which was confirmed by a little bird that told me that I'd just done a 10.00 BTG lap on hot brakes, hot tyres and a damp track. Not bad, considering that 9.57 BTG is the fastest I've ever done in the SquealMobile on a completely clear lap under perfect circumstances.
Euan kindly provided me with an intermezzo by taking me round in the 968. He was taking it easy, resulting in 8.45 BTG on regular road tyres. Always nice, a lap in a 968CS :-) And it gave us a chance to catch up a little.
After a short break I decided that getting home at a reasonable hour had some serious benefits. Having said my goodbyes I noticed that the track was still open and decided it would be rude not to do one more lap.
After reading messages on the Ringers list of people advocating doing a lap without braking I decided to give that a try. I switched the GPS on to see if I could get a tracklog of the Nordschleife. Apparantly Garmin doesn't know about the Ring yet :)
The no-braking approach worked reasonably well, but despite taking it very easy round Schwedenkreuz I figured it might be a good idea to do some braking before Aremberg :) Going down Fuchsröhre I saw some familiar headlights appearing in my rearview mirror: Euan's 968 was approaching, at speed (naturally). Of course I decided to forget about the no-braking approach, kept it nailed, and made room for him exiting Adenauer Forst. I managed to keep Euan in sight until Ex-Mühle but didn't see him during the rest of the lap :)
A quick tour of the parking lot to wave goodbye (again) and off I went. Straight into a traffic jam on the A1 to Koln. Fortunately the rest of the trip went reasonably smoothly. All in all a highly satisfactory trip.

---