There are many ways to spend a free Sunday, but there can't be too many better ways than having fun on the Nordschleife. Not that the weather forecast was any good. In fact, it was horrible. But since it was a good opportunity to meet Jocke, Euan and Thorleif, I went anyway. Also, I'd heard that Jochen would be playing with a really really nice camera, and I wouldn't mind seeying that for myself. To be fair, I did warn him that he shouldn't touch it, because afterwards he'd want one really bad. Don't ask me how I know things like that...

Anyway, back home in Holland we had a glorious morning sunshine after a bit of rain during the night. Recheck the Nürburg forecast: yup, still rain in the AM, and rain and thunderstorms in the PM. Lovely.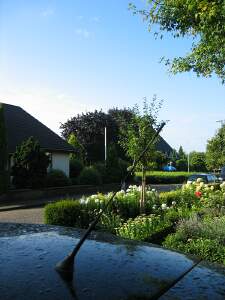 Within a minute of crossing into Germany, it started to rain. A lot. It was pouring down. Despite reasonably new tyres on the Torquemobile about 90km/h seemed a sensible speed. And on a few slightly deeper puddles some 6th gear wheelspin proved that I wasn't going too slow.
An hour further on the rain slackened off a little, but the conditions still weren't much fun. Dollendorf seemed to have its own private patch of sunlight though.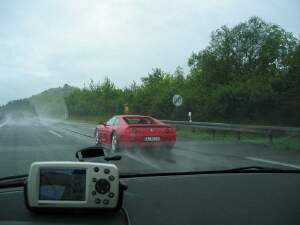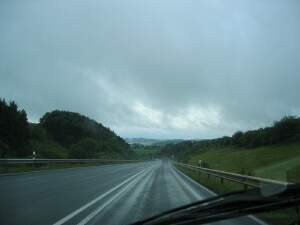 When I passed Ring Racing I saw a familiar blue 968 take the turn-off. Given the current weather conditions a chat might be time better spent than trundling round a slippery track, and I followed him to Ring Racing. The driver was Tor Helge instead of Euan, and we had a quick chat about their exploits down the south of France and the Alps. This conversation was interrupted by a text message from Jocke, telling me that Caz and he were already starting to leave, and that they were at the Aral I'd just passed. OK, better head over there then.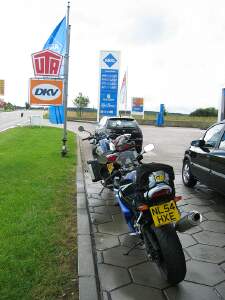 More chatting followed, and I admired Jocke's very small digital camera. It's about the same size as the Ixus, but half as thick. Sweet. Traveling on a boik certainly gives you a good excuse to buy small gadgets as opposed to large gadgets, but the packing space on Jocke's BMW was pretty impressive. With all the cases on it would probably rival what I can fit in the trunk of the 964.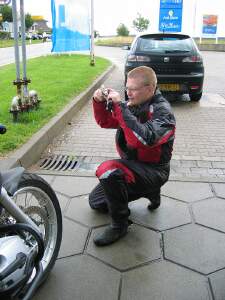 Fitting a "GB" sticker to a sports boik can be a bit of a challenge. My suggestion of putting it on the conveniently flat license plate didn't make the grade, though.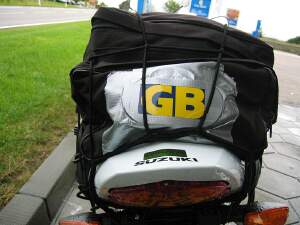 Jocke and Caz were waiting for Søren who was going to return a borrowed gadget to Jocke. With time awasting I texted Søren to find out when exactly he would be there, as his original time had an "-ish" attached to it (as in 11.30-ish). With him still 20mins out I said goodbye to Jocke and Caz and headed to the Ring carpark.
A quick walk round turned up the latest edition of the Ringdragon (reportedly with less oversteer than the previous edition), the Bad Dragon himself, Ester (and the Cookie Monster; shame I didnt bring the Ringbunny), Francisco (with a black bloated Golf; luckily that's only temporary), and Chris (long time no see). It also turned up a slightly damaged Ferrari 355.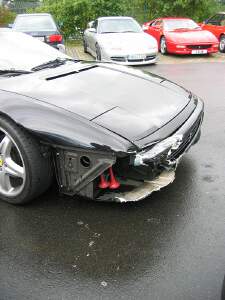 In the other carpark I met Thorleif (who'd won the BMW Fahrertraining course once again, this time with an even bigger margin to #2 than before). Another CSL-owner was there too (sorry, forgot the name), and when it started raining they did the sensible thing and went out for a lap in Thorleif's car of the day: a BMW 116. I quickly snapped some pics of a GT2 with smoke coming from the expensive end, then waited for the worst of the rain to stop and made my way back to the Torquemobile to drive to Brünnchen for some picture-taking.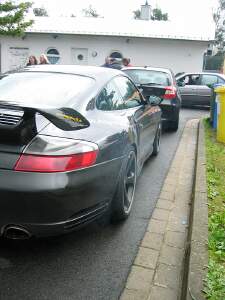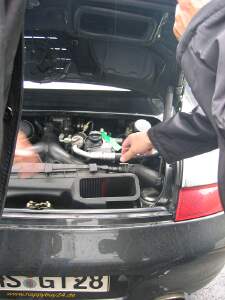 I found a good parking spot, but before I'd finished putting on my hiking boots the rain started coming down in copious amounts again. Better get in the car, have a drink, and send some text messages then.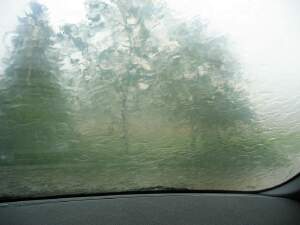 The exit of Brünnchen-II was a nice place: lots of action on the slippery track, and with an umbrella stuck in the breast pocket of my jacket it was even reasonably dry. The track was still very wet, with lots of muddy water running across it.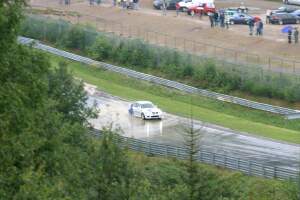 Of course Sabine couldn't resist putting the Ringtaxi a bit sideways now and again.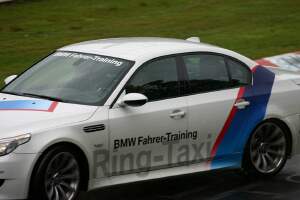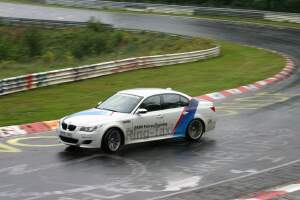 Euan and Tor Helge came by too, taking the wet line without showboating.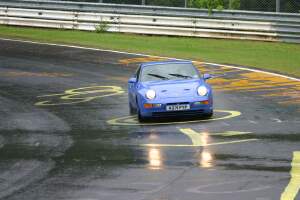 The rain picked up a bit, but a small set of drivers kept going round regardless. There were even some boikers out there.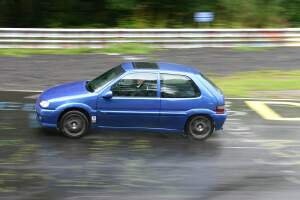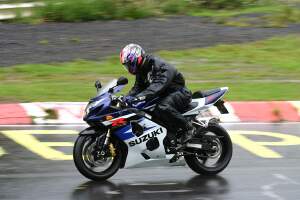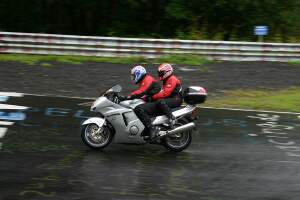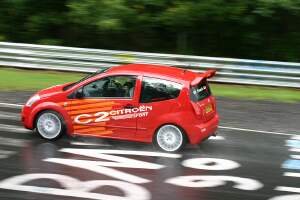 The best entertainment of the afternoon was provided by a nice gentleman in an M Coupe. I had a chat with him in the carpark afterwards, and he admitted that once in a while he did get it wrong. Sideways Søren can still learn one or two things from him.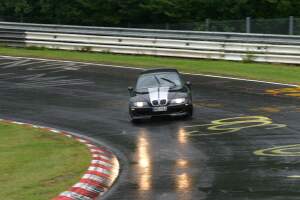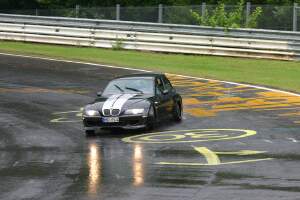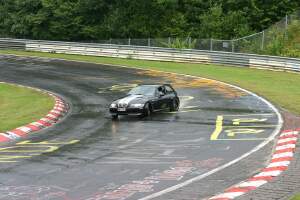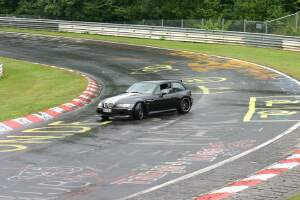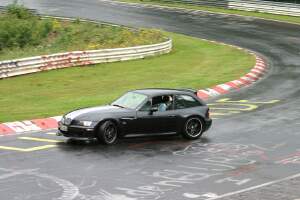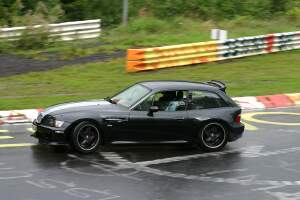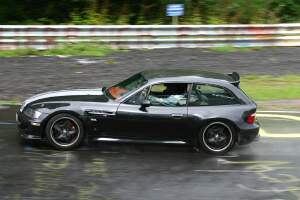 Jeppe was also out there. On the first pass I could see him provoking the 318is, but it stubbornly refused to get sideways. On this lap, he made sure that the tail stepped out by yanking the wheel a bit harder.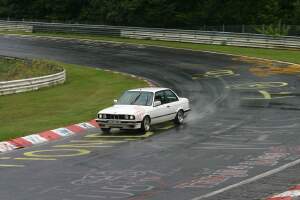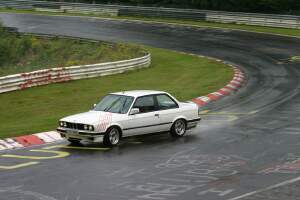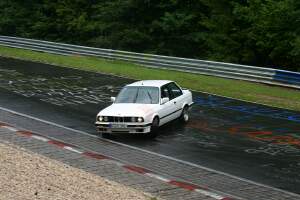 In stark contrast to the people having sideways fun, an Audi 80 was going for speed. He certainly went round at a most impressive pace.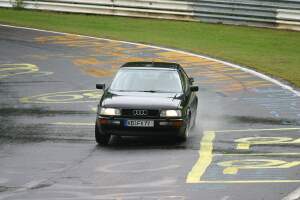 By now Esther and Cisco had arrived too. Cisco promptly copied my umbrella-in-coat-pocket idea. The M Coupe didn't do a drift during his first pass when they were there, but made up for that on the next lap.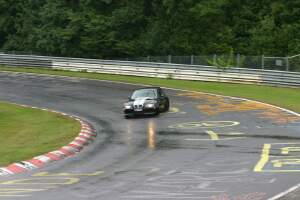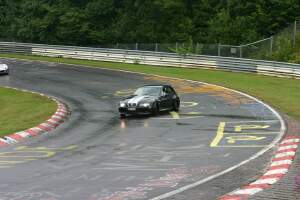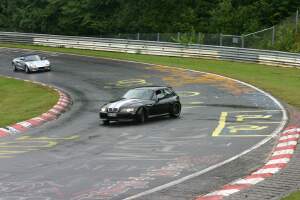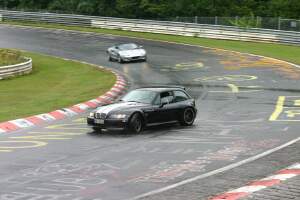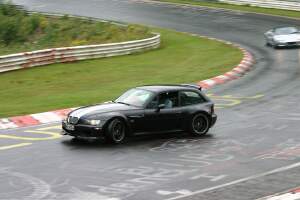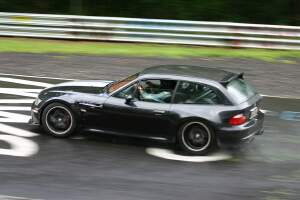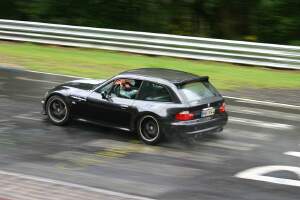 Jeppe had another try too. It started perfectly, and a bit of fishtailing with the Ringtaxi in his mirrors must have been extra exciting.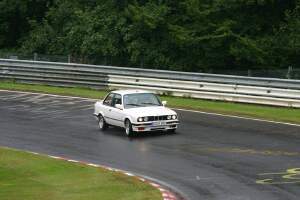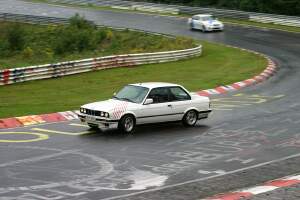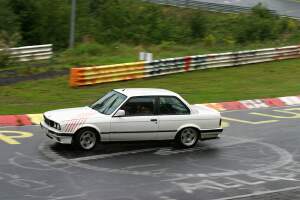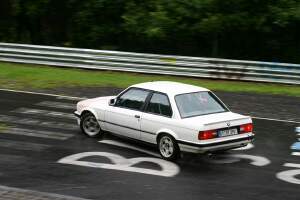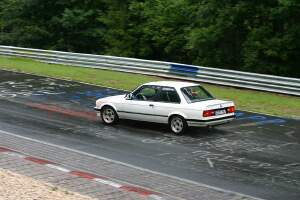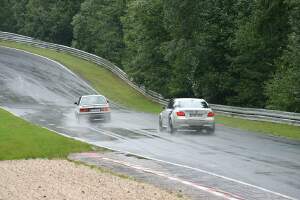 Some Porsches were going round too. None were very much drifting-inclined, though.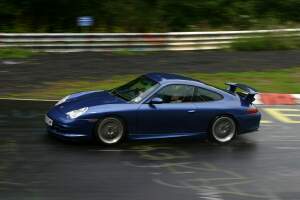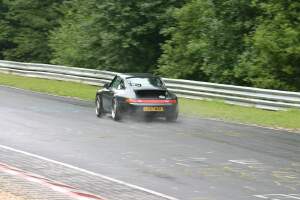 Some of the older cars were still going strong, including a TR6, something I didn't recognise, and something else I didn't recognise. I had a quick chat with the guys driving the two red cars in the carpark of the ED Tankstelle while they were fixing a squeal. Nice guys who'd been coming to the Ring on a regular but not very frequent basis for the last 7 years.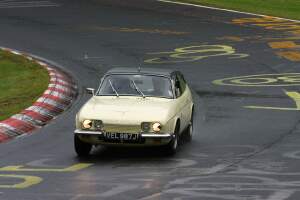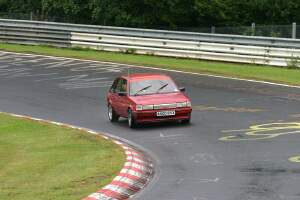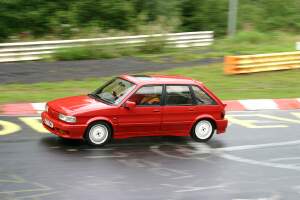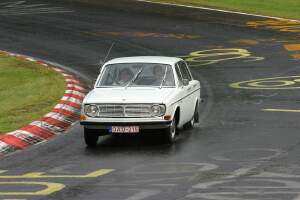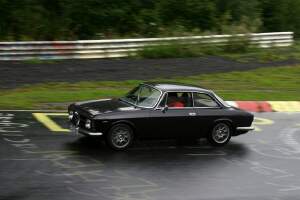 Some other miscellaneous cars, including Sailing Ben in his S2000, are pictured below. Note the black 5-series that's relying totally on the ESP to make it round.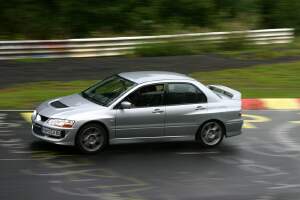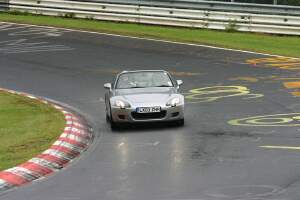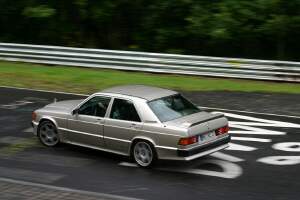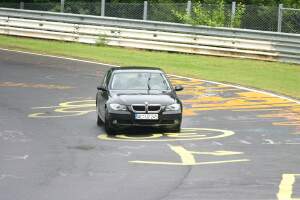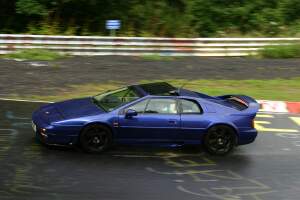 In the category of "nutty entertainment" today's winner must have been the guy who drifted through Brünnchen with a trailer behind his Golf.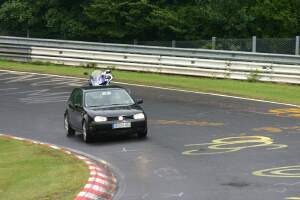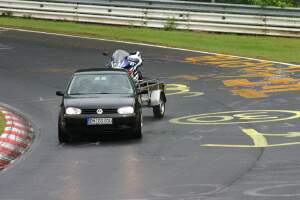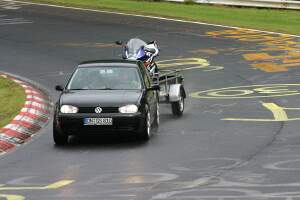 The view towards Eiskurve was very pretty. (Thank you Esther for pointing that out!)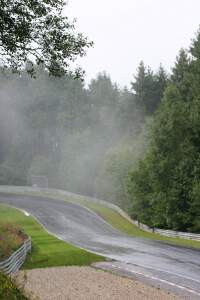 After showing off her new ring, Esther and Cisco deserted me.
Not everybody made it round without hitting things. An E36 was on its way to the exit under its own power, but under the watchful eyes of the Streckensicherung. At least I didn't have to blur the license plate...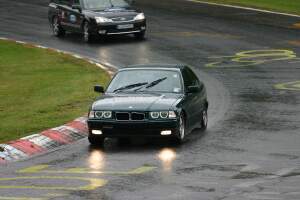 Thorleif was one of the frequent lappers, rain or no rain. The brandname and other markings on the side of the tyres were gone after the weekend...
Lunch was a bit overdue by now, so I moved to the Imbiss next to the ED Tankstelle for some Currywurst mit Pommes. As it was an odd time for lunch (15.00) it was nice and quiet there, allowing me to sit in one of the spots the rain couldn't reach. While the Currywurst and the Pommes were dealt with, my camera's memory card was copied to a portable harddrive.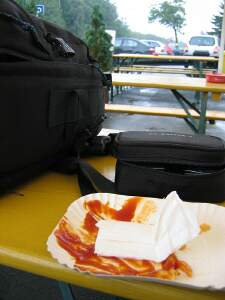 Some of the raceteams that had participated in the oldtimer event were leaving with their spoils displayed prominently behind the windscreen.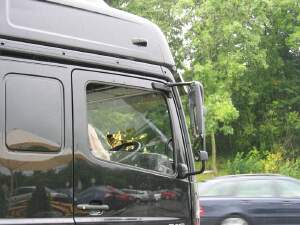 The rain showed some signs of moving to other areas in the Eifel. So, fortified with the Currywurst and the Pommes, I went for some laps myself. Thanks to the tricky track conditions there wasn't much traffic about, and I did three nice laps. Esther and Chris were specatating and picture-taking on the outside of Bastard Bend. Jochen was at Bastard Bend too, but on the inside: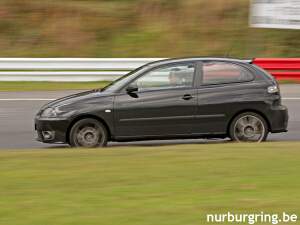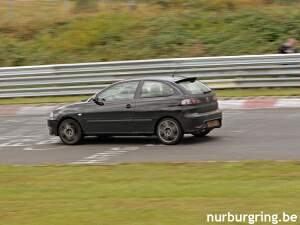 At one point I was going fast enough to mumble "these tyres have no grip at all in the wet" to myself, just to make sure that I didn't jinx things. Particularly when Mattzgesfeld was a bit more slippery on one lap, and a freshly washed red Elise pointed me by entering the 90-degree lefthander. I do remember thinking that understeering right into him would be a definite no-no.
The environmentally friendly and stupid-driver forgiving electronics that prevents simultaneous throttle and brake applications is still there. In the meantime I've learnt to drive around it by not rev-matching downshifts. It's bad for the ego and not very kind to the machinery, but flying off is worse.
Esther, Chris and Jochen were still out there, conquering the damp conditions.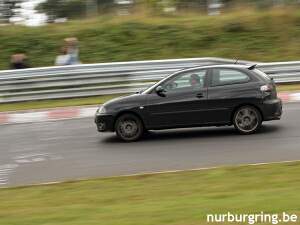 To give the car a chance to cool down I went to Bergwerk for another picture-taking session. Another half lap at an easy pace and a gentle cruise down to Breidscheid, followed by a short drive to the gate on the access road to Bergwerk.
The lighting conditions weren't perfect, but I didn't fancy traipsing through wet and muddy forests. By the time I got there, the corner was nearly perfectly dry. It was interesting to see how few people took a decent line through there: nearly everybody turned in extremely early. OK, the dot on the track may well be a bit deep into the corner, but quite a few people were already in the middle of the track before the kerbing no the left began. Anyway, on to the pics. The full set can as usual be seen at my fotopic site.
I intended to take the quick way back to the carpark but was thwarted by a closed track. No problem, the back roads are fun too. In the carpark across the road I ran into Søren (not literally, mind you), and we both admired a big 'mericun thingie that had a bit of a tail-out moment when accelerating out of Bergwerk earlier.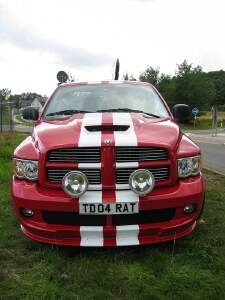 Even more entertaining was the shouting match between a driver who didn't want to park his car across the road because his tyres would get dirty. I guess he lost, as he wasn't allowed into the normal carpark. A crash course in conflict management wouldn't be lost on the marshalls though: both blew their top before the first sentence was finished. Like I said, highly entertaining.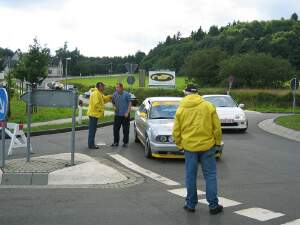 Søren and I then moved on to the carpark proper, where I admired his E30. The taillight was from the 318is: Søren's taillight had taken the place of the damaged taillight on the 318is. Some Eifel mechanics really go over the top a little when it comes to selecting spare parts.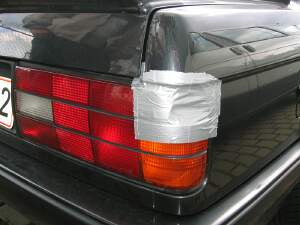 Meanwhile, the weather started to look even more dodgy than it had been all day, and the track was still closed.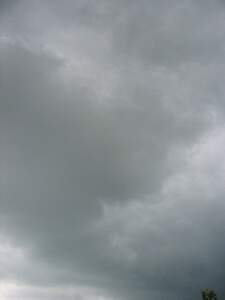 After a few minutes Jeppe kindly informed us that the track would be opening again in a short while. I went to the Torquemobile to get my helmet and found that it had picked up on my trick of parking next to faster cars: M3 John's pristine M3 had magically appeared next to the rather dirty Torquemobile.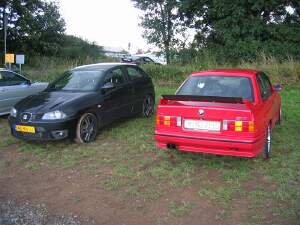 Thanks to Jeppe's tip we were one of the first cars to get on the track. Of course it started raining now.
At Bastard Bend we spotted a lonely boiker who was probably already regretting going out.
At Adenauer Forst Sideways Søren lived up to his reputation.The track was a bit too dry to really kick the tail out, but we had fun nevertheless. The trend of a drying track continued until Pflanzgarten.
For some reason Döttinger Höhe was dry again. Typical conditions, therefore: the track changes from dry to wet to dry to wet to dry in a single lap.
The next lap followed more or less the same pattern. By Tiergarten the track was already wet. This didn't seem to bother Thorleif much, who had left the gates ahead of us in his 116 (loaded with 3 passengers).
Of course Søren couldn't resist playing a bit when we entered T13. Fuchsröhre was really wet this time, but Adenauer Forst still wasn't.
Søren did manage a really nice slide during the first half of Adenauer Forst. I'm sure the spectators enjoyed it as much as we did. Kesselchen was nice and dry now, and on the way to Galgenkopf we were treated to a nice rainbow.
The next lap we had to slow down to crawl through the dirt and debris left by a crashed silver E36 at the entry to Hohenrain. There was a silver E36 on my photography watch-list for today, and I hoped it wasn't him.
T13 was entertaining, and Hatzenbach straightforward. This was in stark contrast to the previous lap, where we went sideways, then sideways again, and yet another time, while Søren was mumbling things about no grip and slippery. After the sliding he told me that the first skid was intended, but the other two hadn't been. Might have been oil or something.
Adenauer Forst was special: the first half was a nice big slide, but the counterslide was a bit too much. We ended up facing where we just came from. We also found out that even though the kerb might look low, it's quite high in reality. On the way to Eschbach we encountered another brave boiker doing a lap in the wet.
Into Brünnchen a Clio Sport and a GT3 overtook us. Since this part of the track was reasonably dry Søren stepped up the pace and stuck to their tails during the rest of the lap.
The crashsite of the E36 hadn't been cleared yet. The car had been loaded onto a recovery truck and most of the dirt and debris had been swept aside, but there was still quite a bit of crud on the track.
T13 was dispatched with in typical Sideways-style. Hocheichen was again pretty wet and slippery, and Adenauer Forst was again a crowd-pleaser.
The sun was shining in Galgenkopf, but the fun was over: the track had closed.
When Søren and I pulled into the carpark it was already mostly deserted. Just as I had pulled off my helmet to scartch my head where everybody had gone, Kim called to say that Jeppe and he were at the Lindenhof. Perfect timing on Kim's part, and excellent service.
There was one little snag though: Søren was now left with two cars (the 318is and his own 325) and no spare driver. Consequently he drove the 318is to the Lindenhof with me following in the Torquemobile. I then ferried him back to the carpark for him to get his own car before they locked the gates.
Meanwhile, Jeppe and Kim had started on the beers. I ordered my usual Coke, and since everybody was hungry we all ordered food. Søren was temporarily otherwise engaged, so we just ordered a Grillhaxe for him, figuring that all Danes always eat Grillhaxe at the Lindenhof. Naturally Søren didn't want Grillhaxe that evening, but something fancy with a creamy sauce. I settled on a Zigeuner Schnitzel.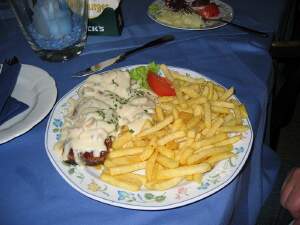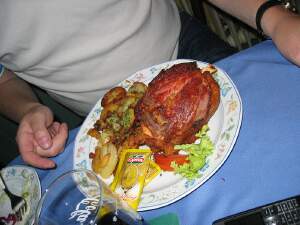 Over dinner Jeppe explained how the Windows licensing scheme worked, and how 'mericun companies' focus on customer satisfaction impacts the life of callcenter employees. Especially callcenter employees that receive a call from Jeppe.
Even more interesting were the guidelines on how to park near a Cayenne showing proper respect for such a car. Particularly when such a car has a navigation system in the form of a PDA clipped to an air vent.
A little while later Jochen and Steven turned up, and the conversation naturally turned to photography, cameras and lenses. Despite my warning to Jochen that he should not touch a Canon 1Ds Mk2, especially not when it has a 70-200/2.8L IS USM lens attached to it, he'd been playing with one and was now contemplating ways to get his hands on something like that on a more permanent basis.
Before we knew it, it was 23.30, and I decided to head home after another excellent Ring trip.

---