Friday
This Ring trip started early: I had arranged to arrive at the doorstep of Kaul & Will (independent Porsche specialists) in the morning to get my rear bumper fixed. An early start (yes, even I sometimes get out of bed early) saw me arriving even a little earlier than planned. Frau Kaul saw me arriving and helpfully indicated where I could park my car.

A replacement bumper section in amazon green was already waiting to be mated to my car. Unfortunately, this amazon green didn't match the rest of the car. Compliments to K&W for the way they handled it: they would try to get the part resprayed on Saturday, and would fit it on Sunday afternoon. Apart from that they performed a little fix on the rear axle bearings to stop hot grease seeping out.The braking problem would take a little longer to fix. We discussed options and common sense suggested to upgrade the rear calipers, front and rear discs, and front and rear pads. Expect a report on this upgrade (and its effectiveness) by the end of August on my Porsche 964 site.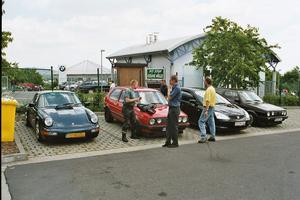 At the Ring, traffic was very light, maybe because originally the opening times for this Friday had changed not long in advance. Sir B. kindly invited me for a lap in his BastardWagen (now with upgraded but lowered suspension). It proved a niggling suspicion that I had been harbouring for a long time: Sir B. does know how to drive. He just uses two different sets of lines: one set is for taking the piss, the other is for when he's in a hurry to get to a place where they serve beer. Sir B. also demonstrated intimate knowledge with double-declutching on downshifts... A certain Bunny (the Duracell kind) should count his blessings that a certain race between a blue Elise and a silver barge never took place.
The lap itself was really good: we were following Joerg (with Jocke as passenger) who was doing one of his first laps in the C-Car. Sir B. kindly warned faster traffic by switching on his emergency indicators. Jeppe decided to join in the fun, and at some suitable overtaking points the three cars swapped positions a few times, all in good fun.
After this wonderful warming-up I re-acquainted the 964 with the track, with Jocke in the passenger seat. At the gates Jocke spotted Ross, wound down the window, started swearing at him, called him some creative names and gave him the finger. No reaction from Ross. He's concentrating too much on tailing the BastardWagen.
As I was on my first lap and on cold tyres I decided it might be wise to stay behind the BastardWagen too. By the time we got to T-13 Ross was energetically indicating right and pointing left, expressing his desire for us to pass him. I politely declined by switching on my right indicator too. Sir B. was going quite fast: in Hatzenbach I was going about as fast as I was comfortable going on cold tyres. Other noticable events: Ross riding behind the BW with one hand on the handle bars and the other at his side, and having to overtake a convoy of a dozen bikers. Beats me why someone would want to take a string of bikes that long out on the Nordschleife. Can't be to teach them the lines.
To avoid any fights between Jocke and Caz I took Caz out for a lap shortly after returning Jocke to the car park. On this lap a biker managed to hold us up all the way from Bergwerk to Eschbach. I don't think he looked in his mirrors once. At Eschbach he took a really strange line (i.e., even stranger than he'd done so far) and drove so slowly that it enabled me to overtake him. Judging by his reaction he was completely unaware of my existence. Yes, I know that everybody is a beginner once, and I don't expect someone to check his mirrors three times per second, but once in a while, halfway down a 3 km long straight for example, would be nice.
Low point of the day was the crash of a Ferrari 360 at Schwedenkreuz. Jocke had arrived at the scene shortly after it happened. The car was upside down and on fire. The fire was so intense that there was nothing to be done. The Viper stopped too, but its fire extinguisher wasn't big enough to have any effect. Both the driver and the passenger died in the crash. The track was closed for the rest of the day.
The rest of the day was spent dropping off some parts at Ring Racing for the C-Car, checking into my B&B for the night (where some local boys came running to admire my car; yes, this particular B&B isn't really close to the Ring), reading a book next to the deserted track at Brunnchen-II, and having dinner in the Pistenklause with the Danish convoy and Joerg. A very enjoyable evening (as always) was had, in which we established that
Søren could count to two
Honda car people are different from Honda bike people (though in what way escaped me)
Pistenklause pizzas are somewhat smaller than certain people expected
Ben allegedly liked flying over Belgium (by plane, not by car)
holiday traffic was bad
MG-TF's handle like crap, providing Kim with the credentials to be inducted into the 360-club with honours
certain bikes need more stopping distance than others
Oh, and an anonymous female limousine driver who had arrived halfway during dinner contemplated going on a one-evening strike to go to bed early, but didn't for fear of the consequences.

Coming out of the Pistenklause we saw that Euan had just arrived. Despite the attractions of Sabine and the Fuchsröhre I decided that an earlyish night was called for. Particularly as my B&B was quite a long way away.
Saturday
The B&B compensated for being out of the way by
providing me with secure parking for my car in the back
very quiet surroundings
a lower rate
an impressive breakfast: 4 types of bread to choose from, good orange juice (a very important ingredient of breakfast) and an egg boiled to perfection.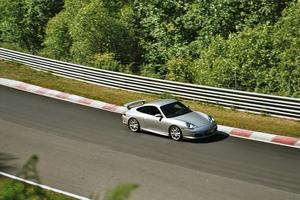 I managed to get some laps in before the busy time of the day. One of the highlights of the day was a passenger lap with Christer in his Corvette. The initial aim was to follow Christian in his new GT3. However, by the time we got to the gate neither Christian nor his GT3 was anywhere in sight. No problem: a worthy replacement presented itself in the shape of the C-Car, driven by Ben.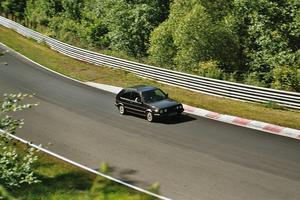 After an early lunch I had a ride with Kim in is MG-F replacement: a BMW 316. It felt a lot like the SquealMobile but with slightly better handling: no power, comfortable, relaxed, and reasonably quick if you take the weight of the car into account. It was nice being able to talk without raising your voice. And thanks to some traffic we lost momentum before going up Ex-Muhle, so we didn't have to hurry to finish the conversation before the end of the lap. Just for the sake of contrast I then took Kim round in the 964: quite a bit faster, louder, and bumpier. In other words: much better :-) A bit annoying was a classic Mercedes (coincidentally with Joerg in the passenger seat) that went sedately through Bergwerk and then decided to drive all the way out to the left side of the track instead of keeping to the right, effectively blocking me quite unexpectedly.
Bit by bit the track was getting busier, the driving more aggressive, and the concentration of less gifted drivers increasing. During one lap an Elise almost ran me off the road in Kesselchen, just because he wasn't looking: he was going slow but decided to drive on the left side of the track anyway. Can't remember if he was from Australia or the UK: then it would at least make some sense.
Closures became more frequent and longer, prompting me to do some shopping in Adenau, go for a little hike and take some pictures. During most of the hike (about 45 minutes) the only sound to be heard was birds singing, ants running around and the grass growing. After about half an hour these sounds were drowned out by screaming engines. Particularly the ants and the grass were difficult to hear when an air/oil-cooled Porsche came flying past.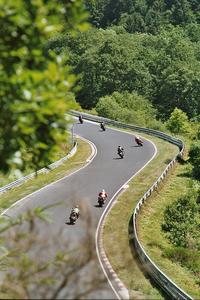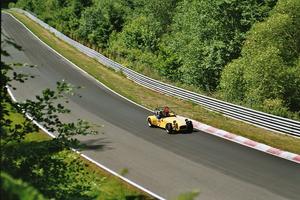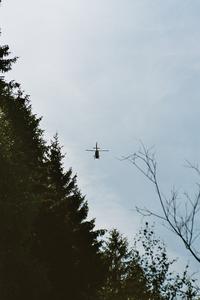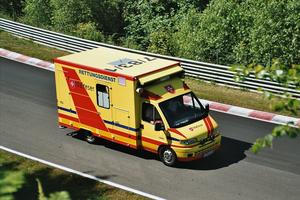 Of course it didn't take long for the track to be closed again, but I'd come prepared. I'd taken a good book with me, found a tree trunk to sit on, and proceeded to have something to drink, something to eat, and read a good number of pages. After a while the sound of grass growing was interrupted by the emergency helicopter. I texted Ben to find out if the closure was going to last very long, but apparantly most of the work had already been done by then. He also invited me to join them for a nice cold drink, but I didn't much fancy hiking back 45 minutes to join them.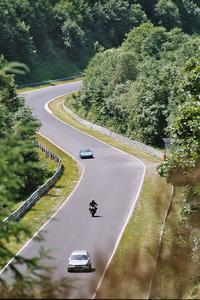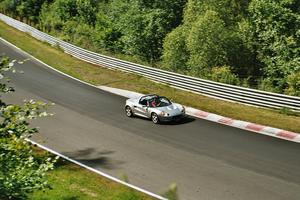 Back at the track I invited Søren to come for some laps. Both laps were very enjoyable. The first one was an improvised convoy: Joerg was leaving the gates at the same time. He'd gained a lot of speed over the weekend, and I thought it might be fun to do a lap together. This turned out very well: we were pretty evenly matched in the twisty bits, but the 964's ability to get a lot of power down early when accelerating out of a corner gave me an edge. I only needed to lift a little on some of the straights to keep our little convoy together, glancing in the rearview mirror at the nose of the silver Elise following me: a most enjoyable lap for both of us.
Joerg pulled off after that lap, while Søren and I went for a second one. I was curious to see how the brakes would hold up doing two back-to-back laps. As a result I upped the pace some, and by the end of the lap I had the answer: the brakes were starting to feel a little iffy again, requiring a bit more pedal force than normal. The brakes will be upgraded in August.
The evening ended with the tradition Ringers dinner at the Fuchsröhre. Ben had reserved one table for the Ringers C-Car Syndicate members, which was very convenient. He'd also invited Klaus who drives a Swiss Suzuki Swift 1.3 very fast. KIaus sported a very small beer (read Ben's report for a picture) because he still had to drive back to Switzerland later that night.
Sabine provided even more entertainment than usual by showing a video tape of the Gixxer kart in action at the FSZ. Impressive stuff! Mike F. told us that they'd used three (3!) sets of tyres to do one lap of the Ring as part of the side show for the 24H race...
To continue the entertainment theme: Euan's new phone somehow got switched to German (strange how that happens at Ringers dinners). To make matters really interesting he then received a text message in German. It was cooked up by a certain local Golf-driving adviser to the syndicate and loosely translated read "Hi Euan, can we do what we did last night, but this time I go behind? Greetings, Heinz". Unfortunately Euan couldn't quite understand the entire message. The rest of the table, being ever so helpful, called Sabine over to assist in the translation. The look on her face was priceless (again)...
Figuring that at least one early start during the weekend was in order I went home to Sliders at a reasonable hour. Problem was, at Sliders I ran into Dale again: he's a road tester for Performance Bike magazine. We'd talked a bit earlier during the day, and had a chat about the Ring, bullet cams, the cost of armco and the risks of riding/driving before going in, where I ran into Ross who complained that I hadn't come to pick him up to ferry him to and from the Ringers dinner. Small wonder, as he hadn't told me he expected me to do that. He did remember to bring a can of Irn-Bru with him. It was shaken, not stirred under the saddle of his bike, which prompted me to let it settle down a bit before opening it...
Sunday
This time I actually managed to get out of bed at a decent hour and made it to breakfast 0800 precisely, just like I'd told Bren the night before. All set for some laps on a quiet track therefore. Until Ross showed up at 8.05... A short chat developed into a slightly longer chat, the Irn-Bru came out of the fridge (really useful this early in the day), the chat became longer and longer, and it was 9.15. I then had to fiddle a bit with my Audio Documentary device, and while doing that fielded a call from TrRRish: could I please call the Ring office to advise them that a car had gone off the track at Wehrseifen. When I got through they told me that someone was already on the way. At least I could relay the information that no-one was hurt.

Having arrived moderately early (by my standards) I went out for a sighting lap immediately. There was a lot of dirt in Hatzenbach, and oil in the Wehrseifen area, but other than that the track was fine. After a short pause I went out for a second lap: this time an AMG Mercedes left the gates right behind me. I took it easy out of the cones, thinking he'd come blasting by immediately. Instead he chose to stay behind me, and we had a nice little race, moving around the moving Alfa chicane easily.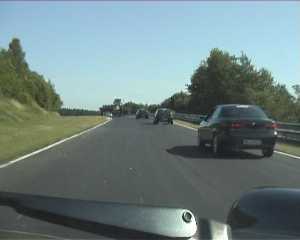 Most of the time he was 30 to 50m behind me, until we came to Pflanzgarten. PG1 isn't exactly my best part of the track, but on a good day I can go flat-out from after the little jump all the way into Schwalbenschwanz. Apparantly he didn't go flat-out there, because the next time I could spot him in my mirrors was after passing under the gantry.
The early part of the afternoon consisted of highlight after highlight. First there were two passenger laps with Søren in his M3 (which hadn't been modified that day; slightly out of the ordinary given Søren's frequent visits to Ring Racing). The first lap was an easy lap, bringing the tyres up to temperature. "Easy" by Søren's standards, but fast in my book. Near the end of the lap Søren discovered that he'd forgotten to switch off the DSC. The second lap was even more entertaining, and much faster than the first. Søren's a very good driver, and he certainly makes the M3 go :-)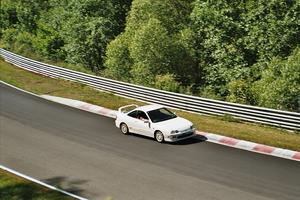 After yet another closure I had the pleasure of being in the passenger seat of Paul's Integra Type-R. Some impressions:
it's not as noisy as I'd expected
it revs like mad: by comparison the Civic Type-R has a sedate engine
the seats are great
it revs like mad
Paul really knows how to drive it
the engine has no torque whatsoever: you'd better keep the revs above 7000 or thereabouts
which is a pleasure in a way, as it revs like mad
Paul lost some ground on the straightish bits to a well-driven 911 Turbo, but gained that back in the turns. At Mutkurve the 911 slowed down a lot more than Paul, which enabled Paul to overtake him going into Mutkurve.
it can slide the front and rear, together or apart
did I mention that it revs like mad? It does :)
Then it was time to re-acquaint Jeppe with the 964 feeling. Our timing was excellent: we started right in front of Søren in his E46 M3 and Espen in his E30-with-home-made-rear-wing.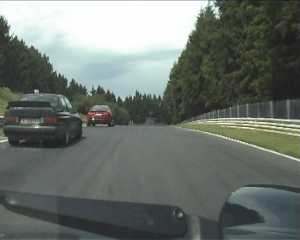 I think I could have stayed ahead until Schwedenkreuz without holding them up, but decided not to push my luck and indicated right and lifted to let them pass at Quiddelbacher Höhe, trying not to lose too much ground at Schwedenkreuz and Aremberg. Unfortunately a Scooby was a bit in the way down Fuchsröhre and at Adenauer Forst.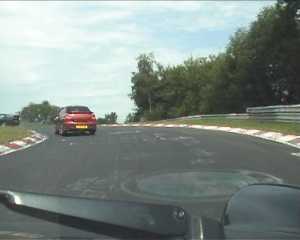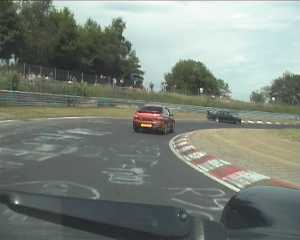 Despite that we had first row seats as Espen demonstrated his outstanding car control. In the left-hander he went sideways bigtime, gathered the back again, turned into the right-hander and went even more sideways. It looked close to 90 degrees sideways. A great exhibition of car control.
My last lap of the weekend was a bit of an impromptu thing: Christer announced that he would do a test lap in the C-Car (his first lap in the car). Naturally I ran to my car to tag along and try to warn other traffic of what was going on. Christer being Christer he didn't hang about, which meant that I had to drive reasonably quickly to stay in touch with him.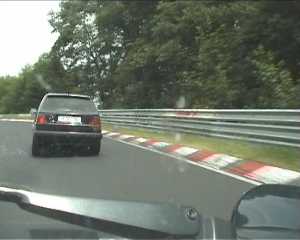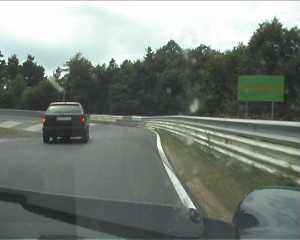 So much so that after being held up by traffic down Fuchsröhre and after Karussell it took me until Eiskurve to get on his tail again. Which was a good thing, as he almost binned it at Pflanzgarten. BTG was about 9.39; not bad for a first lap with some traffic thrown in.
The day ended with a visit to Kaul & Will to get my bumper fixed. K&W had managed to get the replacement part re-sprayed on Saturday and were happy to fit it on a Sunday. Very good service. While there I learned that the Nordschleife had claimed another victim: a fellow Ringer had crashed. No injuries fortunately, but fixing cars is an expensive business. Let's hope things get sorted with minimal hassles.
Summary
lots of closures, some of them very long
quite a few serious accidents
drivers and riders becoming more and more aggressive on the track the later it got in the weekend
quite satisfied with my driving: lots of room for improvement, but reasonably consistent
a very succesful weekend socially
---