Trips








































































The RingBunny






Ecurie Europe



Sabine Schmitz






Odd bits








Jørund Seim




Links marked with a * require a password.
This trip wasn't my fault. Almost. A colleague of mine (Adri) happened to see some of my Ring videos. OK, I showed them to him, as he appreciates this magical entity called "speed". So I offered an alternative to moto-cross and riding a bike on open roads: the Ring. He asked me when we could go, a date was set, and off we went. He took his Golf diesel (with a raised roof, mind you), I took the 964, hoping it would stay dry. Which it did.

The evening before going I dug up the few tools that I have to put together a prototype of a multi-purpose quick-release mount that is to be attached to the dash of the 964. It looks like crap at the moment, but works very nicely indeed. The best part is that the dash of the 964 doesn't need to be mutilated to attach it: the base plate is fastened by means of wire to the windshield ventilation and to the center interior vent. My thanks go to Rob Veen from Provak, the Dutch importer of Manfrotto equipment. He took the time to demonstrate various mounts and couplings in my own car. In the end I went with a 3/8"-screw-to-small-quick-release-converter. The quick-release consists of two parts: the holder, which is screwed to the wooden base plate, and a quick-release plate, which is screwed to whatever you want to mount on the dash. Very useful if you want to mount a camcorder (for off-Ring use, naturally). Mounting and dismounting is very simple: insert the plate into the mounting and it is clamped into place with a lever. For added security there is a safety catch that prevents the locking lever to be released inadvertently. Dismounting is simple too: release the safety catch, rotate the locking lever, take off the plate/camera combo.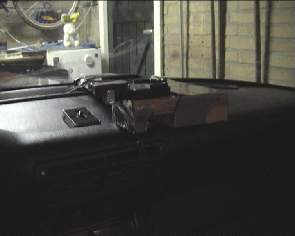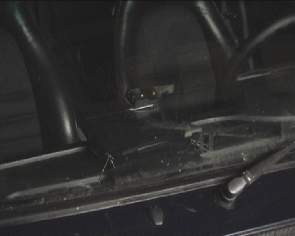 The trip down the B258 was the worst ever: all the Sunday drivers from Hell had a day off and were sent to the B258, apparently. Still, one or two escaped to the Dutch A2 to hassle anybody who intended to drive near the speed limit. This included a Jeep Cherokee that hogged the fast lane. Given that it was still early I didn't immediately overtake him on the inside, but decided to wait a little while. Not Adri, who overtook me and the Jeep on the inside. At the next overtaking opportunity Mr. Jeep who by now had clearly seen me decided not to make room, inviting my overtake on the inside. True to form he then forced me over to the hard shoulder. Charming, though very predictable. Not very exiting thanks to the accelleration of the 964. It would be interesting to find out if what set him off: the Golf diesel overtaking him on the inside, or the Porsche 911?
We arrived at the Ring car park about 12.30-ish, where the conditions were better than expected: no rain and a damp track. No familiar faces were around though. We started off with a slowish sighting lap to show my pal Adri how the track went and to figure out how slippy it was. Very slippy :) Mucho ABS. Highlights were: Hocheichen (of course), Metzgesfeld to Kallenhard, Kallenhard (natch), approach to Wehrseifen, a very slippery Breidscheid, Karussell, all between Karussell and Eiskurve, with honourable mentions for the approach to Hohe Acht and Brünnchen II.
Then it was time for Adri to introduce his Golf to the Ring. He did some nice sliding through Hohenrain and T13, with me urging him to be very careful at Hocheichen. He slowed down another 10 km/h and got the back out quite a bit. Not bad, oversteer in a Golf. Without lifting to provoke it... He caught it very quickly (moto-cross reflexes help). Of course there was the early turn-in at Adenauer Forst, despite some coaching. No dirt-tracking though (despite moto-cross instincts). Brünnchen II was one big slide. First too much understeer, then just a lot of understeer, ending in a bit of understeer.
Lap two we saw the remnants of a medium-sized crash at Fuchsröhre. Because of this my warning for Adenauer Forst came a little late, so that wasn't the most elegant of turns, even though we didn't leave the black stuff. Braking for Metzgesfeld saw us sideways for the second time, again caught very nicely. The rest of the lap went pretty well, with Adri having a decent idea already of where the track went.
Adri then did a third lap (solo), while I tried to get in touch with Christer who was supposed to be at the Ring in a hired Lexus. No Lexus (plural Lexi) was to be seen anywhere. In the meantime I met up with Sir Bastard to swap video-tapes. He's a very kind gentleman really, once you get to know him ;-) Anyway, I now have Rhapsody in Blech too. Thanks Karl.
Of course I went out with Sir B. in the passenger seat. By this time there was a dryish line round most of the lap. I was also pretty much in the groove. No video from this lap, unfortunately, because it was a very decent lap. I managed to go significantly faster than a Passat (probably a 4Motion, judging by the way the suspension reacted), a 911 (SC vintage) and one or two other cars. While we were approaching Wehrseifen Sir B. kindly and true to his reputation pointed out where his house was.
Before it got too dark I did a final lap with Adri in the passenger seat. Another good lap, with video this time. We saw a Megane (probably totalled) at Wippermann. Despite that and some traffic in awkward places 9.55 BTG. Not bad on a partially damp track :-)
No Ring trip is complete without at least some spectating. We went to Brünnchen and Pflanzgarten I and III. I noticed that all the Jørund stuff had gone from the hut at Pflanzgarten III.
Then Christer called me on my mobile: it turned out that he had a Merc diesel that afternoon instead of the Lexus. He was setting off on another lap, so we hung around (growing colder and colder) for him to come through. Mr Murphy made an appearance: we were just leaving when Christer came past. I switched the camcorder on again as quickly as possible, but the result (WMV, 185kB) isn't very impressive.
Two four-wheel drives were tackling Pflanzgarten III in a different way: backwards up the embankment. I couldn't resist filming it. The footage (WMV, 800kB) isn't not very spectacular, but it does show what you can do with an Audi Quattro off the track :)
Afterwards we met at the Grüne Hölle where I delivered his blow-ups, the GT3 tyre-test magazine and yet another video tape. Christer had had an interesting experience in the rented Merc: going down to Breidscheid the display is trying to tell him something. Up Ex-Mühle the engine cuts out! Not a good place. So he had to park an almost new Mercedes on the track. Ignition off, restart, working again. Pfewwwww...
The drive home went a bit faster than the way up. Still nothing to write home about, but we made it back to the Netherlands in time for a nice dinner at Adri's place. Now all I have to do is wait until Easter...

---