Due to bad timing the Ibiza received a service the week before this trip. Which is a bad thing, as it received new front tyres and new front brake pads. The front tyres were definitely good for another day at the Ring. Pads ditto. Ah well, at least they would be run in properly this way :-)

Canon's introduction of yet another wondercamera (the 1DmkIII) enabled me to find a decent used example of a now not-so-wonder-but-still-bloody-impressive-if-only-because-it's-built-like-a-tank body. The need for a proper field test before submitting my feedback to eBay was today's excuse to scoot over to the Nordschleife.

Autumn (that's "fall" for you 'mericuns) was definitely on the way.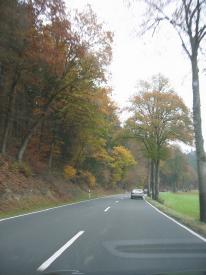 When I arrived lunchtime was approaching. However, the track was open so I did the decent thing and went straight out for some sighting laps. The first thing I noticed was a great big barrier in the middle of the road before the gates. The Pistenclub had an event at the Grand-Prix track, and it looked as if they'd made it a package deal with access to the Nordschleife as well: one of the barriers was signposted "Pistenclub only!". This turned out to be a bloody nuisance, because over the next few hours approximately one (yes, "1") car per 15 minutes used that barrier, while a serious queue was forming at the other barrier. Later in the day somebody came to his senses and realised that what was a perfect idea in theory didn't work quite as well in practice, and the "Pistenclub only!" sign and the very awkwardly placed easel it sat on were removed.
Despite the extra traffic *cough* from the Pistenclub the track was agreeably empty. Save for a crashed Dutch 156 at Hatzenbach the track was clear. The second lap went a bit faster than the first, and halfway round the new brake pads started to let me know that they'd appreciate a bit of cooling down now. There's a big difference between the Ferodo and the standard VAG pads: the standard pads don't like heat very much, and have way too much initial bite. A nice side-effect to an afternoon at the Ring is that the overly grabby characteristics of the standard pads will disappear after a bunch of laps. Makes driving on regular roads a lot easier.
Anyway, I digress: using the brakes a bit less than normal allowed me to experiment with slightly higher cornering speeds. That man Chrisiter does have a point, after all ;-) Still, after two laps it was time to give the car a break. The carpark was still pretty quiet.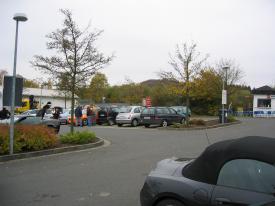 During my wander round the carpark I spotted the Frozenspeed corporate limo. I sent Jochen a short text message, and we met up a few minutes later.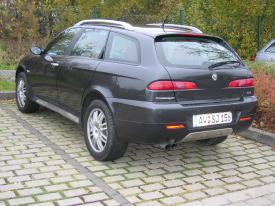 By now the car had cooled down sufficiently to do more laps. Jochen joined me for the first one. The combination of carrying my camera gear in the boot and Jochen in the passenger seat (I'll leave it to you, dear reader, to form your own judgement on which had the greater impact) resulted in slightly diminished performance of my trusty shopping trolley. When you're used to having to shift and brake at certain points it's interesting to seeing all those points move quite a bit from one lap to the next.
One lap in the Ibiza was enough for Jochen (who kept shouting that I was braking like a farmer; I forgot to ask him what he meant by that, but I'll use my ignorance to interpret it as a compliment; and if it wasn't meant that way, I'll blame the crappy OEM brake pads). The tyres weren't having all that much fun either, requiring more corrective action than on the previous laps. The second bit of Hatzenbach in particular made this clear.
Traffic was still light. On the way to Schwedenkreuz we overtook a red Porsche 356 coupe (either very well maintained or a faithful replica). From there to Mutkurve we had the track to ourselves. Making room for a boiker on the approach to Mutkurve well and truly killed any momentum we had: I need more power! :-) The rest of the lap was clear too.
The good thing of the Pistenclub-induced queue was that it was easy to stop for a second to give a passenger the chance to hop out. At least, if the car is easier to get out of than an Elise with the roof down.
I continued for another two laps. A host of souped-up Focuses (Foci?) left the gate behind me, but I didn't see them after that. On the way to Metzgesfeld a boiker overtook me, and luckily he was just fast enough to not be in my way through the twisty bits down to Breidscheid, where a white Belgium Elise kindly made room for me. Much appreciated, as the uphill stretch to Lauda Links is steep enough without having to slow down on the approach.
The fun was over when we came to Eschbach: yellow flags were waved, and on the entry to Eschbach a black 996 was parked against the armco with some front-end damage. Other than being held up ever so slightly by an ancient Ford Fiesta 1100 that was doing lap after lap the rest of the lap was uneventful.
The cloudy skies caused me to pull off to take some pictures while there was still a little bit of light left. I hadn't been to Pflanzgarten in a long time, and as it's so accessible that's where I went today. The "new" camera took some getting used to, but for a first outing I seemed to get along with it quite well.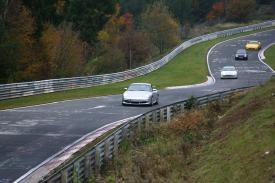 It certainly was a lot easier to catch people with wheels in the air than with my trusty old EOS-10D. Some got more air than others: the Ringmini took the prize here,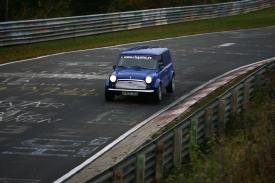 though Achim wasn't the only one to leave the ground.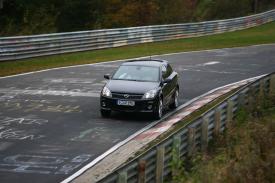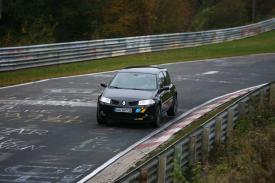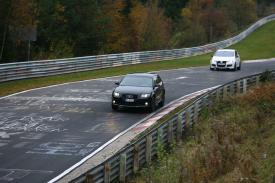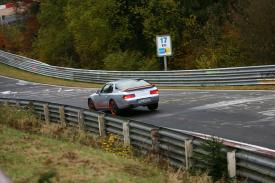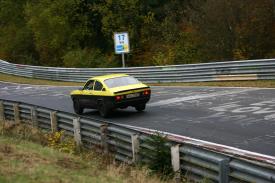 Others tried very hard but kept all wheels (more or less) firmly on the ground.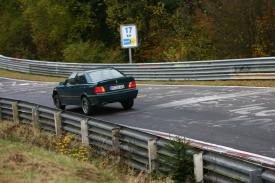 The A2 was leading a convoy of two Mercs around. A little later in the day we had a nice half-lap together in which he managed to stay quite close to me. Impressive.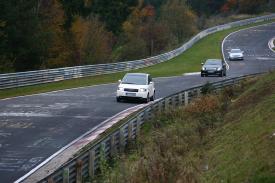 Some random shots, featuring a Dutch GT3 (don't see those every day), the red 356, and an impressively ugly white M3.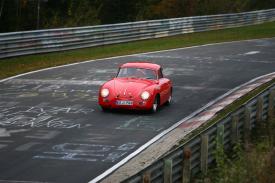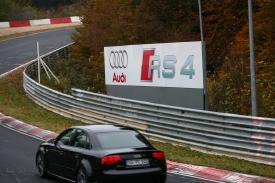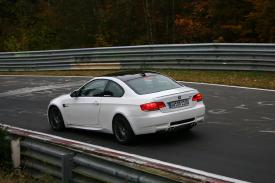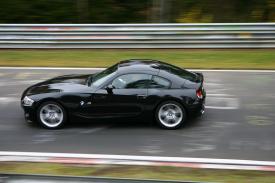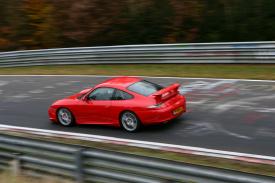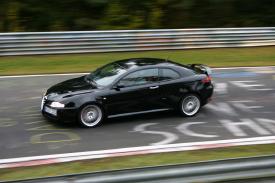 Back in the carpark I briefly met Ed. The Ibiza was parked in my second-favourite spot.
Some Ferraris had been out too. One of the passengers was proclaiming to the world at last how horny she was. Apologies, but that happens to be the literal translation of what she said. Maybe "cool" would be more in keeping with the spirit of what she was saying, but the literal translation is more fun for a trip report.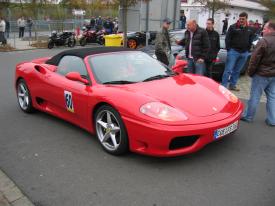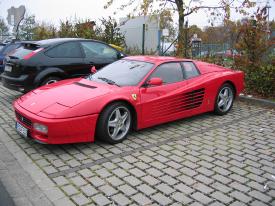 So far most people were parked inside the lines, which left me without my customary crooked-parking picture. Luckily the Ferrari obliged me.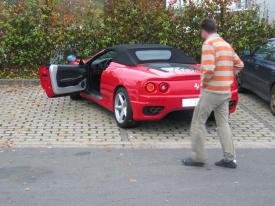 The owner did have a good sense of humour. To save you the googling and potentially lethal automatic translation: the decals below tell you that he attended the first stage of secundary education and dropped out after the 8th grade without achieving the educational target.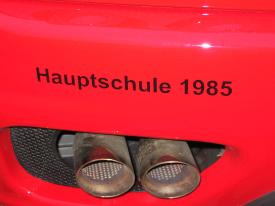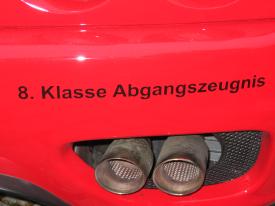 A stripped & cage Focus ST had come in at about the same time, and the passenger that came out of that one was also claiming to be horny.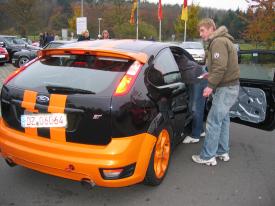 I had a look at the big TV next to the ticketmachine. It's definitely progress that people are shown the rules on a TV, as reading them on the bloody huge sign seems to be beyond them. Some English translations of the German texts could do with a bit of tweaking though...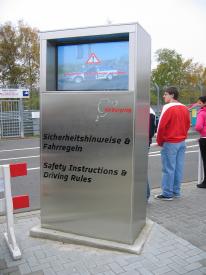 Falco had a quick makeover done to his GT3. To my eyes the Martini livery looks better than the orange go-faster stripe on a silver background.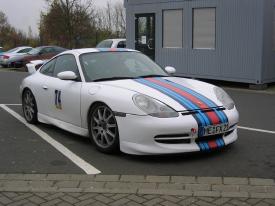 The Grüne Hölle people have started up a make-money-fast scheme: they'll store you luggage for you for 2 EUR/hour.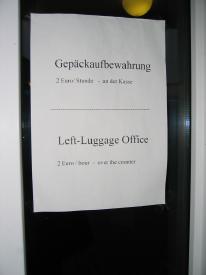 Other than that nothing much seemed to be happening, so after photographing one of the new style (new, new, it's been around for quite a while now, but I hadn't take a pic of it yet) decal and taking a picture of the Ibiza's sticky rubber (cough) I went out to do some more laps.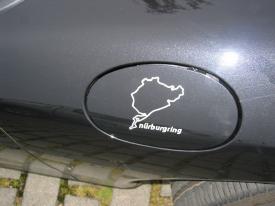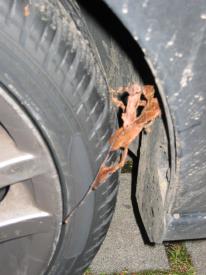 Some of the highlights: a silver BMW E36 that didn't really want to be overtaken. I'd been on his rear bumper all the way from Bastard Bend to Flugplatz, twice getting enough exit speed to draw alongside, but each time he just put his foot down and used his extra power to pull away again. Until the next corner. By Schwedenkreuz he realised that having that pesky little diesel on his rear bumper wasn't all that great and he made room for me on the approach to Aremberg.
I had great fun with the Audi A2 mentioned earlier. Due to a yellow flag after Mutkurve I ended up in the middle of his convoy, and when I started to up the speed again he left his two taxi-wannabes behind and stayed with me for the rest of the lap. I don't think he used his brakes very much, and it was good fun to see him bouncing from kerb to kerb, using the entire width of the track, rumblestones included. By the time we came to Pflanzgarten I'd opened up a bit of a lead, but slower traffic on the way into Schwalbenschwanz gave the A2 the chance to close that gap again. Impressive driving.
More highlights: overtaking an M5 into Brünnchen; getting a nice run on a black 996GT3 through Mutkurve and Klostertal: enough to get the message across that I'd be faster through the turns up ahead and making my way past.
The stripped Focus ST made an appearance too. I went out for one last lap, intending to focus more on clean lines and admiring the scenery than on going particularly fast. At T13 I let the ST go through, but I couldn't quite resist finding out how fast he was. This being my last lap of the day I'd have been quite content to just sit behind him and watch him drive, but by Hocheichen he was indicating right. From the occasional glance in the rearview mirror he was trying, but not quite staying with me. A fun way to end the day, even though it incurred a bit more tyre wear than intended.

---