Preparation for this trip consisted of checking the tyres (more than a little worn by now), checking the oil level (OK), checking the windscreenwasherfluid level (nearly full), dusting off an old visual recollection aid, and forgetting to bring my umbrella (not smart, given the weather forecast), my helmet, and forgetting my small digital camera (which is why this page loads a lot faster than most of my trip reports).

Jochen and I were going to take some pictures together, to provide him with ample opportunity to show off his new gear. A bit of texting back and forth told me that he was off somewhere when I arrived, and I decided to go straight out for a lap. It was still raining at the time, and the track was as expected: very slippery. At the entry to the Hatzenbach complex the car was very reluctant to turn in. There was also a lot of dirt on the track at the end of Hatzenbach, and some tracks in the grass that suggested that someone had gone off there. I tiptoed around Hocheichen, trying to find some grip for the front wheels to put some power down, and caught up with a Dutch Subaru with a cage in it. As this was my first lap of the day and I didn't have a clue yet where there was grip (basically nowhere) and where there wasn't (everywhere else) I was content to hang back and follow him round.

The usual puddles were there at Quiddelbacher Höhe, and there was standing water on the exit of Flugplatz (not good if your tyres are approaching legal tread depth limits). At Schwedenkreuz a 70km/h speedlimit was imposed, due to some work-in-progress on the left kerb. To be more precise, no work was being done at the moment, but there were still some cones to avoid cars dirtying up the freshly painted flat kerbstones.

Fuchsröhre wasn't as wet as I'd expected, but Metzgesfeld was. The bit between Metzgesfeld and Kallenhard was very slippery indeed. Even at my greatly reduced speed and despite being cautious with the throttle, the front end was darting to the outside of the little kink as if drawn by The Force. Kallenhard wasn't much better, of course. By then I saw two Porsches approaching in my rearview mirror and decided to slow down and let them by before the Spiegelkurve/Miss-Hit-Miss complex. After the braking zone for Wehrseifen I'd rejoined the Scooby.

The rest of the lap I tiptoed round trying to get a feel for the grip levels. The speed in the Karussell was low enough that I didn't even have to switch the ESP off. At normal speeds it cuts the engine. Hohe Acht was more than a little slippy, but apart from that things were more or less as I'd expected. The new surface at Pflanzgarten was nice and smooth, and provided decent grip for the conditions.

At the end of the lap I drew level with the Scooby for a wave, figuring that nowadays nearly every Dutchman who goes to the Ring regularly frequents either Ringers or Nurburgring.nl, and as such might recognise a black Ibiza on Dutch plates, but this didn't seem to be the case.

Traffic was pleasantly light, so I used the gate on Döttinger Höhe to go out for another lap. With no traffic to be seen and some ideas about where I could go a bit quicker and where not I upped the pace a little. In its own way it was a satisfying lap: I wouldn't call it fast, even while taking the conditions into account, but it was good fun to experiment with feeling the available grip, noting how little throttle was needed to go from almost-sliding to ho-hum-understeer, or how the steering wheel twitches when one of the driven wheels loses traction for a bit when exiting a turn.

A bonus to conditions like these is that you don't use the brakes much. The brakes seem to be the weakest link of the Ibiza: the front pads crack when you really use them, and the brakes are very difficult to modulate. Other than that it's a great little car, in which you can have a lot of fun at the Nordschleife. It's also a good bit quicker than the Squealmobile it replaces.

Anyway, the brakes didn't need too much cooling down yet, so it was time for lap number three. Apart from being overtaken by a caged Merc 230 Kompressor and overtaking a Porsche/Mercedes pair (the Porsche driver talking to the Mercedes driver with a walkie-talkie), nothing noteworthy happened. Apart from a smile on my face, of course.

In the carpark I occupied my favourite spot in the corner for a short break. Ed's Turbo was there, but no Ed. Jochen turned up and told me that Euan, Job and Jeroen were there too, but apparantly busy elsewhere. In short order Jochen and I went to Pflanzgarten to take some pictures. My hiking boots were again earning their money's worth dealing with all the mud. The view was well worth it though.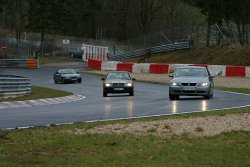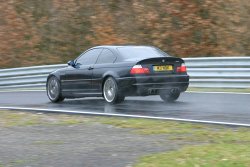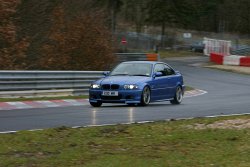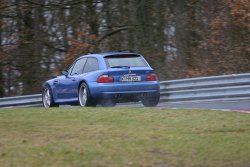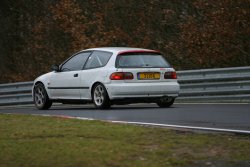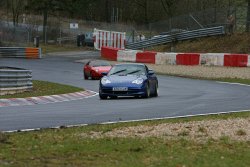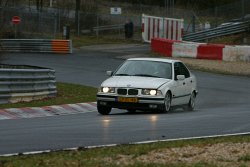 Jochen's D200 looked like a great tool. The quality of the rear display is particularly impressive.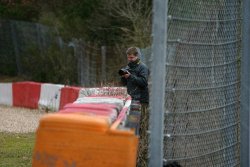 To save my bank balance I'll have to try to ignore things like faster writing to CF-card, higher frame-rates and better AF. With my current investment in Canon equipment I'm not about to switch systems, but it's a good thing that Nikon has raised the bar a bit in this price bracket: no doubt it'll stimulate Canon a bit more to improve their lineup. Until then I'll continue using my ancient 10D.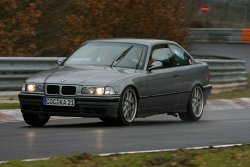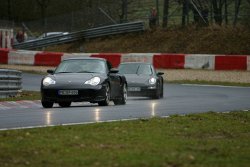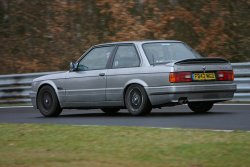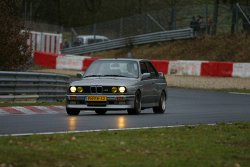 Next stop was the GP-Strecke. There aren't all that many opportunities to drive on it (while being covered by your regular insurance), but this weekend it was open to the general public. We started off with a few laps where Jochen followed me. In my rearview mirror I regularly saw the effects of his handbrake. At the start of the final lap we had an nice highlight: at the end of the straight I suffered even more understeer than usual (read: I was carrying a bit too much speed. I'll blame Christer for that, as he keeps reminding me that I brake too much), so I yanked the handbrake myself. Jochen did the same thing, but went even more sideways than I did. When I straightened out I could see him in my rearview mirror, still sideways.
After a short pause I took Jochen along for some laps in the Ibiza. It was still reasonably wet, which led to lots and lots of understeer on the ever-tightening corners in the Mercedes arena. Still, it was good fun to be able to drive on an official F1-track. Not as much fun as the Nordschleife, but having some run-off in case of mishaps does provide a bit more peace of mind. After a while Jochen's stomach had had enough, and we pulled into the carpark. Luckily Jochen is able to indicate the need to stop lapping more than a lap in advance of it becoming an acute problem.
The next photostop was Hocheichen. Slowly but steadily the weather kept improving, until we were enjoying blue skies and sunshine.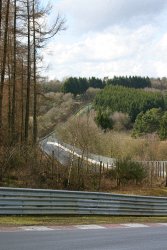 And a nutter in a Civic who went through there at some serious sideways angles. Jochen was positioned perfectly to capture the action.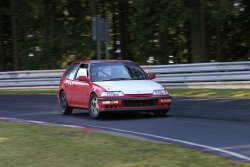 Some random assorted shots: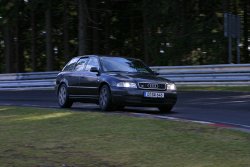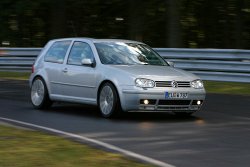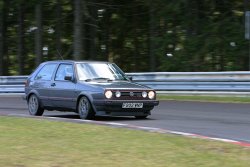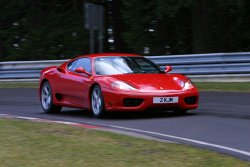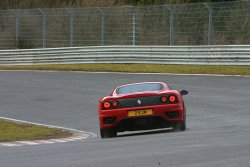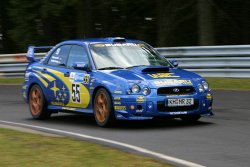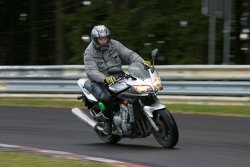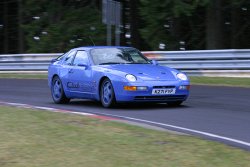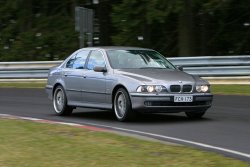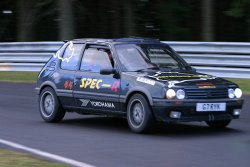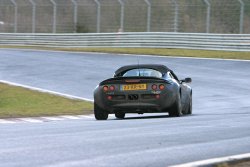 When we had had enough we moved back to the carpark, had a quick chat to some Finns (or whatever the official term for Finnish people is), Steve, one or two others, and then I went out for some more laps.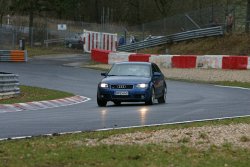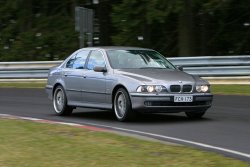 By now the track had dried up, and I could do "normal" speeds again. While the tiptoeing around in the wet had its charms, this was a lot more fun. Traffic was still more or less non-existent, and apart from Hatzenbach, Hocheichen, Brünnchen-II and Eiskurve there was a dry line to be enjoyed.
Somebody had had a less enjoyable afternoon at Kesselchen, judging from the amount of debris that was being cleaned up after Maddock Bend. Luckily someone was waving a yellow flag there, as you can't see all that far ahead while approaching a kink in 6th gear that's just about flat-out on that still slightly damp bit of track. On Döttinger Höhe I saw a familiar blue shape bearing down on me: Euan in the 968CS. Time for another lap, then.
Euan took the right gate, I took the left gate, and off we went. As he's faster, I figured it would be more entertaining for him to follow me than the other way round. Which is exactly what we did. A litte black car was in just the right spot to overtake without slowing down on the approach to Hohenrain. On the now-dry surface it was possible again to come in at high speed, fly over the bump next to the armco on the left side of the track, hit the brakes and squeeeeeel through the first righthander.
Euan seemed to be enjoying himself, judging by the size of his grin in my rearview mirror. Yes, he was following quite closely :) Hatzenbach was still very dirty, and Hocheichen still quite slippery. Flugplatz was fine by now: no need to downshift into 5th anymore.
Strangely I pulled away a bit from Euan through Schwedenkreuz. I guess he figured I'd take it a bit slower through there given my experiences with that section. By braking a bit later than I did, he got right back on my bumper again when we started down Fuchsröhre. This is a section the Ibiza with its firm suspension likes quite a bit, and I managed to open up a little gap. I didn't fully trust the surface yet, so I did lift a little bit before powering through the compression, but it was reasonably quick all the same.
It was impressive to see how fast Euan was through Adenauer Forst. I think I did a decent line through there, and using any more power would have understeered me off the road. In contrast the 968 looked well-balanced and didn't have any problems getting the power down on the exit.
Miss-Hit-Miss went particularly well, drifting to the edge of the road with lots of tyresqueal. Wehrseifen was nice too: I hope the photographer who was standing directly behind the turn-in point got some good shots of us.
At Breidscheid I ran a little wide, but didn't have to lift. Up Ex-Mühle the difference between 160 diesel-bhp and 240+ petrol-bhp became obvious: Euan was cruising up the hill while I was squeezing my little diesel for everything it was worth.
At Kesselchen the cleanup hadn't been finished yet, but both Euan and I were prepared for that. After slowly driving past the cones we powered up the hill. The Ibiza is a torquey little bugger, and it managed to run out of 5th gear before Mutkurve. In hindsight I think Mutkurve is the only corner where I didn't squeel the tyres.
We went up the hill to Hohe Acht in convoy, but through Wippermann I took a different line which seemed to work pretty well, as I managed to pull away from Euan a bit. Naturally, he took it easy through the righthander before Eschbach, but at the turn-in for Brünnchen he was on my tail again. It's amazing that apart from the one car we overtook on the approach to Hohenrain we hadn't encountered any traffic at all so far.
Even Eiskurve was reasonably dry by now. The new surface at the first bit of Pflanzgarten is very smooth. I like it better than the old stuff, even though it's a bit of a large unmarked expanse of featureless black right now. No doubt it won't take many VLN races to reduce the blackness a bit.
I managed to get the line I wanted through Pflanzgarten-III, which allowed me to keep my right foot to the floor all the way through. Euan had to back off a little bit, but he was on my bumper again when we turned into Schwalbenschwanz. At the Kleine Karussell Jochen was taking pictures, but this time I didn't have time to give him a wave. Luckily he did have the time to take an excellent picture of us.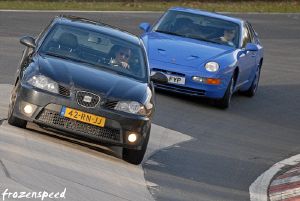 All things considered it's one of the most entertaining laps I'd ever driven on the Nordschleife. It's fun to go round quickly, but it's a lot more fun if you can share it with somebody else.
Euan indicated he was off to Ring Racing, and I did another lap. This time I went a tad slower, but concentrated on the few bits I wasn't happy with on the previous lap (Breidscheid and Mutkurve). The brakes were starting to let me know that they needed a break, and I reasoned that after these three laps things couldn't get any better and started for home.
On the way I made a brief detour for a quick chat with Euan, Job and Jeroen at Ring Racing, where I learned that Euan had acquired his German racing license. Congrats, and many happy VLNs!

---