The aim of the trip was to drive a few laps around the Nürburgring. This being my Ring debut and the weather being bad, I decided to play it safe: I kept the 964 at home and took the Alfa 147 instead. Ringing in the rain, so to say.

During the Easter weekend I went on a brilliant passenger lap with Ben (thanks again), and the virus took hold firmly. Not to the extent that I want to trade in my car for a convertible, though. I still think having a roof over one's head serves a purpose, apart from keeping you dry. Some cars just look better with a roof.

Anyway, despite some very negative weather forecasts for the weekend, I drove to the Ring to see if I could put in some laps myself. Having heard of the reputation of the Ring in this kind of weather (slippery when wet), I decided to leave the 964 at home, and use my workman's car (Alfa Romeo 147). It's supposed to be sporty, so why not? Also, 120 hp on the front wheels makes a slippery surface a lot less hairy than 250 hp on the rear wheels.

Friday evening was spent adjusting tire pressures and installing a bullet camera and some assorted paraphernalia (microphone, power supplies, VCR in the boot) to get the most out of every lap. I packed my (35mm) camera, film, batteries and lenses, just in case something interesting would present itself.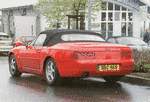 Saturday I got up early (by my standards, anyway) to start the three and a half hour drive to the Ring. Along the B-258, the weather got worse and worse. Quite a bit of rain, and some mild fog higher up. I got to the Ring a little after twelve o'clock, found Ben to deliver an enlargement of a picture of his 968 in action, and saw what will probably be a rare sight: his 968 with the hood up :)) A picture of this spectacle is now available. I also spotted a Peugeot 405 (with some snow on it!) on dutch plates with stripped interior and a racing harness, which must have been Niek's. No Niek around, though.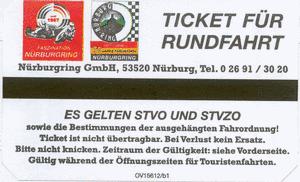 While I was buying a ticket, it looked like Ben was arranging a ride in the Ring Taxi with Sabine. I'm looking forward to reading his trip report :) It's amazing how fast she can drive. The wet track doesn't seem to affect her speed much. At least that what it looks like when you're next to the track watching her zoom past. Ben got some useful pointers on which lines to use in the wet. He'll probably put them up on his site after reviewing them with Sabine in June.
Figuring that the bad weather would mean a quiet track and less cars going at twice my speed, I went out. I took it real easy on the first lap. Watching the videos from Joerund's site, playing Grand Prix Legends and thinking back to my passenger lap was good preparation. At least I had a halfway decent idea of the layout of the track. On the first lap I had some help from a black BMW 3-series (older model) that was ahead of me for most of the lap, doing approximately the same speed.
Some areas of the track were seriously slippery. Even while taking it very easy, the front was doing a fair bit of sliding around. After a short breather in the car park, I did a second lap. Still careful, but having gotten a feeling for the lack of grip I increased the speed a little. High point of the lap was overtaking a blue 911 (996 to be precise) through Fuchsröhre. Calling it quits while still ahead, and with the car in one piece I went home to some work-in-progress (house painting). Not everybody kept all parts of their car in one place: a Porsche 911 (996 to be precise) parked part of his front bumper near a garbage bin.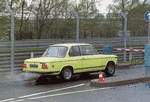 Sunday morning I decided to give it another go. About the first person I spotted at the Ring was the mechanic from the OPC who maintains my 964. Turns out he was there with a group of dutch Porsche friends. His car was hard to miss: he was driving a yellow BMW 2002. Quite a contrast to dozens of Scoobies and 911s.
A particularly notable event on the track was being overtaken by both Ring Taxis in one lap. Boy, do they move. It's scary how fast they go in the wet. It probably helps to have loads of experience, intimate knowledge of every inch of track, and being a thoroughly capable race driver :-)
Also interesting was being overtaken by a different black 3-series BMW (latest model) that was using an enthusiastic approach to ring driving (putting the right hand wheels a meter over the curbs). I saw it facing the wrong way with the right side tight against the armco later in the lap, at the exit of Karussell... Reading trip reports from other people, I think this BMW was Euan's, with his mate Chris behind the wheel.
Big fun was overtaking a dutch MG-F (also black) down Fuchsröhre, a bit like the 911 in lap 2. Turns out that the MG-F spun off later in that lap, damaging the front end. After Adenauer Forst I started tailing a yellow Seicento Sporting (a local). The Seicento had an interesting moment at kilometer 12 (don't know the name of the section) when it was passed by a black BMW on the left while the Ring Mini decided to pass between the Beamer and the Seicento. Must have had about two inches to spare (in total)...
As an illustration of the conditions: the video clearly shows snow around Hohe Acht and Wippermann :) Some cars in the car park were still partially covered in snow. Near the end of the lap, still surrounded by snowy scenery, I was overtaken by two Scoobies. Impressive to see how soon they can apply the throttle when exiting a corner. The Ring even made the newspapers in the Netherlands: they mentioned that racing (at the GP-track) was cancelled due to snow, bad visibility and temperatures around the freezing point. This was the first cancellation of a race event in Germany since 1985...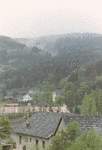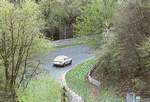 Afterwards I went to Breidscheid and took a few pictures. Again, I was very impressed with the speed the Ring Taxi takes into Breidscheid. Both drivers appear to know exactly how far they can go. Which can't be said for some others: 3 cars overcooked the entry into Breidscheid in 5 minutes. A red Calibra almost came to a full stop before turning in. Two others missed the clipping point by at least half a track width, after locking up some wheels while braking.
Summary: lousy weather, but great first laps. I'm looking forward to adding more laps and meeting some other ringers.
The downside of all this fun is that I didn't take many pictures. Some people asked me to photograph their car in action, but I didn't spot them on the track or in the parking lot while I was there. We'll probably be able to arrange something in the future though, hopefully with better weather. The complete set of pictures can be found on one of my photography pages.

---