Saturday
To recharge the battery and to fill in the time before the track opened, I drove along some scenic road to Mayen, and from there back again to the Ring using the most roundabout route I that still fit my map and got me back in time for the opening of the track.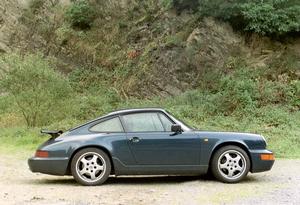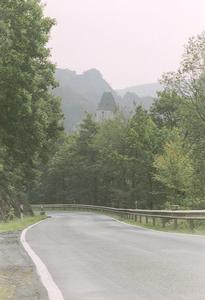 The first lap of the day was with Jeppe, to whom I proudly presented the latest improvement of my car: a Jahreskarteholder (I had removed the interior of the ashtray). Jeppe proved that the "No Fear" bit wasn't an exaggeration. He didn't flinch at some largish twitches of the car. During this lap there were some groups of bikers traveling around. The good thing: every group had a guide riding up front. The bad thing: some of them didn't have mirrors and the rest acted is if they didn't have any. Incomprehensible and irresponsible if you ask me. A lot funnier was the BMW that was so low it couldn't handle the inside of the Karussell :)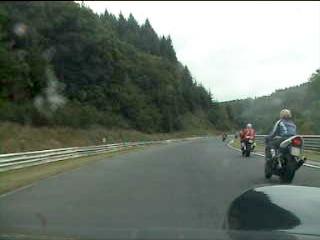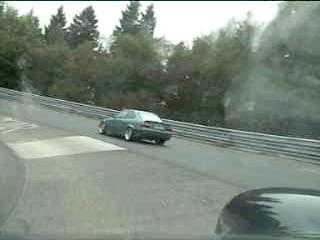 Lap two is one I'll remember for quite some time. Three Swedish Porsches were following me (they weren't in a hurry, obviously), and all was well. Up Flugplatz I overtook a biker on the inside, carried a bit too much speed on the wrong line, and lost the back going into Schwedenkreuz. It only took one really short swearword to realise it was beyond my capabilities to recover, so I hit the brakes flat out and started hoping for the best and preparing for the worst while waiting for the car to come to a stop. Somewhere. After 360 degrees most of the speed had scrubbed off, and I released the brake to ease it onto the grass on the right. Amazingly without having hit anything. A heartfelt 'phewwwww' and a check of the mirrors later I drove off and completed the lap at speeds that were somewhat slower than I usually do... As the camcorder was running, a clip (WMV, 693kB) is available thanks to the Ring Bunny.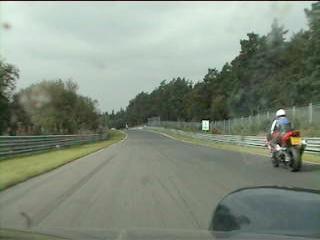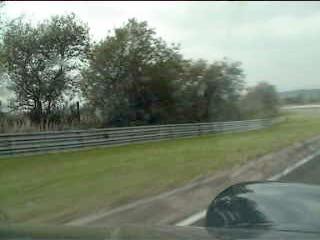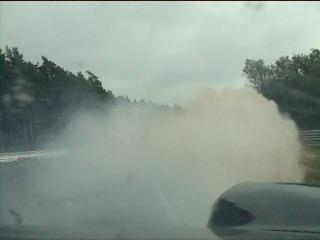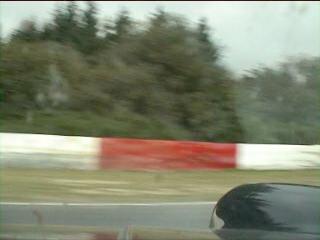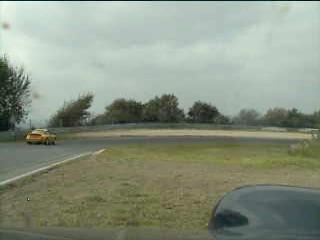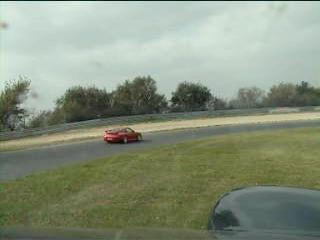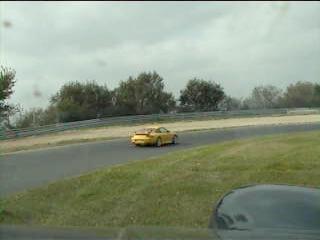 In the carpark I found that an Elise had crashed: no physical harm done to the occupants, but the car was undriveable. I must say I was glad that someone had done something worse than I: doubling the total amount of mishap seems to imply halving the amount of piss-taking per person. From the stories it looked like Saturday was a bad day for more Ringers: Kim had some moments at Breidscheid, Job had damaged the suspension (among other things) of his newly prepared and cool-looking Golf and Stewart crashed his bike at Hohenrain. Fortunately noone was hurt. Ben had taken some precautions: Achim had fitted a rollcage to his car. The rollcage had seen most of the world by that time.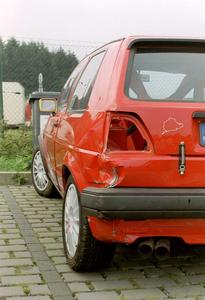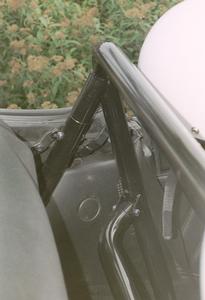 As I might have given the Swedes following me into Schwedenkreuz (how appropriate) a bit of a scare generating a smokescreen for them to drive through, I went over there, introduced myself to them, and showed them the video too. Unfortunately they didn't record that lap themselves. It would have been entertaining, I'm sure. Which is another example why you should tape all your laps: you never know what might happen in front of you...
In the meantime, Ben was starting a new trend in the car park. I think I'll call his 968 "The Alligator" from now on ;-)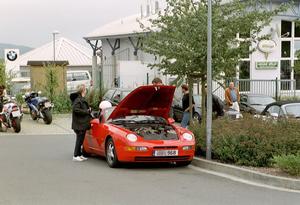 As usual, Bren was there too. His bike is definitely not a poser's bike, as witnessed by the wear on the rear tyre. The owner however is doing a pretty good job at posing ;)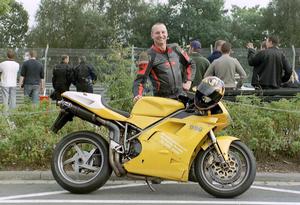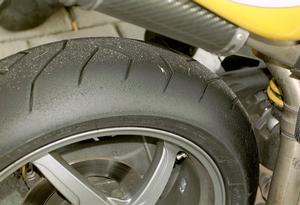 At the end of the day I did two more laps to get back on the horse again, concentrating on lines and generally just following a biker who was doing a similar speed all the way around. If you were on the track around 17.00 hours and were thinking "why's that blueish 911 following me for an entire lap" I might have you on tape :-)
Christer proved his lack of fear by accepting a passenger lap with me: his reasoning was that I wouldn't be stupid enough to make the same mistake twice. This improved my confidence a bit, but I couldn't resist pointing out that there were some 70 other corners to mess up ;) Anyway, thanks Christer. At the same time Tom was starting a lap and Ben was a passenger in the Ring Mini. Which is bloody fast, because it accelerated about as fast as my 964. As a result I kept him in shot until Hohenrain, where he shot by some slower traffic with only a short dab on the brakes, somehow. Highlight of this lap: Christer remarking that something was wrong with my car: the tyres weren't squealing. And this before we got to Schwedenkreuz, brave man...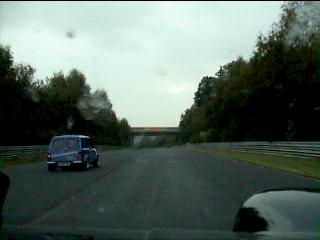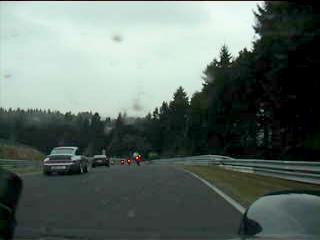 At the end of the day the car park was emptying rapidly, with only a small group of dutchmen (and one dutchwoman, Laurens' sister Esther; I had some interesting and sometimes slightly weird though entertaining conversations with her over the weekend. Makes a change from cars/bikes. Nice! Please bring her again, Laurens :) ) remaining. This resulted in one more replay of the Schwedenkreuz 360.
The Ringers dinner that evening was at the Fuchsröhre: my 15 minutes of fame, and a lineup of the three stars of the day: Lars (details to follow later), Kim (who did some serious fishtailing on the Breidscheid bridge) and myself. We all had a tape showing our exploits of the day, and they were played back on Sabine's TV. And played once more. And again. And again. And then in slow motion. Ah well, some of the comments were quite entertaining, and pride usually goes before the fall... The following two pictures were somehow nicked from Tony (thanks).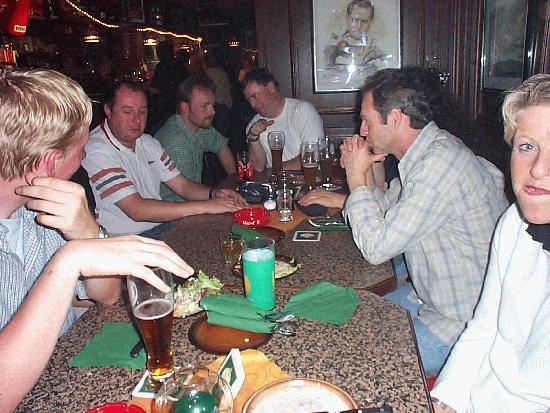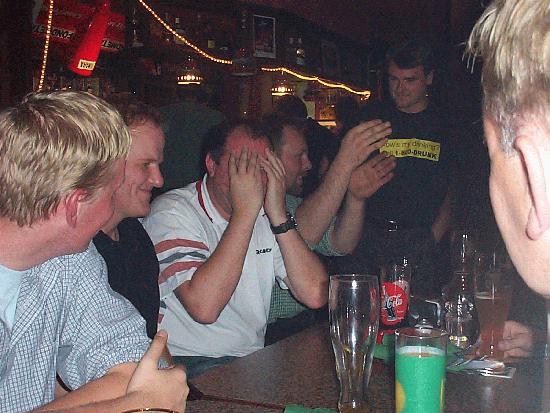 Naturally Sabine wanted a copy of my 360 on tape. I promised to take one with me on my next visit. The rest of the dinner was relatively uneventful: I talked a bit with Niek's dad, very shortly with Tony and Lillan, then a lot with Joel who was at his first Ringers dinner. Ben had invited Achim to dinner, and we talked about all kinds of things ring-related. Achim demonstrated some of his track knowledge by pointing out why and where the track was slippery. His tip: if it's wet, spectate at Hatzenbach/Hocheichen; when it's dry, go to Adenauer Forst. He'd also brought some interesting tapes with highlights of people going off at Adenauer Forst and Hatzenbach, which kept everybody entertained for quite some time. Despite my having a good time (it's nice to watch someone else go off with a 180 degrees spin and to be able to call him an amateur ;) ) I headed back to Sliders at 01.30 hours.
Back at Sliders there was quite a crowd watching videos. Bren urged me to hook up my camcorder to show my by now famous spin (word had spread rapidly, it seemed). As a result I wasn't in bed until after two o'clock, had my customary wakeup call from the church next door (ringing its bells at full blast; maybe the local priest is a born-again rocker or ringer?) at 06.30 hours. Despite being at my worst early in the morning I decided I might as well go for an 8am start of the day. The rest of Sliders (including Lenny) gave the impression of being in a coma.
---