Sunday
Both mine and Jochen's Alfas were standing in the courtyard covered in dew. It was still a bit chilly this early, but inside waited a breakfast of fresh bread followed by a cup of chemicals that tasted rather nice (right Jeppe?).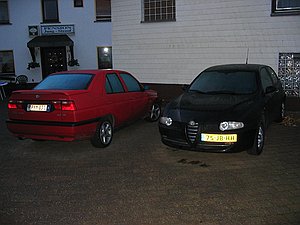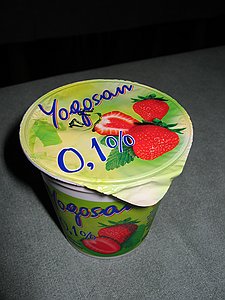 To my astonishment, Euan arrived at the track only minutes after I had arrived myself. Good to see the blue 968 back where it belongs.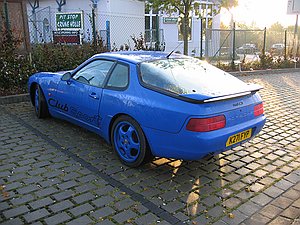 I was glad I had brought a witness to record this memorable occasion.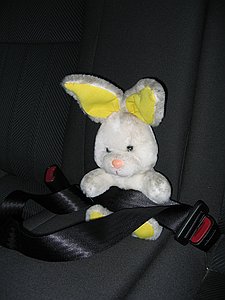 To start the day's proceedings I invited Euan for a lap in the SquealMobile. The track was damp and slippery, and the SquealMobile didn't do much squealing. Highlight of the lap was a black 996 Turbo overtaking us at a fair clip going into Aremberg. Chris Hellegers later told us that the driver was one of the Scuderia Hanseat instructors.
Back in the parking lot I noticed a (to my mind rather ugly) interesting spoiler on the back of a Boxster.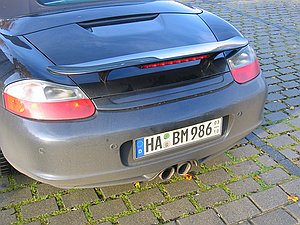 We also met Esther and her Cookie Monster. I suggested we introduce the Cookie Monster to the Ringbunny, but sadly this never happened. I think it's a match made in heaven. Or in the Green Hell, whichever you prefer.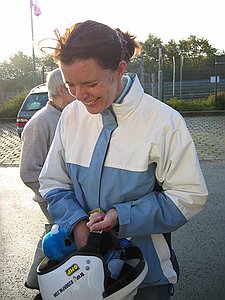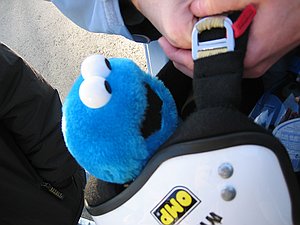 While we were discussing the possibility of the Bunny getting acquainted with the Monster, Ross pulled up in a BMW 520i Automatic. Bren was riding shotgun (read: managing Ross's crutch), and Esther and I jumped into the comfy rear seats for a stylish lap of the still very damp Nordschleife.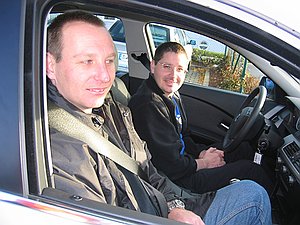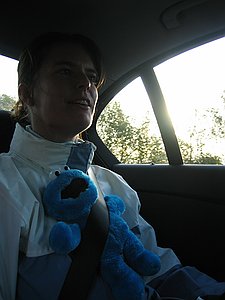 The BMW was a little down on power, but provided lots of grip. In fact it proved impossible to get it sideways. This may have had something to do with the little orange light that kept blinking in the dashboard, though. At Quiddelbacher Höhe we were overtaken by a 996 Turbo. Ross stayed close to him all the way into Fuchsröhre.
We made our way round quite a bit faster than I had done in the SquealMobile, passing quite a few cars.
Back in the parking lot, Bren provided Ross with his crutch. Ross isn't 100% yet, because he was complaining about the chilly temperature. This is a bit of a contrast to the tough guy who wore a short-sleeved T-shirt at the 2003 season ending.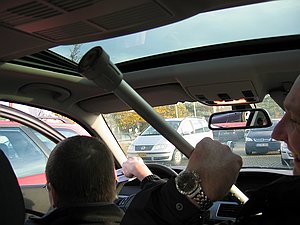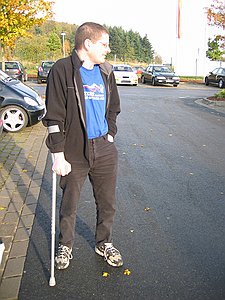 Shortly after we'd alighted from the car, a Pug 206 parked close by. It had made contact with the armco at both the front and rear left corner. Our little group also couldn't help overhearing things like "fast Porsches coming up" and "indicating left to let them by". While the crashed driver was invited to go with the Streckensicherung on a free lap of the Nordschleife, Jochen kindly explained to them that that was illegal, verboten, and hence not done. Of course the reaction was that they had been coming to the Ring for 15 years and that's how they'd always done it. At least they had the good sense to listen to part two of the explanation that involved words like "Police", "driving ban", and "marshalls", and we all came to the conclusion that while it sometimes made more sense to let people by on the right, it was illegal and you stood a good chance of getting caught. Not to mention that you invite the overtaking party to commit an illegal act, which in and of itself is an offense under German law.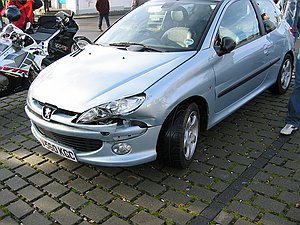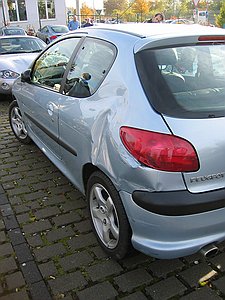 Ross then showed his good sense by giving the keys to the 520i to Bren, who took Esther (and Cookie Monster) round to see if the BMW really couldn't be forced to go sideways.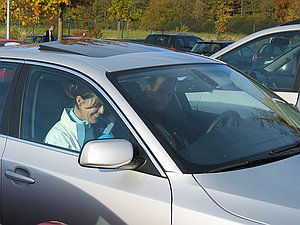 A Dutch 993RS provided some competition to the "If you bump, I'll fart" bumper sticker of yesterday's VLN car...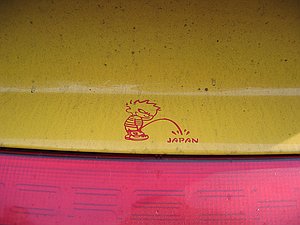 ... after which Robin pointed out that two boiks had parked next to each other, and that their respective license plates read "SUC" and "COC".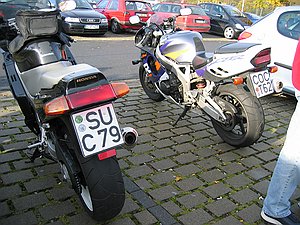 I figured that the track would be getting dryish anytime soon, so it was time for another lap, this time with Stéphane who didn't mind a lap in a softly sprung car. Most parts of the track were still damp. The first part of Hocheichen was particularly slippery, as was Fuchsröhre. Ex-Mühle was fine, but Bergwerk was still iffy. Eschbach and Brünnchen I were perfectly dry, but the exit of Brünnchen II didn't provide much in the way of grip. When we got back to the parking lot Stéphane provided me with a few points to pay attention to (thanks!).
Due to lots of congestion in the parking lot I intended to park across the street. Instead I ended up picking up Kees to go straight out again. A perfect opportunity to try out one of Stéphane's tips regarding the turn-in point for Maddock Bend. I normally turn in where the surface changes colour (a few meters before the dot), but tried turning in even earlier on this lap. Apart from putting half of the right front wheel over the edge of the track it felt very nice.
Seeing a silver Golf in the process of spinning off the track just before Miss-Hit-Miss was slightly less nice. Kees helpfully suggested I go left to avoid running into him. Which was a good plan, and I did exactly that once the SquealMobile stopped sliding.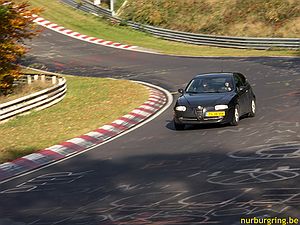 By the end of the lap we were catching up to a big-engined Golf. Getting a nice run on him through Galgenkopf certainly caused a smile or two.
We decided not to bother with parking, but go out for another lap straight away. This time the line through Schwedenkreuz was topic of discussion, and I tried to recreate the Christer-line into Adenauer Forst. I can definitely see it working in a car like the Audi TT on slicks. The SquealMobile did the first half nicely, but had some trouble picking up the pace during the second half. Traffic was picking up a little, but the track was still nice and quiet, and nearly boik-less. This couldn't last long because the track was starting to dry quickly now, and Bren was on his way to Sliders to pick up his boik.
A glance at the clock told me that I had time for one last lap before going home. Kees hadn't barfed during the previous two laps, giving him faith that a third lap wouldn't make matters any worse. Luckily he was correct: I don't particularly like cleaning cars.
During most of the lap we had lots of fun slowly catching up to a French boik. It looked as if he knew his way around, but was taking it easy. On the long downhill run from Sprunghügel to Schwalbenschwanz we passed him. Just like in an earlier lap, there was a car ahead of us (a Clio Cup this time) that hit the brakes going into Galgenkopf. The first part of Galgenkopf was bone dry by now, allowing me to take it flat in the SquealMobile, which saw us ending up quite closely to the French Clio Cup. Hmmmm, another Frenchie? Might they be together? From the documentary device in the Clio they might well be.
By now it was high time to leave: I dropped Kees off at the roundabout (the car park looked very busy by now), stopped off briefly at Ring Racing to say "bye" to Christer, Angie, and Johannes.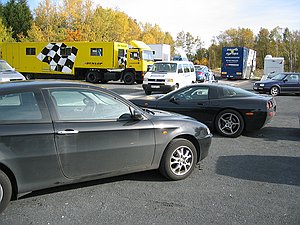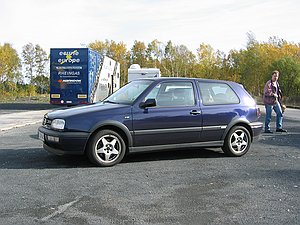 The drive back showed that Sunday drivers still come out of the woodwork (or from behind their geraniums) on Sunday afternoon. Some were slow enough to bore me so much that I took some piccies of them.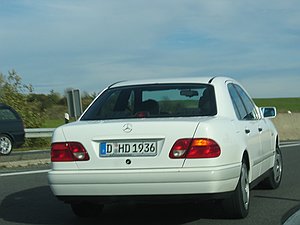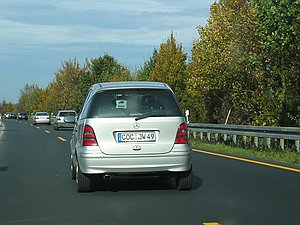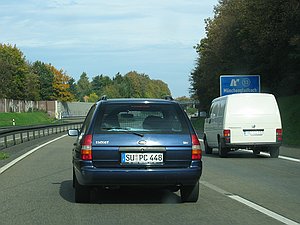 At least the final stretch of Autobahn before the German-Dutch border was reasonably clear, allowing me to blow out any remaining bits of carbon deposits (hey, it's an excuse, right?) by revving the engine a little. The SquealMobile was in a good mood and managed to reach its official top speed.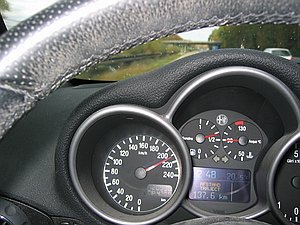 Apart from some minor roadworks and an obnoxious caravan, the rest of the trip went smoothly. Strange, as usually the German part of the trip goes smoother than the Dutch part.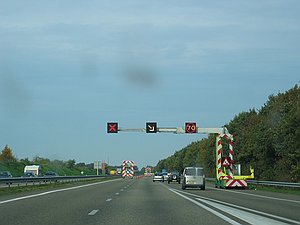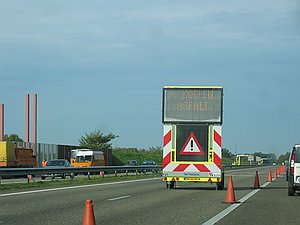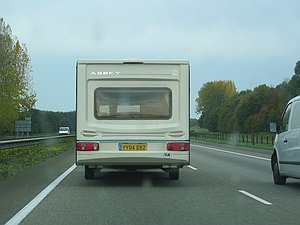 ---