Saturday
Saturday started with a 7.30-ish breakfast to enable us get to the track early. With the track already open we went straight out for some laps. Matt was in the A3 while I followed in the Ibiza. Johannes joined the convoy in his Golf.

Naturally the first lap was followed by another one. This time I started off at the back of the convoy, but moved up to Matt's rear bumper at Hocheichen.

With the track nice and grippy (and nearly deserted) I headed straight out for yet another lap. A Swiss Elise was closing slowly up Kesselchen. Slowly enough that I decided to let him by after Maddock Bend. Mr Elise then proceeded to drive right up my arse with me indicating right all the time. Dunno why really: if you're following somebody that closely, you'd better be damned sure of what the guy in front is going to do. Anyway, with the tyres, brakes and the rest of the car warmed up I decided to step up the pace a bit, which resulted in us driving in tandem again after the exit of the Karussell. From Hohe Acht on it was no contest, of course: the snaking course from there to Eiskurve is Elise territory :-)

Afterwards there was time for some carpark chat with the usual suspects. Jocke had guided a Brit boiker round. Matt then took a girl for a ride; I followed him out with the boiker bloke in my passenger seat. I followed Matt for a bit, but at Hocheichen decided to bugger off at my own speed. The biker seemed to be enjoying himself, and made no pre-barfing noises. On lap two my biker passenger, though new to the Ring, predicted correctly what a Brit Honda Integra would do when he screamed up Döttinger Höhe in front of Mario in his "I kissed the Nordschleife" Barchetta and us: crash at one of the first corners. The Integra made it to the entry of Hatzenbach, but stuffed it into the wall there. Mario had already pulled over and as the crash didn't look too severe we continued our lap.

We then had some drinks in the Grüne Hölle restaurant, where we had a quick chat about F1, rally, MotoGP and other things that were petrol-related. To round off the full-service guided tour I then snapped a picture of the biker standing in front of the large Nordschleife map on the ticket office while he was holding a Mars bar: the Mars bar was apparently an office joke :)

The carpark contained a mixed bag of old and new, and some evidence of the unforgiving nature of the Nordschleife too. The old Ford seemed to be in decent nick under the (probably deliberately grubby) exterior. It was pulling away from me on the uphill stretch from Schwalbenschwanz to Galgenkopf at one point...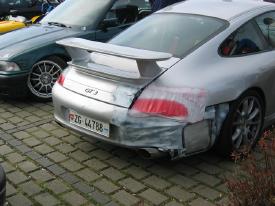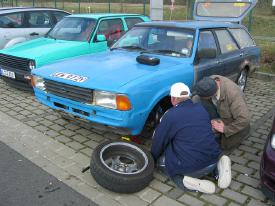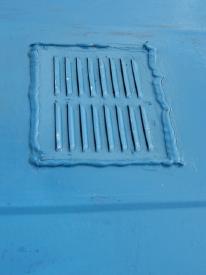 My biker friend had a waterproof navigation system on his tank bag.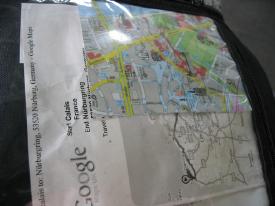 Meanwhile Stelvio had been promoted to biking god after showing another boiker the way round. Niek made an appearance in something that eclipsed Matt's once-regular Scooby costume: an Orange County Choppers T-shirt... Of course he tried to hide it, but it's difficult to compete with a 1/160s shutter :-)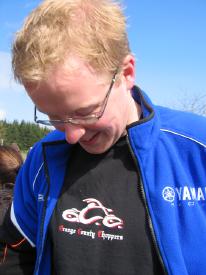 Tony and Claire were still (again?) at it.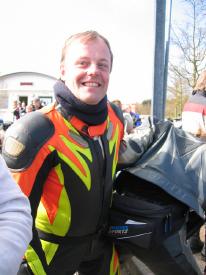 Of course Matt couldn't resist a little challenge and had a go at Tony (in his rather flashy leathers).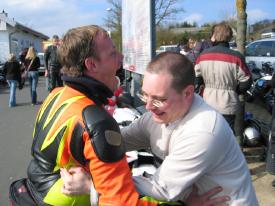 With the track currently closed I quickly snapped a picture of a sewerpipe sized exhaust on something Japanese before going back to the B&B for a shower and a quick nap. Refreshed I went to Hocheichen to take some pictures. When I was parking my car Jochen pulled up in his loaner car, on his way to another photo location.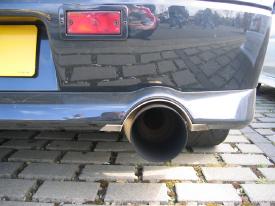 Stelvio was getting his knee down and his lapcount up.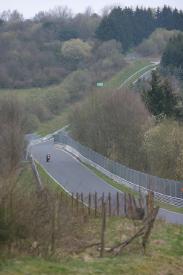 Tony was trying to colour the track black, one stripe at a time.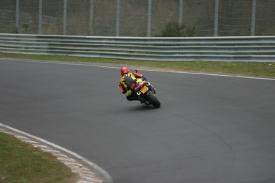 Bob and Dave were out there too.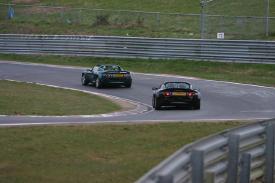 Taxidriver Bob had a passenger on board who was trying to hail another cab.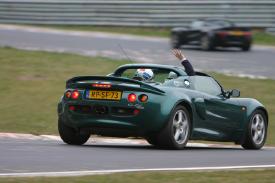 Did I mention all the TVRs that were circulating? Here's another one, with a rather cute plate.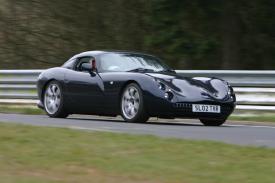 911s look nice in black :-)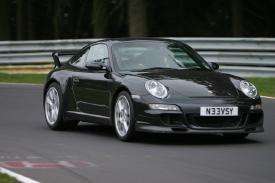 Temperatures were dropping a bit, which prompted me to get back to the car and do another 2.5 laps.
It was really getting chilly now, which allowed the car to cool off quickly, and which resulted in me taking Ben around to warm up a bit.
I spotted a weird-looking contraption on the back of the Viking syndicate's 318is. At first I suspected that they were pulling a miniature caravan when nobody was looking, but it turned out to be a bracket for a transponder. The duct tape remains instilled doubts about their faith in the retaining qualities of the bracket :-)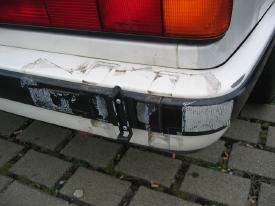 Lasse borrowed my new tyre pressure gauge to check on the tyre pressures. A bit later in the weekend Fabian gave them some tips on which tyre pressures to use on their tyres. Given Fabian's speed in his E30s, it's probably good advice :)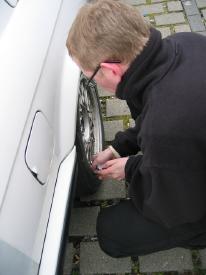 Cookie monster made another appearance. Despite the cold he still had his mouth wide open. I suspect the poor monster hadn't had a cookie all day.
Ben was hearing things in his rented Ringhaus Golf, so the Ringhaus mechanic went for a little testdrive. There didn't seem to be much wrong with the car, but it's better to be safe than sorry.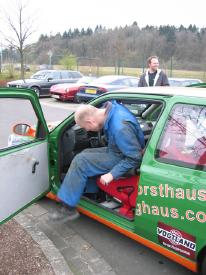 When Bob was near I made sure to innocently ask the question how much traightline speed an Elise could possibly have. About a minute later I found myself sliding into the passenger seat of Bob's slightly tweaked Elise. Well, maybe it's been tweaked a bit more than just slightly, as he dropped an Audi TT engine in there, and tickled that a bit so that it produces about 250bhp. Which is quite spectacular in a car that weighs next to nothing.
Bob made short work of several TVRs. The acceleration of this Elise is stunning. It's hard to describe without resorting to lots of well-worn cliches, but it felt similar to the tuned GT2 that Ulf had borrowed in 2003.
The only giveaway in the interior was an extra gauge to tell turbo boost pressure.
All in all a very impressive lap: one that I won't forget in a long while. If only because I think I've never grinned so much for so long during a lap.
I now understood Matt's permanent grin when I took his picture going through Brünnchen :)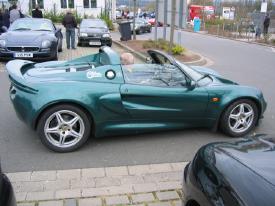 Bob and Dave made their way to the Northloop photoshoot, and Matt and I went to the Chinese restaurant in Adenau (reservation courtesy of "Jochen from Quiddelbach", as he's known to the restaurant staff). Matt was driving, and we stopped by the Ringhaus to pick Ben up. Ben paid his fare by getting us our yellow flags. I'd noticed before that a trackside photographer who's waving his arms instead of taking pics doesn't seem to have much of an effect on some drivers/riders. I'm hoping that waving a big yellow flag will improve things. I'm also hoping that I'll be lugging the yellow flag along without having to use it much.
Anyway, at the restaurant the place of honour was reserved for Jochen. From there he could witness something really scary: Ben hooking up a device to his laptop by means of, yes, a wire. Mr. I-don't-do-wires was actually using one without somebody putting a gun to his head. I wonder what the world is coming too.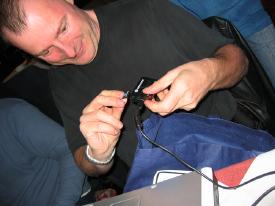 One the waiters kindly took the customary group picture. This took a while, as it wasn't quite clear what button to press. In the meantime I stuck my camera up and took my own three-quarter-group picture.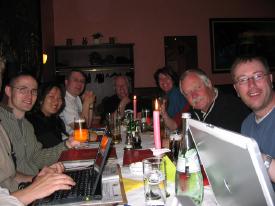 The food was nice, as usual. People shared different plates, as usual. Matt stole some food off several plates, as usual.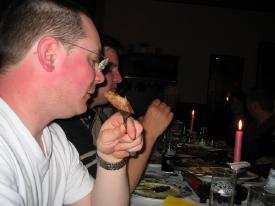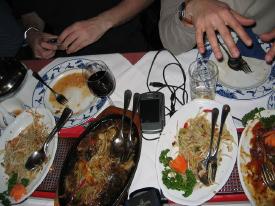 Robin wanted his own group shot, but found that his camera could do with a bit more wide-angle.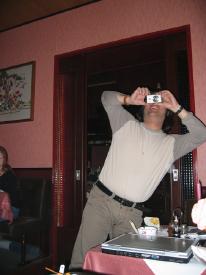 Tall tales were told, also as usual, and a merry time was had by all, also as usual. It's a pity that I can't repeat everything I hear at these dinners, so I won't mention [censored]'s encounter with the [censored]. I also won't mention the attempted blackmailing by B?? of E?????, when he found some compromising pics on E's memory card.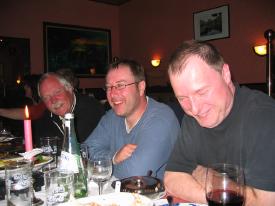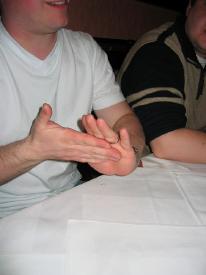 Of course the attending photographers showed some of the day's take. Jochen was the only one paying attention, though.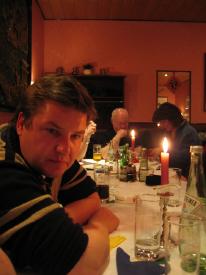 There was evidence that proved that a photographer sometimes needs to brave all kinds of resistance to get to a good spot. Jochen was carrying the better part of a tree on his back, and he didn't even notice.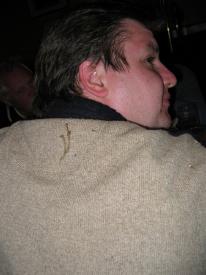 The gents on my right had ordered some kind of menu, which included a fancy desert consisting of two fried bananas and a single scoop of icecream. Not wanting to be outdone most of the rest of the table ordered the same desert, but insisted on getting two scoops of icecream.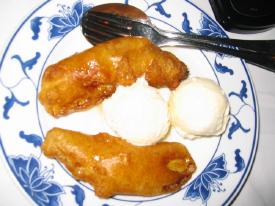 Years ago most Ringers (including those on this very table) wouldn't classify anything before midnight as "late", but the terminal disease A.G.E. was definitely grabbing hold of the majority of us. Hence we all paid our bills and went back to our respective lodgings by 22.30...
---